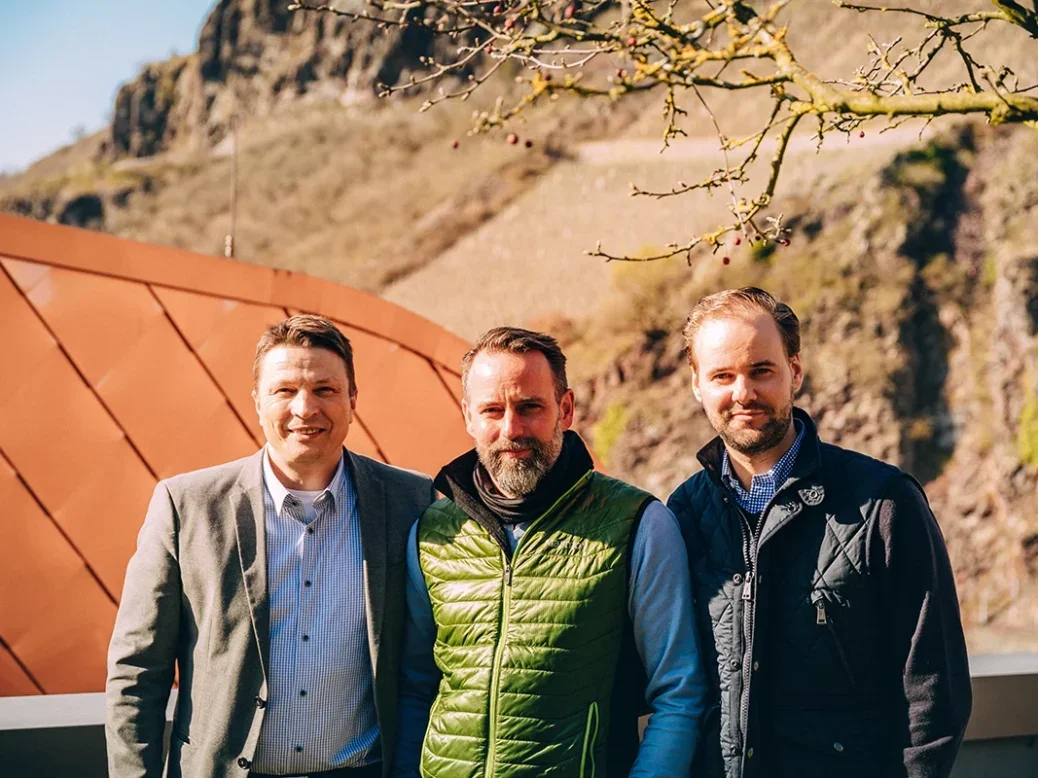 The Rieslings of Nahe estate Gut Hermannsberg have been transformed by owner Jens Reidel and winemaker Karsten Peter over the past decade, but how do they measure up against France's finest whites? Sarah Marsh MW reports.
On a recent trip to the Nahe to taste the wines of Gut Hermannsberg, I was struck by their crisp expression of terroir. This may seem a little trite, but they had dew-drop lucidity. Most often I have the terroir of Burgundy under the microscope, but here I had the opportunity to taste white Burgundy alongside Grossen Gewächse.
When Gut Hermannsberg was purchased in 2009 by businessman Jens Reidel, he engaged highly skilled winemaker Karsten Peter, who took the neglected vineyards in hand. By 2015, the viticultural work had fed through to the wines, and the fortunes of this once-esteemed estate were well on the way to recovery. (See Anne Krebiehl MW, "Gut Hermannsberg: A Century of Riesling," WFW 67, pp.80–84.)
Formerly known as Staatliche Weinbaudomäne Niederhausen-Schlossböckelheim, it was established in 1902 by the Prussians as a model wine domaine. The Prussians invested heavily in viticultural research and winemaking at their domaines to reenergize the wine trade. Post-phylloxera and world wars, wine production was in a grievous way, the golden age of German Riesling a distant memory. The state domaines were designed as shining examples to inspire the impoverished local winemakers. In the 1970s, they were particularly progressive, their work on clonal selection well ahead of its time. 
But most remarkable in the Nahe was the Prussian creation in 1905 of the Kupfergrube vineyard from a former copper mine on a steep and rocky south-facing slope. Terraces were hewn from the rock by forced labor. A particularly challenging section known as "the murderers" was saved for the worst offenders.
In 1998, the German government divested itself of some of the state-owned wineries, and by the time it passed into the hands of Reidel, the wines were being produced in a clinically correct Geisenheim way, while the vineyards were waiting for someone to unlock the true potential of their terroir.
By 2015, Peter, together with joint MDs Achim Kirchner and Jasper Reidel, felt the wines had reached that magical point, and they began holding back wine from the GG vineyard of Kupfergrube to give it time to evolve in bottle.
Come the 2017 vintage, all the wines from the GG vineyards of Hermannsberg and Kupfergrube were retained for later release. It was felt that they merited a minimum of five years' aging to reveal the potential of their terroir. They were released on September 1, 2022.
To draw attention to their five-year release cycle, the Reidel family assembled wine for a tasting: "Gut Hermannsberg Meets Icons of 2017." On the face of it, to go head to head against some of the world's finest wines seems a risky strategy, but it is sufficiently intriguing to attract wine publications from around the world to send their writers to swill, spit, and debate. We were specifically tasked with discussing how grapes and terroir work together, and the role of the winemaker.
But is it possible to consider the terroir and winemaking of white wines from the Nahe, Burgundy, Rhône, and Bordeaux? A tall order, not least because Jean-Louis Chave Hermitage and Haut-Brion are blends, not only of parcels but of varieties. As for Burgundy, a five-year-old grand cru is too young to show at its best. Nevertheless, I was up for the challenge. And it was still a fascinating, illuminating, and very worthwhile exercise.
Flight 1: Regional wines
The tasting was divided into four flights, of which the first, with wines of regional level, worked most successfully. Roulot's and Coche-Dury's Bourgognes were open and, without any obvious new oak, were quite translucent to the terroir. Roulot uses older foudres from Stockinger. It was interesting to consider them alongside Vom Vulkan and Vom Schiefer, which come from younger vines of Kupfergrube and Hermannsberg respectively.
Jean-Marc Roulot was using foulage long before the current fashion for this technique, which had fallen out of favor. At Gut Hermannsberg, Peter also prefers skin contact for the extra structure it gives. In Vom Vulkan, it seems to accentuate the grippy character of the Kupfergrube site, giving it some correlation with the lightly tannic style of Roulot's Bourgogne. So, skin contact was being used in a similar and satisfying way, while Vom Schiefer's light and lively, stony and linear character seemed to relate to Coche-Dury's straight, bright, and pithy Bourgogne.
Flight 2: Grandes cuvées
In the second flight, we tasted Hermitage, Bordeaux, and Chablis together with Gut Hermannsberg Steinterrassen, the latter a blend of three vineyards. This grandes cuvées flight was the most challenging.
Peter describes Steinterrassen as a "special wine from three different vineyard sites. It is a volcanic soil with lots of quartz, which gives bitter minerality and acidity to the front. They are very different terroirs and are picked separately, of course, toward the end of October. We are searching for a herby tasting acidity." I found it slim, piquant, and racy.
By comparison, the Chave Hermitage was full-bodied and rich. Fellow tasters grumbled, criticizing it for being too fat, heavy, and alcoholic (14.5% ABV.) The four parcels are scattered across the warm south-facing slope, and 2017 was a warm vintage on Hermitage. Admittedly, it was a little spirity on the finish, but it was also deep, layered, sumptuous, and spicy. It was creamy from the malolactic, nutty from lees aging, soft and rich, with ripe Marsanne (just 20% Roussanne), while the use of older barrels left it unmarked by oak and very accessible. The wine may not have the precision and purity one associates with granite soils, but I felt that the winemaking, the vintage, and the variety all flowed in the same direction, enhancing the warm character of the site.
In contrast, I felt that maybe the soil—well drained, silty, sandy, and gravelly—was of greater influence in the lighter and more elegant structure of Haut-Brion, with the maritime climate, flatter topography, and malic acidity no doubt contributing to the fresher feel, despite the alcohol, for this too was 14.5%.
Raveneau's Chablis showed lively freshness, energy, and impressive structure for a village wine, holding its own in the exalted company. From younger vines below Montmains, the deepish soil gives it some richness, balanced by the freshness from a cooler aspect. Some tasters were perturbed by lactic notes, remarking on sour yogurt aromas. I didn't find them out of place, but maybe I feel that leesy and lactic characters (especially in classic, colder vintages) are part of the Burgundy profile.
As the tasting progressed, the differences in winemaking and the effect on the wines we tasted seemed to be creating a divide between the icon wines and the Gut Hermannsberg Rieslings. It seemed that many tasters—given their negative comments about lactic and lees characters and the influence of oak—seemed to prefer the more restrained effect of the winemaking on the Rieslings.
So, maybe it's time for a word about Peter's winemaking approach. As mentioned, he likes to use skin contact. I am all in favor of judicious skin contact for structure and tannic bite, and I agree with Peter that extracting from the skin can heighten the expression of terroir. In a warm vintage, Peter leaves the lightly crushed berries for between one and three hours, while in colder vintages they may soak for up to 12. In 2017, the skin ripening was not perfect, so contact was limited to between three and six hours.
The pressing is very slow, lasting between three and four and a half hours, with few tumbles—in other words, it's very gentle. Toward the end, Peter raises the pressure to 1.8 bar for a swift, harder extraction. He used to separate this stronger, more phenolic part but now considers it integral to the wine, so it's always included. The juice is then settled overnight at ambient temperature. There is no cooling and no SO2. It's completely unprotected. As the must oxidizes, the unstable phenolics should drop out.
On one side of Gut Hermannsberg's cellar, there are tiny, 625-liter stainless-steel tanks, and on the other, 600-liter barrels with particularly thick staves, the volume and staves designed to make them more reductive. These allow Peter to make every parcel within each vineyard separately. The fermentation is spontaneous. There is no malolactic fermentation. The Hermannsberg and Kupfergrube have long aging on lees, with a second winter in stainless steel after blending, and the wines are not fined.
This is a far cry from reductive, clinical winemaking. In fact, it may seem rather more Burgundian than German, but small differences in approach have a significant impact on the wine. Peter's approach is admirably restrained and produces a crystalline, pure style that differs from wines that have gone through a malolactic fermentation and have greater lees and oak influence.
In Burgundy, while most producers have pulled back from frequent bâtonnage, it is typical to have at least some lees stirring before malolactic. And while many producers are experimenting with 350-liter and 600-liter barrels, as well as concrete and ceramic eggs, with some dabbling in glass, the important climats are mostly still aged in 228-liter oak pièces, with a proportion of new wood. It's worth noting, however, that top-end premier cru whites rarely have more than 50 percent new oak, often nearer 25 percent.
Grape varieties were not really discussed as such, but for someone with her nose most frequently in a glass of Burgundy, my first impression of Gut Hermannsberg's wines is of Riesling. While Chardonnay is a discreet variety, Riesling has a distinctive and strong personality. In this discussion, was Riesling the elegant elephant in the room? More likely, it was so integral to the wine for the other tasters, many of them German specialists, that there was nothing to remark upon. I found the Sauvignon Blanc even more assertive, and it strongly influenced Haut-Brion's blend. I admit that I was as distracted by this grape variety in the Haut-Brion as many tasters were by the influence of winemaking techniques in the Burgundies.
I could attempt to argue that Riesling stands in front of the terroir, but I can't really, because in its own way, it showcases the vineyards. Likewise, however, I feel that the winemaking of the Burgundies showcases and enhances their terroir.
Flight 3: Hermannsberg and Montrachet
Hermannsberg is a 5.5ha (13.5-acre) monopole. Peter describes it as "not very steep or rocky. It is not an exceptional-looking vineyard, but this vineyard has more to offer than it immediately shows, both visually and in the wine. It is always a quiet vineyard and wine." The clay slate in the subsoil is covered with loess. Walking in the vineyard, Peter picked out the naturally occurring slate and explained that the Prussians brought melaphyre from Kupfergrube to help warm the soil.
Hermannsberg was tasted alongside Montrachet, as both wines were expected to be reserved. I felt Hermannsberg was rather expressive. It is elegant and fine-boned—a finely wrought, delightful wine. As for Montrachet, which is typically matured in new barriques, the new oak was, of course, thrown into sharp relief. Both of the Montrachets were quite raw, but of the two, I felt that Jacques Prieur's Montrachet showed the quintessential combination of intense power with remarkable elegance. In Sauzet's Montrachet, the oak is still prominent and unintegrated, undoubtedly masking the terroir at this relatively early stage.
Montrachet is the most dependable of the white Burgundy grands crus. It's hard to stuff it up, while it's much easier to find a disappointing Bâtard-Montrachet or Corton-Charlemagne. It's always a bit of a shame to try wine that has yet to fulfill the potential of the terroir in the glass, particularly when the vineyard is among the finest in the world. One must be mindful that grand cru Burgundy, and Montrachet in particular, is reared and clothed for a long life, during which it should develop complexity with age, despite any oaky adolescence.
Flight 4: Kupfergrube and Corton-Charlemagne
It is worth noting that while the Gut Hermannsberg wines were in perfect condition, direct from the cellar, the icons had been in the market for three years.
Kupfergrube is a 15ha (37-acre) GG, of which Gut Hermannsberg owns 12ha (30 acres) and is a rugged, rocky, fully south-facing vineyard. Melaphyre—volcanic igneous rock—is covered by carbon shale brought into the vineyard by the Prussians. Peter says it is the wine that requires the most careful treatment in the cellar. Kirchner describes it as rugged and wild. It has muscular strength, and I imagine that the skin contact enhances the firm structure. It is a dark and difficult wine, quite different from the easy elegance and harmony of Hermannsberg. They share, however, an impressive translucency.
So, too, does Bonneau du Martray Corton-Charlemagne. With just 30 percent new barriques, oak was not an issue here. Among the icon wines, this was the star of the tasting. Everything seems in place at a relatively early stage. For both Kupfergrube and Bonneau du Martray, the winemaking is discreet: two wines beautifully articulating their terroir.
So, was this tasting a mix of plucky bravado and strategic marketing by Gut Hermannsberg—a way to catapult their wines into the vinous firmament, by assembling the wine press to discuss them in the same breath as some of the world's most iconic vineyards? Maybe, to some extent, but it was done with great warmth, generosity, and humor. Jens Reidel and his son Jasper, together with Peter and Kirchner, are clearly passionate about Burgundy and take huge pleasure in sharing and discussing great wines.
Was it risky? No. Gut Hermannsberg's team selected a perfect moment at which to have their wines assessed. And in the event, this worked to their advantage alongside some of the icon wines. Hermannsberg and Kupfergrube are "on point" at quite an early stage in their life. They appear to have a different aging trajectory from fine Burgundy. This is not to detract in the slightest from their aging potential, since they clearly have many years ahead of them. Maybe they should have been tasted beside Riesling icons.
In response to those who focused on the winemaking of the icon wines, I would say there is no terroir without man's intervention to cultivate the land and make the wine. The winemaking continues to evolve in a manner to support and to showcase the terroir. Viewed in this way, winemaking is an inseparable part of the terroir. The tasting highlighted that terroir is not only climate, geology, and topography, but the fusion of the physical attributes of a site with the variety and the work of the vigneron.
Unintentionally, by including some icon wines that were too young to show properly, Gut Hermannsberg reinforced its own point that some wines need a minimum aging period. This is five years for their wines, while others in the tasting need longer. Given the price tag on the icon wines, it's worth the wait.
Everyone was curious to know the cost of the icon wines. Kirchner was tasked with tracking them down on the market, and they didn't come cheap. The Reidels spent €300 on the Chave Hermitage, €300 on the Raveneau Chablis, €845 on the Prieur Montrachet, €1,289 on the Sauzet Montrachet, and €1,200 on the Haut-Brion. Compare, if you will, the 2017 Hermannsberg and Kupfergrube, which, having just been released, are readily available. Gut Hermannsberg has done the aging in pristine conditions, and at €65 for Kupfergrube and €55 for Hermannsberg, this is good value for such gorgeous wines.
The 2017 vintage
Peter said of the Nahe, "We lost 70 percent of the crop to frost in the spring. We tried everything to ripen the rest gently, and we had lots of luck with the weather. It was a perfect season. We made a strict de-selection of everything that was not 100 percent ripe. The wines have forceful acidity but will develop well over time."
In Burgundy, it was a warm vintage, with hot peaks in August and an early harvest starting on August 27. The crop was generous, which diluted the reds somewhat, but the whites fared better. A solar vintage, but the whites are discreet, trim, medium-bodied, and tasting fresher than the analysis would suggest—the aromatics of a warmer vintage, and the slimmer texture and body of a cooler one.
Burgundy from higher-end crus often goes through a dumb period of around five years. This is less noticeable in recent years, and 2017 is a forward, fruity, and accessible vintage on the Côte d'Or, so the grands crus might have been more expressive, but only one really sang.
Unlike Burgundy, the Nahe Valley has benefited from the warmer summers brought by climate change. "In recent history," remarked Kirchner, "it was really too cold. It was only possible to make a dry wine in two years out of ten." In other words, the grapes didn't fully ripen. In a hot vintage such as 2020, the Nahe harvested two weeks later than its neighbors, allowing the grape skins to reach full phenolic ripeness. 2022 was another hot summer. This tasting was held on August 24, when daytime temperatures peaked at 32°C (90°F) and fell to 10°C (50°F) at night. Harvesting was already under way in Burgundy, while in the Nahe, Gut Hermannsberg planned to start picking on September 10—the first grapes destined for sparkling wine.
The tasting
Flight 1: Regional Wines
2017 Domaine Roulot Bourgogne Blanc
This has a somewhat smoky, earthy aroma. A creamy roll on the palate, rich, full, and dense in the middle. Savory and viscose. Lightly tannic, with a sapid finish. 2022–25. | 88–89
2017 Domaine Coche-Dury Bourgogne Chardonnay
A crystal, citrusy intensity on the nose. Bright and vibrant strike to a straight and zesty palate; lemon peel and pithy. Biting. Warm and cold. Hits the finish running. So energetic. 2022–25. | 89
2017 Gut Hermannsberg Vom Vulkan
White-peach and pink-grapefruit aroma. Succulent, ripe attack to a robust palate. It has a more grippy, tannic structure than the lighter Schiefer below. 2022–26. | 87
2017 Gut Hermannsberg Vom Schiefer
Delicately citrus but more obviously stony. This is precise, balletic, lively, and lean, with a fine and racy line on the finish. 2022–26. | 88
Flight 2: Grandes Cuvées
2017 Domaine Chave Hermitage
An unusual, savory, nutty, and waxy aroma, with a hint of rhubarb. Decadent, delicious, complex, and layered. Definitely potent, this gathers mass and breadth on the palate. Goodness, there's some fat here. Maybe it's slightly too warm on the finish, but it is properly long and sumptuously spicy, with ground coriander. Chunky and heady, but not ponderous. With a little more bottle age it may slim down. 2025–30. | 95
2017 Château Haut-Brion Premier Grand Cru Classé
Tinned asparagus and oatmeal–a pungent, herbaceous aroma, with more than a hint of wet dog. The aroma was so overwhelming that I postponed tasting it until the end of this flight and found the aromatics equally strident on the palate. But it carries its 14.5% ABV, equal to the Hermitage, more gracefully, and there is freshness and energy to balance. I didn't get the finish I was expecting on such a grand wine. 2022–26. | 93
2017 Domaine Raveneau Chablis
Delicate and refined aroma. High-toned, with a hint of elderflower. Lightly creamy and nutty as it opens. Impressive structure for a village wine. I love the lively freshness and savory, tacky feel, with bitter almond kernel on the finish. 2022–30. | 90–91
2017 Gut Hermannsberg Steinterrassen
From the three vineyards of Steinberg, Kertz, and Rotenberg, which are all south-facing, with soils described as follows. In Steinberg, there is Lemberg porphyrite, an extremely poor soil of volcanic origin. In Rotenberg, there are soils from the time of the Rotliegend, interspersed with rhyolite, while Kertz has multilayered gravel soils. A pure and shimmering citrus aroma. It smells cool, despite those south-facing slopes. Pirouettes onto an energetic palate. It is piquant and has snap. Neatly edged and zesty, with a slim and trim finish. A delight. 2022–27. | 89–90
Flight 3: Montrachet and Hermannsberg
2017 Domaine Jacques Prieur Montrachet Grand Cru
A sumptuous, very rich butterscotch aroma. Vigorous attack. Intensity, richness, and depth on the mid-palate. Firmly sustained and salty, this has proper grand cru persistence. The more poised and refined of the two Montrachets, it shows notable power combined with elegance but is still very much in its infancy. The latent nuances and complexity have yet to be revealed. 2026–37. | 97+
2017 Domaine Etienne Sauzet Montrachet Grand Cru
At present, the oak dominates the aroma. It is battened down on the palate. Dense and clenched, but there is certainly depth and concentration, which is channeled into a persistent finish. Overall, this is still very raw and oaky, and it demands another five years. There would be no advantage in scoring it at present. 2027–30+. | NS
2017 Gut Hermannsberg Hermannsberg GG Reserve
I don't find this reserved or quiet, but it is certainly refined. Slim-textured, pure, and direct. Savory sapidity and lightly pithy notes underpin the structure of the palate. A focused finish, if not quite as well sustained as expected. It was tasted directly after the Montrachets, and the finish suffered by comparison. This is, however, a clean-cut and lucid Riesling, beautifully showcasing its vineyard. 2022–30+. | 93
Flight 4: Corton-Charlemagne and Kupfergrube
2017 Domaine Bonneau du Martray Corton-Charlemagne Grand Cru
Restrained and poised on the nose. On the palate, it quivers with minerality. Finely tuned, with sharply chiseled edges. Tastes super-chalky and white on the finish. Surprising to see this so composed and expressive at this early stage. Absolutely spot on. 2025–40. | 97
2017 Domaine Henri Boillot Corton-Charlemagne Grand Cru
This was not showing well. The aroma was not clean. A burly, dense, and punchy Corton-Charlemagne from a parcel on the east-facing side, this has muscularity and a bitter finish. Of course, it was not possible to try another bottle, but I would hope this was a poor example. | NS
2017 Pierre Millemann Corton-Charlemagne Grand Cru
Pierre Millemann buys fruit from domaines for which he consults. Interesting, spicy orange-zest and gingerbread aroma, which must be the oak. The fruit is ripe and exotic, with hints of pineapple. Spicy and rather flashy, but also slightly tough and austere. It settles somewhat on the finish, where sweetness and savory minerality combine. It is in an awkward adolescence so needs time. 2026–35. | 92+
2017 Gut Hermannsberg Kupfergrube GG Reserve
An arrestingly intense and sturdy aroma. Punchy attack. It is muscular, even sinewy, and certainly grippy. It has tannic bite and power. Vigorous, with a dark and smoky graphite finish and a touch of residual sugar. One of the stars of the tasting. 2024–40. | 94–95