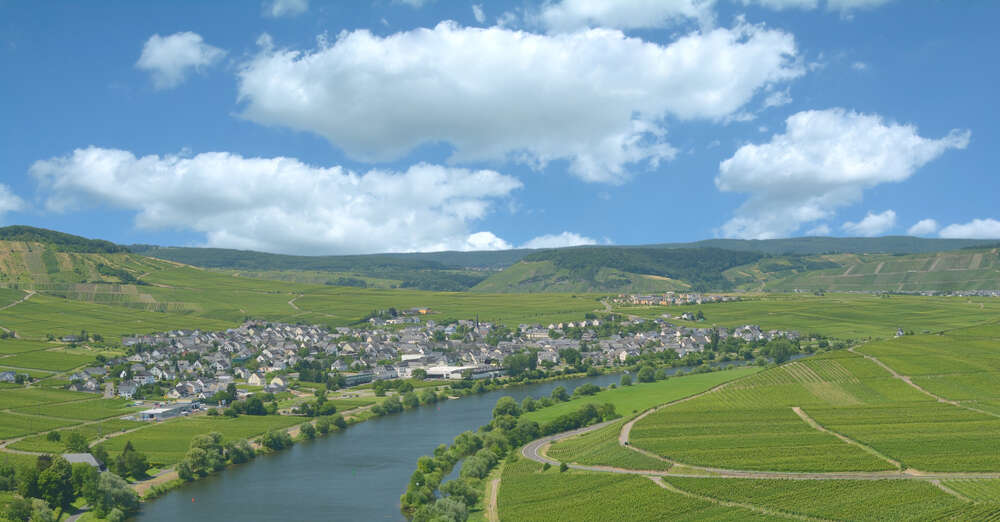 No longer an insider secret, Carl Loewen has become one of the Mosel's flagship producers, with a precise and sensitive take on the traditional "sponti-Fuder" style, says Terry Theise in the first of a two-part report on the family's latest releases.
Reflecting back on my merchant years it strikes me that you never really know why some things ignite and others don't. Sure, the "right" reviews in the "right" places drive ("the wrong?") attention to an estate, but when you look at the more organic elements of creating demand, I think you need a platoon of salespeople who've become, for whatever reason, jazzed.
When I first met the Loewens they were a young couple on something of a quest to champion the excellence of several great sites upstream from the "known-great names." I would write that Leiwener Laurentiuslay and Thörnicher Ritsch deserved the same renown as Wehlener Sonnenuhr, and the reason they didn't receive it was due to the lack of a "flagship" estate, a Prüm or an Egon Müller, a situation the Loewens hoped to remedy.
The Loewens enjoyed a certain renown among insiders, but only one of the standard guides elevated them to their true stature. Despite remarkably moderate prices, my colleagues remained "cool" to the estate, and so we schlumped along without gaining traction.
Loewen was and remains a lover of ambient-yeast —spontis in the parlance—and while I agreed with his view that, "Behind an early shroud is a fragrance you cannot attain any other way," the market has neither the luxury nor the patience to consider the fullness of time when they accept or decline a wine based on an admittedly unattractive sample. Honestly, I wouldn't either.
Yet the wines were beautiful and the vineyards remained undervalued.
Decisive events
Then two decisive things happened.
One, a legacy-estate in the village of Longuich had to sell, as attempts to motivate the reluctant heir to take it over had failed. This estate—another one known to insiders—was Schmitt-Wagner, and the legacy was solidified by the presence of a remarkable number of very old ungrafted vines, planted between 1896 and the early 20th century. Loewen prevailed among a number of interested buyers, and the estate—and its magnificent vines—were enfolded into Weingut Carl Loewen.
It wasn't only the ancient vines that mattered; it was also the presence of a third great site in the stable. It conferred a critical mass of grand cru land that was more difficult to overlook.
And then came Christopher Loewen, with all his energy and his talent and his youthful derring-do, not to mention he spoke excellent English and was easy on the eyes. He took what to all appearances was a seamless place beside his parents in moving the winery along, and he took a perhaps more conspicuous place in our markets moving their sales along.
And now I pause, because you never actually know who or what is responsible for developments in a wine estate. Correlation doesn't equal causality, etc. But I can confidently say that since Christopher arrived the dry wines have improved in leaps and bounds, and all the wines have obtained an expressive force that creates a wow effect in tasters. And yet, the first innovation he spearheaded was conservative; he took a portion of the harvest from a site planted in 1896, and made a separate wine from that fruit as it would have been made in 1896. Two things were born: A wine, and just as important, a Story.
The estate was no longer just one of my Strange Preoccupations; it was attracting buzz.
Eight years later
Now it is eight years later, and Loewen isn't an insider-tip any more. The wines have to be allocated, the press are breathless … and then we come to the wines.
In general Loewen's wines belong to the traditional, that is, sponti and Fuder (the 1,100-liter cask used along the Mosel) as opposed to cultured yeast and stainless steel. That sponti-Fuder language has several dialects. It can sometimes feel atavistic, not exactly "rustic" but certainly rural, and this is where the most stubborn young stinkers come from. I have a soft spot for this style, and the less approachable it is, the tenderer I feel.
But many growers have learned to tame the sponti (none more virtuosically than Johannes Selbach, in my view), to encourage its more attractive features and suppress (or eliminate) its obnoxious ones. Loewen is moving into this group, though the nature of the 2020 wines encourages a fundamentally sleek sort of polish, and it's dubious to generalize based on this highly particular vintage.
A heart-rending group of Rieslings
That said, you'll see; I found these to be a heart-rending group of Rieslings. They are full of a delicate paradox, or more accurately, paradoxes; they are as clear as can be yet they're also soft-lit; they have all the evocations of the sponti dialect at its best yet they seem like their flavors were arranged by tiny tweezers; they are para-sensual but too expressive to be mystic; they feel gentle but act forceful; they have everything we desire in Grand Cru Riesling yet they're as lithe as gymnasts.
Maybe Christopher is moving past expressiveness for its own sake and into greater concern for how the text is read, how the score is played. Maybe! One can only surmise, and when I blurt the question to a vintner they either don't know what I'm talking about or they give the answer they think I'm looking for. Thus if I tell you that Christopher's impact on his family's wines is to seek greater and greater precision and polish, the most I can say is, it could well be true….
I am inferring Trocken based on the 12.5% alcohol, but the Loewens do something so manifestly sensible I'm amazed that other growers don't do it: They leave "Trocken" off the label to give themselves latitude and flexibility to leave a wine as-is, if it's perfect, and if it's "over the line" for Trocken (according to the EU functionaries who wrote the wine legislation) as this one is, I am told. If so, it isn't by much.
The site is an east/southeast facing premier cru right along the Mosel, on especially blue slate, tending to give precise minerally wines, wines of explication rather than hedonism. Works for me! And this 2020 smells perfectly wonderful. It's loaded with the sponti soulfulness, the pliant texture clanging off the slatey chew, and the finish is like some ancient smoke rising out of the vents and fissures, as if there were a fire underground.
From the Jancis glass it's like a different recording of the same symphony. The aromas, for all their detail and clarity, are also euphoric, the wine is entirely pixilated on the palate, and the finish is quite pointed. It will be the best glass for an older version of this wine, in the 6-8 year range. For now I'd rather suppress a little explicitness in order to get a more genial mélange.
In essence the wine is captivating, with all that key-lime and chocolate sponti juju, and with mineral you feel like you're seeing under a microscope. Your palate feels arthroscopic. There are notes of peppercorns you think you might be dreaming. Everything is narrated so precisely, it's as though the wine is an audiobook of itself. It's so sinuously delicious from my little Spiegelau, I'm looking around to make sure I'm not breaking any laws, the way I feel about this little beast.
From this wine alone I believe it is reasonable to establish that Loewen belongs to a very small society of growers who can do a precise sponti, one that isn't a big atavistic chocolatey slobber—which by the way I like—but which sets out from a place of elegance and discretion.
Tasting for the third time now, and adding the MacNeil Crisp & Fresh to the mix, the wine is ludicrously expressive. I shrink from using "gorgeous" to describe a wine so filigree, a wine with such crystalline diction, but to me those can be gorgeous qualities, flavors so chiseled and hewn.
With a fourth and final taste, the wine has—counterintuitively—grown more brash and salty. No matter, it's still excellent.
Still only 12.5% alcohol—god I love the Mosel.
Following a remarkable and compelling fragrance, the first impression is racy and brisk. But very slowly, with fastidious deliberateness, a large mid palate emerges.
This will be studied over the days, but at first glance it has the spearmint typical for the site, along with a measure of the deep-shade green that characterizes the (upcoming) Ritsch GG. A measure, mind you. Because this wine is also a splendid shriek of whites and grays (or to be literal, white pepper and stones), ginger and pastis and juniper, but as that mid-palate emerges it's a very spicy apple, a hint of blown-out candle, and fragrant ferns and cress.
And for al its thickness of extract it is also, and miraculously, weightless.
I spend almost no time considering what or how many plusses I'll assign to a wine. The wine knows before I do. But here I find I am pausing, because this is clearly a "better" wine than the foregoing, but at this moment it isn't a better showing wine, and I won't have means to "judge" until I've tasted it at least four or five more times over a period of days.
Days later, the wine has barely moved. From the MacNeil it's saltier but not really any more "revealed." There's a quivering sort of energy, incipient power, and the precision of a champion fencer. But right now it's in a jittering white sleep.
The second part of Terry Theise's report on Carl Loewen will be published on worldoffinewine.com tomorrow.
A note on scores by Terry Theise
I disapprove of points. I don't recognize measuring wines against a notion of "perfection," I think it's a fool's errand to assign absolute value to an ephemeral impression, and the more precise a scoring system purports to be, the more it actually misleads.
That said, my mind forms hierarchies of its own volition, and special wines warrant special attention. So I'll revert to my deliberately inexact system of plusses—one, two, or three—to recognize the most remarkable wines. My plusses are sort of like Michelin stars. One plus is a wine that stood out. Two plusses is a wine that made me stop and consider the depth of its beauty. Three plusses is a wine that tingles with greatness, and offers a moment of profundity. Feel free to superimpose whatever scoring system you deploy; the point-systems are harmful but the folks who use them aren't evil, so if you want to conflate my three plusses with a scoring range that makes sense to you, be my guest.
Extracted with permission from Terry Theise's Tasting Protocols.