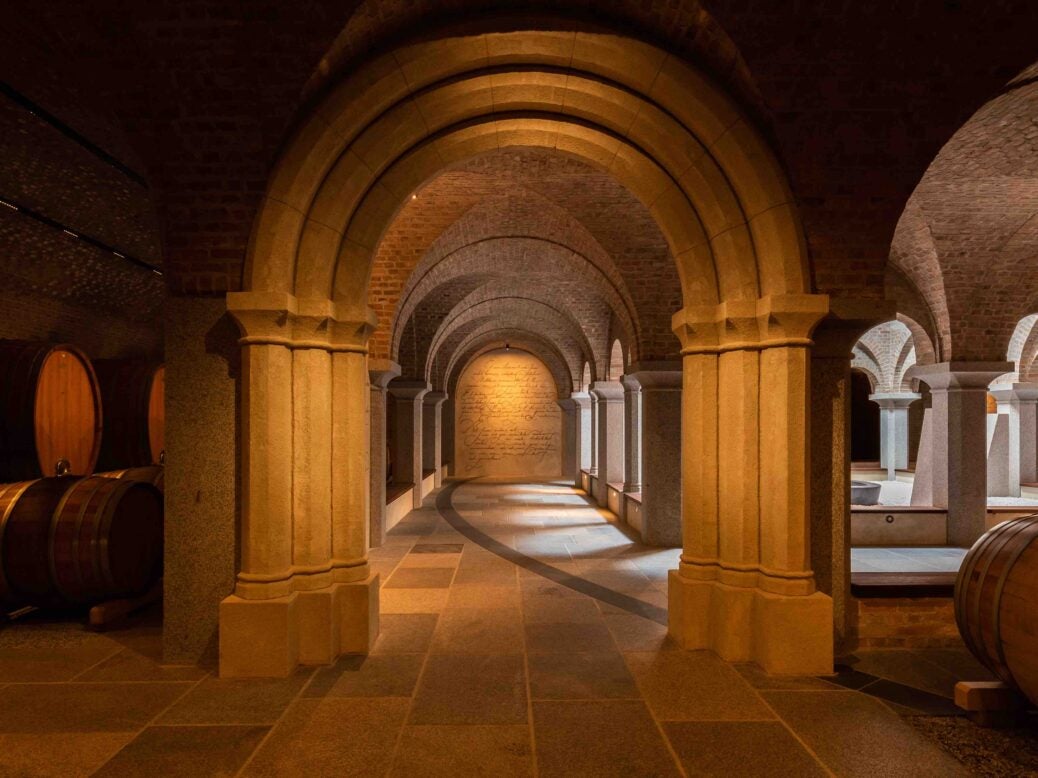 With Schloss Gobelsburg marking its 850th anniversary this year, Terry Theise spent a week tasting the great Austrian estate's latest releases. In this, the first installment of a three-part account of a profoundly impressive and affecting tasting, Theise presents his thoughts on Schloss Gobelsburg's Zweigelt, rosé, and sparkling wines. In Part II, Theise presents his impressions of the estate's various Grüner Veltliner wines, before concluding with Part III: Riesling.
Well, that was some week.
The estate is observing 850 years of existence this year, and as you can imagine this is an august occasion, in the context of which my little opinions about this wine or that can seem like the cavils of a tiny tin god. Yet, it is a winery, and even if this year's offerings resonate with the profundity of all those centuries, eventually there's a glass and there's wine in it, and we drink that beverage per se—or we try to.
I often had to wrest myself away from a prevailing sense of lofty solemnity in order to simply attend to the wines. It didn't help one bit that some of the wines embodied the lofty solemnity, and then I had to ask myself whether I could yap about the wines without being ungrateful. It was as though I took the resonant-loveliness and put it in a side room and said, "Now you just sit here and wait."
I also felt a gathering of what I might call a beautiful seriousness, as wine followed wine. Even banishing (or attempting to banish) "the centuries," I was very much mindful that something superb and precious is taking place right now, and for that alone Schloss Gobelsburg is an estate of great consequence. I have had proximity to that consequence since my friend "Michi" arrived back in 1997, and I sought to be worthy of the gift, and equal to the task, as I do again here.
I love the estate. Often I revere the estate. There's a deep and reverberating conscience around and beneath it, and if one wine or another isn't working the way I'd happen to wish, that's fine. It doesn't efface the beauty of the enterprise as a whole.
The revelations of the tasting are the vividly excellent quality of the sparkling wines. They have always been good, but they've reached another level the last couple years. The trio of NVs made me glow with pleasure.
The wines I tasted were essentially the wines that have been available in the US, so I didn't taste everything.
Red Wine
Schlosskellerei Gobelsburg Zweigelt 2018
Remember, the Schlosskellerei is in essence a second-label (though this wine is estate-bottled), offering "everyday" wines in commercial quantities for such elements of the trade where those things are needed.
The wines have always, without exception, punched way-y-y above their weight, which is a boon for us all, though the standard they set is improbably high. As a merchant I was proudest of any really high-achieving "normal" wines that the "normal" wine customer could easily afford, and that would over deliver. This wine is one such.
You can go two ways with Zweigelt. You can exploit its gushing fruit and make an addictively tasty glugger, or you can ease it into a "claret" direction, with darker flavors and dusty tannin, less seductive and more vinous. I like both styles, each in their own ways. This bottling reminds me a little of Setzer's, with its dark smoky fruits and berries, and its sense of an amalgam of Syrah and Petit Verdot. It's a multiple-layered wine though it'd be a stretch to call it complex.
I have it in the Riedel Chianti Classico alongside the Jancis glass, and not surprisingly the Jancis pushes the wine toward its Blaufränkisch parent, all that mint and violet, while the Riedel shows more dark-chocolate. In both glasses there's a charmingly cressy bite on the finish.
These are a lot of words for a "simple" wine. But there is nothing simple about the achievement such a wine entails. Michael "Michi" Moosbrugger has done (and is doing) great things, but I submit to you that none is greater than to offer this quality at this price-level, just to share the love with all the people who, unlike me and you, aren't obsessed with wine. Who ever treats them with this level of respect? The word I'm looking for is: honor.
Sparkling wines
Schloss Gobelsburg Blanc de Blancs Brut NV +
At first there was just one, and then there were two, and then an "RD" vintage wine, and now a Rosé, and Gobelsburg has to be counted with the best Austrian Sekt producers, which as a group are among the finest sparkling wines in the world that aren't Champagne.
This was disgorged December 15, 2020, and it's made from Chardonnay, Welschriesling, and Grüner Veltliner. It's méthode champenoise though it's forbidden to use that term. It's 100% cuvée, with tirage beginning only after six months in old casks. The assemblage is 2017/16.
The wine is thoroughly lovely. It has every bit of the texture and polish of Champagne, with a set of flavors entirely its own. These run in the warmed-straw direction, moving toward a wood-sorrel, hyssop, and sweet fern direction on the end palate; for synesthesiacs it's straw transitioning to a silvery-green and then to a deeper green on the final finish.
It is the very definition of class and distinctiveness.
In the second encounter, the most charming woodsy element started appearing. It's exquisitely silky from the Juhlin, and more overt from the MacNeil.
Schloss Gobelsburg Brut Reserve NV ++
Disgorged in September, 2020, an assemblage of Pinot Noir, Grüner Veltliner, and Riesling, including fruit from Lamm, Grub, Gaisberg, and Heiligenstein (!!); as with the BdB it is all cuvée, "met-champ," and tirage after six months in cask (of local oak). I don't know the proportion of PN, but it's decisive to the fragrance and palate.
It has always tasted more Austrian than Bründlmayer's NV Brut, which is no snub to the fabulous Bründlmayer. Michi's wine is more angular and sinuous, and in some way seems to offer a more vibrant dialectic without being at all tense.
It has the fluid, chlorophyll-y green of new spring leaves, the delighted lash of lemon balm and verbena, a nuance of white peach (hi, Riesling!), a ridiculously perfect poise of dosage, and something of a velouté of the sweetest green peas. It took all my willpower to spit it. I did, but I hated myself afterwards.
It also has a remarkably clinging length and seems to grow more concentrated toward the finale, so that it starts out gauzy and gets weightier and denser without sinking into heaviness. It feels like a wine Jean-Paul Hébrart would make from this raw material.
Second encounter is even better, more Pinot coming through, more sheer allure, and more of that elusive critter called charm. There will be tasters who find the dosage too high, but I do not understand those people.
It triumphs in any glass I use, and it has to be counted as a ginormous success in an "everyday" echelon.
Schloss Gobelsburg Brut Rosé NV
Still a base of 2017/16, deg. 12/2020, and an assemblage of Zweigelt, St Laurent, and Pinot Noir.
Despite the native-grapes in the blend, this smells uncannily like a pink Champagne. It shows a sophisticated and seamless balance of fruit, silk and body, with—again—perfectly judged dosage. I haven't yet tasted the vintage wine, but among the three NVs, this is both the fruitiest and also the most polished. Nor is it merely fruity. It has a cool composure, but it's by no means aloof.
With air it seems to focus its particulars, and feints toward the "Pinot" (with St Laurent as a fellow traveller) rather than Zweigelt's hedges and berries. When I taste it again I'll use MacNeil's fresh and crisp glass, which tends to make such things explicit. Using the Juhlin (as I am) tends to make a wine "dress up good," like a guy who looks surprisingly spiff in a suit. One begins to wonder whether this estate is capable of a false step!
Schloss Gobelsburg Vintage Extra Brut 2010
This is a coeur-du-cuvée from an assemblage of Pinot Noir, Riesling and Grüner Veltliner, tirage only after a year of cask aging, followed by at least ten years on the lees. Deg. 9/2020
It has that "papery" quality of certain mature sparkling wines, at least at first. 2010 is (if you recall) a very particular vintage, and initially this seems the most subdued and "quiet" among the Sekts. Correct, monolithic; some wines can be paralyzed by having too much to say, and this may be one of them.
Rather than continuing to cajole it here and now, I'll taste it again tomorrow, and use a range of glasses. I'm also aware that below-threshhold TCA can suppress fruit without smelling/tasting corky—but the cork smells fine. I am also aware that might be irrelevant.
Mañana dude.
OK, a day has passed. The wine is more open, but a fellow taster refers to a "cheesy, lactic" thing, and the MacNeil glass encourages my speculation about TCA.
Rosé wine
Schlosskellerei Gobelsburg "Cistercien" Rosé 2020
In my portfolio (or "former portfolio," if you insist) there were a bunch of quirky rosés along with two classics; this one, and Caroline Diel's. Both were commercially successful, this one especially, and it made me glad to see such robust acceptance for two rosés you honestly could call elegant.
2020 gives the impression of being highly aromatic, brisk, and somewhat matter of fact. At least for the early-released everyday wines. They bite a little on the finish, but it's only "the taster" who has to pay that kind of attention. The drinker, which the taster also is in her private life, doesn't worry about such things. Food will wipe away the end-palate sharpness, and if food doesn't, conversation will, and if these things don't work then the taster is taking his work home with him, and should stop.
The blend mirrors the sparkling rosé: Zweigelt, St Laurent, and Pinot Noir. The stated aim is for the wine to be sleek. It is, in the very best sense, ephemeral; it sets about to perform something brief and beautiful. It's not so much "fruit" as a vision of fruit.
A note on scores by Terry Theise
I disapprove of points. I don't recognize measuring wines against a notion of "perfection," I think it's a fool's errand to assign absolute value to an ephemeral impression, and the more precise a scoring system purports to be, the more it actually misleads.
That said, my mind forms hierarchies of its own volition, and special wines warrant special attention. So I'll revert to my deliberately inexact system of plusses—one, two, or three—to recognize the most remarkable wines. My plusses are sort of like Michelin stars. One plus is a wine that stood out. Two plusses is a wine that made me stop and consider the depth of its beauty. Three plusses is a wine that tingles with greatness, and offers a moment of profundity. Feel free to superimpose whatever scoring system you deploy; the point-systems are harmful but the folks who use them aren't evil, so if you want to conflate my three plusses with a scoring range that makes sense to you, be my guest.
Extracted with permission from Terry Theise's Tasting Protocols.