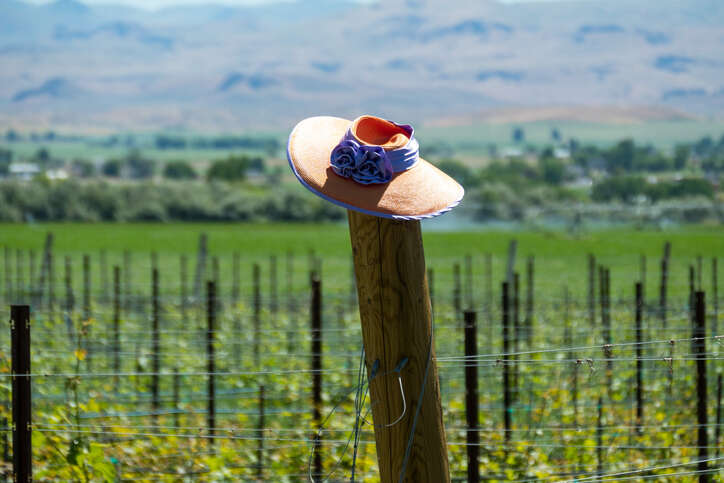 Jim Clarke reports from Snake River Valley in Idaho, an under-explored, but increasingly exciting corner of the Pacific Northwest's winemaking scene.
If you grow up elsewhere, the phrase "the Pacific Northwest" typically refers to two states, both with reputations for cool climates and rain: Washington and Oregon. For residents of the region, there is a third: Idaho.
Landlocked, and far from the maritime influence that gives Seattle and Portland their sun-deprived reputation, Idaho seems an odd fit. But when one realizes that almost all of Washington's vineyards and a significant chunk of Oregon's lie in the hot, dry rain shadow east of the Cascades, the connection begins to make more sense, at least in terms of wine.
Fifteen years ago saw the creation of the Snake River Valley, a huge, 2.1million-ha (5.2million-acre) area stretching diagonally across the map west of Boise, the state's capital. Wine, for a time mostly innocuous, sweet white wines, had been grown there since the 1970s, and there was a boomlet of pre-Prohibition vineyards as well.
There are some parallels with Washington's industry, itself still home to a great deal of Riesling, and like a few of Washington's AVAs, the Snake River Valley washes over the Oregon border, with fifteen percent of the appellation lying in the neighboring state.
Snake River Valley: Significant differences
There are significant differences, however. Despite the "valley" in the name, the vineyards enjoy the benefits of elevation, with vineyards starting around 600 meters above sea level and stretching up to 900 meters. So while the area can be very hot during the day, they tend to cool off at night.
Soils are mixed; volcanic soils dominate, but at the end of the last glacial period a massive lake the south burst northward, flooding the area and leaving debris of various sorts in its wake. Many of the vineyard sites are on hilly cinder deposits of volcanic soils, and only scattered plots are actually suitable to viticulture.
Which is too bad, because there is a huge demand for grapes. Currently just over 700ha (1,730 acres) of vines are servicing 65 wineries; while some larger farms like Williamson, Sawtooth, and Skyline repeatedly receive mention as sources of premium grapes, many vineyards are small affairs of just a couple hectares.
Some wineries are sourcing from Washington to keep up with demand, or for specific varieties—Telaya, for example, sources its Cabernet Sauvignon from across the border, believing the grape performs better there.
Viognier, Malbec, Tempanillo: Finding Idaho's signature varieties
Kelli Meyer, Winery Manager for Sawtooth Winery and Ste-Chapelle, says it's too early to put a pin on a signature variety, but some trends are apparent, and unless something changes Viognier seems well in the lead to claim the title—"Dry Viognier," as it's often labeled, to separate it from the sweet wines of the past.
The variety's fruit character comes through consistently, and producers by and large avoid the overly fleshy, oily, or phenolic touches that mar some Viogniers.
The race among reds is harder to call, though I tasted multiple examples of notable Petit Verdot and especially Malbec. A number pf producers are enthusiastic about Tempranillo, and the similarities to Ribera del Duero make it a logical choice.
However, while a couple of examples were quite convincing there were several that tasted thin, devoid of structure, and even oxidized. It was hard to tell if this was a winemaking issue or some sort of clonal mismatch.
Precept, which has a few dozen brands across the Pacific Northwest, owns Idaho's two largest wineries: Ste. Chappelle primarily still caters to the sweet wine crowd and produces about 125,000 cases annually; Sawtooth, their premium, boutique brand, only 12,000.
Most of Snake River Valley's wineries work in the 3-5000 case range, and consequently can sell all their wine within the state's borders.
Their audience is growing nonetheless. Boise, Sun Valley, Coeur d'Alene, and the state's other natural attractions are drawing in more and more tourists, and the state is seeing faster population growth than anywhere else in the US. Many are coming from California, and are bringing high vinous expectations with them. The pressure is on for better and better wine—and the industry seems keen to take up the challenge.
Four of Jim Clarke's favorite Snake River Valley wines
Cinder Viognier 2021
It's almost a shame to call out Cinder's Viognier when the reds—Malbec, a Bordeaux-style blend, a Ribera-esque Tempranillo—also performed so well, but the Viognier was the shining example of how the grape manifests itself in the Snake River Valley. Generously fruity, but still focused and elegant, with impressive length.
Telaya Grüner Veltliner 2021
An unlikely choice for the climate, but varietally spot on, with white pepper, apricot, citrus, and a savory minerality. One of the fun aspects of emerging regions is that as producers sort out what to grow someone will stumble onto something that, while it may not become a local trend, works for them in an exciting way.
Split Rail 'Me and My Thoughts' Carbonic Mourvedre 2021
While not fully onboard the natural wine train, Split Rail embraces an aesthetic (billed as "punk," which my younger self looked slightly askance at) that leans toward freshness and crunch over extraction and polish. This Mourvèdre captures that nicely, with fresh strawberry and blueberry fruit, a light body, and refreshing acidity.
Sawtooth Trout Trilogy Malbec 2012
That's no typo; at ten years this Malbec was holding up beautifully, with tertiary notes of pepper and spice complementing a core of cherry and blackberry. Belies the premise that younger regions' wines must perforce be enjoyed young.