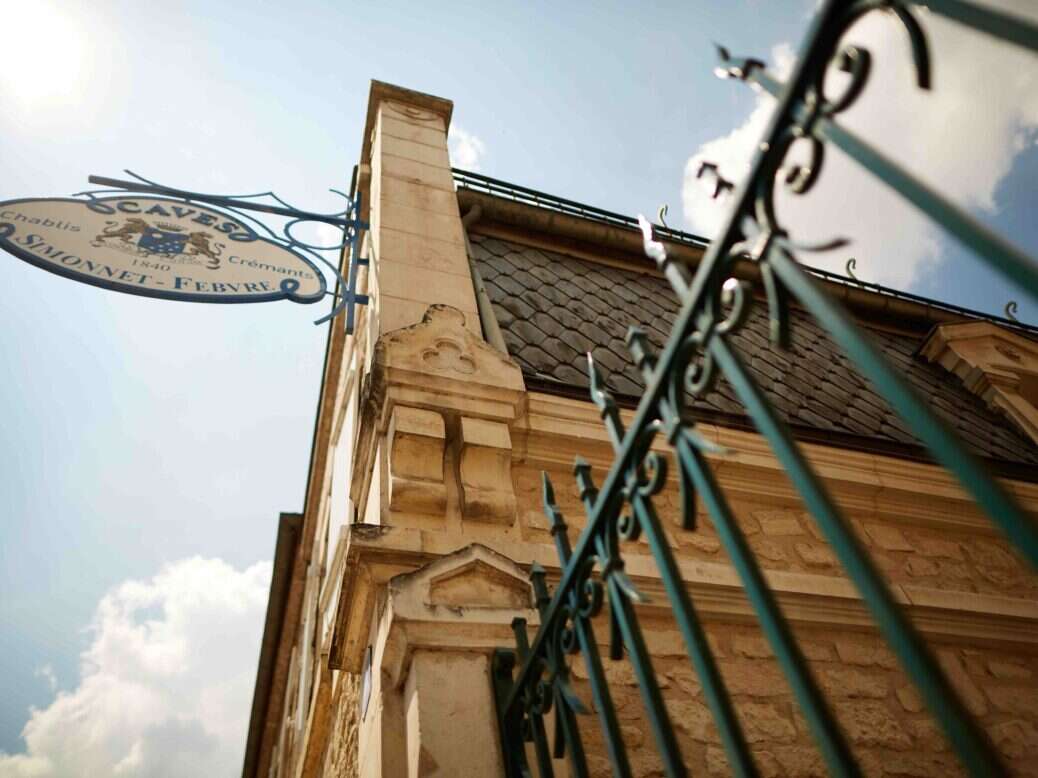 Sarah Marsh MW continues her reassessment of Crémant de Bourgogne by profiling some of the style's leading practitioners and their wines.
Crémant de Bourgogne: Burgundy's bubbles are rising
Simonnet-Febvre general manager Paul Espitalié met me on a chilly Saturday morning over a breakfast of warm brioche.
Crémant de Bourgogne from Chablis is crisp and delicately mineral without the rapier steeliness of Champagne. As Paul points out, it cannot come from the village of Chablis itself for there is no provision for Bourgogne in the appellation rules. The fruit comes from beyond the village appellation and, like many Petit Chablis, the vines are planted on Portlandian limestone, rather than Kimmeridgian. (The association of Chablis producers is not keen to change this). Portlandian soil tends to make fruity and fresh wine, but Paul thinks to make a true Chablisien style, with its typical flinty minerality and salty length, it would be necessary to use vineyards planted on Kimmeridgian soil.
While Paul Espitalié would like to do this, the resulting wine would be categorized as a Vin Mousseux, rather than Crémant de Bourgogne. How things have changed. When Simonnet-Febvre was established in 1840, it produced a range of still wine and mousseux using Pinot and Chardonnay. An old sales ledger from 1898 shows the top range of mousseux were more expensive than the grand cru Chablis. The former were priced at four francs, while the latter were were just three.
Staying fresh and lively
I like the fresh and lively style of Simmonet-Febve, which is fruitier than neighboring Champagne. The dosage levels are generally restrained across the range, at 5-6 g/1, which makes nicely dry-tasting wine. (The exception is the rosé, which is too sweet for me).
Paul finds the challenge of recent vintages lies in choosing the moment to harvest to retain sufficient acidity. However there is an upside. "These warmer years are perfect to make no-dosage wines which would be too severe in more traditional vintages. In a ripe year Chardonnay has the perfect balance to make crémant with no sugar, so we use our Chardonnay for our zero-dosage wine. Chardonnay has more tension and acidity. 2013 was a ripe vintage and the next will be 2015." They are just finishing the 2013 vintage now. It was bottled in 2014, so the last to be disgorged will have spent seven years on lees.
At Simonet-Febvre they are not overly concerned about warmer summers in Chablis. "The 2015 shows the potential for complex crémant even in a warm year. It isn't too rich and has lively freshness. It's just very important to pick in good time. We started on the August 14 in 2020."
Crémant de Bourgogne Brut P 100 Blanc de Noir NV

6 g/l dosage. Dark, slightly smoky aroma. Full-bodied palate showing lightly muscular grip. It has toasty biscuity notes and a firm bite. The depth and structure of Pinot Noir with a vibrant sense of freshness. The finish is spicy and has good presence.
Crémant de Bourgogne Brut Cuvée S 2015
5 g/l dosage. The enveloping and alluring bouquet of brioche and butter combines with a higher note of white flowers. The palate is ripe, but not rich; there is candied citrus on the strike and it is lightly rounded, delicate, fine and precise. It has lively freshness and shows remarkable elegance coming from the hot and sunny 2015 vintage.
Crémant de Bourgogne, Dosage Zéro 2013
Paul remarks, "It must be very ripe and smooth wine to have no dosage."
What an intriguing bouquet. Toasty and nutty with notes of bacon fat, marzipan and ripe citrus. Rich and expressive at the front, smooth and full in the middle with a precise, tight and fine, bitter almond finish.
By far the largest producer I visited is Louis Bouillot—HQ Nuits-Saint-Georges. This historic brand, established in 1877, had all but disappeared when Boisset bought it in 1995. It churns out three million bottles a year with the entry-level wines aimed at supermarkets—don't be sniffy, many well-known Champagne brands do this.
The entry level is all about a brand style and to achieve this Louis Bouillot draws widely across Burgundy for the fruit. Gamay is useful at this level for its fruit-forward style, but also to hit key price points. Consider that crémant producers compete for grapes with négociants making still wine. From the growers' perspective they can machine harvest and sell their crop at higher price for still wine production, such is current demand. Hence Louis Bouillot has plowed time and resources into nurturing grower relationships which include long-term price guarantees and joint projects to encourage growers to plant Pinot and Chardonnay in Beaujolais. Louis Bouillot doesn't buy fruit on the open market, but relies on grower contracts. Moreover the company is following in the footsteps of modern négociants which, for a generation now, have been investing in land. The new vineyards will be organically managed.
The Louis Bouillot style is fruity with a certain elegance, even in the entry-level cuvées. Perle de Vignes is a creamy and rounded non-vintage, cross-regional, and multi-varietal blend. Louis Bouillot produces one million bottles, a third of the entire production, of Perle d'Aurore Rosé, which has a year on the lees and 10-12g dosage. The use of 25 percent Gamay is evident in the ripe strawberry aromas. Full, but airy with oodles of summer fruit and a light crunch on the finish. Don't think too hard. Just enjoy!
With warmer vintages cremant producers are reining back the dosage. In the past Louis Bouillot used 12 g/l, but this has gone down to 10 g/l. Dosage is lower in the top-end wines, among which I have selected the following.
Perle d'Or Rosé Millésimé Eminent 2015
This is a selection of the best fruit of which 60 percent is Pinot Noir. 15,000 bottles were produced in 2015. It had six months in oak barrels and five years sur lattes. This is much more complex and structured. It has floral and light biscuit aromas and a creamy and mellow palate with good layering and a lovely long fruity finish. Certainly more contemplative.
Perle d'Or Millésimé Eminent 2012
Although this is made with a blend of red and white grapes, it has the nose of a mature white Burgundy. I enjoyed the warm bready, yeasty notes from eight years of lees ageing. It is supple and generous enveloping a firm and tight core which carries to a fine thread on the finish.
Louis Bouillot's top tier comprises the "Grand Terroir" wines, which have six years' ageing on the lees and minimal dosage. The following made a good contrast.
Vallée du Serein Les Grand Terroirs, Blanc de Blancs 2008
100 percent Chardonnay from Chablis. 1,881 bottles produced.
The nose is more developed. It is creamy, delicate, and pure with a mineral, racy line and crystalline finish. Sadly this example lacked some pressure.
Grands Rayes-Blanc Les Grand Terroirs, Blanc de Noirs 2008
This was my favourite. After ageing for one year in oak, it had a whopping 11 years on lees. There were just 1,500 bottles. It was the last vintage of this wine after which the fruit, which came from vines below Gevrey-Chambertin, became too expansive. Bold, muscular structure. Deep red fruit, dense and punchy. Exotic spice with a hint of cumin. Powerful and grippy. Persistent, earthy and almost meaty finish.
Grégory Georger, who took over the small family business in 2002, is fifth generation. Some 70 percent of the grapes are bought from vineyards within a 10km (6.2-mile) radius of the village, so I was surprised to find he doesn't support subdivision of the crémant appellation.
Since 1907 Parigot & Richard has been making crémant in an inconvenient winery in the middle of Savigny-Lès-Beaune. It's quite a feat to produce 200,000 bottles a year within these constraints, especially given the bottles are aged and hand riddled in a cellar cut out of the limestone beneath the winery.
This cellar varies in temperature from 10-16°C (50-61°F). I was under the impression that a consistent cold temperature, around 10°C, was necessary to create a fine mousse, but this cellar follows the natural cycle of the seasons which Gregory feels is the "best way" for ageing. "The bubbles should be very fine, but they are in service to the taste. The pressure is something that should help express the aromas and should not fight the wine."
Pressure and freshness
Parigot & Richard wines have approximately 5.5 bars of atmospheric pressure, in the ballpark of Champagne which ranges from 5 to 7 bar. Crémant regulations permit a lower bar of 3.5, giving softer and looser bubbles, but premium Crémants generally have a higher level of pressure similar to Champagne, which helps to boost the fresh feel.
That freshness is so important to sparkling wine. Grégory remarks on the warmer seasons. "We have learnt to work with less acidity over the past ten years—2013 was the last year with high acidity. I am very free with pH. We should not be too strict and anyway we are allowed to blend. I can source from the Hautes-Côtes, from the plain and in between, but to create a blend is not alway obvious. In 2013 nothing was bad, but I had no clear idea of what I would do. Even in 2021 most of the blends are all in my head. "
He reflects that 2007 was also a very good vintage for crémant, but whatever the level of acidity he will put the base wine through a MLF. "We find we don't lose a lot of acidity. In 2021 I will focus more on acidity as the sugar is pretty even. I have not used sugar in wine for 20 years."
A worthwhile sacrifice
Grégory produces a homemade liqueur d'expedition, the mixture of wine and cane sugar added after disgorgement to top up the bottle and to balance the acidity with some sweetness."It is a sacrifice to make the liqueur with our own wine, but it is better." I wondered if he had tried using grape must instead of sugar. (Jura producer Stéphane Tissot is among those who have been experimenting using grape must for his liqueur de tirage, arguing this approach enhances the expression of terroir.) Grégory has experimented with must, but was not happy with the process or the result. "You have to freeze the must. The density of the sugar is too low and you have to use too much."
His approach to dosage is interesting in other ways. It would be logical to suppose that the sharper and leaner profile of Aligoté would demand a higher dosage, but not so. "I use very little in Aligoté as this is drunk quickly. I don't use much dosage where the ageing is short." He uses between 2-4 g/l. A higher dosage would not have time to integrate. "Some dosage should help fix the aromas and give a little fat, but the greater the dosage the longer the wine needs in bottle—maybe as much as eight years."
Grégory exports 80 percent of his wine, which he describes as "a wine for wine specialists; for people who love Burgundy and not necessarily lovers of sparkling wine. These are wines to drink, not to collect."
La Sentinelle
Parigot & Richard's largest production blanc de blancs made up of 80 percent Chardonnay and 20 percent Aligoté mixed planting from two parcels at the top of the slope. 5 g/l dosage Lively, high-toned aroma. Floral with light citrus, a touch of brioche and almond notes. This is fine and straight. It shows delicacy and vibrancy. Swift and pure onto the finish. Delightful.
Monocrome
Rosé from 100 percent Pinot Noir. "we have 6-7g dosage, but ageing for 36 months will soften the dosage. A punchy red fruit aroma with biscuit and marmite. It's sturdy. Full, quite generous with plentiful redcurrant fruit. Expressive autolytic characters. This combines substance with a refined touch.
Quartier Libre
Bourgogne Mousseux Blanc 100 percent Aligoté with 2 g/l dosage. Fresh and pithy with grapefruit notes. It is light and snappy with an appetizingly dry finish.
Manifeste
Bourgogne Mousseux Rouge 100 percent Pinot Noir with 30 months' lees ageing and 7 g/l dosage. "I have to be very careful with the tannins and pressure or it will be undrinkable." Uber expressive ripe redcurrant aroma. On the palate, tooty-fruitiness meets tacky tannins and gas. It feels wrong, but somehow quite good. Amply juicy and fresh. The fruity finish would work well with spicy food.
This mid-sized, family-run crémant producer has a striking, modern facility built into a quarry on the edge of Rully. The wine ages 7m (23ft) below the ground in a constant temperature of 10-12°C (50-53.6°F); they consider this "bio-climate" crucial to the quality of the ageing process. The company was founded in 1926 and has 18ha (44.5 acres) of its own vineyards, but also buys in grapes. I have mentioned escalating grape prices, but I was surprised, on being handed a list of bottle prices, that these would increase by 60 percent.
Here the philosophy is "terroir first […] The bubble is just a detail more," I was told. "The base wine is what we work with." They do not make any non-vintage wine here on the premise that a blend of vintages would compromise their aim to highlight the sense of place.
En Chazot, Blanc de Noirs Extra Brut 2017
From a single southeast-facing vineyard near St-Aubin. This has three years sur lattes and 5 g/l dosage. Floral with light biscuit and a hint of umami. Bite and slight grip on the palate. It has a crisp snap. It is lively and has a purposeful finish.
Les Reipes Blanc de Blancs Extra Brut 2017
100 percent Chardonnay from a south facing slope. This has four years sur lattes. Creme brûlée aroma; the palate is rather refined and certainly silky. A light and elegant Crémant.
Cuvée Jean-Baptiste Chautard 2015
Touch of Aligoté but 95 percent Chardonnay, some of which is fermented in oak. Four years sur lattes and 8 g/l dosage. The aroma is warmly delicious and intense. Elderflower aromas combine with rich buttery notes. It is smooth and deep, showing power and elegance. The finish is quite long.
A bit on the side
I can't write about Crémant de Bourgogne without mentioning the trend for Burgundy domaines to produce a crémant on the side including Caroline Léstime, Jean Chartron, and Domaine des Terres de Velle in Auxey-Duresses. They don't do the whole shebang—the base wine is carted off to a specialist to mange the second fermentation. I particularly liked the example from Boris Champy in Nantoux on the Hautes-Côtes de Beaune.
Domaine Boris Champy, Crémant de Bourgogne Petit Aigle 2019
Fresh, pure and citrus aroma. This is a light-bodied, straight, high-wired style with gentle mousse and slightly mineral finish.