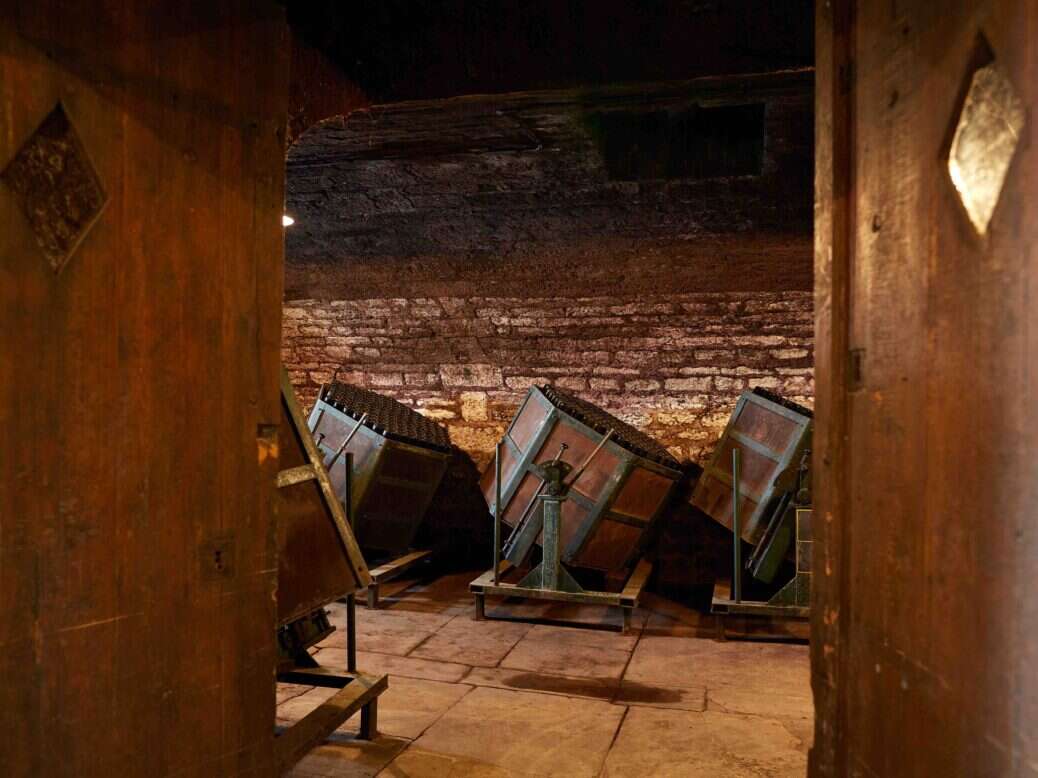 Sarah Marsh MW takes a fresh look at Crémant de Bourgogne, and finds a sparkling wine style developing its own, distinctively Burgundian identity.
Crémant de Bourgogne: The producers and their wines
Although I've been trotting to and from Burgundy for more than 20 years, I had never visited a crémant producer until recently.
Crémant de Bourgogne had registered on my radar, but mainly as a quaffable and reasonably priced bottle-fermented fizz to buy in Burgundy and drink whenever my palate needed a change of pace from the marathon of en primeur tasting.
However, a tasting at Maison Louis Latour in London introduced me to Simonnet-Febvre Brut 100 Blanc de Noir. And while enjoying a bottle of this at home during lockdown, I decided to explore Crémant de Bourgogne properly when traveling became easier.
Crémant de Bourgogne: From Chablis to Beaujolais
The appellation, which produced 24,280,313 bottles in 2021 (second only to Crémant de Alsace), is surprisingly elongated. An old sign at Crémant de Bourgogne producer Simonnet-Febvre boldly proclaims "Chablis et Champagne." It seems likely that in years gone by Simonnet-Febvre sourced grapes from vineyards these days delimited as Champagne.
While it's obvious that the region around Chablis should produce the most northerly Crémant de Bourgogne, it's rather more surprising that Beaujolais, in the warm southern reaches of Burgundy and home to Gamay, is a significant source of fruit. Prompted by high prices in the Bourgogne heartland, some larger crémant producers are looking to the Beaujolais as the engine house of fruit production. This prudent measure is important for their price-sensitive, cross-regional blends. Never more so than in 2021 when grapes were both scarce and expensive after the harsh spring frost, which badly affected production.
Crémant de Bourgogne: A brief history
Pausing to look back at the history of sparking wine in Burgundy, there is another small surprise. It first made an appearance in Burgundy in the early 19th century when it was common practice to make sparkling versions of the most famous grands crus of the Côte d'Or. It's said that Napoleon III was presented with sparkling versions of Clos de Vougeot and Romanée-Conti at a dinner in Dijon in 1860. Bourgogne Mousseux Rouge was all the rage at this time with over a million bottles sold in 1827. It fell out of fashion and even the popularity of white and rosé dwindled. By 1975, in a bid to improve consistency, quality and sales, the appellation of Crémant de Bourgogne was created. However the new crémant category was solely for white and rosé wines, leaving the erstwhile favorite, red fizz, as a lowly mousseux.
Crémant de Bourgogne: Rules and regulations
Crémant is categorized as a regional-level wine, made with grapes from Bourgogne appellation vineyards, which in vicinity of the Côte d'Or translates as the plain below the R74 or from the Hautes-Côtes. (Not all of the 3,000 ha [7,413 acres] delimited for crémant production are planted). However Crémant de Bourgogne can far exceed the quality expected of a regional wine. The 1975 classification brought crémant regulations more in line with Champagne. Grapes must be picked by hand into small cases to prevent crushing and oxidation. At pressing a maximum of one hundred liters (26.4 US gallons) may be extracted from 150kg (330 pounds) of fruit, a measure designed to keep the quality of juice high. The second fermentation must take place in bottle with a minimum of nine months' bottle ageing before disgorgement, giving sufficient contact with the lees to create the autolytic biscuity characters we expect of a bottle-fermented wine. Many of the best Crémant de Bourgogne wines will be left for six years sur lattes and some even longer. The lattes are the thin wooden laths on which the bottles lie as they age. The bottles must be kept for a further three months before selling.
The permitted yields vary and are verified annually by the INAO. They are often between 75-78 hl/ha, which would be high for a still wine, but is modest for a base wine destined for sparking, and in some more abundant vintages part of the yield may be put into reserve. To take advantage of the maximum yield the producer must declare their vineyard for crémant production by March 31 prior to harvest—a date that coincides with pruning. This so-called DAP system (Déclaration Préalable d'Affectation Parcellaire) was devised to give crémant producers security in sourcing fruit from growers. While a second DIP system (Déclaration d'Intention de Production), which allows a declaration of juice during pressing, is designed to give the growers flexibility. Effectively it allows some or all of the juice from a vineyard to be de-classified. This has mixed results. It allows growers a chance to de-classify decent fruit which is more suitable for crémant than still wine. This can be particularly useful in a bounteous vintage when production is higher than the appellation for still wine allow. However it also enables the unscrupulous to "dump" fruit that doesn't come up to snuff.
Crémant de Bourgogne: A stylistic identity
I was keen to pin down a stylistic identity for Crémant de Bourgogne; to discover how Burgundy's producers differentiate their wine from the seven other crémants that France produces and what distinguishes it from Champagne. It would be easy to see Crémant de Bourgogne, particularly from the north of the region, as a cut-price version of Champagne. I also wondered how crémant producers felt about warmers summers, given the importance of acidity in sparkling wine.
There are 138 producers of Crémant de Bourgogne and 1,685 grape growers. I decided to visit four producers of differing shapes and sizes from the three historic regions of production: Nuits-Saint-Georges, Savigny-Lès Beaune, and Rully. For good measure, I also went to Chablis.
Burgundy-made sparkling
It became apparent from conversations with these producers, together with impressions from tastings their wines, that Crémant de Bourgogne is first and foremost a wine from Burgundy—by which I mean the bubbles are secondary. It has a Burgundian taste; a rounder palate and a fruity generosity which distinguishes it from the more steely Champagne.
Regional identity
While larger producers make cross-regional blends, it's not surprising that many Crémant de Bourgogne wines have a strong sub-regional identity. The further south you go the richer the style becomes.
Proposals are afoot to identify the sub-regions within Burgundy on the label which would certainly help the consumer to identify the style of crémant and to understand the price differences.
Crémant from the Chablis region will be crisp, straight, and more expensive than crémant from the Beaujolais, which will be fruitier, softer, and cheaper given the warmer location, less expensive grapes, and shorter ageing.
Paul Espitalié of Simonnet Febvre remarks: "Crémant from the Chablis region has a particular identity because it is cool and makes crémant with such freshness. Also we focus on Chardonnay and Pinot Noir. Crémant de Bourgogne is too limiting. We need to explain why we are different."
The association of Crémant de Bourgogne producers is discussing sub-regional classification, but many members are hesitant. I can't help but think that more specific classification would ultimately create a stronger pan-regional identity. Nor do I believe it would undermine the place of cross-regional blends, which are necessary to hit the entry-level price points. By the same token I would argue that Bourgogne Côte d'Or has elevated the perception of quality for regional Bourgogne in general.
The terroir of Crémant de Bourgogne
But of course! This is the core identity of Burgundy. Many of the Crémant de Bourgogne wines that stood out for me are those made from a tighter regionality, in some cases parcels from around a particular village, or maybe several parcels linked by a specific terroir type.
I did wonder whether the second fermentation, presenting another process to separate the vineyard from the wine, would mask the terroir, but some of my favorite wines were from single vineyards. I would like to think these wines showed translucency to the terroir, but maybe the quality was simply the extra attention to detail in the higher-end wines.
The varieties
Crémant de Bourgogne wines are not varietally driven. This distinguishes them from the traditional-method wines in France made with more assertive aromatic grape varieties including Riesling, Pinot Gris, Sauvignon Blanc, and to a certain extent, Chenin. In these wines the variety can dominate. I confess I am not a fan of traditional-method sparkling wines made from Riesling from Alsace.
Chardonnay and Pinot Noir play their part as a conduit to the terroir for the still wines of Burgundy. They express a sense of place and this is no different when used for Crémant de Bourgogne. Chardonnay, a relatively neutral variety, articulates this most keenly, while Pinot Noir is more fruit-driven, but retains translucency.
Aligoté is a useful blending component in making crémant. Its lively acidity is particularly helpful to enhance the soft acidity of fruit from warmer sub-regions and hotter summers. Grégory Georger at Domaine Pargiot & Richard finds it "a good tool for its low pH. In a hot vintage it is expressive, but in a cold summer it is not interesting."
Aligoté is lightly citrus without a dominating varietal stamp and is a bona fide member of the Burgundy grape family. Moreover it's super fashionable at the moment. I would not be surprised if there were a trend for single-varietal Aligoté. Domaine Pargiot & Richard make one (Quartier Libre, see Crémant de Bourgogne: The producers and their wines), but lose the Crémant de Bourgogne appellation. A maximum of 70 percent Aligoté is permitted so anything greater is demoted to mousseux.
And so to Gamay which, to my mind, detracts from a cohesive identity for Crémant de Bourgogne. Moreover it seems counter intuitive to make a bottle-fermented sparking wine from this very fruity variety, but nor is it logical to include Beaujolais in Burgundy. Both put up a good fight for their place, but why not have a sub-appellation Crémant de Beaujolais for more fruit-driven entry level wines?
Thoughts on price and value
Crémant de Bourgogne is not cheap. It cannot be. Burgundian fruit is expensive. Very expensive. Grapes from the Côte d'Or sell at a premium, but prices are increasing from Chablis to the Mâconnais. Some larger producers, including Louis Bouillot based in Nuits-Saint-Georges, are addressing this by growing Pinot Noir and Chardonnay in the Beaujolais. They have programs to support their "grower partners" in cultivating these varieties in the granite soils of the sunny south. Undoubtedly fruit prices are escalating, but is pumping up the volume of Beaujolais-led crémant the answer, or does it risk undermining the style and identity of the whole region?
Surely it would be better to focus upmarket. Clearly some are of like mind, for in 2016 an upper echelon of quality was created. Crémant de Bourgogne Eminent and Grand Eminent have tighter production regulations including 24 and 36 months bottle ageing on the lees. These categories distinguish a level of premium level crémant and help to explain their high price tag.
The future of Crémant de Bourgogne
Crémant de Bourgogne has everything going for it and still everything to play for. It seems to me, as a generic group, they could do more to tap into the heritage and aura that surround Burgundy. There are a number of factors, among them quality production, long ageing, classic varieties and sub-regional wines with a strong sense a place, which combine to add value and distinguish Crémant de Bourgogne from the crémant competition. But in essence this wine reflects the spirit and soil of Burgundy, but as someone remarked to me recently, marketing is rarely a team sport.
In relation to Champagne, I feel that tighter regional identity and terroir focus is the way forward in establishing the place of Crémant de Bourgogne alongside the wines of Burgundy's marketing-savvy neighbor.