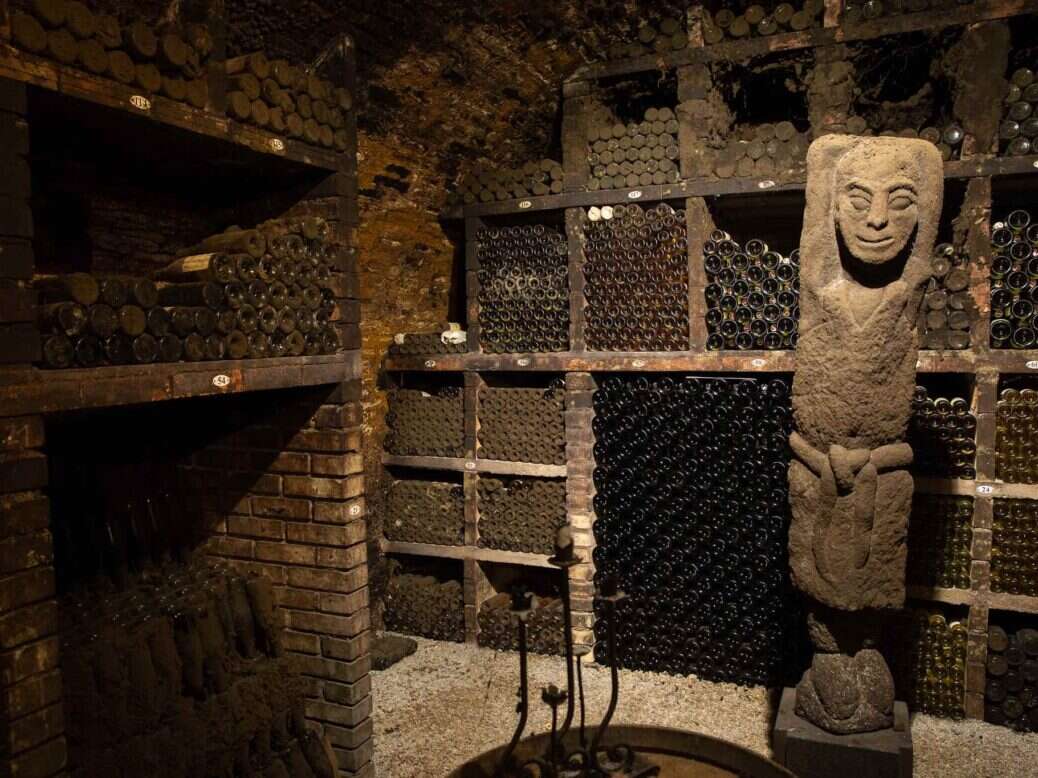 Terry Theise concludes his close tasting of the latest releases from Kamptal's Bründlmayer with an exploration of the estate's Riesling, and a coda of enchanting Muscat and sweet wines.
2020 Kamptal Riesling "Terassen"
Starts out smelling like nettles and woodruff. Then boxwood and white iris. Lupins have this smell too; almost but not quite wisteria. The palate, though, moves in another direction.
The aromas led me to expect something funky or spiky, a face of Riesling some call "austere," but the wine is a juice-bomb, silvery and grassy but not Sauvignon grassy, more like some esoteric grass Jeff Bezos has on his lawn that smells like ibogaine when you snip it. We also have some phenolics to manage, but not obtrusively.
It's basically the cressy-arugula facet of Riesling in a not-hot vintage, yet the texture is so spurting (with its 8g acidity) it's like your palate was soaked by a water pistol. It's fun, it's wide-eyed, its zapping with life, but it's not ingratiating. In this vintage, this wine favors the GV.
I drank a little one evening to see how it would react to food. Nothing noteworthy, except that now the fill-level is lower than the other wines, and that has brought forth a lot of fruit … and a teensy bit of sweetness. I mean "extra-brut" sweetness, like 4-5 g/l. But noticeable, and happily so. This is a better wine than quick swirl-and-hurl would indicate, and a few years in the bottle will prove it.
2019 Riesling Ried Steinmassl
The late Bill Mayer (poet and wine-merchant, and friend) was a lover of this vineyard. I wish he were still with us, because I'd posit that his love of (the poet) Jack Gilbert was analogous to his appreciation for Steinmassl. Each is piercingly beautiful in a cut-the-crap kind of way. I myself would often use Steinmassl to overcome objectors to the idea of "terroir" or even of "mineral" flavors.
From their website: "The Riesling vines of the Steinmassl vineyard grow on primary rock with mica-schist. This geological formation of Austria's southern forest district possesses as classic and traditional a soil type as one is likely to find anywhere Kamptal, Kremstal or Wachau. Paragneiss and mica schist make up the crystalline bedrock, together with dark amphibolite and light coloured granite gneiss. Deep weathering has resulted in a brown earth soil layer of variable thickness (up to one meter in places), which contains scattered rock fragments and which, despite the siliceous nature of the bedrock, can sometimes be a little calcareous."
I bring this to your attention because the Rieslings from this vineyard are fervently expressive of every flavor that isn't fruit, flower, or spice. Tasters can name these things as they wish; the common (and contentious) word is "mineral," which is as intuitive a metaphor as seems to be available.
The wine at hand plays on the ultra-violet end of the spectrum. It is no-quarter-given tart, and many would find it austere. From the Jancis glass the aromas are brilliant, complex and interesting, with subtle lavender and white peach coming into play, but honestly this feels like one of the few remaining German GGs that just isn't generous enough. There are partisans for this style, which others receive as shrill.
The second look, after two days' open, shows the caraway-seed thing common to Riesling grown on amphibolite. This is like a somewhat coarser version of a Goldberg from Martin Nigl. It also calls to mind the Rüdesheimer Berg, curiously. As a lover of mineral-madness I want to like this more, but it makes me feel admonished.
2019 Riesling Ried Heiligenstein ++
If you're unfamiliar with the system, up to now there were three bottlings of Heiligenstein Riesling, the basic one (12.5%alc) and another from pure Lyra-trained vines, and a third from extremely old vines. It's one of the top 10 Riesling sites in the world, and I'd entertain an argument that it's in the top five.
I had this before from an open bottle. I wrote: "Rampantly balsam-sorrel-aloe, lavishly juicy and gleaming and gorgeous. At least one plus." This bottle's better behaved, running a quivering spiciness that's like some blends of Chinese five-spice along with a zingy eucalyptus Timut pepper riff—basically an almost brash energy—as well it might show with 8 g/l acidity. It's a strong wine but it's also incipient. One of those "moody" '19s skulking in its trough. Believe me, I get it.
But then this wave of papaya jazz emerges from the fragrance and it's all juicy and sexy and you know this sizzling person just needs a little break from the action, to recharge for the next round. Heiligenstein is one of those wines that's more inscrutable than we can actually understand, even as it's feverishly expressive and generous. Because what is it, exactly? Is it the hours of quiet study to arrive at the fine, firm idea? Because there is a genius in these wines. Or is it the giddy dancing (per Joni) energy that wraps you in its perfumed nexus? Or is it the salt you like off the naked skin of your lover? Because it is also that. Or is it the Talmudic depth that almost seems to scold you for staying at the surface when an ocean of mystery calls to you?
I have a glass of Riesling Heiligenstein and am sitting on my deck with a friend, and I take a sip and shake my head and wipe a stray tear away, and my friend asks "Are you upset?" and I say, No, I just can't make sense of the world sometimes. And my friend says "In what way?" and I say, "I don't know how something can be like this thing we have in our glasses," and my friend doesn't quite get it, but remains my friend.
2019 Riesling Ried Heiligenstein "Lyra" +++
I'll have detailed in the introduction how this wine may cease to exist except in rare instances. It will instead improve the "regular" Heiligenstein, which I understand—and yet perhaps the very greatest Austrian Riesling I have in my cellar is the 2014 Lyra, and now it will have the somber shimmer of demise. Or I'm just a drama queen.
The so-called lyre-training system, after which this wine is named, offers an advantage in the ever more frequent hot years, when it provides a sort of umbrella of canopy to keep the grapes from sunburn. But for all its advantages, this method will never be widespread because of the enormous hand-labor it entails. Willi told the magazine VINARIA "Our workers don't love the lyre vineyards because they're so demanding." But the results … oh, the results!
This 2019 starts with a cool green aloe, with ancillary notes of sweet wood-sorrel and balsam fir and linden blossom. It's both cooler yet also more intricate than the above. It expresses all the flourishes of deep green beings. It feels like something explosive will emerge, but for now it is demure.
But coax it, calmly, as you would a shy child. A lively top note (almost) of spearmint materializes, and then some embedded pepper. The Jancis wants to show me some kind of molecular powder made from the petals of dried violets. It also reveals a firmness of spine I barely saw at first.
Lyra has been a changeling over the years. At first it was blatantly fruity, blissfully so, showing every lovely thing we could see above the surface. A hedonism for refined people! Then over the years it got curiously deeper, until it scratched at the ancient door of the Old-Vines. Still, an ineluctable frontier separates the two. The old vines would never show this yuzu or this riot of maracuja.
It's sublime from any glass I pour it into, but from the Jancis it is almost forbiddingly complex—I like this quality!
In the early days Willi would sometimes say that he wanted to show you could make great Riesling from young vines, but these aren't really so young any more. Most were planted in the 80s, and so the two wines (this and the old-vines) become a sort of dialectic between euphoria and gravitas, with each inhabiting the other indirectly.
Put it this way: The two wines occupy the same monastery in some remote part of the mountains. The Old-Vines are like the old monks who pray silently all day and barely notice their bodies, while the Lyra is like the young novice monks who still sing and fly kites on breezy days. They love one another, in their rarefied way. They know that citizenship means more than one thing. I am a little afraid of the gravitas of the old ones, yet I need to peer in again and again. The Lyra is a refuge from thoughts uncomfortably dark.
2019 Riesling Ried Heiligenstein Alte Reben ++
Just 13% alcohol, in a ripe vintage … we've come a long way from the dark years when a wine like this might have had 14.5% alcohol with botrytis. The average age of the vines is 50, with many being 75 and (much) older. Willi observes that, "A Riesling vine will outlive a human being." I'd have decanted this except I want to keep it for a few days. If you're drinking now, please decant at least 2-3 hours out.
I just took the first sip. When you taste a wine like this, there comes a point where it isn't even "Riesling" any more. It enters a kind of profundity that obliterates the details. It is numinous, powerful, and inscrutable. The sheer mass of material renders it mute, as if it has so much to say that it can't begin to speak.
It is almost inevitable that this wine will entice dark raptures. But let's look at it as unblinkingly as possible. At cellar temp, and from three different glasses, it is grippy and phenolic. While I vibrate to its Saturnine nature, I do notice with what rigor it pulls me away from sentiment. It doesn't want me to feel, especially not my more decorous (and vicarious) sorrows. Those are a currency that cannot be spent here.
Oddly, the least "pretentious" glass—the little Spiegelau white wine—encases the wine so as to favor a certain obscure lyric. It indicates the beauty of old hands, all knuckle and gnarl. I stuck two "plusses" up there but honestly, right now it is one and ten years now it could be twenty—probably will be.
Dönnhoff's Brücke behaves this way too, at times. It's a good lesson for the taster. Humility! The estate's own tasting note refers to not "appearing melancholic." I'm not sure that any other response is appropriate. Obviously you can't tell your customers This wine is guaranteed to bring you right down! But at the same time you could say, "Don't drink this if you want to be giddy; we have other wines for that. Drink this if you want to think about who you want to grow old with."
Lyra is just that—lyric. I adore it for that reason. Alte Reben is grave, urgently so. In these times some of us are asking "How do we care for one another amidst all this danger?" The answer can start with letting this wine take us where it wants us to go, and then to open our eyes and not shrink from what we see. If Lyra is loving life brightly, then Alte Reben is loving it darkly, all the things we didn't earn and took anyway, the gratefulness we remembered to feel almost too late. But just in time.
2019 Gelber Muskateller Ried Rosenhügel +
I'm surprised by the Burgundy bottle—was it intentional? Turns out it was, as a means of indicating the wine won't be the "little aperitif" form of Muscat.
The wine is completely ridiculous! Entirely insanely good in every possible way this variety can shine. But let's look at the Icons.
You have Zind-Humbrecht with their Goldert Grand Cru, which allies the blatant varietality of Muscat to a limestony bite that feels analogous to some Pouilly-Fumé that isn't crudely "Sauvignon Blanc."
You have Müller-Catoir, who for decades have limned the ultimate expression of the pure grape in an almost psychedelic brilliance.
Below these summits you have (among many others) Nikolaihof, with their "mineral" take, and you have the Styrians with their irresistible sappy springtime juiciness where you'd swear you never sipped anything so absurdly tasty.
Which carries us here. The tobacco aroma is surprising; the peppermint aroma less so. Then there's this craziness of ghee and pickled ginger and crème-fraiche. The palate shows the Bründmayer polish in a charmingly undisciplined form. Is it the "thinking man's Muscat?" Not really! The "thinking man" knows better than to think while drinking Muscat. We just respond and register. We are not seeing brave new realms of Muscat here; we are seeing the variety respected and rendered with the estate's usual care and polish. It's ancillary for them (only because the grape is so finicky), but admirably fine, more along lines of dark-pepper notes than elder-blossom.
Desert Wines
Would I like to taste any sweet wines, they asked? "If there's a couple spaces in the box, sure, send me what you know I'll like," I said. I'm so damn coy sometimes.
Bründlmayer has an excellent track record with sweet wines (as does Schloss Gobelsburg), which are imbued with the same sense of intelligent proportion as everything that comes out of this winery. Bear in mind, dessert wines are circumstantial, made from botrytis berries not suited to the dry wines, but over the years I think they have benefited from ever-greater respect by their makers. I recall a truly beautiful quartet of 1998s, after which it was clear—the wines would be made as nature permitted, but when they were made they'd be made wonderfully.
I tend not to like the fleshier styles of sweet wines from warmer climates. It's relatively cooler in the Kamptal, and while the wines miss the sting and lift of their German cousins, they also avoid the sort of louche indolence I find in the more blatant examples of warm-climate sweet wines. Finally, as regards young sweet wines, I must confess my palate is often defeated by their opacity and concentration. I've also found, as I've gotten older, that by the time we think of serving them—after the meal—I've had a surfeit of booze.
But last evening my wife and I opened both bottles and drank them—not "tasted," but drank—under a rare midsummer sunset that was a riot of murmuring pinks and russets. It was the moment the birds put their songs away for the night. We talked a little about the wines, but mostly we just talked with that familiar aimlessness that's one of marriage's more exquisite privileges.
The wines were a 2018 Grüner Veltliner Auslese, Langenloiser Alte Reben, followed by another 2018, Gelber Muskateller Trockenbeerenauslese Ried Rosenhügel.
These wines have always expressed their varieties clearly, and these two were no exceptions. The Auslese was almost savory, definitely max-GV, and rather too energetic to serve as a Vino di Meditazione. That function fell to the blazingly varietal Muscat, rich enough to pause before but also somehow serene, confident in its identity. I've tasted oak in past vintages of Willi's sweet wines—and liked it—but I wasn't tasting it here. That said, I'll gird my loins and "study" the wines over the days to see what wriggles out from under the richness.
For more of Theise's thoughts on Bründlmayer's latest releases, click here for the red and sparkling wines and here for the Grüner Veltliners.
A note on scores by Terry Theise
I disapprove of points. I don't recognize measuring wines against a notion of "perfection," I think it's a fool's errand to assign absolute value to an ephemeral impression, and the more precise a scoring system purports to be, the more it actually misleads.
That said, my mind forms hierarchies of its own volition, and special wines warrant special attention. So I'll revert to my deliberately inexact system of plusses—one, two, or three—to recognize the most remarkable wines. My plusses are sort of like Michelin stars. One plus is a wine that stood out. Two plusses is a wine that made me stop and consider the depth of its beauty. Three plusses is a wine that tingles with greatness, and offers a moment of profundity. Feel free to superimpose whatever scoring system you deploy; the point-systems are harmful but the folks who use them aren't evil, so if you want to conflate my three plusses with a scoring range that makes sense to you, be my guest.
Extracted with permission from Terry Theise's Tasting Protocols.