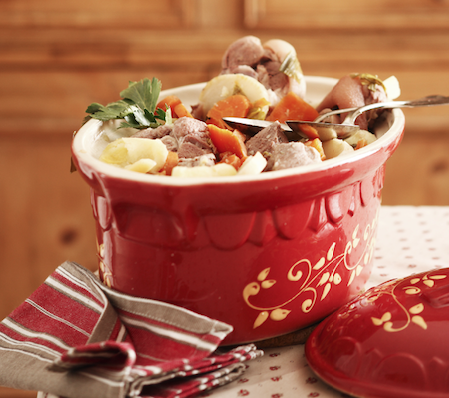 Joanna Simon's journey through classic wine country dishes takes her to Alsace, where the meat, potato, and vegetable stew baeckoeffe matches with the local Pinot Noir (and Gris).
It's not just the cultural richness of Alsace cuisine or the number of Michelin-starred restaurants that makes eating in the region such a pleasure, it's that there is still a high regard for traditional dishes—not to the exclusion of creativity and originality in the kitchen but together with it. There isn't the sharp divide that exists in some regions between home cooking and the haute cuisine (for want of a better expression) of restaurants. Celebrated chefs may refine classic dishes and add a signature flourish—perhaps some slices of truffle here and there—but they're happy to put on their menus dishes that are being served down the cobbled street in local brasseries and in Alsace homes and are happy to offer the more homely dishes alongside their more innovative and ambitious creations. If choucroute garnie, tarte à l'oignon, and kugelhopf top the charts, coq au riesling and baeckoeffe can't be far behind.
From a baker's oven
Baeckoeffe is a one-pot marinated meat, potato, and vegetable dish that takes its name, baker's oven, from where it was cooked in the days when the only oven in a village was usually the wood-fired one belonging to the baker. The dish was cooked in the morning, as the oven, hot from baking bread, slowly cooled down. In the rest of France, the equivalent dish was épaule d'agneau (or de veau) boulangère, but, unlike baeckoeffe in Alsace, I can't remember when I last saw lamb or veal boulangère on a menu in France. You can, however, find baeckeoffe under its American name, Laundry-day stew of beef, pork and lamb, in restaurants in the US.
The American name tells you not only what the principal ingredients were but when it was traditionally served. The French chef Hubert Keller, renowned for his Fleur de Lys restaurants in San Francisco and Las Vegas, was born in Alsace in 1954 and recalls, in his book Hubert Keller's Souvenirs: Stories & Recipes from My Life: "It was traditional, particularly on Mondays, when the women went to the river to do their laundry. They would have marinated their meats and vegetables overnight, dropped their casseroles off in the morning on their way, and then picked them up plus a loaf of bread on their way home."
How to make baeckoeffe
The essentials of the dish are the three meats in equal quantities (boneless and cut into chunks) and a split pig's foot or two (for the gelatinous texture, but sometimes omitted today) marinated in white Alsace wine (Keller suggests Pinot Gris, others recommend Riesling), together with onions, garlic (and sometimes leeks and carrots), herbs (usually bay leaves, thyme and parsley), and sometimes juniper berries. In the morning, a layer of finely sliced potatoes is put in the base of the cooking pot, the meats and vegetables, drained of their marinade, are placed on top and this layer is covered with a final layer of potatoes. The marinade is then poured over it. Traditionally, when the dish was delivered to the baker for cooking he would have seal the lid to the dish with leftover bread dough.
I have seen versions which include mushrooms and, indeed, vegetarian versions based on mushrooms—and Hubert Keller writes temptingly of serving it at Christmas with "plenty of sliced black truffles"—but generally contemporary baeckoeffe doesn't spring any surprises, which makes choosing wine for it relatively straightforward. There is no point in suggesting that it's anything other than weighty food, but the fact that the meat is marinated in white wine does make it lighter than if it had been soaking up flavors from a powerful red.
Matching the meat and the marinade
There's a case for arguing that the richness (born of the ingredients and the slow cooking), particularly when pigs' feet are included, could be cut by a white wine, in which case I would suggest a dry Alsace Pinot Gris, ideally a Domaine Ostertag Pinot Gris Grand Cru Muenchberg with a few years' age. But I prefer red with baeckeoffe and above all Pinot Noir. It would not only be a match for any of the meats individually, but goes with the marinated combination. Until relatively recently, the choice among Alsace Pinot Noirs would have been limited by the lightness of most, but quality—ripeness, concentration, body—has soared in the last few years (the words climate change are never far away). My first choice would be one from Albert Mann: I'd be happy with any, but if pressed it would be Albert Mann Pinot Noir Grand H; let's say 2015 to allow 2017 and 2018 a little more time. Outside Alsace, there are plenty of Pinot Noir options, but I'm drawn to Martinborough or North Canterbury in New Zealand or Hemel-en-Aarde Valley, South Africa.