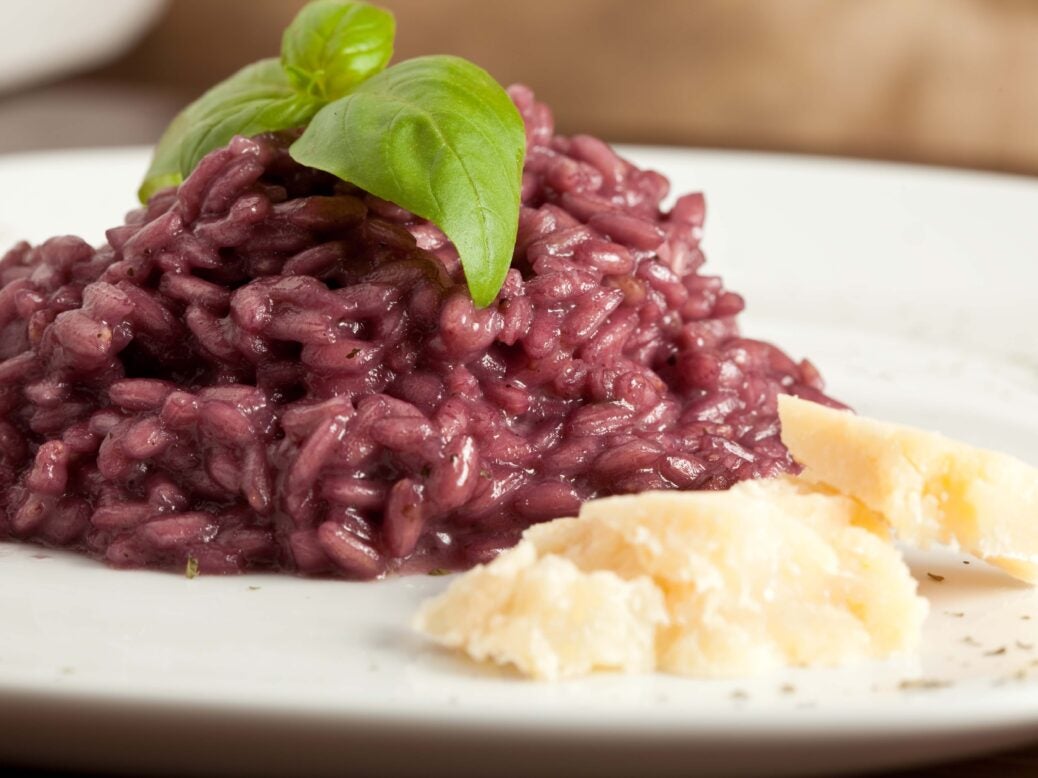 In the first of a monthly series exploring classic dishes from the world's great wine regions, the award-winning wine and food writer Joanna Simon reflects on the Piemontese rice dish, Risotto al Barolo—and selects some accompanying local wines
We may think of Italians as pasta eaters but, in the north, rice rules. Italy is Europe's leading producer of rice, most of it is grown in the Po basin, in the so-called rice belt stretching from Piedmont through Lombardy, Veneto, and Emilia-Romagna, and more than half of the country's 220,000 ha (543,630 acres) under rice are in Piedmont. No wonder, then, that rice, not pasta, is the staple of the north and that the classic Italian rice dish, risotto (which was first documented in the nineteenth century) should be a feature of every northern province and just about every restaurant and home. And no surprise that there should be many regional variations. Of these, alla Milanese, flavoured and colored by saffron, is unusual in that it's not only served as a primo piatto but is traditionally served alongside osso buco as a main course, and the Veneto's risotto al nero di seppia, made black by the ink of the cuttlefish, is arguably the most striking looking. But the regional version that stands most decisively apart from all other well-established variations is Piedmont's risotto al Barolo, made with red not white wine.
There's no need to ask why. There have always been white grapes in Piedmont— although sometimes in the past more valued to soften Nebbiolo red wines than for making still whites in their own right—but it is unquestionably preeminently a red wine region.
Probably because of the bigger flavor profile of red wine, the traditional variations of risotto al Barolo tend to be with substantial ingredients. Among the most common are sausage and borlotti beans, one or the other or both together. Slightly more unusual is Valentina Harris' recipe for risotto al Barolo, which she describes as "a very old recipe for making a traditional Piedmontese dish": It includes stewing veal as well as borlotti beans. Porcini are the key addition in risotto al Barolo con fungi. I have also seen bone marrow in a recipe for risotto al Barolo.
In terms of making risotto al Barolo, the only difference from other risotto recipes is the colour of the wine. The other ingredients are the same: butter, finely chopped onion, round grain Italian rice (ideally carnaroli, but arborio or vialone nano, if not), good stock and Parmesan or a local Piedmont cheese such as Castelmagno. Whether you are a purist and stick to Barolo or use a cheaper Piedmont red (Langhe Nebbiolo, Barbera, which will give more colour, or Dolcetto) or another red altogether is your choice. I like to use a Piedmont wine, but I have had success with others as disparate as Crozes-Hermitage and high-altitude Côtes du Roussillon. Whichever wine you use, it needs to be pretty decent quality and in irreproachable condition.
The method, too, is the same as for any risotto. Soffritto—softening the onion in butter—is followed by tostatura—adding the rice and turning it in the butter to 'toast' it. The next step is adding and evaporating the wine, followed by the stock, a ladle at a time, each ladleful evaporated before the next is added and all the time stirring the rice to release its starch, the starch that gives risotto its quintessential creamy texture. After roughly 15 minutes, the rice should be al dente—retaining just a little bite—and the consistency should be creamy, but not soupy. The last step, with the heat low, is the mantecatura: beating in cold, diced butter and then cheese. I then do one final, optional stage that I learned from Giorgio Locatelli: I make a little well in each serving of risotto at the table and pour in a splash of Barolo, or whichever red wine I either used or am serving with the risotto, and then grate some more cheese over it.
Now to the accompanying wine. For me, it has to be red; whites all seem to taste thin or are too aromatic. Barolo works very well, but so does Barbaresco and, perhaps perversely, I favor Barbaresco with this risotto. Sottimano's Pajoré, or any of the family's other single-vineyard wines, would be ideal, from 2010 or a more recent vintage (there have been a lot of good ones recently ).
Other Piedmont wines to consider are Langhe Nebbiolo, Ruché di Castagnole Monferrato, the wines of Alto Piemonte, such as Gattinara and Lessona, and Barbera, although be wary of the more heavily oaked Barberas. In general I haven't found Dolcetto as successful. Outside Piedmont, Etna Rosso has worked well and beyond Italy, medium-mature Burgundy is my wine of choice, or top Pinot Noir from Germany or Oregon Pinot Noir.