As any host knows, the aperitif can set the tone for a dinner party. A perfectly selected pairing to the early evening snack can make the difference for guests.
To help you make the right choice, Thierry Dessauve's expert insights offer a delightful journey into the art of food and aperitifs. Here are five of the most popular, from the classic sparkle of Champagne to the refreshing notes of Riesling and the versatility of Sherry.
Champagne and Sparkling wine aperitif pairings
A classic: nothing beats a fizzing glass of sparkling wine before dinner, especially when paired with the right canapé. The typically acidic character of champagne, Franciacorta and English Sparkling Wines, gently arouses the taste buds, which can improve the overall taste and enjoyment of the meal which follows.
Xavier Rousset, founder of wine workshops 28:50 and co-founder of Michelin-starred Texture restaurant, suggests pairing such wines with a light fish such as a scallop or seabass ceviche.
Riesling aperitif pairings
Much like the aforementioned aperitif, dry Riesling can work beautifully as a refreshing pre-dinner drink. This delightful fresh white wine is generally very well balanced, and so Rousset suggests sipping Riesling with Asian-style fish dishes.
Taking inspiration from the dishes of his acclaimed restaurant, Texture, Rousset recommends specifically pairing it with "Scottish scallops with coconut, ginger, lime leaf and lemon grass, or Cornish monkfish poached with wasabi, native oyster, mussels and sea vegetables." If he's going to pop a bottle of this stony white, he's got three dependable choices, either "Trimbach's Cuvee Frederic Emile", or Ostertag, or Kientzler Rieslings.
Demi Sec Vouvray aperitif pairings
Made from Chenin Blanc grapes, Demi Sec Vouvray is a slightly off-dry white wine that's often drank as an aperitif by those in the know. Rousset suggests pairing it with seafood dishes with Thai influence, and also suggests that a "blue cheese soufflé could be an interesting match too." If he were to choose a demi sec to drink, he says he'd stick to a reliable classic, like an aged Domaine Huet. Other foods that work well with demi sec vouvray include foe gras, goats cheese and smoked salmon.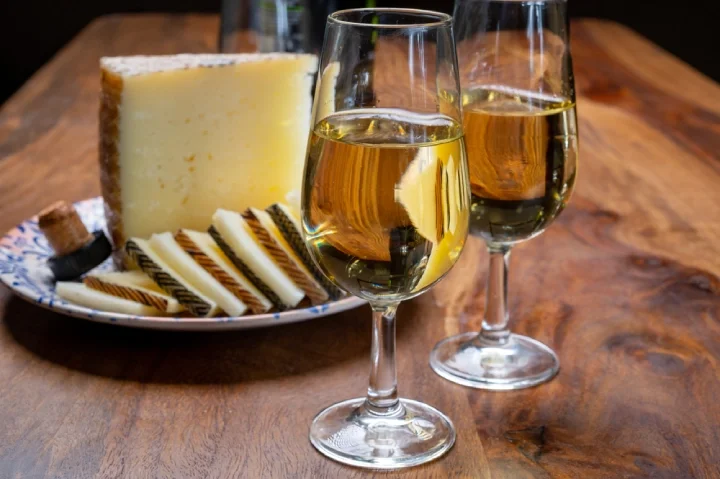 Sherry aperitif pairings
This fantastic fortified wine, traditionally made in Jerez in Spain, can vary across the dry to sweet spectrum, and thus is suitable as an aperitif with many different foods. Opting for drier Sherries, such as Fino, Manzanilla and Amontillado, is more common for an aperitif. These particular Sherries are all elegant in style, and have a cooler taste when lightly chilled.
As leading Sherry expert, Peter Liem comments, "in the Sherry region, one would rarely drink Sherry without food… there's always at least a little tapas or something to nibble on, and even the simplest things – a piece of jamón, or a bite of cheese – will enhance the experience of the wine." Fino is usually drunk before a meal, but paired with "anything savoury or umami is ideal, anything from the sea, cured things, fried things, spicy things. There are few foods that you can't pair with Fino."
Prosecco aperitif pairings
The Italian aperitif is often drunk as an alternative to Champagne, and is usually less complex and lighter in body than its competitor, which makes it ideal pre-dinner. Prosecco can often be drunk as part of a bellini -which is also a famous aperitif – and is mixed with a fruit liquor such as peach schnapps. On its own, this citrusy wine works excellently with seafood and salty snacks, such as fritto misto, or more broadly with anything citrusy or in need of a twist of lemon, such as oysters or fish carpaccio.
Read more: The best sherry and food pairings