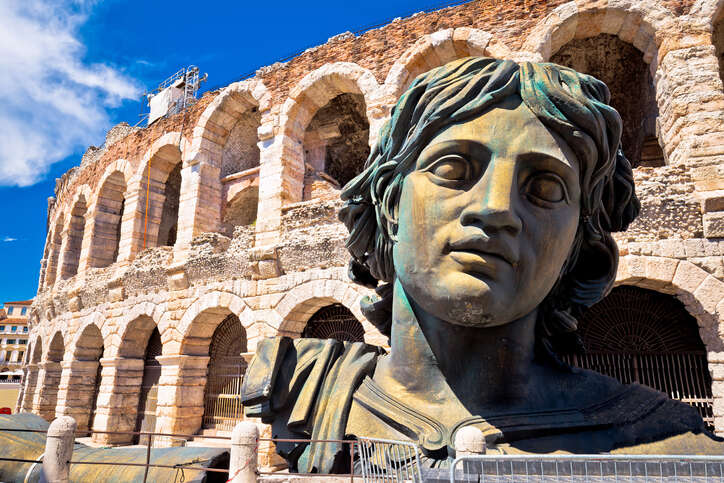 Sarah Marsh MW enjoys the wine—and music—at the launch of the 2017 Amarone vintage at Amarone Opera Prima in Verona.
The annual Amarone Prima in Verona, at which the latest release of Amarone is tasted, was traditionally held in the the short cold days of January, when many a wine lover is tempted to curl up in front of an open fire with a glass of Amarone.
But this year it was held in June to coincide with the opera season in Verona's spectacular Roman amphitheater. Maybe the Valpolicella Consorzio, which hosts the event, considered the international wine press needed an extra incentive.
I'd asked a few colleagues if they were going, but they were daunted by the prospect of tasting wines of 16% alcohol, unfashionably high for our health-conscious times.
The weekend began with a gala dinner held in the Giardino Giusti. Enveloped in the beauty of the garden and the hot breath of the summer evening, some winemakers expressed reservations about the timing but everyone appreciated the Consorzio's agenda to enhance the identity of Valpolicella's wine by rooting it in the historic and cultural context of the city. Layers of enrichment.
We, the wine press, were happy to be wooed although the effect was marginally undermined by our conference hotel accommodation in the industrial zone far beyond the medieval city walls.
The following evening we were treated to Aida, an appropriately lavish and intense operatic prelude to wine of similar profile. The next morning, strategically buttered up, we were bused to the presentation of the 2017 vintage, feeling slightly sticky in the 36°C (96.8°F) heatwave.
The most robust tasters could be forgiven for breaking into a sweat when confronted with a morning's flight of 40 Amarone, but the majority had done this before and knew what was coming.
Rediscovering Valpolicella
I'd last visited Verona in January 2020 when, together with an international bunch of 25 wine professionals, we were put through our paces over a week, pumped with information, examined, and subjected to blind tasting.
My interest lay in learning more about Valpolicella DOC, the light-bodied wines, which at the high end, can elegantly express their terroir. (Forget the mass market stuff produced from the Verona plain).
Unlike Burgundy, my usual haunt, there is still so much to discover and communicate about the terroir and wines of the 11 valleys that run down from the Lessini mountains. As the summer seasons have become warmer the slopes are no longer marginal places to make wine without appassimento. Many of the producers mentioned in my tasting notes also make Valpolicella DOC and Valpolicella Superiore and some of the most interesting are from single vineyards.
In the Giardino Giusti I was given a glass of Valpolicella by Bertani's oenologist Andrea Londari, a dapper Venetian with a raffish 'tache: Bertani Valpolicella Classico Superiore Ognisanti di Novare has crisp edges, a light mineral line, floaty texture, and a sapid finish. Right up my street.
Amarone, the obvious flagship
But I digress, Amarone is the obvious, if unadventurous, flagship for the region.
The 2017 vintage was hot and dry. The traditional pergola system helped to shade the fruit, but the harvest, which began a week into September, required strict selection.
Ca' la Bionda and Vigneti di Ettore harvested in August to keep the acidity, which is generally lower than the fresher 2016 vintage. Gabriel Righetti remarks that it was impossible to dry the grapes for the optimum 100 days, and the appassimento was curtailed to 60 days. (Open day on pressing which is stipulated by the Consorzio, and before which it is forbidden to press, was moved forward from the December 1 to November 15).
The appassimento technique, a solution to a cold marginal climate, is being challenged by the warmer summers.
Amarone is a style-led wine in which process and technique mask terroir, much as the Consorzio would like to shoehorn terroir into the marketing. Although there is an increasing interest in single-vineyard Amarone, most continue to be made in the traditional way by blending parcels across one valley or more.
The challenge in the past was to achieve ripeness, while more often today, freshness is the goal.
Appassimento, which the producers translate as "post-harvest withering," takes place in airy or air- conditioned lofts, and concentrates sugar, tartaric acidity, and tannin. As the skins soften, changes take place which will imbue the wine with its characteristic aromas and flavors. I find appassimento most intriguing for this bio-chemical process.
Certain compounds which you will find in Valpolicella DOC decrease (linear terpenes expressed as floral notes) while others, including rotundone, concentrate. This powerful peppery compound is found in the highest quantities in Corvinone.
And most significantly, the post-harvest withering promotes a precursor to a compound (1,8-cineole) that develops later during the ageing process and is responsible for the characteristic balsamic notes so often referred to when describing Amarone.
If you struggle with this description, as I do, think culinary herbs—tarragon, oregano, bay, and mint—and suddenly you'll know what the Italians are talking about.
Furthermore it's a combination of withering and subsequent ageing, in both barrel and bottle, that creates the tabanones, responsible for the tobacco and coffee notes.
Ageing and changing Amarone
It's traditional to age Amarone in large botti which are well suited to extensive ageing. They are relatively reductive in comparison with barrique and particularly with new barrels in which the ageing process is much faster.
Moreover new oak can dominate and change the traditional profile as both Corvina and Corvinone have modest tannin.
But over the past 20 years or so, the style of Amarone has evolved. There are Amarone made with the traditional approach, entailing many years gently maturing in large botti, which emerge complex, refined and fresh.
Quite different is the modern style: rich, concentrated, and aged in oak barriques with some new oak integral to the profile. The style is exemplified by Dal Forno, but no-one else hits the sweet spot as they do and many wines made in this style just taste over-concentrated and over-oaked.
There is something in between, a postmodern style, most closely linked with the traditional, in which a percentage of newer oak and smaller formats is used, but not necessarily barriques.
The wines are somewhat fruitier and more forward than traditional wines, but without the bold statement of the modernists. They are generally more airy and elegant, but there are lovely wines and horrors from every approach.
Tasting Amarone
So back to the tasting. As the wine writers eased into position the Amarone flowed elegantly, impeccably served by sommeliers, leaving us firmly seated, which after 20 samples seemed an eminently preferable situation.
The alcohol level is not so high in 2017, most were 16%, or 0.5% either side, a conscious decision by many producers to make the wines less potent. Only one I tasted was 17%.
My selection below includes Amarone of every style. For now some are not yet bottled and others will have further ageing in bottle. By the time the wines hit the market you could drink them. The producer has taken the strain and done the ageing for you.
2017 is a fairly forward vintage and will be ready to drink before the 2015 and 2016 which merit greater ageing. But even in a middle-ranking vintage such as 2017, the best wines will develop beneficially over the next decade.
We have been rather spoiled recently. I particularly like 2016 for its freshness and energy, while the intense and rich 2015 is delicious and has a long future.
2017 is not really in their league, but is very pleasant. If you are skeptical about Amarone, the 2017 with its slightly lower alcohol and concentration, is a good vintage to get reacquainted.
With styles to suit every palate, Amarone is as varied as the opera. There are the rich and extravagant Amarone just as there are moments in Aida when the full cast is on stage and the orchestra is belting it out. There are Amarone more akin to the single voice carrying a pure and sustained note. And there is pretty much everything in between.
Something for everyone.
Highlights of the Amarone Opera Prima 2017
BS denotes barrel sample.
Secondo Marco Amarone Della Valpolicella DOCG
Among my favourite producers, Secondo Marco's edgy and elegant Amarone exemplifies the postmodern style. The complex aroma is layered with orange zest, wild strawberries, and a hint of lavender. The vibrant palate is finely textured and channeled. It has a crisp bitter chocolate snap. Fluidity and finesse. 95
Ca' La Bionda Amarone Della Valpolicella DOCG Ravazzol
16% abv. A fine textured wine, which ripples on soft satin. It's swathed in aromatics, hints of mint and tarragon with a smooth nutty undertow of buttered brazils. Purrs on the finish. 94
Vigneti di Ettore Amarone Della Valpolicella DOCG Classico
After the pretty perfumed aroma the palate has a vibrant attack, plenty of intensity and there's energy on the finish. With the appealing bitterness of dried cranberries and sour cherry, the richness is offset with an attractive clack. 93/4
Bertani Amarone Della Valpolicella DOCG Valpantena
Epitomizes the fine traditional style of Amarone with complex savoury, umami aromatics on nose and palate and bitter almond kernel. The structure is rather more linear. Sophisticated, refined, delicate but intense, it stretches into a lovely long finish. 93/4
Villa San Carlo Amarone Della Valpolicella DOCG
Wafting aroma of white flowers and marjoram. A well balanced and harmonious wine, which comes forward to you. A postmodern style. It's relatively light at 15.5% with a pure and velvety feel and some pep which is highlighted in the higher toned spicy spikes of cinnamon. 92/3
Valentina Cubi Amarone Della Valpolicella DOCG
Orange oil and exotic spices of cinnamon, cumin and nutmeg envelop both nose and palate. A full and curvaceous wine, but with an open and airy feel. Volume without weight. The warm spiciness is cut with chile pepper piquancy. 92
ILatium Morini Amarone Della Valpolicella DOCG Campo Leon
Really quite aromatic on nose and palate, perfumed and purple, while the palate has savoury, leathery, cedar notes and lower toned spices. Fresh, super-svelte and lightly indulgent. I like the hint of marron glacé and the glossy fruity finish. Modern-postmodern style. 92
Le Guaite di Noemi Amarone Della Valpolicella DOC
Dark and oaky with rich vanilla and cold cocoa on the nose. Lithe muscularity and rich depth of fruit. Concentrated and dense. Fresh figs and chocolate. Thickly textured with a graphite smoky finish. Up-front more modern style. No doubt Noemi has been influenced by her illustrious neighbor Dal Forno. 92
Roccolo Grassi Amarone Della Valpolicella DOCG
Another modern-style wine. Super-expressive, oaky, and almost exotic aroma with notes of basil and orange. For now I prefer the nose to the palate which is rather oak dominated, but the oak tannin gives a tangy freshness. It is dark, spicy, and creamy. Quite punchy. It has modest concentration mid palate. Cigar box and cedar on the finish. 91
Massimago Amarone Della Valpolicella DOCG
Inviting fresh aroma with tarragon and fresh ginger. Gently caressing wine; lightly extravagant. Rounded, open, supple, and fragrant with orange and ground ginger. Volume, but airy. Very pleasing. 91
Clementi Amarone Della Valpolicella DOCG Classico
A crowd-pleasing style; soft, succulent, and juicy with tangy high tones and a tobacco smoke finish. 90/1
Tenuta Santa Maria di Gaetano Bertani Amarone Della Valpolicella DOCG Riserva
Fruity up-toned aroma and a supple, quite subtle and ample palate with concentration of dried figs and walnuts in the middle and a note of warm asphalt on the finish. 90
As well as the 2017s, we tasted many other wines over the weekend, with the following being some of the highlights, including a rather attractive white wine.
Sartori di Verona Marani Bianco Veronese IGT 2020
Named after Andrea Sartori's grandmother this appetizing white wine is made from Garganega which is dried for 40 days. Nicely rounded, concentrated, and creamy, it is underscored with lively notes from the limestone soils. Finishes bright and fresh with a touch of residual sugar. Delish.
Dal Forno Amarone Della Valpolicella DOCG 2003
Dal Forno was of course instrumental in putting the Illasi Valley on the map. The wines are made super reductively with no oxygen after pigeage. The barrels are topped with nitrogen. At almost 20 years, this has such tension and freshness. Great intensity and sleek muscularity. Dark savory notes combine with juicy fruitiness. Blueberry and black cherry bitterness carries the well sustained finish. Class act. 96
Ca' La Bionda Ravazzol 2007
Ravazzol is a single vineyard. An expressively perfumed aroma, while the palate is mineral. Lilac, ginger and greengage on the nose, so enticing. Clean-edged vibrant palate. Lively freshness and sapidity to finish. 93/4
Speri Amarone Della Valpolicella DOCG Vigneto Monte Sant'Urbino 2017
Fresh elegant aroma with violet floral notes. Sumptuous black satin texture laced with find acidity. Vivid and precise. 93/4
Brigaldara Amarone Della Valpolicella DOCG Case Vecie 2016
Lively and fresh Amarone. Crisply edged and tight with chalky tension. 92