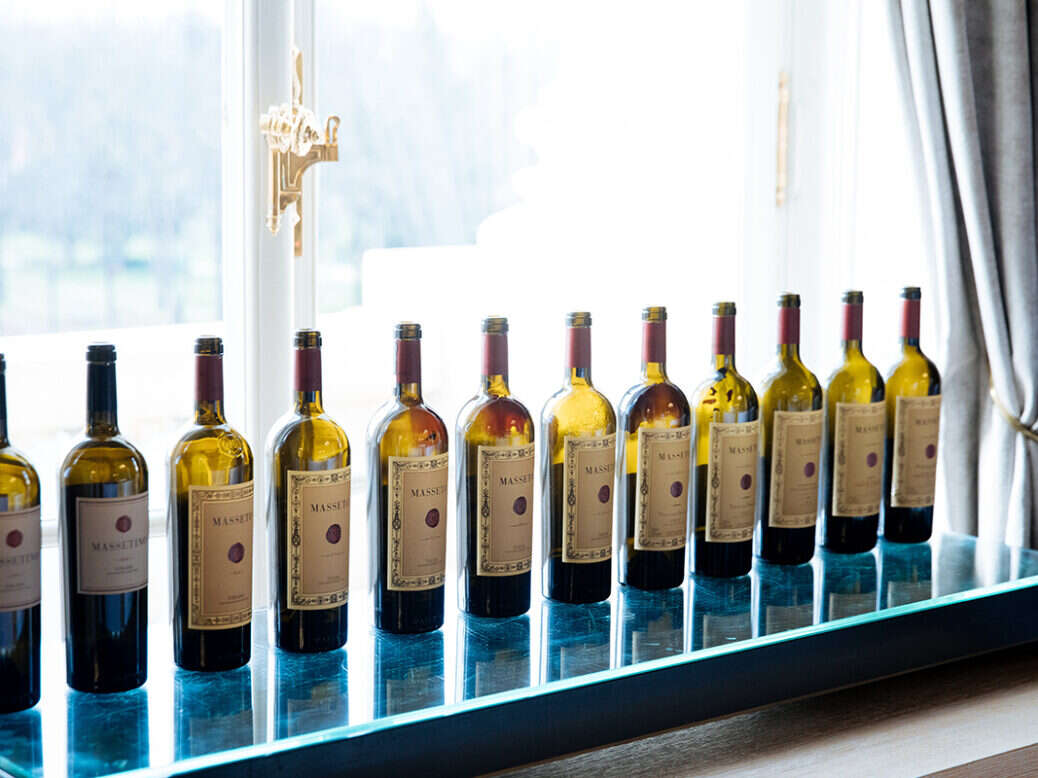 After a tasting of ten vintages between 1995 and 2018, Margaret Rand finally falls in love with the Super-Tuscan Merlot, Masseto.
I have a terrible confession to make: I have always admired Masseto—well made, good balance, complexity, all that—but I have never really loved it. It's always seemed a bit too much of an Identikit international Mediterranean wine—garrigue: check. Ripe tannins: check. But then they put on a vertical, going back to 1995… And, well—it's love.
Okay, the tasting was in Paris, and when you're sitting with a view over Place de la Concorde across to Les Invalides and the last chestnut leaves are set against a clear blue sky, you are probably in a fairly receptive mood. But the thing is that the wines get to 20 years old, and they take flight. All that slightly heavy-footed Mediterranean weight disappears, and they dance.
Masseto, entirely Merlot
Masseto is entirely Merlot, with about one percent of the vineyard planted to Cabernet Franc, and one of the many good things about it is that it doesn't shout "Merlot." Is that because of the blue clay in the vineyard? The rocky soils of maritime origin? The maritime climate—so close to the sea that on a clear day, says director Axel Heinz, you can see Cap Corse?
The wine is fermented with natural yeasts, though they're kept under supervision by the creation of a pied de cuve just before the harvest starts for real, just to make sure that the year's yeasts aren't going to go crazy.
So far, says Heinz of the four years in which they have used wild yeasts, the dominant strain has been the same for three years and only different in the fourth. He'll go on using wild yeasts "for as long as it works" and might go back to using them at Ornellaia, in the same controlled way.
But he's skeptical of the idea that the yeast might be different in different vineyards and thus form part of the terroir. Why? Well, he just finds it unconvincing; it's unproven, and his experience does not suggest that it's true.
He also doesn't like the idea that flavor influence might come from anything other than the grape. What of the idea that if plants cannot thrive without micro-fungi in the soil, if we cannot live without the micro-flora in our gut, if wine cannot be made without yeasts, then how can wine be only about the grape?
His position is that winemaking is not accidental, and his job is to guide the process. He likes wild ferments, clearly; he just doesn't want chaos. "Masseto is a good way of learning to handle wild ferments," he says.
Never mess with luxury goods
Masseto is of course firmly in the luxury-goods bracket, and one of my favorite quotes of all time is from a Napa grower who told me many years ago that "you don't mess with luxury goods." Heinz has been messing with Masseto, but in the most delicate of ways; he arrived in 2005 to make Masseto and Ornellaia, and his changes have been aimed at greater precision and less intervention.
It was 2007 when he began to change the wine's direction, point by point. The wine was a little chunkier before, a little less expressive. Now picking dates are more refined: "You normally have time to think about picking dates here, which is remarkable with Merlot, because it doesn't normally give you much time."
Winemaking is about doing just enough to get optimum texture without rusticity. "You have to be brave enough to get big rich fruit," says Heinz, "but you have to stop in time to prevent it being overpowering and rustic."
That means less extraction, though not necessarily less maceration. "The new winery [the 2018 was the first vintage to be made in it] helps here, and I'm clear that if you can build a winery after you have experience of the wine, you have a clearer idea of what you want. Though I would hate to think that somebody could pinpoint when the new winery appeared."
Tasting Masseto
Massetino 2019
This is the estate's second wine, of which the first vintage was 2017. It's a mini-me, sold at 35–37% of the price of Masseto, and containing 10–15% of Cabernet Franc. It's floral, with notes of roses, supple and silky, with herbs, a hint of strawberry to come; good acidity backed by some chewy tannin. | 90
Massetino 2018
More marked by warmth; there's a certain chunkiness at the heart, under the elegance. Coffee and dark-fruit notes. And grip—plenty of grip. | 89
Masseto 2018
Fine-grained nose, and a taut, tight palate, fine and approachable. Concentrated but lightfooted. A powerful finish, very elegant. Spice, cinnamon, anise, roses. Very silky tannins and plenty of them, but they're well tucked in. | 94
Masseto 2014
Supple spice on the nose and a grippy edge to the palate. Cinnamon, cardamom, plums, high acidity and tannins with a pronounced edge. Finish is long, fresh, coffee-tinged, and grippy. There's a slightly dry edge to the tannins. | 90
Masseto 2011
A rounder, more comfortable affair: leather notes, plums, all lush and opulent, with coffee and spice-cupboard notes; tension, too, and a very concentrated center. Flower aromas: roses around a solid door. Plenty of tannin, rich but quite chunky. | 92
Masseto 2008
Silky cocoa and black cherries—spiced bottled cherries to be accurate—and black chocolate, dense. Good freshness, powerful tannins; definitely a Mediterranean wine. Food would absorb the tannins and release the aromas. | 92
Masseto 2006
Balsamic flavors, good acidity, with herbs and garrigue coming through. Concentrated, driven, powerful—like an SUV on a grouse moor. | 93
Masseto 2002
Nose of rose-scented leather, silky. Palate getting silky, and tannins smoothing out; opulent, with a lively, almost bouncy texture. Fresh herbs, fennel, garrigue, chocolate cherries; very complex, coming around beautifully. | 94
Masseto 2001
Pine forest, garrigue, thyme, fennel, roses, and undergrowth, with the tannins smoothing out and the aromas emerging. Wonderfully aromatic and compelling. Slightly phenolic finish, very long and elegant. | 95
Masseto 1998
Like a bath of chocolate sauce, enveloping and silky, with bracing cherries to stop it being cloying. Savory herbs, rich, opulent, but bracing. Wonderfully aromatic. Concentrated and fresh: a sense of release from the travails of youth and an emergence into aromatic maturity. | 96
Masseto 1996
Herbs and undergrowth, chrysanthemums and almonds, and a sense of dancing. Precise, tense, supple, silky, with nice grip. Slightly grainy tannins, rich, beautiful, dancing. | 95
Masseto 1995
A muted nose of undergrowth in a much less exuberant wine, more introspective. Sous-bois, complex, harmonious and fresh, savory and classic. Quietly beautiful. Heinz says that he wasn't there so it's difficult for him to comment, but he suspects they didn't quite dare to go for it. A much more restrained expression. | 93