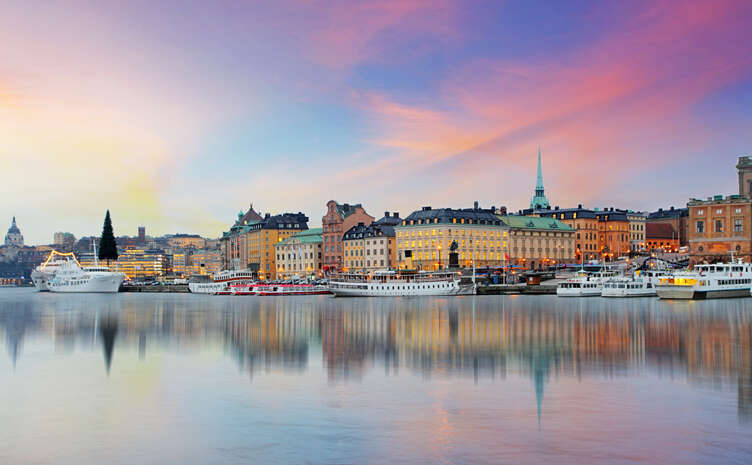 In the last of our contributors' end-of-year reflections on the bottles that meant most to them in 2021, Simon Field MW recalls an encounter with Krug Clos du Mesnil 1996, one of many fine Champagnes from Krug he enjoyed at two remarkable tastings in Sweden.
What do Blanc de Blancs and Scandi Noir have in common? Answer: very little. Why, one wonders, is Scandinavia the European center of Champagne connoisseurship? Hard to tell really; might it be something to do with per capita wealth? What about the pure and pristine chill which focuses the mind on, you have guessed it, the pristine purity of the best things in life? Who knows? All I know is that my two most memorable Champagne tastings this year, courtesy of Swedish collector nonpareil, Marina Olsson, have taken place in Sweden, the first in Malmö and the second in Stockholm. In both instances the House of Krug came top, admittedly no great achievement in Stockholm where all 24 wines tasted were from Krug!
The first tasting was a horizontal of 1996 Champagne, that wonderfully enigmatic vintage, praised and blamed in equal measure over the years. For us, praise was the order of the day and primus inter pares the Clos du Mesnil 1996, just seeing off strong competition on the podium from Salon and Comtes de Champagne. Tough competition then. What is it about Clos du Mesnil? What indeed.
From 1996 to 1698
When I bought Champagne at Berry Bros & Rudd, I loved hosting Krug tastings (who wouldn't!) especially if a family member was present (Rémi in the early years, Olivier latterly) and especially if Clos du Mesnil was involved. All the more so because one could personalize one's introduction by saying that Berry Bros was founded in 1698, in the very same year when the wall (Clos) went up in the pretty 1.84ha (4.55 acres) vineyard in the center of the grand cru village of Le Mesnil. A granitic slab codifies the event, Latin script lapidary in its assurance that this plot has indeed flourished for over four centuries. BBR came into existence just after England's gloriously silent Revolution; France had to wait a little longer for such upheaval. Louis XIV held court, a coupe de Champagne in his hand; indeed, it is said that once Le Roi des Soleil had tasted Champagne, he would drink nothing else. This surely explains the length of his reign, and maybe also its more luminous successes (Place Vendôme also dates from 1698 and the Palace at Versailles relished its pomp) fueled, one may wish to speculate, by the endless inspiration of Clos du Mesnil.
A full and glorious spectrum
All whimsical musing; all great fun. Back to the wine. Beyond even the mountain stream purity of Salon or the timeless elegance of Comtes, Clos du Mesnil defies intimation of mono-varietal austerity and opens up, as no other, a full and glorious spectrum of appreciation. Oak underwrites the complexity for sure, bequeathing a raft of invigorating paradox; stony ripeness, expansive tension, timeless evolution, and a cerebral seduction. Maybe, on second thoughts, cerebral seduction isn't really a paradox.
Anyway, the Krug marketing department maintain that their Grande Cuvée is the orchestra, their Vintage wine is the concerto and their single vineyards the soloists; Perlman, Isserlis, or Brendel maybe? Or perhaps a sonata rather than soloist; Bach Cello Suites and late Beethoven piano come to mind. But do they? Is it actually rather lazy, indulgent, maybe, to thread such subjective impressions from the texture of fermented grape juice and trapped gas? It may well be, but there again, why not? Pleasure begets pleasure. Beyond the power to banish care, the greatest wines must have the power to inspire, perchance to illuminate. Lux mundi rather than Scandi Noir; doors opened to the walled vineyard and beyond.
More in this series
Terry Theise: Journal of a quiet year with wine
Stuart Walton: My dinner with Brunello di Montalcino
Andrew Jefford: Bacchus in Riga
Jim Clarke: Bluet, Maine's sparkling blueberry wine
Francis Percival: Thévenet in time
Joanna Simon: The lost Gewurztraminer