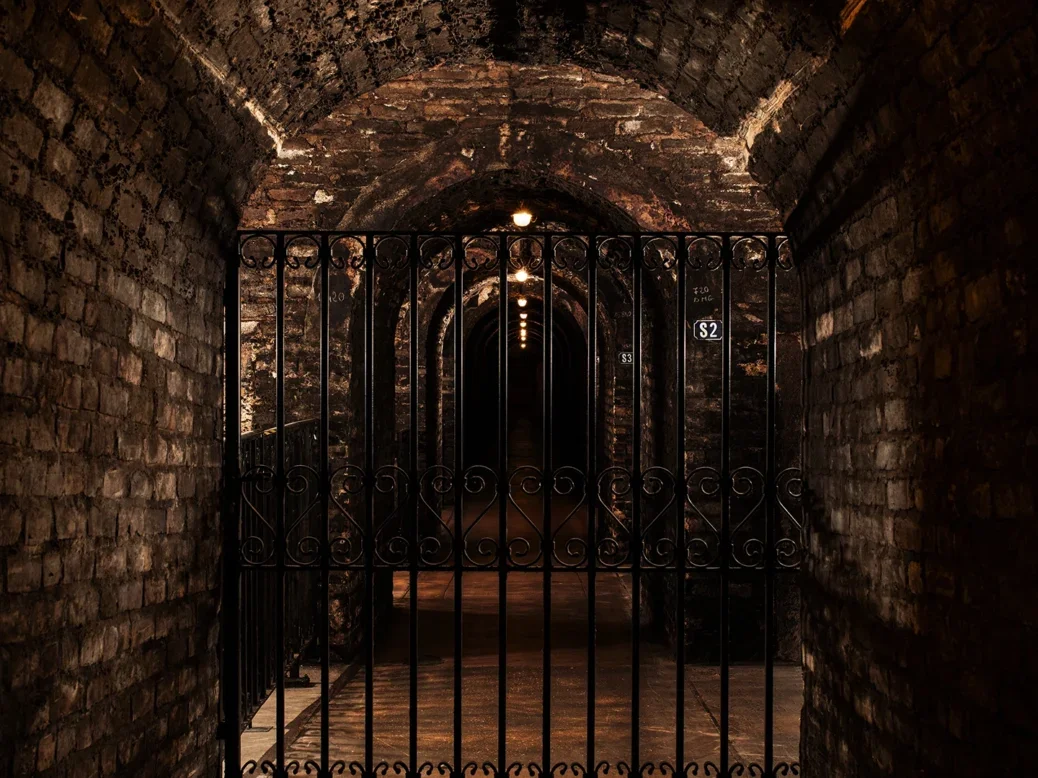 The latest launch from Louis Roederer is a set of 1990s Vintage Champagnes that show the magic of post-disgorgement aging, says Anthony Rose.
What a pleasure it is to introduce our new Vintage Late Releases at 67 Pall Mall in London!" intoned Jean-Baptiste Lécaillon, Louis Roederer's chef de cave.  I hadn't been sure whether JBL, as he's widely known, would be Zooming or there in person on this winter's day at  the back end of 2022, but there he was  in the flesh, and when JBL is presenting, you can be sure that there will always  be new and interesting insights into Champagne in general and Roederer in particular. "It's a celebration of Pinot Noir from our estate of La Montagne (Verzy) through a journey back into the 90s." And so it was, that the clock was turned back to 1990, moving forward through 1995, 1996, 1997, and 1999.
It was the inaugural tasting of the Vintage Late Releases series, the first part of which was provided for this occasion. What I and perhaps others in the room were unsure of was precisely what Vintage Late Releases series meant. While clearly Vintage wines, as distinct from Cristal, my expectation was that these were mature Champagnes that had lain in the cellar only to be late-disgorged. Not so, however. The revelation was that yes, these were older Vintages from the 1990s, but they had been disgorged at  the same time as the then releases, albeit with slightly lower dosages—of 8–9g/l—than the Vintage releases of the time,  and left undisturbed in Roederer's cellars all this time since disgorgement. 
As JBL explained, the concept of Vintage was very much within the purview of the founder of Louis Roederer. It had not, however, been in the tradition of the family to keep back older Vintages, but when JBL started working in the cellars in 1989 (1999 was his first year as chef de cave), he was keen to communicate the aging potential of what Roederer was doing with its Champagnes. He had the opportunity to taste a few older bottles, even if there was not enough wine to sell commercially. So, putting some wine aside to be able to showcase the agability of the wines, he came to the conclusion that between 25 and 30 years is "the window of beauty" for Roederer's wines, which show their full potential after this length of time: "It's the DNA of Louis Roederer." "It's been a battle, though, with the marketing department," he added drily.
JBL said that it was natural for the series to be based on Pinot Noir from Roederer's La Montagne estate in the grand cru village of Verzy. At 950ft (288m), Verzy is one of Roederer's highest-lying hillsides in the Montagne de Reims. Growing mainly Pinot Noir but with some Chardonnay, too, its uniqueness lies in the altitude and the forest surrounding the vineyards. This cool northerly hillside turns gradually south, to a more southerly exposure. Lieu-dit Les Bayons, covering 4.2 acres (1.71ha), is the main plot at the heart of the estate and reflects the character of the Pinot Noir grown in Verzy. According to JBL, "Here the Pinot Noir has the finesse of Chardonnay—it's more alive, more energetic, and with the freshness coming from the forest. The old cellarmaster who started at Roederer in 1936 talked about the bouquet de la montagne." It's here that Roederer decided in 1850 to purchase the vines.
The magic of the post-disgorgement aging in Roederer's cellars is to create uniquely gastronomic wines capable  of "pushing the boundaries of taste." "We decided to pair these wines with a chef to discover these wines with food because they are gastronomic. So, this is the first chapter. We looked at the Vintages in the cellar and decided which of them were the most interesting. We are targeting restaurants and wine lovers with these wines." There are 500 magnums of  each (approximate retail price £550),  and more than 1,000 bottles of each (approximate retail price £270), and at some point in the future, Roederer will offer late-release Vintage Rosé and Blanc de Blancs, the latter based on Avize. 
Tasting Louis Roederer Late Release Vintage
(Roederer's food-pairing suggestions in italics.)
1990 Roederer Late Release Vintage (Magnum)
1990 was a warm year, continental, hot and dry, which very much suits Pinot Noir. It was the third of the great trilogy of 1988, 1989, and 1990. The blend is 58% Verzy Pinot Noir and 42% Chouilly Chardonnay. There was no malolactic fermentation, 4% of the base wine was oak-fermented and, while the original 1990 Vintage received 12g/l, this iteration received 8g/l by way of dosage.
Disgorged October 28, 1998, this is pale gold in color, with a magnificent bouquet, showing ripe peach and toasty notes, combined with a hint of truffle and savoriness; it's mouthwatering before you even taste it, with the silkiness and stone-fruit softness a link in character to the 1980s; a good, refreshing mousse brings plenty of explosive rich flavors to counteract the soft fruit, with its firm incisive blade of remarkably fresh acidity; almost more vinous Burgundy than Champagne. | 94
Match: A lamb tagine or mature Comté.
1995 Roederer Late Release Vintage (Magnum)
1995 was a classic year, halfway between oceanic and continental. It was very balanced between Pinot Noir and Chardonnay, and this blend is 53% Verzy Pinot Noir, 47% Chouilly Chardonnay. Some 22% of the wine underwent malolactic fermentation, and 7% fermentation in oak. The original was disgorged at 12g/l dosage, while for this series it was 9g/l.
Deeper gold than the 1990 (possibly due to more botrytis and also 20% malolactic), this blend, disgorged December 4, 2011, is ripe, almost exotic, in aroma, perfumed and smoky, with a lovely buoyant texture of bubbles; there's a light, salty-smoky, iodine touch that makes the mouth water with its vivid, salty freshness and fine balance; a crowd-pleasing, balanced style that's impossible not to enjoy. | 95
Match: Seared langoustines or veal sweetbreads in a morel mushroom sauce.
1996 Roederer Late Release Vintage (Magnum)
1996 was another Pinot Noir year, cold and dry, with the acidity well-integrated in a blend of 65% Pinot Noir from Verzy and 35 % Chardonnay from Chouilly. It was a "10 / 10," i.e. 10% alcohol and 10% acidity—a wine bursting with energy. In light of the ripeness and bright acidity, JBL decided not to do the malolactic fermentation and to ferment 7% in oak with 9g/l dosage instead of the original 12.
Mid-gold in color, this blend, disgorged March 23, 2004, shows gorgeous, complex, stone-fruit aromas, with some marked toast and biscuit notes and a hint of farm butter and nuttiness; there's an explosive, youthful fresh mousse on the tongue, richly concentrated fruit in a texture that dissolves effortlessly in a mouthwateringly dry, saline finish, like a tongue on cold steel, with that level of crisp acidity, and yet still showing fine balance. 97
Match: Turbot, a scallop carpaccio, or unsweetened cocoa deserts.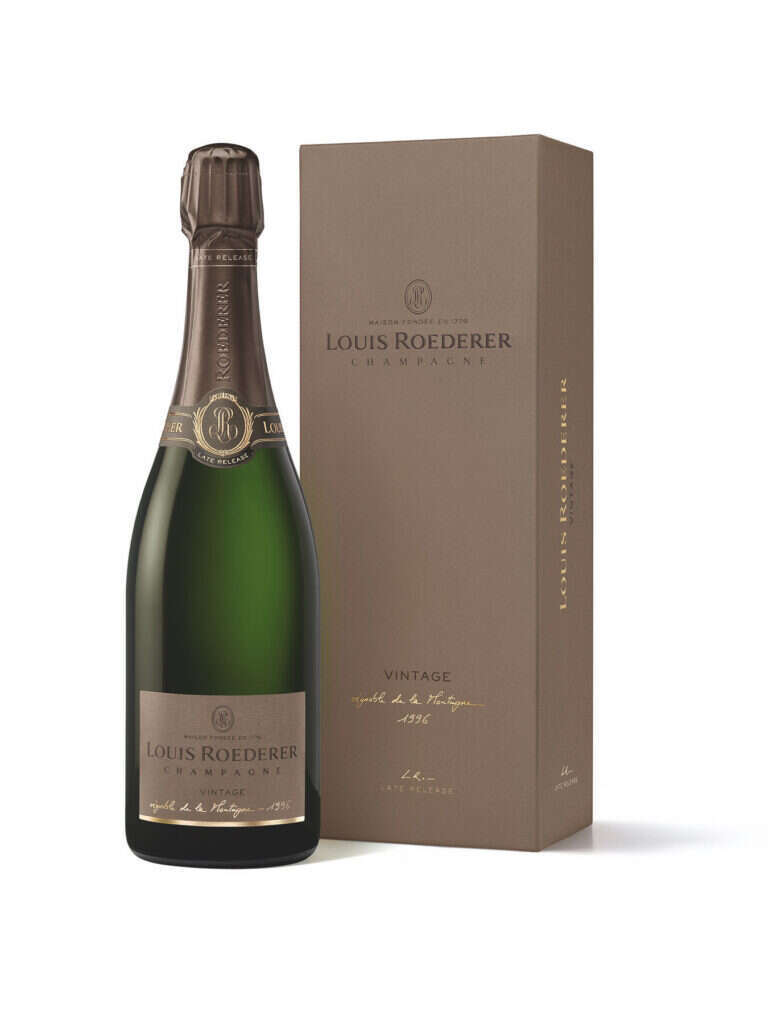 1997 Roederer Late Release Vintage (Magnum)
Ripeness was difficult in 1997, due to a cold and rainy summer, but it finally arrived in a warm and sunny September. There is 30% malolactic fermentation, 9% oak-fermentation, and 9g/l dosage instead of the original 12. It's what JBL called "a singular profile, citrusy, metallic, cold; it took time for the potential to be realized and it remains austere."
A blend of 62% Verzy Pinot Noir and 38% Chouilly Chardonnay, disgorged March 31, 2005, this is pale gold, fresh and citrusy in aroma, classic Roederer, a light, toasty touch, with a citrusy freshness of fragrance and stone fruits; behind the expansive mousse there's a mid-palate praline-like richness dissolving on the palate, and an incisively fresh pineapple-citrus fruit quality; a tad austere, with that touch of bitterness, but nonetheless finely balanced overall, leading to a satisfying, dry finish. | 95
Match: Roasted poultry or goat's cheese.
1999 Roederer Late Release Vintage (Magnum)
1999 was a stormy, windy year of sunshine and rain, the lowest in acidity since 1959. Many were afraid that it wouldn't last and would lack freshness, but "freshness is more than just acidity," insists JBL. The blend is 60% Verzy Pinot Noir, 40% Chouilly Chardonnay; there is no malolactic fermentation and 21% oak fermentation, with 8g/l dosage in place of the original 12.
Mid-gold, rich and ripe, displaying an exotic ripeness of aroma, with an almost white Burgundy-like nuttiness; it's vinous, with an expansive mousse on the tongue bringing both an energy and a soft caressing texture to the wine, as the bubbles contained in the plump, peachy fruit dissolve gently and the light, toasty aromas and flavors slowly dissipate, in an opulent, balanced Champagne that retains its balance and freshness. | 97
Match: A creamy risotto combining saline flavors with crunchy green asparagus.