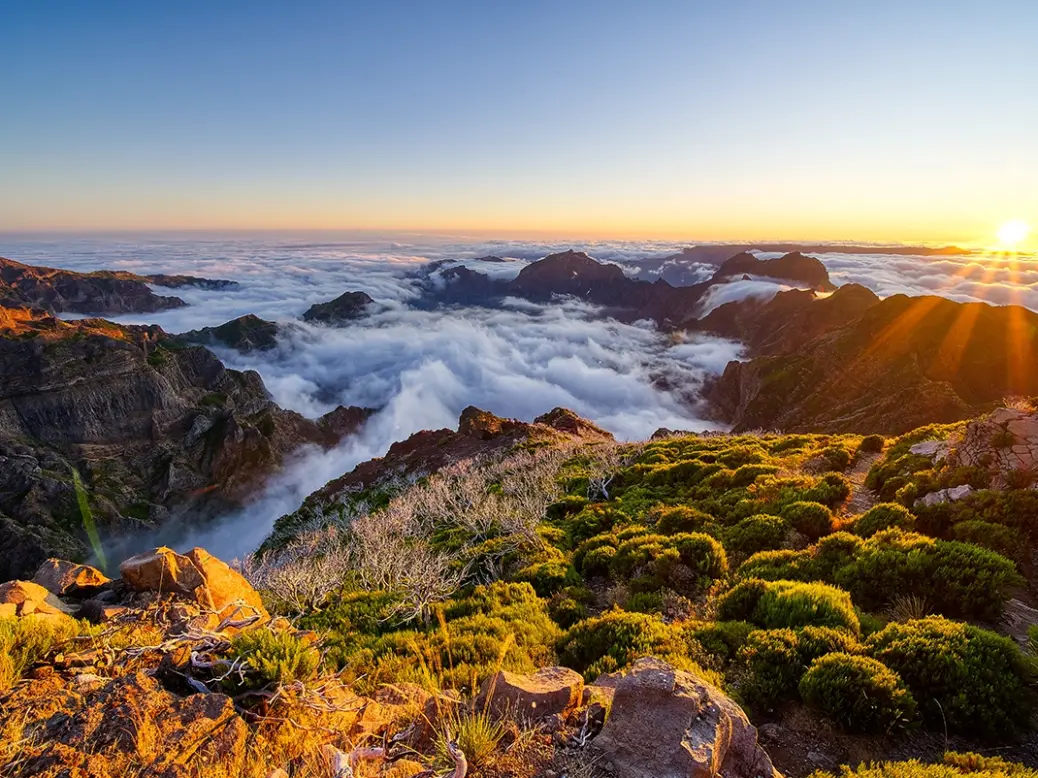 After drinking a very special bottle of Vintage Madeira, Andrew Jefford wonders if the style is an endangered vinous species.
There'll be few future chances, I suspect, to taste wines four years older than I am, especially wines so tonic in their effects that they might be considered an elixir of youth. The prime candidate for elixir status is Vintage Madeira—as it was called back in 1952 and when this bottle was released in the mid-1970s in anticipation of Queen Elizabeth II's Silver Jubilee. (The official term for Vintage is now Frasqueira.) 
Drunk in spring 2023, this was mesmerizing wine, poured from a bottle that its generous owner had decapitated with red-hot iron tongs. Not for dramatic effect alone but because (like all Madeira) it had been aged upright and stoppered by a cork now likely to be friable, even crumbling. Perhaps, too, in tribute to Vulcan, the god of fire. We only feast on this wine because red-hot, molten rock plumed from the bottom of the Atlantic for more than 100 million years, eventually piercing the waves around 20 million years ago and creating the soaring basalt edifice we know as Madeira today.
It smelled, powerfully, of rue and lavender, of apples and raisins, of citrus peels. It was thick, sweet, and lavish—almost a Boal, we speculated. The acidity, of course, was architectural, as it always is in Madeira wine, structuring its sweetness, marshaling its allusions in the mouth. There was something smoky there, moving and churning inside the mist of fruited sweetness; I thought of Mosi-oa-Tunya, the "smoke that thunders," the name given by the Kalolo-Lozi people to the world's largest waterfall. Drinking great Vintage Madeira is a kind of waterfall experience: The scented vapor seduces, creating a magnetic miasma in the room; you draw near, trembling a little on the lip of the wine, sensing its power, the way in which it has managed to dissolve and resolve time itself into sensual beauty; and then you sip—and plunge down further and faster than you anticipated in mingled shock and astonishment, your breath cut a little by the wine's concentration, acidic force, blast of resonance, and succulent hug. Its vertiginous panache, in sum. I'm not suggesting this is the best Vintage Madeira I have ever drunk (whatever that might mean), but this is what Vintage Madeira can and should do—and what this Vintage Madeira did do—and that is why Vintage Madeira's place in the wine pantheon is assured.
And fragile. The great bottles are rare now; the gusts of fashion don't blow this way. No sales manager on Madeira has ever air-kissed a colossal check toward Lady Gaga and "engaged in a correspondence of universes that has interfused their aesthetic ambitions" (© Dom Pérignon). Far from it. Many of the grapes that made this wine would have shared their growing space with beans and melons, amid a chaotic, small-scale polyculture that has done nothing but shrink since; there are now barely 50ha (125 acres) of Verdelho left on the island. Vintage Madeira faces extinction.
No echo elsewhere
Almost everything about this wine is improbable. The island's existence, first of all, the pea-sized summit of an undersea volcanic chain 440 miles (700km) long. Madeira's Pico Ruivo rises 6,100ft (1,862m) above the waves—but the sea floor drops 13,000ft (4,000m) beneath them. The early 15th-century navigators saw clouds on the horizon, clustering around the island's thick woodlands. They settled, burned the trees, and eventually grew sugarcane on the ashes. The scent of sugar drew a young Genoese sugar trader called Cristoforo Colombo (his name later Hispanicized to Cristóbal Colón) to the island, where he married—and studied navigation. He and others journeyed west; the sugarcane went west, too; vines and wine took its place; and the wine strayed, as it had to do from a pea-sized mountain in an ocean, on the decks and in the bellies of ships—west, north, south, and even east again, all the way to the East Indies, and to India, and to its rapacious colonizers. It was the vinho da roda—the "wine of the round voyage," wave-rocked in its casks through the tropics and back—that eventually fetched the best prices. Thus it was that Madeira's defining metamorphosis became apparent: an unpromising wine made from barely ripe grapes rendered compelling by maltreatment over time. Fortification secured the process by putting acetification out of reach, and a grammar of sweetness then emerged, keyed to variety names. Madeira was one of the very few wines that might be drunk and enjoyed in tropical heat and humidity prior to the early 20th-century invention of air-conditioning.
Multiple catastrophes followed, painstakingly detailed in Alex Liddell's excellent and often shocking Madeira: The Mid-Atlantic Wine. Remote islands mean vulnerable communities. Fraud, factionalism, boom and bust, maladministration, the potato blight, starvation, and emigration: Madeira saw them all. Oidium and phylloxera arrived rapidly and comprehensively on the island, sitting (as it does) halfway between the American source of infection and Europe. Madeira's main fallibility, though, is that (like pu-erh tea) it exists in two forms: a short-cut interpretation created by cooking in estufas, and a long-cut qualitative original that requires slow aging in mild island airs. Great Madeira is only half-made by grapes and brandy; the rest is time's work. Both sorts of Madeira have a market, play a role, deserve to exist—but marketing a self-travestied fine wine will always be problematic. They need different names.
Will great Frasqueiras with early 21st-century dates find their way to market 50 years hence? The vineyard figures look so dismal that it is hard to be sure. This wine's beauty and vitality, though, find no echo elsewhere. We must hope the elixir itself lives on.