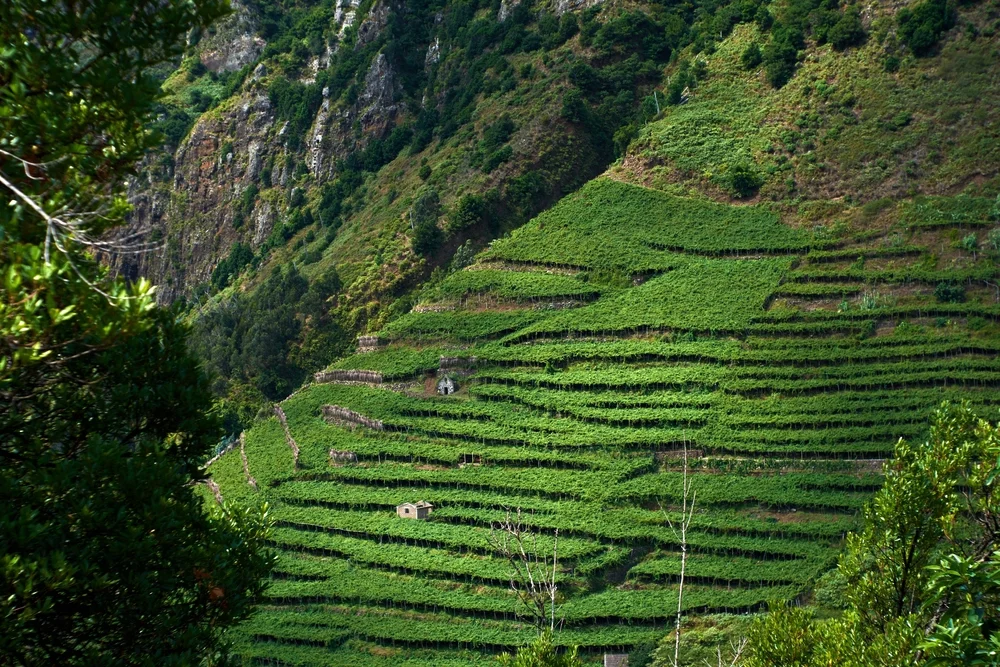 Vintage wines have always been considered the pinnacle of Madeira, but the island's blends can have their own charms, says Richard Mayson as he introduces a tasting shared with Simon Field MW and Andrew Jefford of a wide range of blends aged 10 Years Old and more from five leading shippers.
This is an extract from an article first published in Issue 78 of The World of Fine. For full tasting notes and scores for all 40 wines tasted by the panel, subscribe to The World of Fine Wine.
Never underestimate blends" were sage words of advice from Helena Borges when I visited the Madeira shipper HM Borges last year. Whether it be Sherry, Port, or Madeira, blends have always been slightly frowned upon. In the case of the latter two wines, blends (usually bottled with an indication of age) play second fiddle to the dated wines (colheita and Vintage, or frasqueira). It is fair to say that when we sent our request out for samples of blended Madeiras with an indication of age of ten years or over, we were met with mild bemusement. But blends should not be overlooked, particularly when you consider Port and the wondrous range of Tawnies and aged white Ports bottled at 10, 20, 30, 40, and (now) 50 years of age. There has been a revival of interest in these wines, with a justifiable belief that a finely tuned blend can be greater than the sum of its parts.
The same logic can be applied to Madeira wine, which—although not in quite the same limelight as Port—has not been standing still in recent years. IVBAM, the island's regulatory body, seems to have been shadowing the Port Wine Institute (IVDP), expanding the shippers' potential repertoire to include blends designated up to and over 50 years of age. Until quite recently the oldest permitted age designation for a Madeira was "15 years." In traditional Madeira- speak, a 5-year-old was known as reserva; 10-year-old, reserva especial; and 15-year-old, reserva extra.
That was where it ended. There was some logic in this, given that any wine bottled as "Vintage" (now frasqueira—that is, with a year on the label) had to be aged for a minimum of 20 years before bottling. Older blends were often found labeled solera, a category that was wide open to fraud, though it has to be said that some magnificent wines emerged nonetheless (such as Blandy's 1811 Solera Bual).
Madeira began to change when "single harvest" or colheita (effectively an "early bottled Vintage") found its way onto the market in the early 2000s. With the solera category at first abolished and then rigorously redefined, it made sense to add 20-, 30-, 40-, and 50-year-old and "over 50 year" blends to the list of wines bottled with an indication of age. IVBAM ensures the authenticity of all these wines by linking them to a "current account" of stock held by the shipper. In addition, all the wines need to be approved by a tasting panel before they are allowed onto the market, in an endeavor to ensure typicity. In theory (and hopefully in practice), the wines are as they say on the label, their style defined either by the grape variety (at least 85 percent where stated) and/or an indication of sweetness, ranging from dry (< 50g of residual sugar per liter) to rich or sweet (> 100 g/l).
A wide range of wines
We received a wide range of submissions of blends aged 10 years old and more from five of the eight shippers currently registered with the authorities on the island. J Faria and Madeira Vintners focus on younger wines, and D'Oliveira, a shipper famous for its stock of old frasqueira wines, decided not to submit samples of their blends. I was looking out for a number of variables—particularly, evidence of age, varietal character, and different house styles, with higher marks awarded for overall balance and poise.
It is fair to say that the results of the tasting were much more mixed than I expected, sometimes with widely divergent marks awarded by different members of the panel for the same wine. For example, one person's "great finesse" was another's lack of "fruit wealth, density, or unction"; in a further example, what was an "easy-sipping wine" for one taster was praised by another for its "wonderfully enigmatic finish." House style is perhaps the single biggest determinant of the overall shape and personality of these wines. There were wines that ranged (in the words of the panel) from being "vivid," "athletic and energetic," "magical," and "finely balanced," to "soupy," "marshy," "heavy," "corpulent," and "torpid." Barbeito's wines immediately stood out from the rest due to their paler hues and lighter, more delicate style. This clearly divided the panel. At the other end of the style spectrum, one or two wines verged on cloying—an unforgivable sin for Madeira, where marked natural acidity is a hallmark in all the island's wines.
It is worth mentioning here that the acidity that persists in nearly all Madeira's wine originates to a lesser or greater extent from the island's grape varieties. It is most marked in Sercial, a grape that can be aggressively acidic, and least marked in Boal and Tinta Negra. The latter is a red grape that is something of a chameleon, making the bulk of Madeira's wines, from dry to sweet. It has only recently been granted permission to appear as a varietal on labels, and we received one 50-year-old Tinta Negra, which really divided opinions.
For tasting purposes, the wines were grouped by variety, with Sercial (the driest) tasted first, followed by Verdelho and Bual, and concluding with the sweetest style, Malvasia or Malmsey (a heading that permits a number of different grapes with "Malvasia" in their name). We had welcome interjections from the rare red Bastardo grape (medium- dry), Terrantez, and Malvasia Cândida, which some might argue is the only "true" Malvasia. Two wines, in the 50-years- old and over-50 categories, were blends of different grape varieties.
The wines that were generally marked down were those where all varietal character and definition were lost in a soupy fug. Malvasia/Malmsey divided us all, garnering some of the highest and lowest scores. It was the largest subcategory, reflecting the overall popularity of the richer styles of Madeira, which together made up nearly half the wines in the tasting. Terrantez shone out, but then it is prized for its rarity, and only two wines were submitted. I gave high marks to Verdelho, especially where the zesty-leafy and occasional greengage character of this grape variety showed through, but no varietal style emerged as a clear winner.
There were several wines that I scored highly for their "spellbinding […] resonance [and] sense of wonder," as defined by the World of Fine Wine 100-point marking system, but it has to be said that there were others that instilled "a sense of wonder" for the wrong reasons and were marked down by all three tasters as a result. These— dare I say?—were the more traditional style of wine that some people will still admire and enjoy (hence my marks), but that still sow seeds of doubt in my mind, articulated by Andrew Jefford in his hard-hitting conclusion.
So, how to read this tasting? That age is fundamental to Madeira is a given, and these age designations should be read in parallel to the colheita and frasqueira categories used for dated wines. It is simplistic to think of Madeira in terms of terroir and/or vintage, and there were wines in this tasting that, in my opinion, are just as thrilling and spellbinding as their frasqueira equivalents—perhaps even more so. When it comes to Madeira, find a shipper with a house style that you admire, tread carefully— but never underestimate blends.
The Top 5: The best Madeira blends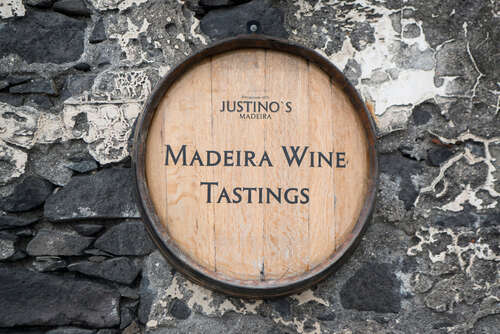 Justino's Madeira Terrantez Medium Dry/Meio Seco 50 Years Old (20% ABV; 75cl) | 95
Simon Field MW | A rare gem! Walnut brown, distinctly green at the rim, the Northern Lights dance for the imagination… Green tea, quince, verbena, late-harvest plum, and only modest hints of syrup, indulging us slowly and gently. Volatility is a prerequisite to understand and appreciate an authentic Terrantez of such an age, and it should not detract from the overriding perception of inherent purity and nutty pumpernickel complexity. Layers of enigmatic richness are shored up by the most persuasive acidity—the ancient of days. | 95
Andrew Jefford | Clear mid-walnut, with little green at the rim; this wine doesn't look as old as it says it is, though visual scrutiny is not infallible. Lots of casky notes on the nose—the smell of time rather than of wine. It is honestly a little tired and sulfury. There is a soft warm resin and warm-wood breadth behind those notes and a hint of caramelized almond sweetness, though these notes are very discreet. Barley sugar also. As with [the Henriques & Henriques Madeira Terrantez Medium Dry 20-Year-Old], the acidity is now in the driving seat and beginning to pull the wine. It is more concentrated than [the Henriques & Henriques Madeira Terrantez Medium Dry 20-Year-Old], as you would expect from an older wine: vivid, scouring, long, and fruit perfumes now beginning to lift from that wonderfully tangy acidity. Even the sugars (which are discreet and not pumped) are beginning to draw energy from that modulated acidity. Nutty, woodland finish, full of the chatter of squirrels. (Joke!) An excellent glass of Madeira on the palate, though I still think that the aromas could have been better managed. I suspect [the Henriques & Henriques Madeira Terrantez Medium Dry 20-Year-Old] might be the better value of these two older Terrantez wines, but if money is no object, this is finally the better wine. | 92
Richard Mayson | Deep amber/mahogany, olive-green rim; lifted and quite pungent, with lovely leathery depth and complexity, slightly autumnal yet with a green leafy edge and a touch of wood varnish. Tight-knit, taut yet hugely powerful, with wonderful focus and astringency to offset the textural richness that comes with age; there's a remarkable leafy freshness that persists throughout and leads to a long, linear finish. Wow! Great poise and a remarkable wine overall. | 98
HM Borges Madeira Malvasia Sweet 30 Years (20% ABV; 75cl) | 95
SF | Almost resinous, this is an intriguing example of a somewhat neglected category… Why classify this when there is the possibility of vintage dating? Why not?, one is inclined to ask! Smoke, peat, herbs, a fulsome palate dominated by bitter honey, quince, and white chocolate, then a plump, resourceful finish. This one opens up richly, benevolent purpose at its heart; fine-balanced and elegant, with a pleasingly persistent power, it is easy to hear a more than persuasive message. | 93
AJ | Light, bright, translucent walnut, with fine depth of color toward the rim. This is very fine, very classical: deep, polished, subtle, allusive, fragrant. Almost creamy and rich beneath, too. Absolutely down-the-line classical Madeira, and we guess this is going to be a light but refined Malvasia from the aromas. Entrancing scents, though they do need plenty of air; just a little sulfur-reductive to start with. Concentrated, pristine, and full of drama and delight on the palate. Hugely concentrated, with scouring, almost coruscating acidity. Impressive extract, too; almost grippy on that basis, without any help from tannins. Absolutely pungent, athletic, and energetic: The older the best Madeiras wines get (assuming they haven't been travestied along the way, which many perhaps have), the younger they get! This absolutely rockets out of the blocks. It is very fine Malvasia, even though it will seem dryer than the conventional Malvasia expectations, but the depth and tang and sheer "blackness" of the flavors is very Malvasia, even though the acidity is almost Sercial-like. Riveting wine. My only hesitation here is that the acidity is so achingly deep and powerful that I am not quite sure that I can believe it (even though I understand that many base wines on the island are picked in a chronic state of underripeness, which of course pays dividends as the years pass). Anyway, this is almost certainly our most arresting wine, and it will always turn heads. | 95
RM | Mid-deep mahogany; deep, powerfully intense, but with the impression of something slightly singed on the nose, roasted coffee beans. Rich and powerful with a full-on thick-cut tawny marmalade tang offset by a wonderful streak of fruity acidity that brings the dark-chocolate and mocha-flavored finish to life. Long—never-ending, in fact—and very fine. | 97
Barbeito Madeira Malvasia Mae Manuela Over 40 Years Old (20% ABV; 75cl) | 95
SF | Pleasing color; opalescence rewarded by the years of patient evolution, its soft ochre informed by russet, amber, and chestnut, patience and the rigors of time, rather than an inclination to impose and, perish the thought, to compromise the flight of time's arrow—all good things, in other words. A viscosity balanced by acidity, a smoky raison d'être held in check by the rigor of estufagem aging and the quality of the raw material, hewn from unpromising volcanic soils. An attractive and somewhat unexpected orange-blossom character underpins this rather grand edifice; rococo splendor that is not too pleased with itself. An inspiring juxtaposition. | 94
AJ | Slightly deeper in hue than [Henriques & Henriques Madeira Malvasia 10 Years Old]: deep walnut shading to ebony, with ample depth of color right to the rim. Rather minty and mentholated aromas, for some reason, with overtones of rue (for those who know this hugely pungent herb). Oily and warm but resinous, too, and lots of aromatic lift. Tar, burned sugar, burning herbs. Fascinating and attractive aromas but disconcerting, too. This is exactly what you will find on the palate: a torpid, weighty, slightly oddly flavored, hugely concentrating, disconcerting, but provoking wine, with an avalanche of those resinous, herbal aromas and flavors, notably rue. It's a reference, for sure—it is daunting and awesome—but it is not quite classical and central. Nonetheless, tasting it has been a privilege, and collectors and aficionados shouldn't miss it. | 92
RM | Lovely mid-deep mahogany color. There's a carpenter's shop here on the nose; it's lifted and rather gorgeous, but it's a bit funky. (This is great funk.) Similarly glorious on the palate, with magical crystallized intensity offset by a streak of racy acidity that defines the wine all the way through to the lithe, linear, precise finish. Such definition and poise as to be utterly spellbinding. | 98
Henriques & Henriques Madeira Malvasia 15 Years Old (20% ABV; 50cl) | 94
SF | A deep walnut hue, pale green at the rim, floods of tears guaranteed further up the glass. A polyphenolic nose, fruit, latent sweetness, undoubted complexity, and power underwritten by the citric-saline intensity of fruit. Light on its feet yet unassailably eloquent and resourceful at the same time. Ash, lemon peel, a tight weave of acidic complexity, honey, and verbena. And beyond that, beyond the intimation of excellence, we have very real excellence, the sugar/acid alliance deftly hewn, the weight of fruit fine but in no way overbearing. Fine to fine plus. And then a little bit more. | 94
AJ | Very deeply colored: pure pale ebony. We are beyond walnut here. Excellent aromas: deep, pure, without any obtrusive caskiness or sulfury reduction. Lovely deep resonant scents of fire, ash, baked raisin, slow-creeping treacle, caramel, and mint—but also flowers somehow, too. There is a freshness, poise, and lift in here somewhere. Just the thing for a dark winter's night—though it is aromatically quieter and shyer than some of its peers. After the show-stopping [HM Borges Madeira Malmsey Extra Reserve Sweet 15 Years], here is another very true, very grand, and very eloquent and exciting wine. Powerful, deep, dense, sweet, and succulent, yet rivetingly acidic, too; everything here is dragged out of the creative tension between the sweet and the acidic. Burnished, raisiny sweetness, huge acidic energy, and more than enough density and unction to hold the two together. Even a kind of saltiness over on the acidic side to lend the acidity gravitas. Wow! What a privilege to taste this. And I really didn't think you could create this kind of depth and resonance with the 15-year-old category. Congratulations! | 96
RM | Deep mahogany. Restrained yet rather lovely leathery-spicy aromas, with depth underlying. Fresh figgy, raisiny intensity with depth and texture; spicy astringency onto an expansive finish, leaving an overall impression of richness and freshness combined. Good definition and poise. | 93
Barbeito Madeira Malvasia Lote 21333 20 Years Old (19.5% ABV; 75cl) | 94
SF | Bright color, russet notes behind the chestnut core, only modest hints of amber thereafter. The wine that ensues is appropriately subtle, underscored by ripe if autumnal fruit, a hessian weave, and a stormy saline finish. All bases are covered, in other words, the lessons learned from precipitation far from neglected, the potential for further development underscored, once again, by the interplay of acid and fruit, time its ultimate sponsor, the latter the guarantor of a gilded evolution. | 94
AJ | As with [Barbeito Madeira Malvasia Cândida Fajã dos Padres Reserva Especial 10 Years], and presumably from the same stable: bright russet-orange. There is some caskiness here, but we get beyond this, too, toward fruits and a crystallized-violet fragrance; grasses, varnish, polish. Absolutely nothing sweet on the aromas at all, no rich lusciousness. Blind, would you guess this was Malvasia? I don't think so. Very attractive Madeira nonetheless, with an aromatic grace and refinement that [Barbeito Madeira Malvasia Cândida Fajã dos Padres Reserva Especial 10 Years] never had. Indeed, this only grows in the glass; when I come back to it, it is even more seductive than it was. Light, dry, dancing, and engaging on the palate: ballerina Malvasia. Poised, fresh, pristine, and scrutable, too. Apple, grape, apricot, lifting off like a Roman candle; some burnished casky complexities beneath. Fine, pure, untrammeled wine, well worth a look. And if ever you want to drink Malvasia as an apéritif, this is the one. | 93
RM | Mid-deep amber, very different in color from its 20-year-old peers; aromatic, savory-rich, and gently smoked on the nose, with underlying intensity and complexity; well-defined spicy fig and raisiny fruit, with a revitalizing freshness and lightness of touch all the way through, absolutely nothing soupy here: crystal-clear definition retaining crispness and vitality with a long, lithe finish. Lovely. All there. | 96