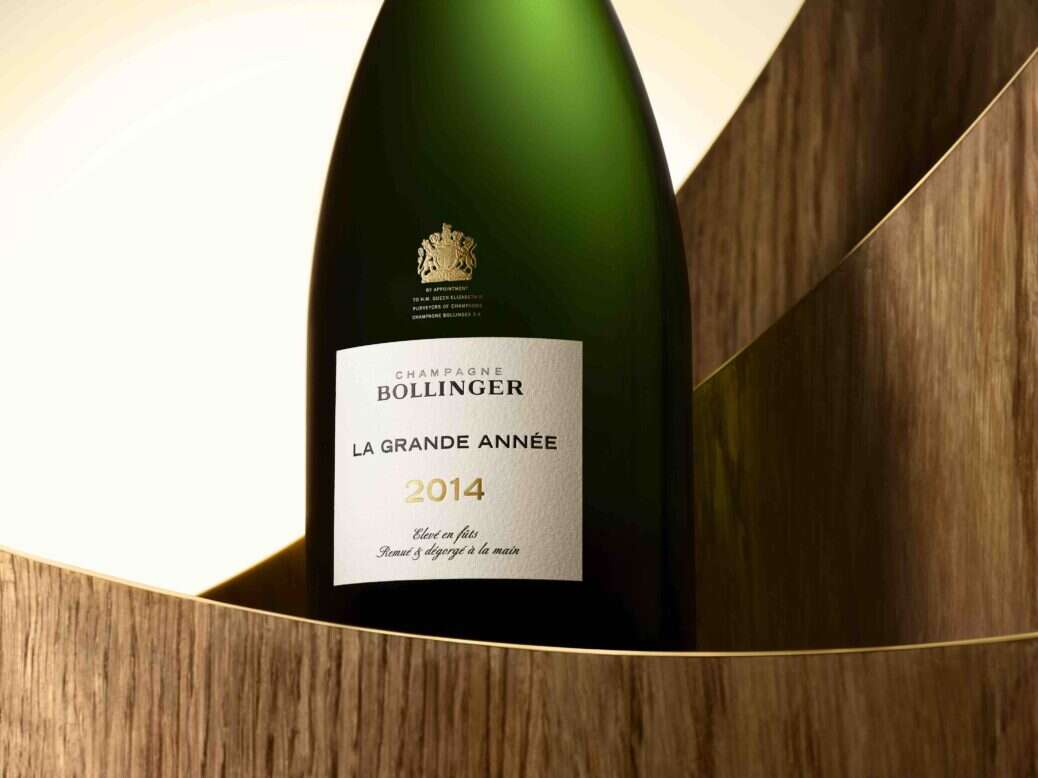 Essi Avellan MW enjoys a preview of Bollinger La Grande Année and La Grande Année Rosé 2014, a pair of stylishly mineral wines from a new winemaking team that made the most of a viticulturally challenging vintage.
Following the resignation of Mathieu Kauffmann, Gilles Descôtes was nominated Bollinger's chef de cave in 2013. Simultaneously, a new deputy cellar master position was created with Denis Bunner recruited from outside the organization. It was quite the dream team on paper, as Descôtes had long been in charge of Bollinger vineyard operations and Bunner brought with him extensive knowledge from the Comité Champagne's enological projects.
A head start in sustainability
By 2014, Gilles's decade-long work with Bollinger vineyards was already bearing fruit. In 2012, Bollinger had been the first Champagne House to receive the Haute Valeur Environnementale (High Environmental Value) certification for its vineyards. In 2014, it was also the first to obtain the Viticulture Durable en Champagne (Sustainable Viticulture in Champagne) certification. When La Grande Année 2014 was produced, Bollinger vineyards were already 90 percent herbicide-free and 85 percent of them grew grass covers, which were particularly high proportions for Champagne at the time.
During his time at Comité Champagne, Denis Bunner had coincidentally been working with Bollinger, researching co-inoculation of the alcoholic and malolactic fermentations. After seven years of experimenting, the duo implemented this energy-saving practice to the fermentations in 2014. Jetting was installed, too; in this technique, a micro-spray of water is directed into the headspace of the bottle at disgorgement, making the wine foam and expel oxygen. As Bollinger hand-disgorges all its Vintage Champagnes and adds no sulfur dioxide at disgorgement, this has proven to be a great aid in controlling oxygen ingress and improving consistency.
A rollercoaster season
With many exciting innovations under way, the duo was not given an easy vintage in 2014. It was a rollercoaster ride of alternating weather patterns. A particularly wet winter gave way to a warm and dry spring but in May rains returned. June then again was the sunniest in 50 years, yet the remainder of the summer was particularly cool and moist. A large crop (11,553kg/ha) was picked from September 8 onward.
Even if the old adage insists that "August makes the taste" (Août fait le goût), this year it was the fine June that provided the vintage's solid foundations. Those foundations were challenged especially by attacks of the drosophila suzukii flies, however overall the sanitary conditions remained good.
Bollinger decided to delay picking and started its harvest on September 15. It eventually meant a quick harvest in favorable weather, the picking finished in nine days. As Denis Bunner explains, "We aimed for higher ripeness, bringing density and vinosity to the wines. The fact that we blended La Grande Année 2014 from as many as 19 villages shows that the harvest was qualitative over a large area."
Unusual features
But the blend has some unusual features; the proportion of Chardonnay, for example, is particularly high, at 39% instead of the usual 30%. Only twice in the history of the cuvée has the proportion been so high, in 2002 and 2014. This is not surprising, as Chardonnay was the year's overall winner. Also, the Bollinger house style is known to carry the Pinot Noir stamp of its home village Aÿ, but this blend comes with the rare dominance of cooler profile Verzenay fruit over warmer Aÿ. The end result is something surprising for La Grande Année, as this vintage presents itself as salinity driven, lighter and more vibrant than most. As always, the wines are fermented and aged in seasoned oak barrels, yet the oak expresses itself particularly finely in the 2014. The oxidative impact of barrels is well-managed and the wine shines brightly, with a feeling of great precision.
Bunner sums up the wine and the longer term vision thus: "We find that our wines this year really express our viticulture. Minerality as such is not a common Bollinger trait. Nor is our idea to make a minerality-driven La Grande Année every vintage. It will be like that only when the year so decides. Our goal is to express the year and amplify its features under the wing of the Bollinger style."
La Grande Année 2014: Hints of what's to come
Even if La Grande Année 2014 is not the cuvée's greatest vintage, it is a highly pleasurable, vibrant, and stylishly mineral one. To me it is also showing hints of what is to come from the new winemaking team and viticulture. I was particularly impressed by La Grande Année Rosé 2014. This soulful wine famously gets its pink color and unique character from the red wine of Bollinger's iconic La Côte aux Enfants plot. In the fascinating Bollinger Coteaux Champenois tasting I got to do with Denis Bunner in 2021 (see WFW 73, pp.88–90), I was enchanted by the pleasurable elegance and seamlessness of the red wine from 2014. So, I was delighted but not surprised to see that the wine works its wonder in La Grande Année Rosé, too. It took only 5% of that joyous red to create a rosé of character and silky suppleness.
La Grande Année 2014
An intriguing combination of a sunny year's forward fruitiness and the freshness of a late-September harvest. These characters are further amplified by the high proportion of Chardonnay and an important share of cooler profile Verzenay Pinot Noir in the blend. On the nose, ripe peach, candied apple, and vanilla blend in beautifully with delicate floral and lemony notes as well as mineral iodine whiffs. The gentle oaky note stylishly stays in the background. There is supple volume on the lacey-textured palate, but this wine plays much less on concentration and weight than what we are used to with La Grande Année. Instead its finest feature is the salivating acidity and sensation of minerality that carries the wine through the long, palate-cleansing finish. Already open and pleasurable on the nose, but the palate stands firm, with mineral restraint promising longevity. Perfectly dosed at 8g/l. This note is for a bottle disgorged in April 2021. | 94 with the potential for 96
La Grande Année Rosé 2014
Atop the pleasurable and vibrant Grande Année 2014 as the base, the red Pinot Noir wine from La Côte aux Enfants vineyard blends in perfectly, creating a Grande Année Rosé of effortless beauty and seamlessness. The wine comes with a bright, orange-hued peachy color. There is a sweet strawberry note to the nuanced nose of cherry, peach candy, vanilla, licorice, and quince. It is still youthful, with the rainbow of berry aromas dominating. Yet the refined spiciness comes forward more on the silky-smooth palate of utterly sophisticated phenolics. The overall impression is elegant, if vinous, with the brisk acidity enhancing the feeling of lightness and vibrancy. The wine ends on a gourmand, savory and fruity note. A gorgeous Grande Année Rosé. This note for a bottle disgorged in August 2021. | 95 with the potential for 97
RSP in UK, £125 for La Grande Année 2014 and £150 for La Grande Année Rosé 2014