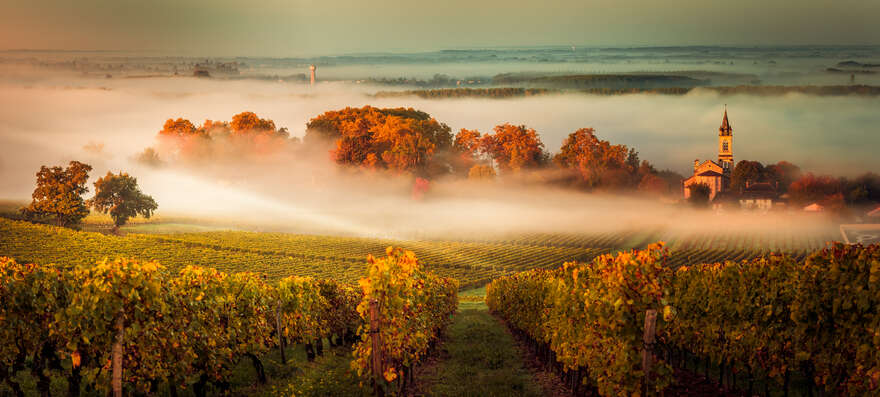 Over the past two decades, The World of Fine Wine's annual reports on the Bordeaux en primeur tastings have become definitive statements on the latest goings on in the region.
For the first 17 years of the magazine's existence, the reports were written by the globally respected author and wine educator, Michael Schuster.
As Schuster hands the reins over to his successor as WFW's Bordeaux en primeur reporter, Simon Field MW (whose coverage of the 2021 vintage begins this week), we are taking the opportunity to publish each of Schuster's masterly vintage reports going back to 2003 on worldoffinewine.com.
Together they provide a detailed record of the region's development since the turn of the Millennium, an informal first-draft history of Bordeaux wine in the 21st century, and an invaluable reference tool for wine collectors.
Today's instalment takes us back to the 2018 en primeur tastings.
"A great vintage?" asked Michael Schuster in his introduction in Issue 65 of The World of Fine Wine.
"Partly. Great individual performances? Certainly. Huge style variation? Definitely. Drinker divisive? Probably."
Michael Schuster's 2020 Bordeaux en primeur report
Michael Schuster's 2019 Bordeaux en primeur report
Bordeaux 2021 Field notes: Château Figeac
The Bordeaux 2018 growing season
Winter
From a rainfall point of view, a mild, continuously gray, windy January started the year off with half as much rain again as usual, and March was even wetter, with nearly double the average rainfall; February, on the other hand, afforded the vineyards a period of rest, drier than the norm, with chillier than average temperatures and 16 days of frost.
February's chill and a cool March meant that the vines had barely started to waken even by the end of March, but the soils at least broached April with a plentiful supply of water. Much more was to come.
Spring: Rain, as in 2016, an initial bane, a subsequent blessing
April, too, started cool and rainy, and it wasn't until ten days in that buds began to emerge.
The middle of the month then became "Summer in April," very dry and unseasonally warm, with temperatures well up on the average, indeed into the mid-70s (mid-20s) in the third week. So, the end of April saw a healthy sortie of nascent grape bunches, before it became very cold once more, for a week, at the start of May.
While the weather warmed up, it also turned heavily showery again, in particular during the second and the last weeks of the month, but in some locales continuously from May 12 onwards.
This rainfall was hugely variable from one area to another, the start of a pattern that was to continue until mid-July, making generalizations about the first half of the growing season especially tricky.
It was the beginning of the "aggravation of moisture," from almost
unremitting rain on already saturated soils, accompanied by soil-borne mildew spores, already affected vegetation, and rising temperatures—circumstances that were all but impossible to avoid, providing the ideal "nurturing" conditions, the perfect breeding environment, for the fungus that was to become the defining viticultural challenge of the early 2018 growing season: downy mildew (peronospera).
While its worst effects were felt in May and June, first attacks were very early in some locations.
It first struck Smith Haut Lafitte on April 13. There was also a substantial hailstorm on May 26, affecting vineyards first in Pessac-Léognan (some just at the start of flowering) then, via Bordeaux, in the southern Médoc, where it destroyed the complete crop of La Lagune, and finally in Bourg and Blaye.
From the end of May through to June 9, a couple of showery sessions
apart, there was a sufficiently clear ten-day break in the weather to allow for a rapid, even, healthy flowering and fruit set across the vast majority of vineyards.
A propitious and welcome start, at the normal time, to this most crucial stage of the viticultural year. But the incessant showers returned immediately after flowering—ten days' further sousing of soils already sodden in many locations, with some areas burdened by several times their normal June rainfall.
Then rising temperatures throughout the last ten days of June triggered the start of the most severe period of mildew, lasting in some cases well into July, and indeed beyond (Latour had problems up to its last biodynamic treatment in the second week of August!) because of the unrelieved humidity in the vineyards.
The severity and the effects of mildew were very disparate, depending on the incidence of rainfall in your particular location, and on the nature of your soils.
Gravel and sand "dried out" much more rapidly, while clays retained the moisture and kept their vineyard environment in a permanent state of humidity, unable to dry out.
It depended also on how quickly you reacted to the first signs of disease; little-affected Clinet and Haut-Brion said the key was to get the first treatment in early, and so keep it at bay.
And it depended on how many people you had available seven days a week! Some properties were treating every couple of days, the spray often being "washed off" by an immediately subsequent shower, and of course the disease didn't stop at weekends, when many workforces did.
Even more, the effects of the disease, and the responses to it, depended on whether a vineyard was certified organic or biodynamic. The consequences of mildew were eventually felt mainly on yield (see below), and initially in the immense number of man-hours entailed in the vineyards.
Pierre Lurton described 2018 as "Un vin de grande viticulture," and more than one manager described work in the vineyards in May and June as being "la course constante," a non-stop race against mildew.
For Rauzan-Ségla's Nicolas Audebert, it was "managing the results of tropical climate storms and tropical climate humidity 24 hours a day, seven days a week," and at Brane-Cantenac, Marie-Hélène Dussech's pithy, graphic comment was simply: "2018? Pas facile … Ouf!!"
By the end of June, mildew was also getting inside the closing bunches of grapes, leading to many being "dropped" for fear of dried rotten grapes being hidden at the heart of ripe bunches at harvest. In the end, the total annual rainfall was not far from average.
The difference was that the vast bulk of it fell during the early part of the growing season, and its incessant nature, at this particular juncture, over the whole period when the vine is tender with new growth, is what made it so pernicious in 2018.
Summer
Relief was on the way.
Glum faces leaving on holiday at the start of July turned into the broadest of smiles on return when the weather turned warm, dry, and sunny after the middle of the month. But not before a few final lashes of the year's baleful early weather tail.
There was hail on July 4 in the southern Médoc once more, then severe frost on July 12 (mainly affecting Sauternes), and on July 15 (the day France became Football World Champions!) the year's hindmost hailstorm struck the southern Médoc (yet again) and parts of Sauternes, leaving many properties here with severely reduced yields, some with nothing at all: Guiraud, Nairac.
After a first half of the growing season dominated by rain, the second half of July ushered in the very opposite, four months of what Lafite's Eric Kohler called "serene weather, dry, hot, sunny, but with light winds—perfect!"
Largely anyway. If there was a downside, it was, in the end, modest enough.
Water stress—the dry conditions required to bring an end to vegetative growth and direct the vine's energy solely towards its fruit—was later than ideal, which is before veraison (color change).
Many soils remained so saturated with water that vegetative growth was prolonged, and water stress was both later and more extended than usual, frequently in parallel with veraison, across late July and early August.
But it occurred satisfactorily nonetheless.
The positive side of these sodden soils was, on the other hand, much more significant, because as in 2016 they cushioned the vines across the summer and autumn drought, comfortably providing for their water needs through August (which had a few nicely, if irregularly, placed showery days at the end of the first and last weeks), then through a very warm September, and up to the second week in October, at which point there was the first significant rainfall for three months.
As in 2016, water reserves in the soil were the key to this.
August was hot, but not excessively so, some way from the extremes of 2003, and only the youngest vines on thin gravel soils struggled.
And a sensible choice for many over the summer was to deleaf less than usual, selectively, opening up, but maintaining, the canopy, leaving as much shade as possible on the sunnier side of the vines.
If you did "what you normally do"—deleafing extensively—it tended to aggravate the naturally hot nature of the year.
The last three months of the season were ideal weather for slow, complete ripening of the red grapes in terms of color, aromatic development, and tannins.
Many properties commented on the very ripe "nut-brown" color of the pips already at the end of August, an indication of the ripeness of the tannins.
September was one of the warmest, and by a long way the sunniest and driest, on record, with practically no rain at all (just the fewest of well-spaced drops in some locations), sunshine hours well above average, daytime temperatures, too, but with the welcome advantage of comparatively cool nights, which clearly played a role in the eventual freshness of many of the red wines.
Harvest
As in 2016 (and 2010 and 2005), conditions for harvest were as perfect as you could wish for: warm weather, unbroken blue skies, light winds and cool nights, from the last week of August, when the first white grapes were picked, until mid-October.
For many, 2018 was their longest harvest ever, and it was certainly one of the most prolonged in Bordeaux history.
Château Margaux picked continuously over six weeks, with two four-day "rest periods"; and at Château Canon they ran off the first vat before they had finished picking for the last.
You could choose your moment with absolute freedom, and strategies varied widely. Denis Durantou of L'Eglise-Clinet noted: "Many people were starting to pick their Merlots when I was finishing my Cabernets!"
Usually at harvest time the weather guides you, forces you, directs you, but in 2018 there were no such picking guidelines.
Being faced with an absence of guidance was a bit like a rabbit being caught in the headlights, with no idea as to quite what to do, which way to turn.
There could be, there were, in effect, as many "ripenesses" as winemakers!
Evidently this was a vintage of enormous natural generosity, with
apparently endless flexibility in terms of harvest decisions but with perhaps less margin for error than at first appeared.
And relatively small differences in the picking/blending/winemaking decisions perchance made for a greater difference than one might initially have imagined?
Tasting the different interpretations of the vintage—different as a result of the localized vagaries of the growing season, and even more because of harvest and winemaking choices—you appreciate
more fully what lies behind Aymeric de Gironde's teasing, provocative question (at Troplong Mondot): "It will be interesting to see, to ask, who made the most of this challenging, but in the end potentially wonderful, year?" (Subtext: How well, or not, did you, as viticulturist
and winemaker, manage this magnificent opportunity?)
Because clearly discernible differences of style, some pronounced, others subtle, are a striking feature of the vintage—perhaps the one that makes it so difficult to classify it easily, simply, as "great"? And one that reveals just how much it was indeed both nature's and
"a winemaker's" vintage.
Dry whites—and grapes
Picking for the dry whites started with the Sauvignon Blancs during the last week of August, and finished with the Semillons in the second week of September, harvesting in the cool of the early morning where possible, to maintain freshness as far as possible.
Both main grape varieties performed well, but many properties included a higher proportion of Sauvignon Blanc in their blends to give a bit more lift, freshness, and definition to Semillon's particularly smooth fleshiness. Haut-Brion Blanc had its highest-ever proportion of Sauvignon, at over 80%.
And in the overall softer, juicier context of the year, you can taste the freshness-verging-on-lean, with an occasional hint of austerity in those wines whose grapes were picked deliberately very early.
While clearly not at the quality of the outstanding 2017, this is a good vintage for the dry whites. Given the "hot" nature of the year, they don't have the aromatic vitality and acid tension of a really fine dry-white vintage, but they are ample, open, juicy, and, while on the softer side, they are for the most part fresh enough.
Rather like the 2016s, they will be most attractive early on and, except for the very top wines, they are not really for cellaring. As is increasingly common today, there are also some very good dry whites from the Médoc.
Sauternes/Barsac
Mixed results here but, like the dry whites, some are very good indeed. There were plenty of problems in the early part of the year from frost, hail, and mildew which mainly affected yields—dramatically in a few cases—but the style and the quality were mostly a consequence of the unusually warm and very dry September, which delayed the arrival of botrytis until the mid-October rains.
The bulk of the harvest was in the second trie, which took place in the second half of October, with a third, late trie in early November.
The long, hot summer, followed by a long, warm autumn waiting for late botrytis, meant that acidities fell and were on the lower side. To maintain a fresh balance in consequence, the wines are mostly a little less sweet than usual, between 110g/l and 135g/l, rather than 130–150.
Rieussec, for example, made a beautiful wine at 115g/l, while Suduiraut and La Tour Blanche are delicious at, for them, a relatively modest 135g/l.
The wines have a nice "fat" to them, a well-defined, freshly-sweet quality, a botrytis concentration and complexity that is modest in some, but clear enough in most; altogether a very good, if not a great, vintage.
The wines are less absolutely dense and concentrated than in many recent years, yet with no lack of matter, and they are perhaps all the more attractive for it. They will offer a great deal of pleasure almost as soon as they are bottled.
One striking feature of many at this early stage is an unusually dark
color, mid- to orange-gold, as distinct from a pale-lemon yellow.
The ever-helpful maître de chai, Laurier Girardot, at Coutet thought this might be due to the continued heat late on in the season, especially for those who had deleafed a lot, possibly resulting in a bit of sunburn!
I don't think it is anything to worry about, more something to be aware of.
Given all of this, it was depressing to read the following comment from a buyer for a reputable UK merchant in his 2018 vintage summary: "The only rule I can clearly identify is that the dry whites
are uniformly terrible bar Domaine de Chevalier's Blanc, and it is categorically not a sweet wine vintage either."
This is not only simply wrong—and it is not just a question of taste preference—it is thoroughly irresponsible in my view.
Red wines—and grapes
All the red grape varieties were successful this year, reaching peak
ripeness on very different soils, with deep colors, high tannin indices, in perfect health, without any rot, and often with grapes that were between 25 percent and 30 percent smaller than the norm, so with a high proportion of skin to juice.
Cabernet Sauvignon was magnificent on the Left Bank: small, thick-skinned, fully ripened under the ideal conditions of a long, dry, late season, and with no herbaceousness.
Much the same can be said of Petit Verdot, increasingly thoroughly ripe these days, and no longer the "little green one."
Cabernet Franc struggled on the Left Bank in the Médoc and Graves, but was brilliant in St-Emilion and Pomerol.
Merlot was glorious on the Right Bank, but the real surprise of the year was just how splendid, how remarkable, it also was on the Left-Bank gravels, where it wasn't unusual to harvest it at a natural
14–14.5% ABV.
It wasn't only on the Right Bank that you had to be careful
not to pick it too late!
For some years, Dominique Befve, at his en primeur tastings at Château Lascombes, has offered individual varietal samples of the year's Cabernet Sauvignon, Merlot, and Petit Verdot to taste.
It is always interesting, but this year it was an especially illuminating
juxtaposition, going a long way to explain some of the most salient characteristics of this remarkable vintage in the context of the Left Bank.
His Merlot was outstandingly rich and fleshy (you would never have put it on the Left Bank "blind"); you clearly see the success of this variety on gravel in 2018, and just how much opulence it could provide in a Médoc and Graves milieu.
The most remarkable feature of the Cabernet Sauvignon was its extraordinarily crisp acidity in fully ripe fruit, demonstrating unmistakeably the source of an astonishing vitality in so many of these "hot-year" wines.
It is rare to taste, as a varietal, fine, fully ripe Petit Verdot: almost pitch-black, full of savor and structure, and with a clear spicy element—the most notable beneficiary of global warming in the Bordeaux context.
No wonder its plantings are increasing, albeit modestly, from a very low base.
Thank you Dominique!
Red-wine making
A crucial issue for winemakers in 2018 was the sheer generosity on offer in the grapes: an abundance of sugar, a profusion of high-quality tannin, exceptionally "brown-ripe" pips.
The only commodity in short supply was liquid. The grapes
were tiny, the skins were thick, the ratio of juice to solids was low.
It was not that the winemaking was difficult with such high-quality fruit, rather that to manage vinification just "as normal" was likely to
result in more than you had bargained for.
The year's sugar levels were high, and alcohol levels, therefore, too; quite how high depended partly on the picking date. But the higher the alcohol, the greater its solvent action on tannins.
So, this year's challenge was above all to limit the extraction of the very ripe, and therefore very easily extractible, tannins to those of the finest texture, overseeing different grape varieties, in innumerable
vats, for variously harvested parcels.
The means were essentially to ferment at slightly lower temperatures,
many choosing 77–80°F (25–27°C) rather than 80–86°F (27–30°C), and to rely on infusion—the year's winemaking byword—restricting the physical interventions of remontage (pumping over), pigeage (punching down), and so on.
And although using "whole bunches" in fermentation is limited in Bordeaux, those who like to use a proportion, tended to do so less, or not at all, this year, for fear of yet more tannin from the stalks, and the possibility of mildewed grapes hidden within the bunches.
The year's finest fruit was clearly going to offer the potential of quite
outstanding wine. But harvesting and winemaking decisions were far from uniform and, as en primeur tastings showed, both stylistically and qualitatively, the results were far from consistent.
Some succeeded exquisitely in the vat room, others managed less well.
Bordeaux 2018 red-wine quality and style
Quality
Wet year, hot year, drought year. Just like 2016. But the timing and
distribution of the rainfall are the principal reasons for a very different
result in 2018.
The May to July moisture was much more pronounced in 2018,
the heat was greater in the summer (while not at 2003 levels), the nights were less cool, the charge of fruit was smaller meaning the bunches ripened more rapidly, and so on.
We are talking about a very fine vintage in 2018—no question;
the best 2018s have everything one could ask from top-notch Bordeaux, and will rank among the best wines of the past 60 years.
Why, then, my hesitancy over the designation "great"?
Because even more than usual it defies such simplification, and in a way that 2016, for example, does not.
While there are many magnificent wines from 2018, the fundamental
difference in comparison with 2016 (for me the new quality benchmark) is the lack of regularity in both quality and style.
In 2016, the uniformity of quality and style across the regions, up and down the quality hierarchy is, I think, of a quite different order.
Whether you eventually prefer an individual property's 2018 to its 2016, either now or in due course, is a much more limited question, not helpful for making generalizations.
And one will most probably "want" both, if for differing reasons. Why not?
The lack of regularity is also reflected in commentators' assessments, which vary from "good," to "very good," to "excellent," to "great." A diversity of appraisal one did not see for the pretty much universally acclaimed 2016s.
Finally, there have been more and more "great" years recently—2005, 2009, 2010, 2015, 2016—so one feels that the "bar" for "great" is constantly rising, the benchmarks are moving, the yardstick measures becoming more demanding.
Otherwise, the "great" currency simply becomes devalued. Up among the best then, yes, but 2018 is too variable as a whole to be sensibly categorized as great.
Style
Pigeonholing the 2018 red vintage is always going to be bedevilled by its lack of consistency; we are not talking about a uniform style of wine.
Of course we are splitting superlative hairs here. Quibbling. But that's part of what we do as we seek to clarify, to situate, to assess with a degree of accuracy.
And at least as important if you are looking to choose, above all from a drinking point of view, is the question of stylistic attributes, as distinct from qualitative ones.
What's it like? As distinct from how good is it?
A slippery distinction, I know. Where does a slightly extreme style become a quality defect? One person's perception as an "extremity" of style is, for another, a "quality."
A ticklish border to define, but precisely one that more "extreme"
vintages, such as 2018, ask one to consider, especially where, as in this case, they are even more heterogeneous in style than in quality.
Indeed, a possible title Neil Beckett and I considered for this piece was: "Un grand millésime classique—un peu extrême." Which was how Lafite's technical director, Eric Kohler, described the vintage on our first day of en primeur tasting.
It seemed such a neat and easy headline, though I was uneasy about the juxtaposition of "classique" and "extrême."
More to the point though, as we discovered subsequently, was that it just didn't cover enough of the bases!
It did, however, indicate the year's natural tendency to excess, at least in a Bordeaux context.
Almost all of the wines have a degree more alcohol than their respective 2017 and 2016, closer to 2015 and 2009.
I was regularly told by the winemakers I met that "figures" (variously relating to rain, sunlight, monthly temperatures, tannin levels, etc) were "the most," "the highest," "the greatest," and so on.
These alone suggest "extremities." And my descriptive vocabulary is strewn with terms such as: powerful, generous, ample, big, broad, structured, forceful, prodigious, occasionally forbidding; sumptuous, black-fruit ripe… you get the idea.
They are, for the most part, large-scale wines and, like 2009, often taste more of the year's climate details than of the location of their roots.
Less attractive features at the more "extreme" level are the palpable presence of alcohol, hints of spirit, suggestions of raisiny ripeness, an ungainly, occasionally brutal, character.
Reminders that it was not always an easy vintage to "interpret."
Tannin
I entitled my 2009 Bordeaux en primeur report "Bordeaux Magic, Bordeaux Muscle: A Stellar Red Wine Vintage But Heterogeneous in Style"—which would just about do for 2018 as well!
The heterogeneity is clear, as are the medley of muscle and magic in the textures.
The tannins are the key triage factor, what separates the "great" 2018s
from the also-rans.
At the one extreme is the tannic muscle, running from noticeable grip, to a taxing astringency, appearing almost immediately on the palate, and smothering the glorious fruit from start to finish.
At the other is the tannic magic. In numerous wines this is simply a nicely defining, a nourishingly integrated structural framework; in those that will make the best 2018s rank among Bordeaux's finest, the tannin textures are so effortlessy sensual and flatteringly caressing as to be almost indiscernible but for the satisfying richness of texture.
These are exquisite wines, whose magic exposes all the more revealingly those producers who weren't able, for whatever reasons (picking decisions and winemaking know-how?), to achieve this particular wizardry.
We run the gamut, the spectrum, from some of the most beautifully textured and complete red Bordeaux I have tasted in nearly40 years of tasting en primeur, to the tough, the tannic, the fierce, the spirity.
You can understand why Eric Kohler's attractively simple "Un grand millésime classique—un peu extrême" in the end, just wouldn't do for the region as a whole.
But the quality of 2018's best wines does mark it as an important, a major vintage.
Acidity
A hot-year paradox? A much talked about feature of this year's red wines was their surprisingly fresh acidity. It was, and will be, critical to their success, but it seemed counterintuitive in this high-alcohol, hot-year context.
There was a whole assortment of explanations.
The high water reserves and therefore absence of serious drought stress meant that acidity levels fell less than seemed likely; the summer was more very "dry" than very "hot," so the acid degradation was lower than might have been expected; the cool nights during the late season, across the long autumn ripening period, maintained acidities, especially in the late-ripening Cabernet Sauvignons (so striking in the Lascombes varietal sample; see Red wines—and grapes, above); the late-season conditions of drought, warmth, and a constant light wind all contributed to reducing the grape size so concentrating all the constituents of the grape, acid included; there was precious little malic acid to lose during the malolactic fermentation…
Perhaps not so paradoxical after all, then?
And it should be added that that pH levels varied considerably from one property to another: La Chapelle de La Mission Haut-Brion had a pH of 3.96 while, at the other extreme, Troplong Mondot's was 3.56!
But there were certainly plenty on the "lower" side, in the 3.6–3.65 range.
In any case, the explanations matter less than the taste reality—which is that in many 2018 reds there is a distinct, and attractive, freshness.
This distinguishes them from their 2009, stylistically the closest comparison as a vintage. To generalize, the acidities are mostly above those of 2015, 2009, and 2003, but below those of 2016, 2010, and 2005.
Alcohol
2018 is a vintage that is high in alcohol. Most properties have a degree or more than their respective 2017 or 2016.
This is simply a fact, a function of the more extreme climate conditions. And when a winemaker (Frédéric Faye at Figeac) can preface a tasting by saying, with no sense of irony: "It is only 14%," and when some classed growth Médocs weigh in at 15%or as near as makes no matter, then you know Bordeaux is changing.
There is increasing skepticism about the old mantra that "the level of alcohol doesn't matter so long as the wine is well-balanced."
This is akin to saying that it doesn't matter whether it's an espresso or an americano coffee.
The first is very strong, the second is a much lighter, diluted in effect, version of the same thing. Well-made, both are "well-balanced," but nobody talking rationally would say that because they are well-balanced it doesn't "matter" which you drink!
They "taste" very different, and by no means every coffee lover likes both.
In the case of wine there are taste consequences to higher levels of
alcohol that not everybody appreciates: warmth ("burn" in its extreme form), bitterness, and often an overall hardening of texture, which can turn fierce when also in combination with high levels of acid and tannin.
And these less attractive effects easily become a sort of "noise," which detracts from the detailed appeal of the wine, just as light pollution hides the myriad stars in the night sky.
It is, of course, fair to say that higher levels of alcohol also have some very attractive attributes to taste—variously, impressions of generosity, warmth, sweetness, all flattering to the palate.
Some wines "wear" their alcohol effortlessly, others much less so, and it is by no means clear why this is the case, but there appears to be no mathematically "linear" link between levels and taste consequences.
People, similarly, vary first in their sensitivity to the taste effects of higher levels of alcohol, and then in how much they like them or not.
The Institute of Masters of Wine would not regularly ask candidates to "state the level of alcohol" in wines they taste blind, if this were not possible to do accurately from taste impressions alone.
It is. And most of the students do it.
The points to make are that higher alcohol levels are a reality; the taste consequences are also a reality; and different people have different sensibilities to, and preferences for, those different taste effects.
To say that it doesn't matter is just to be in denial.
Yields
The Gironde yield in 2018 was, one might say, on the "low-middle" side in the context of the past 15 years.
In crudely "rounded" figures, at 5.1 million hl, it was above the exceptionally low 2017 (3.5 million), 2013 and 2008, all under 5 million hl; well below the most generous years, over 6 million hl, of 2004 (6.7 million), 2005, and 2016 (6.1 million); comfortably below 2006, 2007, 2009, 2010 (5.7 million–5.9 million), and just under
2012, 2014, and 2015, all 5.4 million.
This "low-middle" in the context of recent years is a useful generalization across the region, so it seems a little odd that while all other communes produced more in 2018 than in 2017, the northern
Médoc, St-Julien, Pauillac, and St-Estèphe produced less. But this is because they largely escaped the 2017 frosts.
There are also the usual significant variations from property to property.
Being organic or biodynamic was much less effective in 2018 simply because of the ferocity and prolonged nature of the mildew attacks, and a few certified properties suffered dramatic (even traumatic?) reductions in yield as a consequence, notably in Margaux, which
was particularly wet this year.
Angludet, already badly frosted in 2017, was at 10hl/ha; Durfort-Vivens was also 10hl/ha, Palmer 11hl/ha, La Gurgue 12hl/ha, and in Pauillac, Latour 24hl/ha, Pontet-Canet 10hl/ha.
Also in Margaux (but not biodynamic), and just to underline the
inequitable distribution of the mildew, Dauzac and Lascombes managed 45hl/ha, Malescot St-Exupéry 52hl/ha.
Many properties suffered the consequences of both mildew and hail: Chasse-Spleen in the southern Médoc got 19hl/ha; Smith Haut Lafitte, Haut-Bailly, and Fieuzal in Pessac-Léognan had half a crop, at just over 20hl/ha in consequence, but relatively near neighbors, Malartic Lagravière (35hl/ha) and Domaine de Chevalier (40hl/ha) were little affected by either misfortune!
And as if to emphasize the limited value of generalizations even more than usual this year: In St-Estèphe, Tronquoy Lalande made 45hl/ha, Montrose 25hl/ha; in St-Julien, Beychevelle made 55hl/ha, Lascases, 35hl/ha.
On the Right Bank, in St-Emilion, Troplong Mondot produced 49hl/ha, Beau-Séjour Bécot 46, Cheval Blanc 43, and La Tour Figeac 23.
While in Pomerol, Vieux Château Certan was at 40hl/ha, Clinet at 38, Petit Village at 23, and Evangile at 20!
Beyond the general statistics, you need to look at the specific figures for individual properties.
Bordeaux 2018 Mood music—the style pendulum
Bruno Borie of Ducru-Beaucaillou, never shy with an opinion, called the vintage (and his own wine) "BOULEVERSANT" (impressive, overwhelming, stupefying).
In two senses, he suggests: emotionally overwhelming from a taste point of view, and as a new reference, a new yardstick (mètre-étalon).
A watershed in the same way, he claims, that 1945 and 1961 were, after which nothing could be viewed quite as before.
Well, maybe.
Impressive, certainly. But I'm not sure that I, for one, would want 2018 to become the new Bordeaux benchmark, its new norm;
2016 possibly, if we must have one such.
Extremes rarely make good paradigms, and where red Bordeaux is concerned, it would be sad to lose what has always been its essence—that more moderate, restrained, maritime appeal.
Precisely what still differentiates it from much New World Cabernet-based wine.
Weather and climate will always deal the basic hand, but for the moment, luckily, we still have a real diversity of vintages, so that claret lovers with a more tender or sensitive palate, with a liking for something fresher, easier, more graceful, can turn to 2017, 2016, 2014,
for example.
And long may we continue to have chamber orchestra renderings of Bordeaux alongside the more Wagnerian accounts, of which 2018 is
one.
Last year I mentioned what seems to be a "resettling" of the red-wine style pendulum—a move away from what many now regard as the winemaking excesses that set in around the mid-1990s (what was called "New Wave" Bordeaux), and a move towards a more moderate
winemaking approach that one might call the Second New Wave, less forced, allowing both vintage and vineyard to express themselves with greater clarity.
This year I heard this vision voiced by winemakers at an increasing number of properties aiming to make wines that are more moderate in style.
It was nicely expressed on the Right Bank by Jean de Cournaud, technical director at Beau-Séjour Bécot: "On cherche une légèreté qui n'est pas une faiblesse, une manque, mais un retour aux équilibres plus frais, plus transparent, qui mettent en valeur le site, le terroir …. dommage de les cacher." ("We are looking for a lightness that is neither weakness, nor deficiency, but a return to a fresher, more transparent balance that highlights the character of the site, the terroir …. it's a pity to mask them.")
And on the Left Bank by Guillaume Pouthier, director
at Les Carmes Haut-Brion: "On cherche la buvabilité et le reviens-y, pour voir une somme de détails, surtout la race du lieu." ("We are looking for drinkablility, the desire for another glass, and the potential
to see a host of details, above all the pedigree of the site.")
Mood music!
A real cause for celebration: second wines. Plus la poubelle!
Second wines proliferated in the 1980s, principally as a means of "deselecting" various vats or parcels, in order to improve the quality of the grand vin.
For a long time they could be decent enough, if nothing special, though the popular description of them as la poubelle (the dustbin, the trash can) was rarely warranted then, and it certainly isn't now.
At the top end today, if you take a wine like Château Margaux's
Pavillon Rouge, it can be close to the quality of the grand vin of 40 years ago, and likely with considerably more polish.
This is echoed for second wines down the hierarchy.
This year, for the first time ever, I thought (with my teaching hat on
especially) that I could illustrate the styles of the major Bordeaux communes, red and white, very clearly and at a fine quality level, just from current second wines—something I could not have said that confidently much before now.
This is more than just a function of recent vintages—it reveals an increasingly rigorous selection for the second wines themselves, a real pride in the label, and the more mature vineyards and parcels used for these wines, too.
Here might be just one 2018 second wine wish-list: La Dame de Montrose (St-Estèphe), Echo de Lynch-Bages (Pauillac), Fiefs de Lagrange (St-Julien), Baron de Brane (Margaux), Le Petit Smith Haut Lafitte (Pessac-Léognan red), L'Esprit de Chevalier (Pessac-Léognan white), Croix Canon (St-Emilion), Petit Védrines (Sauternes).
Pomerol is trickier, of course, with fewer second wines, and less of them. But one of JP Moueix's mid-rank Pomerols would do very well
—Lagrange, for example. And there are many others.
Increasingly these represent real value in today's Bordeaux context.
While rarely offered en primeur, they are priced, initially, at between one quarter and one third of the grand vin price, so they are more than ever worth considering as part of a buying-to-drink strategy.
Bordeaux 2018: Particular individual successes and personal favorites
Right-Bank vintage, Left-Bank vintage? There are so many wonderful individual successes across the region that it doesn't seem to me to be helpful to make this sort of distinction, and in any case I don't think it applies in any useful sense this year.
The very top wines, as in practically every vintage now, are striking, and costly, and in the unlikely event that one were to "boob," that would be newsworthy.
Of more interest are the surprises and particular individual successes below the very top tier.
My wine of the vintage (if I must have one) is Figeac: "captivating, ravishingly beautiful, unmistakeably great wine," is what I wrote.
And, staying in St-Emilion, for the second year running, Beau-Séjour Bécot has made another exceptionally fine effort, Cheval Blanc's Quinault l'Enclos, too.
The JP Moueix wines this year are a great success as a group across their range, from St-Emilion's Pindefleurs, up to their top wines Trotanoy and Belair-Monange.
They are elegant, complete, medium-weights in their newer, slightly richer tenor, while remaining a perfect expression of the Moueix ideals and philosophy of "beverage" wines, but also better matching the more moderate mood of the times.
Gazin and Beauregard are their best Pomerols for a long time, and Conseillante is a great wine in its now deliberately denser vein.
On the Left Bank, Lafon-Rochet has again made a particularly beautiful St-Estèphe, Cos d'Estournel's excellent La Goulée is likely to be remarkable value, Duhart-Milon and Lynch-Bages are splendid, classic Pauillacs.
It seems invidious to name specific St-Juliens (as in Pomerol, so many that are so good) but, while not necessarily at the very peak, striking for me were Beychevelle, St-Pierre, Gloria, and, after missing a beat (in 2017) in its recent renaissance, a quite lovely Gruaud-Larose.
In Margaux, Dauzac and La Gurgue were remarkable, and Durfort-Vivens repeated its 2016 success, the last two properties run, respectively, by wife and husband Claire Villars-Lurton and Gonzague Lurton, both with yields severely affected by mildew.
And Le C de Carmes is an absolutely gorgeous Pessac-Léognan.
And buying early?
Investment decisions apart, if you want to buy early, of course pick out "stars" that suit your purse and palate (see our notes [in WFW64]).
But there is much greater consistency, at likely little more outlay, in a more classically restrained style and probably even more complete quality, to be found in the choice of 2016s.
Now, that is a vintage not to miss out on. So, if you haven't already done so, it is certainly worth foraging there, too!
Finally…
It must also be said that, despite many 2018s that speak more of the year than of the soil—where the climate's voice is louder than that of the vineyard, and the proportions are more"New World"—most wines also retain a palpably Bordeaux imprint, and a naturally fresh acidity alongside those underlying pebble/ gravel/mineral aromas.
Or, as Léoville- Las-Case's Bruno Rolland put it so succinctly: "Ils sont des vins puissant, mais toujours de chez nous." ("They are powerful wines, but they still taste of home.")
Indeed!
And for all the talk of "watersheds," "new yardsticks," and "California in the Gironde," the positive, equable observation of Malartic Lagravière's Jean-Jacques Bonnie was: "2018 looks to the future, and 2016 looks to the past from a modern point of view. Why shouldn't we have both?"
I like that.