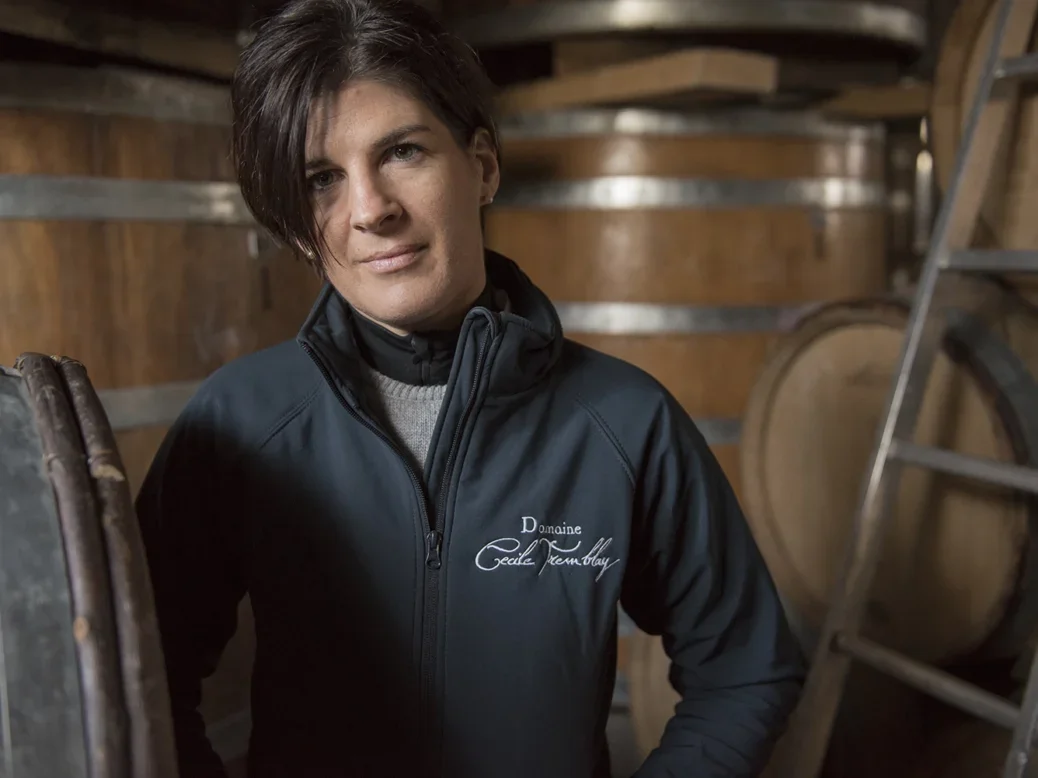 Jon Wyand photographs Cécile Tremblay at her eponymous domaine.
I first came across her when she was included in Bill Nanson's book The Finest Wines of Burgundy and I  was asked to photograph her, back in 2010. It was not a  new name to me, but we had never met. So it was that after arranging a rendezvous in Gevrey-Chambertin, I met a young lady washing returned bottles in a small cuverie. Cécile was happy to be photographed as she worked, if a little surprised by all the attention. It was only weeks later, when  it was too late, that Bill told me, "That's not the right Cécile!"  Was it a Burgundian wind-up? It would not have been the  first time I had been had by Burgundian winemakers  serious about their work but with a taste for practical jokes. Perhaps my mistake, compounded by cruel fate?
When I finally met the "right" Cécile Tremblay a few years later, she told me with a straight face that she could not remember the occasion. I decided it was best to let the matter lie. She is very hands-on and was busy with triage when I arrived out of the blue during harvest. Athletically moving from vat to vat, she kept a keen eye on progress.
The body has its own language—some are quiet; some more vocal, seldom at rest. I can think of some winemakers whose energy is displayed by constant movement. Cécile Tremblay, however, seems to have all that well under control; no wasted energy here. Even the face gives little away—a poker player, perhaps—until the camera arrives and betrays the mind. Shyness, embarrassment, and humor all bubble up, until she regains control and a steeliness takes hold. This strength is  not a mask but rather the inner core. Clarity and certainty are her default position, it seems, tested only by the lens; and when its presence is softened by distraction or reassurance, a balance is achieved, and the real person appears.
Whether your subject is aware of the process is seldom revealed, but the relaxation must come sometime and be recognized and maintained for as long as possible, as if the photographer is a juggler keeping all the necessary elements in the air. As soon as one is dropped, the spell is broken.
All this happens, more often than not, in an unspoken way; the temporary alignment of purpose can burst like a bubble  or recede gently like a passing aftertaste. But the end result is the same, and it's best then to realize that your time is over  and to accept it with good grace. These moments of alignment are fluid, expressed by the muscles in the face and body. It's  all too much to take in consciously; I just hit the button  when I hope I'm catching something. Digital cameras offer  us the chance to review as we shoot, but that would be a mistake, because your eye cannot be in two places at once,  and I suspect it's a bad idea to show your subject that you  are more interested in your image of them than in them. 
This article was first published in June 2020, in Issue 68 of The World of Fine Wine.
Burgundy Portrait: Gilles de Larouzière at Bouchard Père et Filses de Larouzière
Burgundy Portrait: Michel Bardet of Domaine Albert Grivault
Burgundy Portrait: Domaine de la Folie