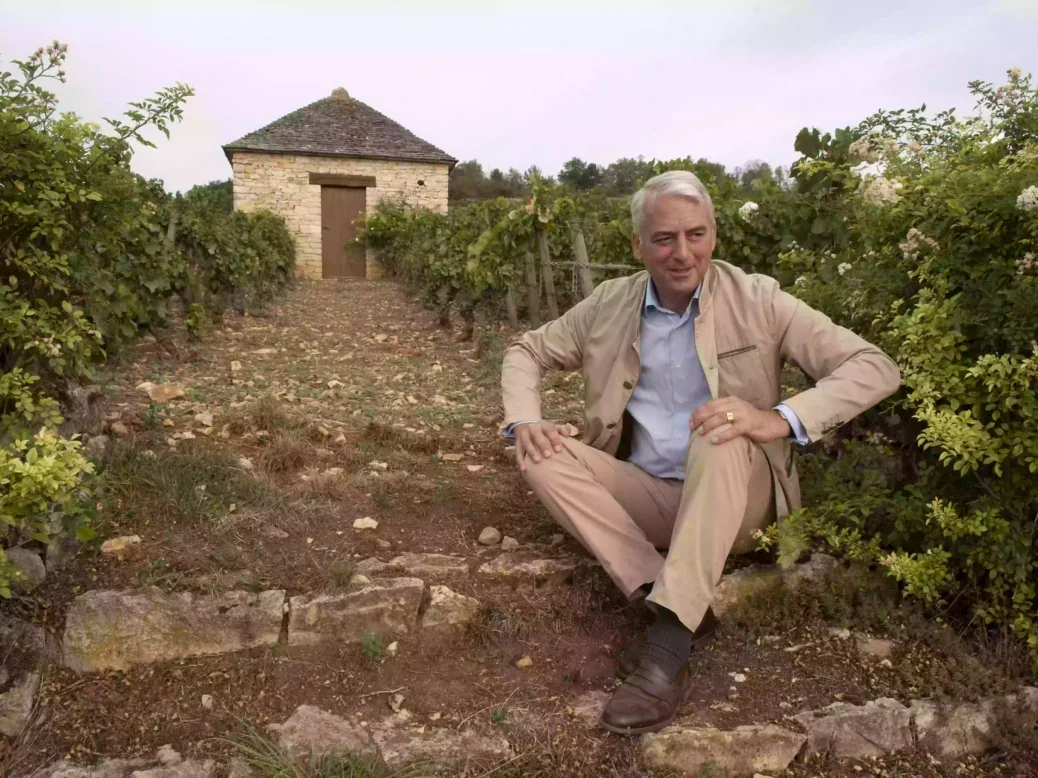 Jon Wyand's photographic portraits of leading figures in Burgundy are always one of the highlights of each print issue of The World of Fine Wine. To coincide with our extensive coverage of the 2021 Burgundy vintage, we are taking the opportunity to publish online some of the highlights of the dozens of revealing images Wyand has contributed over the years. We start with his subject from our latest issue: an image of Gilles de Larouzière of Maisons et Domaines Henriot among the vines at Bouchard Père et Fils.
The office door was open just enough to catch sight of a high-backed black leather chair above which protruded the top of a head capped with silver hair. Beyond were a pair of dark, well-pressed trousers terminating at crossed ankles and a pair of polished black shoes resting their heels on a clear desk. The president–director general (PDG) of Maisons & Domaines Henriot was on his weekly visit to see how things were going at Bouchard Père & Fils in Beaune. Instantly, I realized that this was the shot of Joseph Henriot I wanted, and l shall always be grateful that he agreed to it.
That was 20 years ago, and I was touched to see a framed copy in the office of current PDG Gilles de Larouzière when I came to photograph him. This time I was not offered a brief 20 minutes in the office. Instead, we had a morning of outdoor visits to various vineyards at the winery his uncle Joseph built. Gilles cast his eyes and ears over the work on the 2022 harvest—from press, to sorting table, to fermenting vat, he carefully inspected the fruit from Meursault Genevrières and Beaune Grèves.
Gilles de Larouzière's busy morning, and mine, had begun early, in order to witness the start of the harvest in Bouchard's Vigne de L'Enfant Jésus in the red glow of dawn. Then it was on to the great hill of Corton and a rendezvous with winemaker Frédéric Weber as he collected samples of the domaine's Corton-Charlemagne for analysis.
Next, a drive through the shortcuts around Beaune that Gilles now knows so well, and to which he seems very attracted. As we meandered through Pommard and below Volnay, he talked of the friendship and advice he has received from the likes of Aubert de Villaine and Guillaume d'Angerville, who themselves left careers in finance to return to their family domaines. Then down via Meursault for a brief stop at Les Genevrières, sporting its new plaque identifying it as one of Bouchard's many premier and grand cru vineyards. I should not be surprised by how well he knows the bumps, corners, and ridges of these vineyard roads, before taking the track up above Le Montrachet to one of Bouchard's precious rows of Chevalier-Montrachet La Cabotte.
Gilles is addicted to vineyards and winemaking rather than to his desk, and he is forever chewing different bunches of grapes in any vineyard he strolls through. When I suggested that chewing pips might not be the most photogenic scenario, he replied, with a grin and a shrug of the shoulders, "Sorry, I am just doing my job."
I can see his job is one of constant movement, keeping balls in the air and people happy, in both Burgundy and Champagne.As he sits on the steps below Cabotte, enjoying the weather and the view, I can tell he is content to see the dust on his shoes. But after a few seconds he springs up and decides it's time for a late coffee and a croissant or two in Puligny-Montrachet, before returning to Beaune. I don't think I'll be shooting any pictures of Gilles with his feet on the desk, but plenty of him getting his shoes dusty and licking grape juice from his fingers.