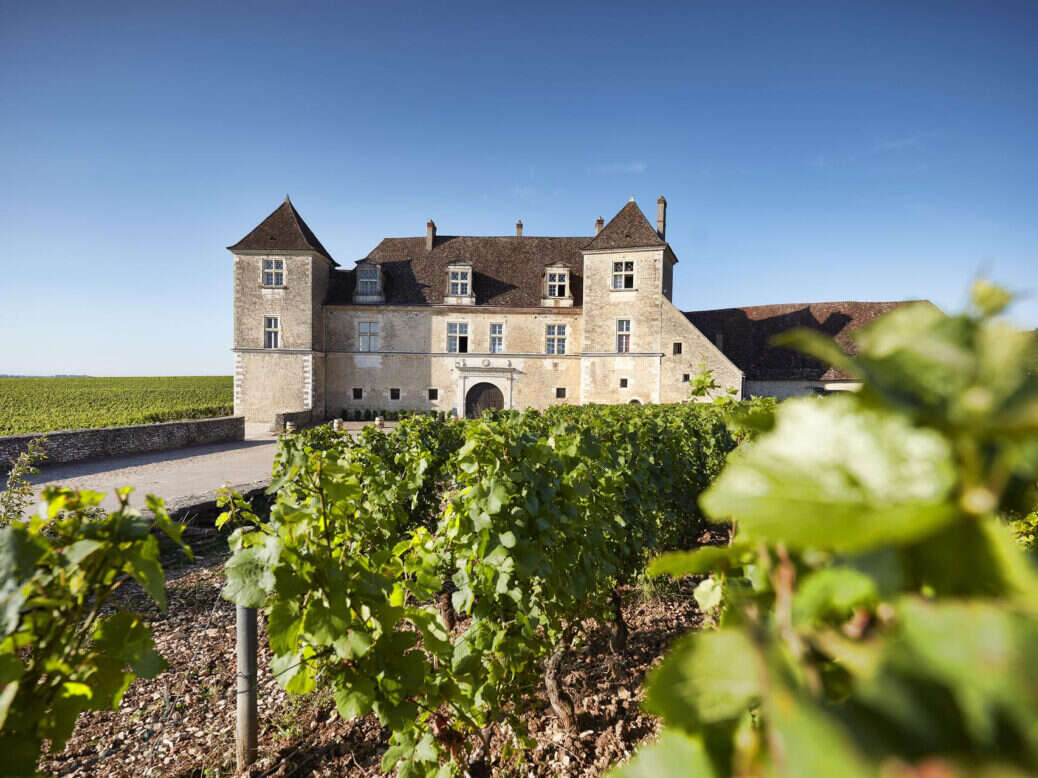 Twenty-four Clos de Vougeot growers have teamed up to produce a one-off wine to be sold at a special auction by Sotheby's in aid of the restoration of the historic Abbaye de Cîteaux.
The unique cuvée is a blend of wines from the 2020 harvest produced from the participating growers' vines within the Clos de Vougeot, the largest walled grand cru vineyard in Burgundy.
A grand total of just two barrels of the Clos de Vougeot cuvée have been made under the supervision of Château de la Tour winemaker, François Labet, with the wines currently maturing in the Château de la Tour cellar.
Clos de Vougeot: A unique grand cru
The cuvée will form the centerpiece of a online charity auction, hosted by Sotheby's from April 8 to 23, 2022, that will also feature a range of rare wines donated by some of Burgundy's most prestigious domaines.
The Clos de Vougeot cuvée will be sold via 113 lots, with various case sizes and formats available from Jeroboam to Balthazar. Each bottle will feature a gold-plated label created by the "professional illuminators" of ISEEM (Institut Supérieur Européen de l'Enluminure et du Manuscrit), and will be sold in a "specially crafted" wooden box. Prices will start at €600 for three single bottles, climbing to €8,000 for two Balthazars.
Highlights of the donated wines, with estimates ranging from €1,000 to €60,000, meanwhile, include a Jeroboam of Domaine de la Romanée Conti La Tâche 2009, a Magnum of Domaine Armand Rousseau Chambertin Grand Cru 2009, and three bottles of Domaine Leroy Clos de Vougeot 1988.
Rare opportunity
"This is a unique opportunity for collectors to acquire a truly rare and individual wine," said Jamie Ritchie, Worldwide Chairman, Sotheby's Wine & Spirits. "This auction is the only place where these exceptional bottles will be available, and the lucky winning bidders can look forward to the bottling of their wines in August. We are very grateful to the Fondation du patrimoine and Clos de Vougeot for allowing us to present this unique cuvée jointly with one-of-a-kind donations, in order to raise funds for one of the most important and historical sites in Bourgogne."
The combined estimate for the auction is around €700,000, with all proceeds to be donated to the urgent restoration of the late-17th-century Définitoire, one of three remaining buildings at the Abbaye de Cîteaux. The historic links between the abbey and Clos de Vougeot date back to the 12th century, when Cistercian monks from the Abbaye de Cîteaux began the construction of a walled vineyard in the village of Vougeot, having realized that the land around the Abbey was prone to becoming waterlogged.
Safeguarding Burgundy's heritage
"Through the restoration of the 'Définitoire' of Cîteaux, we are both safeguarding Burgundy's heritage and shining a light on a region that is highly valued around the world," said Aubert de Villaine, honorary president of Climats du vignoble de Bourgogne.

The 24 participating estates from the Clos de Vougeot are: Domaine du Clos Frantin – Albert Bichot, Domaine d'Ardhuy, Domaine Bouchard Père et Fils, Domaine Capitain-Gagnerot, Domaine Charlopin-Parizot, Maison Joseph Drouhin, Domaine Drouhin-Laroze, Domaine René Dubois, Maison Dufouleur Frères, Domaine d'Eugenie, Domaine Faiveley, Domaine François Lamarche, Domaine H. Rebourseau, Château Philippe le Hardi, Maison Louis-Jadot, Domaine Jacques Prieur, Domaine Méo-Camuzet, Domaine Thibaud Liger-Belair, Domaine Mugneret-Gibourg, Domaine Michel Noëllat, Maison Remoissenet, Château de la Tour, Domaine de la Vougeraie, and Château du Clos de Vougeot.
The online auction will open for bidding on April 8 and run until April 23, 2022, closing at 8pm CET. For more details: Sothebys.com/vougeotpourciteaux