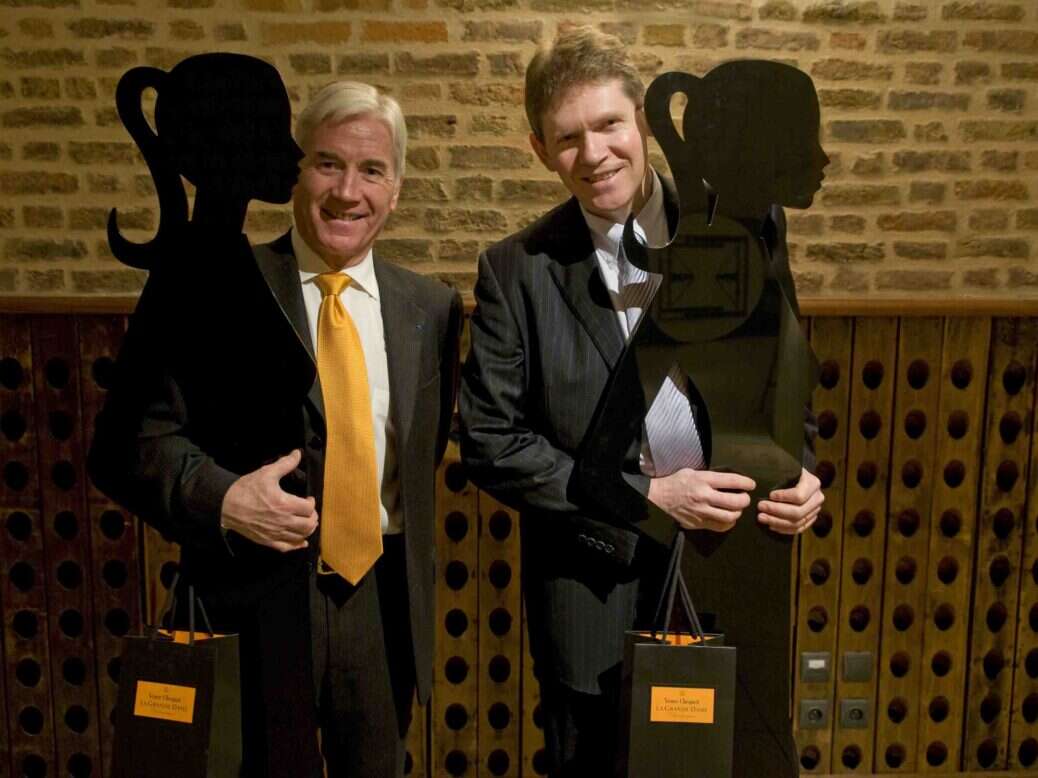 Michael Edwards pays a personal tribute to Jacques Péters, the former Veuve Clicquot chef de cave who died in November after a long battle with cancer.

One of Veuve Clicquot's finest chefs de caves until his retirement in 2009, Jacques Péters died very recently after a long fight with brain cancer, stoically borne with great courage. He was laid to rest on November 22, 2021, in the Basilica Saint Remi, Reims's most beautiful church. He was an extraordinary personality to those of us who were privileged to know him. None more so than members of his winemaking team like Cyril Brun, now moved on as cellar master at Charles Heidsieck.
" I enjoyed so much working with Jacques, he enrolled me at Veuve Clicquot and he became my mentor," Brun said. "I would not be where I am today without him. He was a great man for many reasons: humility, kindness, devotion to his job, and indeed a very talented winemaker. We had so many emotional moments together with some of the best wines of my life He is still somehow a source of inspiration to me. When I have to take a decision, sometimes I wonder what would have been his decision."
Jacques had another dimension to his manifold talent, one framed by background and family. In 1858, forbear Gaspar Péters moved from his native Luxembourg to Champagne and married a Mme Doué who had a Chardonnay vineyard in the Côte des Blancs at Le Mesnil-sur-Oger. By 1930, his grandson had acquired 2.5ha (6.2 acres) of Les Chétillons, a prime site within this longest-lived grand cru. Lucky him!
Refining and elevating
Jacques as a child and teenager learnt early the reference of great Champenois Chardonnay. At heart during his long tenure at Veuve Clicquot, he refined and elevated the greatest wines of the maison with a higher percentage of the great white grape. La Grande Dame is the benchmark, first released in the 1985 vintage, it is now one of the top three prestige cuvées on the market in both blanc and rosé. The 1998 is a particular favorite now à point in 2021/2022.
The last word should go to Philippe Thieffry, homme de vin and effectively the joint head winemaker at Clicquot with Jacques and his very gifted successor Dominique Demarville:
" 'Il restera de toi, ce que tu as donné … à Champagne.' It's this extract from the very beautiful text of Simone Weil which inspires me; the words sum up l'esprit of paying homage to Jacques Péters and his life entirely dedicated to the king of wines.
"Jacques, diplomé d'0enologie de la faculté des Sciences de Reims—in the first years at the regional Cooperative of the wines of Champagne CRVC-Champagne Jacquart. In 1979 he rejoined the maison Veuve Clicquot Ponsardin for a stewardship of 20 memorable years, following in the footsteps of another great winemaker, Charles Lahaye."
Au revoir, Jacques! Rest peacefully in Paradise, in the hope that The Good Lord, like you, enjoys 18 holes of golf.