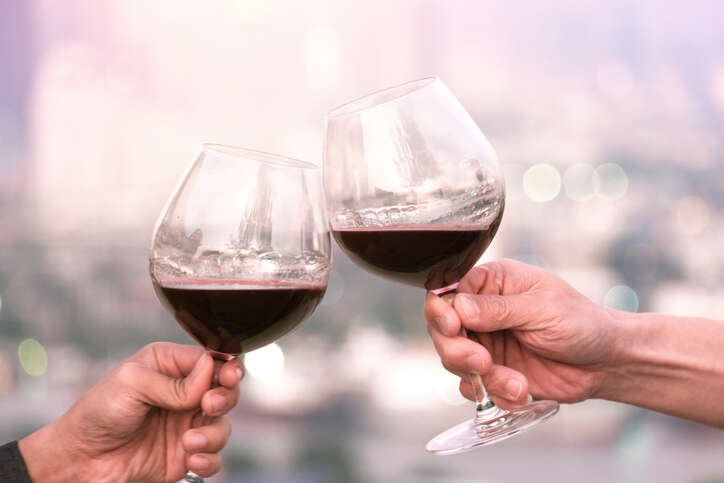 To mark the end of the year on worldoffinewine.com, we asked our writers to reflect on the bottles that meant most to them in 2021. For Stuart Walton, an uncelebrated name from starry Brunello di Montalcino was equal to an occasion that was special in more ways than one.

There were undoubtedly many moments during 2021, when we were able to greet once more the friends and family we hadn't seen during the Covid lockdowns of 2020, at which some humdrum slop tasted all the better for being consumed in company, rather than while staring in solitude at the hospital soaps. But for me, the year also encompassed a different kind of reunion.
My oldest and closest friend Tim and I met in our second week at grammar school, when the Tams' Hey Girl Don't Bother Me was top of what we then knew as the hit parade, and the first Monty Python film was about to be released. We met on the sports field, having been thrown into our first ever game of rugby union, during which we disdained to go anywhere near the line-outs, instead bonding on the periphery over our extensive common knowledge of pop and a shared antipathy to rugby, authoritative predilections that deepened through every lingering late-summer minute.
A Brunello di Montalcino to keep the wolf at bay
In other words, come September this year, it was exactly 50 years ago, an anniversary that seemed worth celebrating amid Britain's chaotically mismanaged emergence from Covid restrictions. When privation of one sort or another has been snuffing at the door for a good year and a half, like the eponymous wartime predator of MFK Fisher's How to Cook A Wolf, the moment has surely come not for a Pinot Grigio that will with luck turn to nectar in the circumstances, but some actual nectar. "Since we must eat to live," advises Fisher, "we might as well do it with both grace and gusto."
Tim cooks expansively, with a degree of assiduous attention to the detail of enterprising recipes, much as I used to before I underwent the can't-be-bothered-anymore rite of passage. For our principal festive dinner, we had early-season whole partridges, pot-roasted with a smoky autumnal mélange of wild mushrooms and slivered chorizo, in a wine and stock liquor lifted with tarragon and paprika, gone lustrous with reduction and finished with thick crème fraîche. The recipe came via the Great British Chefs website, from Gdansk-born Kuba Winkowski.
With this sensational dish, one of those that got better with every mouthful, we had a 2016 Brunello di Montalcino. I'd like to say it (the wine was labeled Terre de' Priori Brunello di Montalcino) was from one of the reference producers of that starry Tuscan DOCG. It was actually made by one of Italy's biggest cooperatives (Caviro) but had enough earthy maturity, savory oak, and intense berry fruit to suit the umami-lashed autumn overtones of the food. Thrust into the limelight of a red-letter occasion, it shone as luminously as we had dared hope. It also, I recall, hardly touched the sides before the bottle was spent, but what are you gonna do? We have had plenty of practice.
More in this series
Terry Theise: Journal of a quiet year with wine
Andrew Jefford: Bacchus in Riga
Jim Clarke: Bluet, Maine's sparkling blueberry wine
Francis Percival: Thévenet in time
Joanna Simon: The lost Gewurztraminer
Simon Field MW: Krug Clos du Mesnil sparkles in Sweden