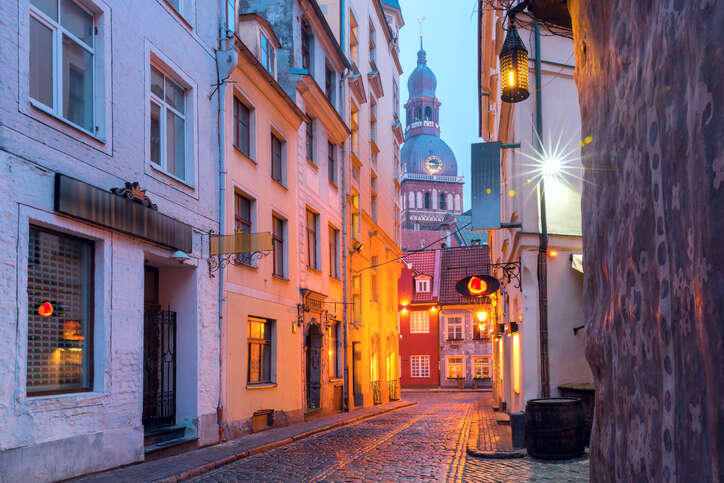 To mark the end of the year on worldoffinewine.com, we asked our writers to reflect on the bottles that meant most to them in 2021. Andrew Jefford finds his stars rising to the occasion on a single special night with friends in the Latvian capital.

We all know why … yet I feel guilty. Should I have tried harder? Have I failed here? Who has first call on loyalty: those at home, or those out waiting in the world? What's the role of reason in all of this, given that wine is an emotional, unreasonable product or it's nothing? Just how bacchic, frankly, should the whole business be?
This year was barely bacchic at all. I've worked daily with wine—but backstage, examining nuts and fingering bolts, preparing backdrops, checking the lighting, trimming scripts, flapping moths out of costumes, whistling in the wings. The floodlit festive moments have been rare. There has been little sallying out. Reason has prevailed … save for one evening in September, far from my fetid desk, when friends and bottles swum together in a dolphin shower of generosity.
Bacchus revealed
Three bottles from that night of nearly a dozen. Haut-Brion '85: what a great wine! I had no idea that '85 could be as good as this: a sketch for 1989. The pointilliste scent draws you in, then there's a flood on the palate: mellow, rich, succulent. Almost no fruit core now: it had all melted away like rainwater into a secondary, savory landscape of truffles and leaves. The tannins were plump, sleeping like dormice beneath the leaves. Fresh, too; refined, of course. We marveled.
Something from the Médoc: the 2011 Aile d'Argent. A scent of fresh laundry, then a far richer mouthful than most Pessac-Léognan ever seems to give, and richer than white Burgundy, too: a glorious surprise to this inexperienced fine-wine palate. Why are we all so afraid of richness nowadays?
Finally a magnum of 2015 Clos Vougeot, Château de la Tour. Ruffled velvet, plush, soft in the darkness (I thought it must be Vosne). Burgundy at its most hedonistic, packed with flesh and contour—until you sensed the sinew and sap welling up from inside the fruit, beckoned into prominence by the conducting tannins. These too were magnificent: dignity and grandeur. "Too young," no doubt—but could the wine ever have been enjoyed as much as it was enjoyed that September night in a flat on Elizabetes Iela in Riga? Since there, it turned out, was where Bacchus had been hiding all this time.
More in this series
Terry Theise: Journal of a quiet year with wine
Stuart Walton: My dinner with Brunello di Montalcino
Jim Clarke: Bluet, Maine's sparkling blueberry wine
Francis Percival: Thévenet in time
Joanna Simon: The lost Gewurztraminer
Simon Field MW: Krug Clos du Mesnil sparkles in Sweden