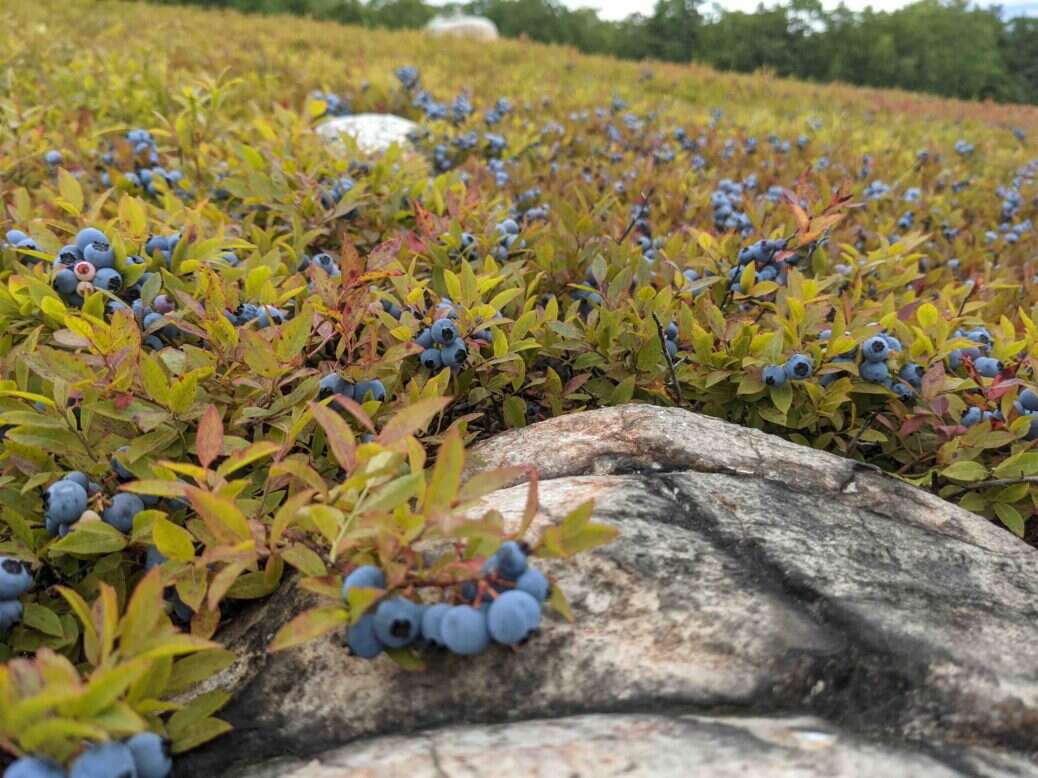 To mark the end of the year on worldoffinewine.com, we asked our writers to reflect on the bottles that meant most to them in 2021. For Jim Clarke, the significant bottle was Bluet, a sparkling blueberry wine from Maine made by—and shared with—some old friends.
For most of us I imagine 2021 turned out to be too much like 2020, but there were signs of better times coming, at least until the Omicron variant found its way into the news cycle. For me one of those glimmers of light came in October, when I had my first face-to-face encounter with a winemaker from overseas since this all began. Anthony Hamilton Russell and his wife Olive managed to make it to New York from South Africa. My wife Shana and I met them for dinner at Contento in Harlem, where Yannick Benjamin is serving great food and wine while leading the way in improving accessibility and hospitality for all. We dined outside and caught up on old times.
Wild blueberries in NYC
While we did indeed taste wines from their project in Oregon, which were excellent, Anthony asked me to pick something from Yannick's wine list. Not sure how much we'd be drinking, I thought to start with something light, and to surprise them with something I was sure they hadn't encountered before, a wine called Bluet. It's from Maine, and made from wild blueberries as a Charmat method sparkling wine. They also make a traditional method version, and both are surprisingly vinous, dry, and complex; one of a small but growing number of fruit wines out there that will change how you think about the category, if you've ever even thought about it at all. The winemaker, Michael Terrien, is a Maine native who's been making wine in California for many years; I first met him when I was a sommelier and he was the winemaker at Hanzell. We've visited him out there and I even traveled to Tokaj with him a few years ago.
If one were asked to suggest a Wine of the Year, Bluet has a lot going for it. It sets out to make serious wine from local ingredients—wild blueberries have existed in Maine for 10,000 years and express more in terms of terroir than any cold-hardy hybrid grape might. Aside from the locavorist aspect, Bluet's success acknowledges the simple fact that people are embracing a wider range of beverages and flavor profiles than ever before. At 7% alcohol, it also plays well into the growing interest in lower alcohol wines.
On-trend wine at an on-trend restaurant is a journalist's answer, though, not a personal one, and honestly not why I thought of Bluet for this piece. I've known Yannick, Michael, Anthony, and Olive for a long time. In the past 21 months many of us have had very few chances to spend time together with friends, Zoom calls notwithstanding. For me, that bottle of Bluet, in that setting and that company, represented the pleasure of coming together and sharing something special that was all too rare in the past year (even more so since I caught up with Michael in person at TexSom just a few weeks later). It also encapsulates a lot of what I hope for from 2022.
More in this series
Terry Theise: Journal of a quiet year with wine
Stuart Walton: My dinner with Brunello di Montalcino
Andrew Jefford: Bacchus in Riga
Francis Percival: Thévenet in time
Joanna Simon: The lost Gewurztraminer
Simon Field MW: Krug Clos du Mesnil sparkles in Sweden