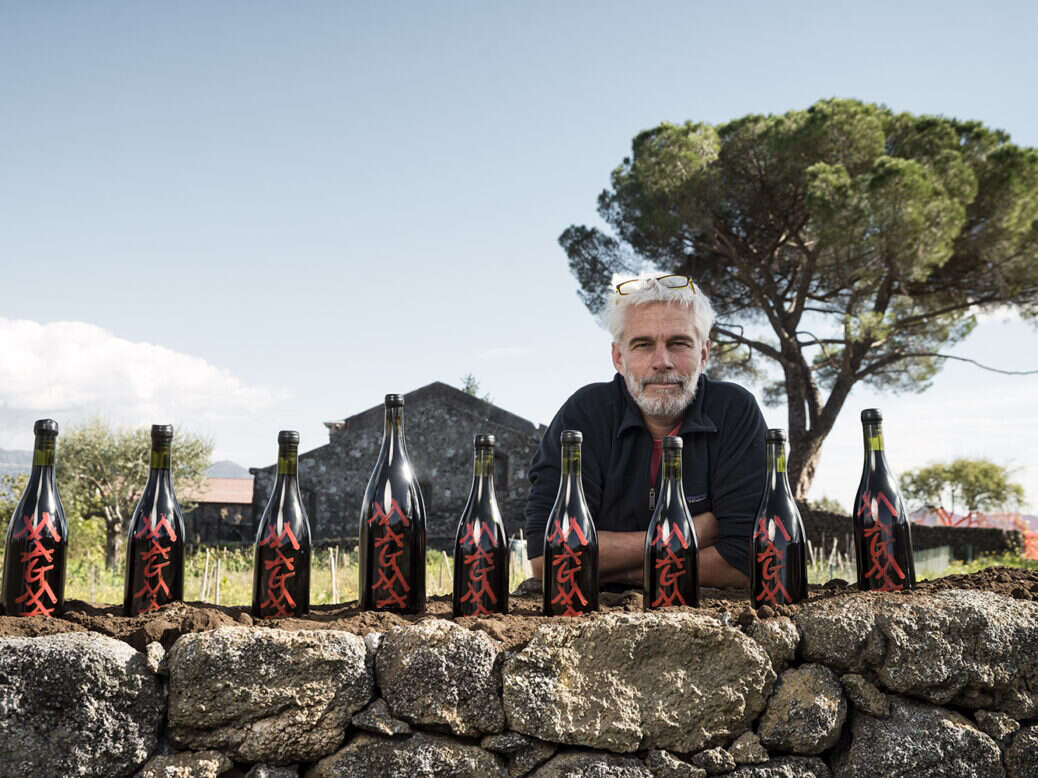 Robin Lee is transported by a tasting of the latest, exceptional wines by Frank Cornelissen, one of the most significant figures in the revival of winegrowing on the slopes of Mount Etna.
Harry's Bar, an elite private club in London and one of its most opulent restaurants, is not the habitual meeting place for the UK's "natural" wine brigade. Yet here, in and among an infinity of Fortuny frills and Murano mirrors, a select commentariat recently convened at the invitation of Raeburn Fine Wine to taste the latest releases from legendary Etna wine producer Frank Cornelissen.
Cornelissen is a lodestar for many in the world of wine. Originally from Belgium, he came to Mount Etna on Sicily after a successful career as an importer of fine wines and began producing his own wine in 2001.
At 3,300ft (1,000 meters) up on the north slopes of Europe's most active volcano, Cornelissen purchased centenarian vines that had originally been planted during the phylloxera crisis. (Phylloxera cannot survive in Etna's igneous soils.)
In the early 20th century, the wines produced here were exported to bolster the stricken harvests of Burgundy, transported down the side of the volcano on a specially constructed train that still creaks its way through a series of heartbreakingly beautiful lava-paved towns that seem like part of a lost world. Once France started grafting vines onto American rootstocks to combat the pestilence, the old-style ungrafted vines that were planted here were all but abandoned.
Against the dramatic and menacing backdrop of the always smoldering volcano, this almost alpine landscape—of almond trees, fragrant yellow flowering broom, the native spino santo thorny shrubs and cavoliceddu (Brassica fruticulosa)—has historically been divided up by the local shepherds into contrada, which each have a different mineral profile determined by the volcanic eruptions that formed them.
The blazing bright light of Sicily is sluiced by a tactile cooling influence of altitude that tangibly refreshes the air like a zesty granita. Since Cornelissen arrived, he has been followed to this vinous paradise by scores of other ambitious winemakers, including some of the most famous names in Italy. Etna, the oldest DOC of Sicily (established in 1968), has experienced a renaissance and is now perhaps Italy's most dynamic wine region.
A major turning point
Cornelissen is a pioneer. He developed his individualistic and now iconic style not only in what was then a little-known region but with a local grape variety, Nerello Mascalese, that was virtually unknown outside Sicily. Ten years on from that first vintage, Tom Hyland, writing in The World of Fine Wine (issue 34, 2009, pp.126–29), described Cornelissen as "the most driven, ardent, zealous, perfection-oriented winemaker in the world."
From the outset, Cornelissen had a fixed determination to make fine wine, to create a true expression of this inspiring place. He did not use sulfur dioxide (SO2) in his wines. In every winemaking decision, his aim was for absolute purity. His uncompromising and sometimes extreme, often perplexing, and always creative efforts to maintain the highest level of cellar hygiene without using SO2 made him an idol of the natural-wine world, whose totem is sulfur-free winemaking.
Ironically, renowned biodynamic winemakers from all over the world would frequently get in touch with Cornelissen to ask him if he would supply them with sulfur mined from Etna, since sulfur is a key element for biodynamics, but this was based on a misunderstanding. Cornelissen was never biodynamic, and since he never used sulfur, he knew nothing about sourcing it. He does not believe that sulfur from Etna would be different from any other sulfur.
It was thus a surprise at the Harry's Bar lunch to learn that the trailblazing Cornelissen is now retaining as a consultant Guillaume Thienpont of Vieux Château Certan in Pomerol (see also WFW 76, pp.144–49), and is also working with a well-known agronomist. For such a maverick as Cornelissen—who has always bushwhacked his own path, relying entirely on inspired intuition and his own painstaking research and experiments—this is a major turning point.
Thienpont is the embodiment of the old-school, classic grand vin. An initial outcome of the collaboration with Thienpont is that Cornelissen has decided to break the natural-wine taboo and is now using SO2 during racking and before bottling.
"I can wake up in the morning with a different idea than the day before," Cornelissen explains.
"This is not because I am mad or unstable. It is all very calculated. You can come to conclusions, and then, when there is new information, you come to new conclusions."
The 2019 vintage is the first that Cornelissen has released under the new regime.
SO2 is a standard preservative that has been used in winemaking for centuries to protect grapes, must, and wine in its various stages against harmful yeasts and bacteria, as well as the negative impacts of oxygen. The decisions about whether to use SO2, how much to use, and when, are open to infinite debate, and there are no single right answers.
In a hot climate, however, where pH levels are high, the grapes, must, and wine have less natural in-built protection than lower-pH wines from cooler climates. The amount of SO2 also needs to be higher than in a cooler climate for it to be effective. Cornelissen is adding 10mg/l at the first racking, with total SO2 ending up at around 30mg/l, keeping free SO2 at a minimum, under 5mg/l.
"You have to be intellectually honest," Cornelissen explains. "I am searching for quality and precision, so I either have to play with the pH or add SO2. People think Etna wines are high acid, but it's the minerals and the other components that give it that tension. The pH is high."
As Cornelissen explains, "Natural wine was a counterreaction to an excess of enology: too much wood, too much extraction, too many chemicals. Natural wine will never be a category. To make it a category is to put it in a prison, which is the opposite of individualism. It's uncategorizable, which is its greatest asset."
As well as introducing the judicious use of SO2, Cornelissen is building a vast underground cellar.
"If I feel I'm part of a category, I immediately jump out of it," he says. "I like being with myself."
Cornelissen considers SO2-free winemaking an extreme discipline that now enables him to make decisions he would never have had the knowledge to make otherwise. As he explains: "If you haven't gone over the edge, how do you know where the edge is? Now, after 20 years, I know where the edge is."
Cornelissen has already built a new, colder cellar for protecting his white wine by keeping it stable at 54°F (12°C). "My white-wine model is Alsatian," he explains. "They have volume and character, but without the cold room they become too evolved."
He has also introduced a customized destemmer and a sorting table that is constantly disinfected with ultraviolet light. Extreme selection saved the 2019 vintage. Customized pumps, a modified press, ozone machines integrated with the air-conditioning system, specialized nozzles on all the tanks, and a state-of the-art bottling line attest to Cornelissen's ongoing infatuation with cutting-edge technology and gadgets.
"The real balance is at the center of yin and yang," he says. "High-personality wines are not high-precision wines, but high-precision wines have the possibility of being boring. To put some of yourself into the wine—the right amount of quirk, organizing the right amount of chaos, giving it that edge—
is why making wine requires a split personality, 50 percent intuitive, 50 percent rational. It's difficult to find those two characteristics in one person."
Channeling the poet Walt Whitman, Cornelissen is not afraid of self-contradiction. "This is an evolutionary process," he says. "I am not limited. Nothing in life is black and white."
According to Cornelissen, his objectives have not changed; he has merely changed his strategy for achieving them. "I still believe in the original recipe—old vines and low yields," he says. "The greatest wines are the wines with personality. They have flaws that give them character. Great wines always have a quirk."
As was revealed at the Harry's Bar tasting, his wines have not lost the Cornelissen imprimatur, and the subtle changes he has introduced enable the raw material of the vineyards to shine. As even many of the most devoted aficionados of natural wine now acknowledge—because they have, unfortunately, learned from experience—enological flaws only distort terroir; they do not reveal it.
This is why Cornelissen—who is unashamedly aiming for "precision" in his single-vineyard wines, for the detailed distinctions that define them to be revealed across the vintages, and for an unblemished expression in all his wines, including the blends—has bravely, nonconformist as ever, modified his approach.
Indeed, the latest releases at the Harry's Bar lunch were nothing short of exceptional. And perhaps they fit into the surroundings better than they once would have done. Murano glass and Fortuny printed fabrics were also avant-garde innovations back in the day.
The production methods then became established and traditional, so that now they are no longer controversial and are instead universally admired. Thus the chimera of luxury constantly renews and reinvents itself.
The 2019 vintage
This was a challenging year that—thanks to Cornelissen's extreme sorting in the vineyard ahead of harvest—produced pure, clean, impeccable fruit, although with many small berries due to difficult weather conditions during flowering. Eight people were needed by Cornelissen on the sorting table, where they carried out a meticulous further selection, reducing production volumes by nearly 30 percent.
There are only 1,600 bottles of Magma instead of the usual 2,200–2,500. The 2019s are concentrated, fruit-driven, and vibrant—a "Pinot-ish vintage," as Cornelissen calls it—with tremendous elegance.
Notwithstanding the hot summer, the cool weather in the weeks before harvest contributed depth and complexity, as well as preserving natural acidity for this classic vintage. Coming in at less than 14% ABV, the wines are significantly lower in alcohol than previous vintages.
The 2019 vintage wines of Frank Conelissen
2019 Munjebel Bianco
A half-and-half blend of Carricante and Grecanico Dorato, this wine is given weekly bâtonnage and has a full-bodied, weighty character that is very un-Italian. Pear skins, honeyed oats, almond milk, and a raspy, herbal, wild-grass character carries over on a long finish. This wine is unique, as well as enjoyable. An excellent pairing at Harry's Bar with carpaccio di gambero, fave, piselli e burrata. 2020–25. | 96
2019 Munjebel Monte Colla
This south-facing parcel on compacted sandy clay at an altitude of 2,500ft (760m) produces a compelling, luscious wine with a dark-fruit character (wild blueberry and damson) and a spicy finish of star anise. Gripping tannins attest to its powerful structure. The old vines planted in 1946 give a density of flavor and texture that promises a long life ahead. 2022–30. | 94
2019 Munjebel Feudo di Mezzo
This vineyard is lower and has deeper soils, giving a looser structure, grainy tannins, and a more immediate impression. Still highly structured and savory edged, with dark fruit and notes of spicy radish, mustard seed, wild greens, and a smoky, spicy note of peperoncino. 2022–27. | 92
2019 Munjebel Campo Re
From 70-year-old vines at altitudes of between 2,850ft and 3,280ft (870–1,000m), this wine is bursting with energy and verve, with a lighter fruit character of pomegranate and loquat, as well as a savory edge, with wild oregano, sweet-smoky grilled tomato, sweet-spicy potpourri, and a hint of charcoal and ash. Produced only since 2015, this is a compelling addition to the lineup. 2022–28. | 95
2019 Munjebel Vigne Alte
Here we are with ungrafted 90-year-old vines at altitudes of between 2,850ft and 3,280ft (870–1,000m). Complex and multilayered, with pistachio notes overlaying pristine damson and juicy pomegranate, with dark notes of savory bitter greens, black garlic, dandelion leaves, and nettles. Wild and elemental in character, with long and intense flavors, this is a fine example of Cornelissen's signature style. 2022–30. | 97
2019 Magma
This is the icon wine that Cornelissen has made since his first vintage from vines planted in 1910, now more than a century old. Lean, restrained, and transparent but dense, with a firm, structured character and taut tannins. Tensile and throbbing with pent-up energy, like scooped-up dewdrops from cherry skins served over black lava rock, like something there and not there, this is a wine you can never quite pin down. More of an experience than a wine. 2022–30. | 96
Munjebel Perpetuum
This is a new cuvée, a fractional blending of vintages. This example, the second edition Cornelissen has made (P2), is with a 2019 base. The promise of longer aging in bottle is another outcome of Cornelissen's recent adjustments to his winemaking, and this wine makes the most of his change in direction in the cellar. Intense red berries on the palate, with translucent cherry, musk rose, and a complex, spicy back note of cinnamon, turmeric, and black pepper. This wine has a tightly wound structure with grippy tannins and needs plenty of time to unfold. The aromas of Etna are all here and imprint themselves on the memory. Promises to become a modern classic. 2022–30. | 98