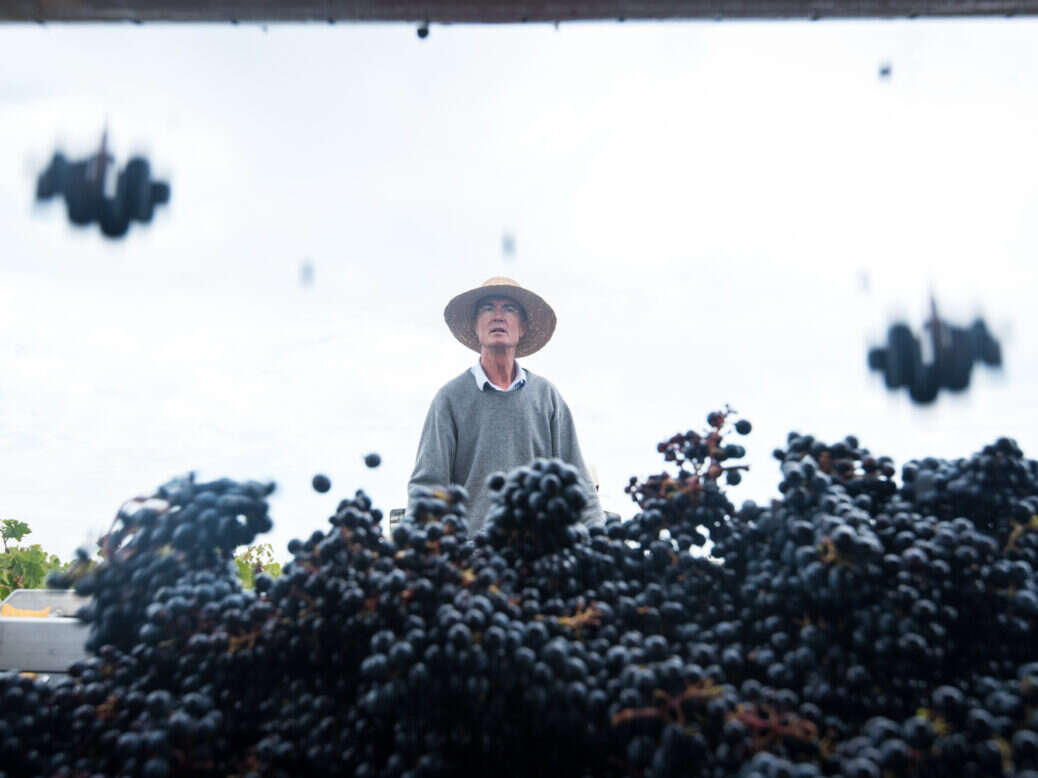 The World of Fine Wine's Simon Field MW is in Bordeaux for the 2021 vintage en primeur tastings. In his latest dispatch from the region, he gives his verdict on Pomerol's Vieux Château Certan.
It seems reprehensible in the extreme that my last visit to Vieux Château Certan was over 20 years ago.
Nothing much appears to have changed, however, of that one may be certain.
Located adjacent to an increasingly busy cross-roads, with arrivistes Petrus and Pin pincering from either side, there is something reassuring about VCC's modest dark stone buildings and carefully manicured garden … everything is nuanced and sober, only the clutches of deeply stained red roses adding a whiff of flamboyance and excitement, as if in a Powell and Pressburger film.
A metaphor for the wine itself? Maybe. Why not?
Bordeaux 2021 : A battle against mildew
Proprietor Alexandre Thienpont appears also to have changed very little in the last two decades. His demeanor somehow recalls Jacob Rees-Mogg, an unworldly elder brother perhaps.
Apparent diffidence gradually concedes soft smiles and the gift of a memorable turn of phrase; in 2021, he advises, frost was the axe that threatened to decapitate the entire project; mildew, on the other hand was the sly fox, often appearing unannounced to wreak havoc just as the grapes ventured to ripen.
A pretty and thus far under-rated vintage, he surmises; precise and refined, but far from lean. "La bonne cuisine n'est jamais sucré,'" he counters.
His Merlot ( 77 percent of the blend) adds "rondeur" but nothing by way of Rubenesque excess. The Cabernets see to that; 20 percent of Cabernet Franc to add complexity and linearity and as for the 3 percent of Cabernet Sauvignon … well, that just doffs its hat to the ensemble, says Alexandre, maybe thereby adding a subliminal intimation of formality.
A fine, composed Bordeaux, a wine for the table on a Sunday, maybe with rôti de veau, he decides. This Sunday, I ask, sensing an invitation.
Not this Sunday, alas; how about a Sunday in 12 years' time? Well, that's a step up from 20, I suppose.
2021 Vieux Chateau Certan, Pomerol
Deep ruby, bright and energetic; Alexandre advises that it needs a few minutes to open up, and starts a discourse about Robert Parker, who used to stand where I am standing now.
"He always came here specifically to taste," says Alexandre, 'but I never changed my style of wine. Maybe that's why he kept coming. I think we ought to have a statue to him in the village square."
I'm not sure if this is a joke or not.
The wine, meanwhile, has opened up gloriously, red and black fruit, spice and a distinctive floral backdrop, iris or maybe violets. The palate is equally harmonious, surprisingly rich in the mid-palate, red and black fruits aplenty, then the grip of the youthful Cabernets, firm but in no way disturbing what has come before or what has yet to come. "Aromatic, fresh, and flavorsome," says the fiche technique, accurate on every count.
Bordeaux 2021 coverage
Bordeaux 2021 en primeur: Romance and reality
Bordeaux 2021 Field Notes: Château Figeac
Bordeaux 2021 Field Notes: Vieux Château Certan
Bordeaux 2021 Field Notes: Château Pavie
Bordeaux 2021 Field Notes: Le Dôme
Bordeaux 2021 Field Notes: Domaine de Chevalier
Bordeaux 2021 Field Notes: Sauternes and Barsac
Bordeaux 2021 Field Notes: Pichon Lalande
Bordeaux 2021 Field Notes: Enquiring Minds
Bordeaux 2021 Field Notes: The Whites Have It