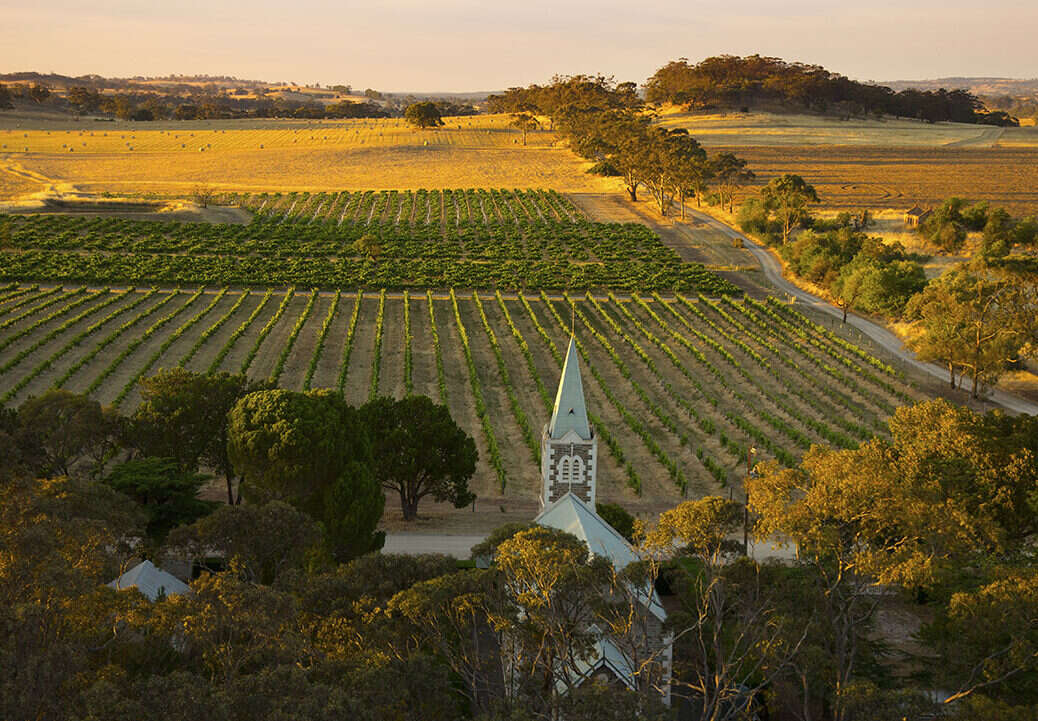 Ken Gargett enjoys the latest single-vineyard Shiraz releases from the great Barossa and Eden Valley family producer, Henschke.
"A vintage graced by vitality." The Henschkes do love their vintage designations. From 2017, they found wines "more composed," with the "elegance and vitality to endure."
The annual release of the Henschke portfolio has long been a highlight of the Australian wine calendar. In recent years, we have been restricted to individual meetings with Stephen Henschke, current custodian and a member of the fifth generation of the family, over Zoom, though this has the decided benefit, after the tasting, of ensuring a series of stunning wines to finish at one's leisure at home.
There has been a further change. The vintages have not always aligned across the various wines. I remember years ago that Hill of Grace would be given a year longer in the cellar than the Mt Edelstone before release. That was then stretched to two years.
Now the decision has been made to provide both wines with the same stint in the cellar before release. It does not end there. Both the Wheelwright and the Hill of Roses are also now held back for a longer period than in the past, with all four wines being released together. The great advantage of this is that it provides a wonderful snapshot of the vintage, at least through the lens of the Henschke winemaking team.
Henschke: Vineyard essence and elegance
In this instance, the focus was on 2017, a vintage that conventional wisdom would suggest was a decent year but not at the same stellar level as those that bookend it, 2016 and 2018.
Conventional wisdom is ever revealing its failings, however, and as time passes, 2017, at least in the Barossa/Eden Valley region, is being seen as an impressively elegant year—certainly better than initial reports would have had us believe. It may not appeal to those seeking that traditional Barossa blockbuster power, but it has still given us many superbly attractive wines.
Rather than trying to link it to a past vintage, it reminded me of when I first got interested in wine. We'd have a vintage in Australia over which local critics would rave, another that left them less excited.
Then I'd read the European critics and wonder if they got things wrong. Often, their assessments were diametrically opposed.
The simple answer is that the blockbuster wines of power, fruit, and alcohol tended to excite the local critics, while those that were more elegant, even ethereal (if the Barossa could ever claim to be that), entranced a different set of critics, usually offshore.
I don't think those differences apply to anything like the same extent these days. 2017 is a vintage for all those to whom elegance appeals.
More prosaically, 2017 in the Barossa Valley was a later vintage, with a considerably reduced yield. Rainfall was well above average, including a wet winter (a most welcome one), with cooler temperatures slowing the ripening. January and February saw two short bursts of heat, as well as two rain events to keep things fresh.
An Indian summer throughout March and April meant consistent ripening and good acidity. One description was "not a boisterous year," but every report includes references to the elegance of the '17 wines.
The Barossa/Eden Valley is of course a large region, and conditions are never uniform. For the Henschke family, hail in October affected half of the vines, but it was early enough in the season that they recovered well.
The hail was mostly restricted to the Mt Edelstone and Hill of Grace vineyards—hardly ideal—while their other vineyards fared more favorably. The heaviest rainfall events missed the family's vineyards, meaning that their grapes were largely healthy and the yield for them was closer to average.
For the Henschkes, 2017 is reminiscent of 1992, 2006, and 2012—all cooler years, giving long-lived wines with a nod to that elegance.
The family works with old vines for its top wines—50 years old for the Wheelwright, 100 years plus for Mt Edelstone, and closer to 160 years for Hill of Grace.
They tend to be able to handle whatever Nature throws at them in a manner that younger vines can't match. Henschke's decision to release its top wines from the vintage as a bundle allows interested wine lovers to see this for themselves. The response has been positive, most commentators hoping that this policy will continue.
The winemaking across the range is largely consistent: open-top concrete fermenters with the use of a submerged cap. The oak is mostly French, with a little American.
These days, the level of new French oak has been reduced. As Stephen says, "Vineyard flavors—this is what we are all about."
Henschke 2017 Shiraz releases
The Wheelwright Shiraz 2017 (A$140)
The vineyard, at an altitude of 1,640ft (500m), is managed with a mix of organic and biodynamic practices. It was planted by Cyril Henschke in 1968 in order to commemorate the centenary of the company. The oak used for this vintage was 16% new and 84% seasoned (87% French and 13% American), all hogsheads, for a period of 18 months. This is only the third release of this wine.
Of all of the prestige 2017 Shiraz quartet, this seemed to me the purest in its fruit. The color is deep maroon, while the nose is just gorgeously perfumed, truly quite exquisite.
There are notes of florals (violets), spices, milk chocolate, and dark fruits. Hardly any sign of oak. An alluring creamy texture; this is seamless, with silky tannins and very fine balance.
Delightfully fresh, almost slippery. There is great length, while the intensity seems to increase along that length.
For me, it was the purity of fruit and the elegance that were the highlights of this wine. A wine with an exciting future ahead of it.
With all of these wines, I revisited them the following day to assess progress. Notes of chocolate, prunes, and plums had emerged—just gorgeously plush. | 97
Mount Edelstone Shiraz 2017 (A$235)
A single vineyard, 105 years old (planted in1912), again managed with a combination of organic and biodynamic methods. 26% new and 74% seasoned hogsheads (86% French and 14% American), for a period of 18 months.
First bottled from the 1952 vintage by Cyril Henschke, Stephen's father, it is believed to be the longest consecutively produced single-vineyard wine made in Australia.
My suspicions are that by releasing this wine and the iconic Hill of Grace from the same vintage at the same time, a lot of people are going to be surprised at just how good the Mt Edelstone is and how close in quality the two wines really are. It won't hurt that this is a seriously impressive vintage for Mt Edelstone.
Very dark maroon in color, this is coiled and tight. It is immediately obvious that it will benefit from time, both in glass and bottle. At the moment, it is a tight, taut, powerful style, with serious concentration.
The flavors move through red berries/cherries, coffee beans, chocolate, animal skins, dry herbs, and mulberries. The wine is beautifully balanced, and there is good acidity.
A cracking Mt Edelstone, one that exceeds initial perceptions of the vintage—perceptions fast fading. This Mt E has a very long future ahead of it.
The following day, it had opened up and was far more approachable. Darker fruits, especially black cherries, emerged. A wine that simply screamed elegance (if that isn't a contradiction in terms). This has decades ahead of it. | 98
Hill of Roses Shiraz 2017 (A$430)
This wine hails from a single patch of vines, pushing 30 years of age, on the Hill of Grace property. In time, they may qualify for use in that wine, but they are not quite there yet (which is why the wine is sometimes dubbed "Hill of Grace Lite").
The Barossa Old Vine Charter requires that vines be 35 years of age to qualify as Barossa Old Vines, so it will be a few years before they can even be considered.
Still, the resulting wine is one that a great many producers would doubtless love to be able to claim as their flagship.
Again, organic and biodynamic practices. 25% new and 75% seasoned hogsheads, with 89% French and 11% American. 18 months in that oak. It was first bottled in 2001.
Magenta in color. The nose explodes in an array of dark berries, coffee-bean notes, tobacco leaf, cloves, and dark chocolate. The wine is obviously still very young and in the process of coming together.
Black olives and hints of roast meats emerge on the palate, while there are notes of sour cherries on the finish. Fine balance, excellent length, good concentration, and real potential.
After a day open, more red fruits and dry herbs arrived. This will surely impress for the next couple of decades. | 96
Hill of Grace Shiraz 2017 (A$900)
One of Australia's most iconic wines, this is made from pre-phylloxera material that arrived from Europe in the mid-1800s and was planted in the famous vineyard in 1860, by Nicolaus Stanitzki, one of Stephen's ancestors.
As with the other wines, a mix of organic and biodynamic practices. 29% new and 71% seasoned hogsheads (83% French and 17% American) for 18 months. The first example was made from the 1958 vintage.
It has been a very long time since a new Hill of Grace disappointed, if ever, and this one is certainly not going to do that. A wonderful wine, a worthy addition to the long line of brilliant HoGs, and a contender for best wine of the vintage.
Deep maroon in color, with intensity and balance, freshness and vitality. (It is not hard to see where Stephen got the inspiration for this vintage's "Aussie haiku.")
This wine is enticingly fragrant, with spices, red fruits, warm earth, dry herbs, and more. Incredible length and balance, the silkiest of tannins, with good complexity already evident.
Good acidity supporting the wine right through. Everything is superbly balanced and integrated. Seamless and lingering, this will age and improve for decades. A superb wine with endless elegance.
After a day, there were darker notes, as well as more of the warm earth tones, tobacco-leaf characters, and dark chocolate. The wine seemed even more complex. Brilliant. | 98