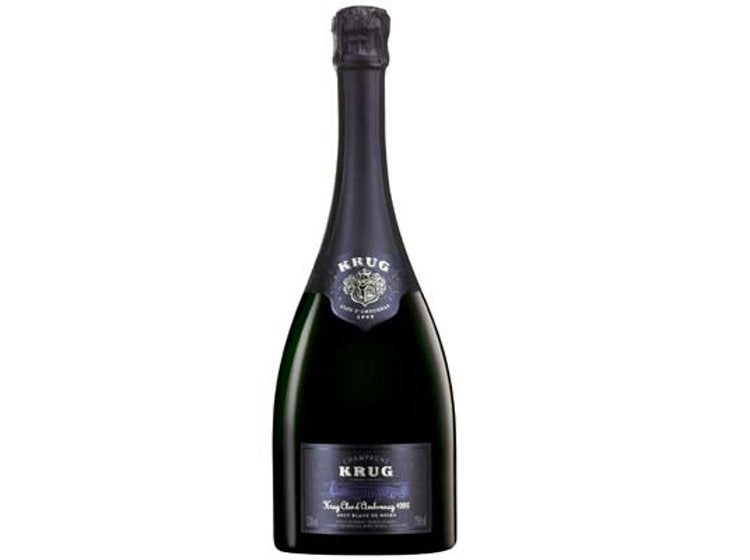 When every new release of Krug Clos du Mesnil, Collection, or Vintage is cause for celebration, how much more so the first vintage of a new wine that has already, prior to its official release, become the most recherché of them all?
According to Krug's president and CEO Panos Sarantopoulos, "it had to happen." Maybe it did, but few, surely, saw it coming. Twenty-one years after the debut of Clos du Mesnil 1979 in 1986, Clos d'Ambonnay 1995 was revealed in typical Krug style in October 2007, having remained a carefully guarded secret until Henri, Rémi, and Olivier Krug welcomed the first few fortunate visitors to a tiny walled vineyard on the edge of this Montagne de Reims grand cru.
Maybe it had to happen, but it didn't have to happen this way. We knew we would be introduced to a new Krug wine, but had no other clue to its identity. A Blanc de Noirs or another mono-cru wine always seemed most likely, and it turned out to be both. Our small fleet of black Range Rovers rolled into Ambonnay and parked in a small square, where we were walked toward a large pair of high, black gates. As they swung gently open, out from between them popped the smiling face of Rémi Krug, brimming with his characteristic combination of joie de vivre and high seriousness.
According to brothers Henri and Rémi, both now officially retired, they had wanted to make a single-vineyard vintage Blanc de Noirs (dubbed "Krug ABC" by some wag in their team) almost as soon as they started to produce their Blanc de Blancs from Clos du Mesnil (though this had originally been intended as a source of Chardonnay for Krug Grande Cuvée). But while they searched all over Champagne for what Rémi described as "another jewel vineyard," there was a particular reason for finally settling on Ambonnay. As early as the 1880s, explained Henri, Paul Krug I identified Ambonnay and Le Mesnil-sur-Oger as the ideal sources of Pinot Noir and Chardonnay respectively, and they have played an important part in Krug Grande Cuvée ever since.
The Krugs were already buying fruit from Clos d'Ambonnay in the 1980s, when they started trying to acquire it for themselves. As Panos Sarantopoulos related, vinification à la parcelle revealed the strong personality of the site over the years, and the question then became, "How can we magnify this character à la Krug?" They eventually won the prize in the mid-1990s. The Clos had been replanted some ten years earlier (20 acres in 1984, 35 in 1985, and 13.5 in 1987), and the Krugs now started to lavish on it the same meticulous care as on their other clos. The new wine gradually took shape under the eyes and noses of Henri, Rémi, and Olivier, with the support of chef de cave Eric Lebel and a dedicated small team (as at Clos du Mesnil). Even so, although they made experimental cuvées for nearly ten years, they deemed the 1995 vintage the first "to express the quintessence" of this special terroir.
Olivier Krug at Clos d'Ambonnay with one of the 3,000 bottles of the inaugural release of his house's new Blanc de Noirs
A flat "garden plot" of only 0.685ha (1.69 acres)—one third the size of Clos du Mesnil—Clos d'Ambonnay represents what Rémi calls "individuality in the extreme." Like the other Krug wines, it is fermented in small, old oak barrels, and in overall quality and style there is a strong family resemblance (a point on which Rémi keenly sought reassurance).
But despite being Krug kith and kin, the character of the wine from this chalky, shallow soil is indeed highly individual. Others in the family may be more complete, mature, rounded, sophisticated, or scintillating, but for sheer force of personality and natural talent, this may be the most remarkable. This, of course, is (or at least should be) the raison d'être of all such mono-parcel wines.
As with all great bottles, attempting to convey the experience is, like Goneril's alleged love for Lear, "More than words can wield the matter." But at the risk of the words proving as worthless as hers, this was still an astonishingly pale gold for a 12-year-old wine, with an exceptionally fine mousse for a Blanc de Noirs. As savored in the middle of the vineyard, the bouquet boasted remarkable complexity and purity (a classic Krug paradox), as well as a distinctive, earthy, very noble savagery, as far removed from the all-Pinot cart-horse as a wild stallion. There were fleeting scents of anise, almond croissant, candied fruits, acacia honey, and fleurs blanches, turning to dried apricots and licorice with time in the glass, if one could resist the temptation.
On the palate, the wine was dense and intense, but also elegant, harmonious, and richly silky, making it easy to see why Henri's and Rémi's grandfather praised Ambonnay as "the Château Margaux of Champagne." There was extraordinary freshness and race for such a warm vintage, and wonderful length.
As word spread, each of the 3,000 bottles was rumored to sell for almost as many dollars on release. At a Hart Davis Hart auction in Chicago on February 8, it actually sold for almost twice that, two six-bottle lots raising US$22,000 each. There may be up to 5,000 bottles in later vintages (there were 17 casks in 2004 and 2006), but the world's most expensive Champagne will almost certainly become more expensive still.
It would be sad if its extraordinary price outshone its extraordinary quality, but its rarity means that it will always be the preserve of a privileged few. At lunch after the tasting, where it was perfectly paired in situ with a tarte fine aux cèpes, Rémi reflected on a subject he knows well. "Luxury is like an ocean … you never reach the horizon." Yet this wine seemed very much more than a drop or a dot.