Michael Schuster tastes the latest Vintage releases from the sister houses of Champagne Salon and Champagne Delamotte, and puts them in the context of his previously unpublished notes from a vertical tasting hosted by UK agent Corney & Barrow in 2016.
The broadening scope of this piece, beyond the most recent releases, may require a little explanation. The 2012 Salon Cuvée S (Salon) and 2014 Delamotte Blanc de Blancs releases last September speak for themselves. But why include a pair of verticals from nearly seven years ago? Because my laptop was the victim of a serious hack shortly after this 2016 tasting, with my notes and files either disappearing completely or scattered across the computer, I thought these notes lost for good, until late last year my IT expert came across them, quite by accident, with only the full 2004 Salon tasting details gone.
In honor of the press launch of the 2004 Salon in April 2016, there was also a retrospective tasting of each house, going back exactly 50 years in the case of Salon, 31 in the case of Delamotte. It was a particularly privileged tasting, an illustration, if it were needed, of pedigree and track record. Even seven years later, both these wines have such long drinking windows, and such "reference" opportunities are so rare, that I thought it still worth recording the two performance histories and my drinking predictions at that moment in time—useful references in their own right.
Since 1988, both Champagne Delamotte and Champagne Salon have belonged to what became, in the same year, the Laurent-Perrier Group; and for the past 25 years, these two sister houses have been managed by Didier Depond. Salon produces just one wine, the Cuvée S (simply known as "Salon"), and that only in what are considered the finest years. It is pure Chardonnay, exclusively from vineyards in Le Mesnil-sur-Oger on the Côte des Blancs, pure grand cru, from possibly the finest Chardonnay terroir in Champagne. Delamotte produces a range of Champagnes, the Vintage Blanc de Blancs being its flagship wine. This, too, is made entirely from grand cru fruit, but from six villages across the Côte des Blancs. To those—and they are many—who say you cannot make a really complex, complete Champagne from a single grape variety, these two wines are a regular riposte. And in the Schuster household, the best blanc de blancs are our absolute favorite Champagnes.
Tasting Delamotte and Salon
DELAMOTTE
Delamotte's pure Chardonnay Vintage Champagne is typically released after six years or so on the lees. It starts to drink well—dependent, of course, on the nature of the vintage—at between eight and ten years, with at least a further 10 to 15 of still-fresh, mature pleasure after that. Perhaps, as a rule of thumb, think 15 years as a drinking span after release. And beyond two decades, well, it varies, of course. But consider the 31-year-old 1985 below.
The 2014 Champagne vintage
A warm, very dry, sunny spring and a perfect early June flowering preceded a cool and very wet summer, a challenge to ripening. September, however, was warm, dry, and blue-skied, allowing the grapes, finally, to ripen completely. The relatively abundant harvest of fully ripe fruit took place in perfect conditions.
2014 Delamotte Blanc de Blancs
(Disgorged March 2021; dosage 6.5g/l; 85,000 bottles; September 2022 release price £295 per six bottles ex-tax)
Pale yellow; a discreet, refined nose, delicate, minerally, subtle. Medium-full, with a fresh acidity, though relatively supple for a youngish pure Chardonnay, and an easy, lissome mousse. Long and graceful to taste, restrained and fragrant, , with a fine, scented, gently mouth-coating persistence. Doubtless this will keep, but it is attractively accessible now. It will drink well early but likely last well, if perhaps a bit less than the splendid, more structured 2012. Typically delicious, stylish Delamotte. 2023–38+. | 91+
SALON
Salon is made from the finest juice of the first pressing, fermented in stainless steel, without malolactic fermentation, then spending eight to ten years aging on its lees prior to release, with a dosage of between 5g/l and 7g/l. The 2012 production was the current norm of 60,000 bottles, including a limited number of magnums.
Salon starts to taste good at around 10 to 15 years and is perfect, perhaps, from 20 to 30. But of course, it depends on the nature of the year. 2002 is utterly seductive at 20 years and has been almost since its release in 2014, whereas 1996 is barely ready at nearly 30. One has to remember these are all pure Chardonnay, and in cooler, higher-acid vintages (none lately), they will lack just a touch of sweetness and flesh early on. But as the vertical below shows, the finest years will taste magnificent 20 to 30 years subsequent to release—at 30 to 40 years of age, that is.
The 2012 Champagne vintage
2012 was very tricky viticulturally. It began with severe frosts in February, a mild March, a wet and, in mid-month, severely frosty April, before a difficult June flowering. Whatever else, the harvest was not going to be abundant. July was rainy and mildew-troubled, followed by an early August heatwave. But September arrived clear-skied, warm by day, cool by night. The Chardonnay grapes ripened fully, and the harvest took place in ideal conditions, with small yields of fully ripe, very healthy fruit. Counterintuitive or what?
2012 Salon
(Disgorged March 2021; dosage 5g/l; 60,000 bottles; September 2022 release price £1,450 per three bottles ex-tax)
Pale gold; a fine, persistent early bouquet of subtle autolytic nuttiness and brioche. To taste, this is both richly concentrated and well defined by a fresh cradle of acidity, with bubbles that are pillowy delicate, and Chardonnay-superfine, making for a most seductive texture already. Characteristically dry in flavor yet juicily ripe in fruit, the presence on the palate is energized by its driving mousse caress, amplified by a mouth-coating fragrance and with a particularly subtle lemon, stone-fruit, and chalk-infused persistence, a length of aftertaste very reminiscent of the striking finish on the 2002. Here are complexity and length at every juncture, in every respect, to smell, to taste, to finish. Bewitching wine, its magnificent stature underlined by its remarkable scope and absolute harmony, with the delicacy and power of great Burgundy.
Like the 2002 when first released, this is a wine to make you wonder. It defies description, really, but its wealth of impressions is worth an effort to enumerate. If without the absolute vigor and concentration of the 2008, qualitatively this is a wine to compare with the magnificent 2002 and 1996, in their very different styles. Remarkably gratifying already, but with the concentration and structure to provide decades of wonderment to come. Salon is an exemplary wine, and all its remarkable hallmarks are on display in this exceptional vintage. | 97+
A Delamotte and Salon retrospective at UK agent Corney & Barrow, London; April 13, 2016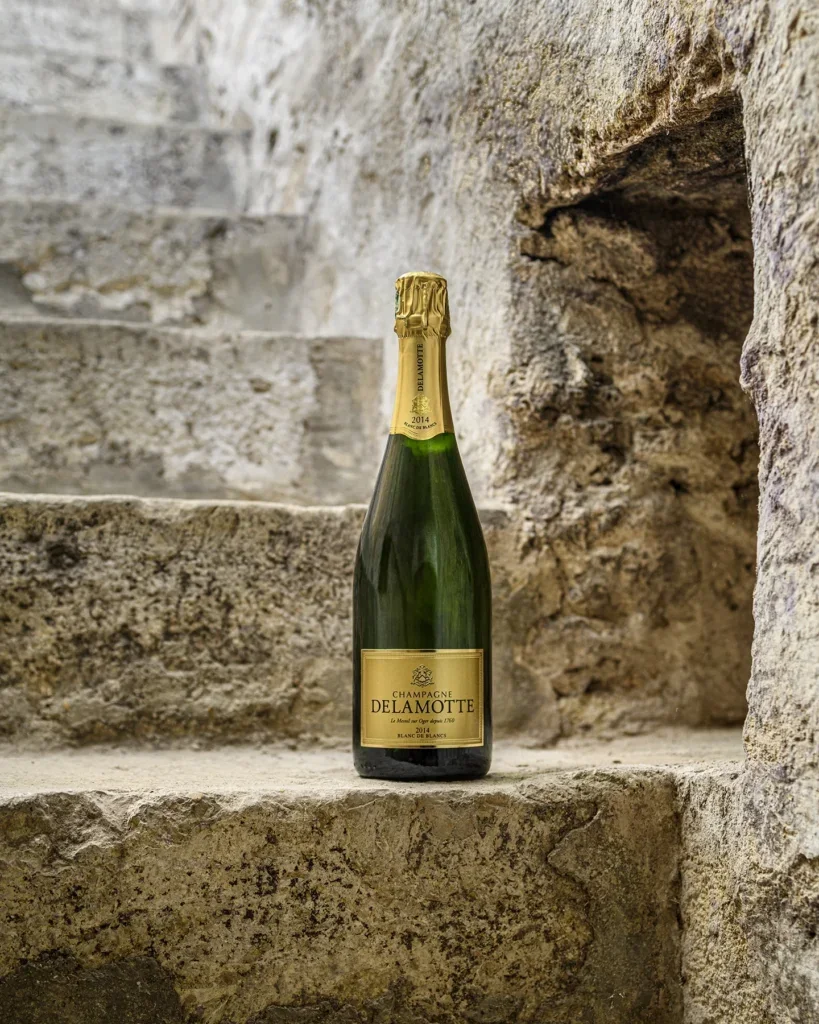 All the Delamotte blanc de blancs except 2008 and 2012, which I have had at home recently, were tasted at the above event. And the exceptional 2012 Delamotte, described here, seems to me to be an exceptional buying opportunity at the moment, as I explain. All the Salon vintages described were also tasted at this event, with the exception of the 2002 and the 1995, which I drank with generous friends. Having enjoyed these four additional wines, it made sense to include them in this review.
I have given the disgorgement dates and dosage (as supplied by Salon and Delamotte themselves) for each of the bottles that came directly from France for the occasion. The 1999 and 1985 Delamotte Collection, plus the 1996, 1990, 1988, 1971, and 1966 Salon were all disgorged in the first quarter of 2016, specifically for the tasting.
2012 Delamotte Blanc de Blancs
(Disgorged Q4 2019; dosage 6.5g/l; tasted London, January 2023)
Very pale gold; a small-bubbled, energetic, rising mousse. At 10 years, this is still very reserved and "primary" to smell, a closed bud, a delicate, persistent, white-peach perfume, with the merest hint of honey, toast, and brioche autolytic characters—very pretty indeed. This is a medium-weight Champagne, with an excellent concentration of deliciously ripe fruit and crisply defining, subtly citrus acidity. It is long, linear, and tightly contained, filled out and energized by a typically tiny-bubbled Chardonnay mousse and with an impressive finish, reflecting precisely those white-peach aromas of the nose, its perfectly sewn-in acidity carrying and defining the aftertaste most appetizingly.
A perfect expression both of the blanc de blancs style and of the superb 2012 vintage. A particularly fine and tasty Delamotte, a splendid follow-on to the outstanding 2008. This is a youngster, of course, at barely a decade old, but it is wonderfully rewarding already and with decades in hand. Make an occasion, if you can (I haven't yet), to compare this to the 2008. The latter, without having them next to each other is, in memory, a somewhat more concentrated and structured, longer-term wine but also greatly rewarding already. A splendid back-to-back pair. Now to 2037+. | 92
A current buying opportunity?
This 2012 Blanc de Blancs is currently priced at £400–500 + taxes (of 20%) per six bottles (winesearcher.com, January 2023). This is two thirds of the price of the 2008 (£600–750+/6), to which it is very close in quality. It is also half the price of the 2004 (£900+/6) and one third of the price of the 2000 (£1,200+/6), though it is noticeably finer and more complete than both. It is interesting to see how, currently, Delamotte Blanc de Blancs Vintage appears to increase in price, evenly and progressively, almost irrespective of absolute vintage quality but simply as a function of age. The 2012 seems to me exceptional value for its quality in the current Champagne context. To be sure, it is not the same experience as Salon, by some margin, but at 12 bottles of Delamotte for one of Salon, for a blanc de blancs that tastes and ages beautifully, it will be money very well spent.
2008 Delamotte Blanc de Blancs
(Disgorged 2017; dosage 6.5g/l; tasted London, February 2022)
Lustrous, pale, greeny gold, youthful to behold for its 14 years. Fresh, white-peach fragrant, the lightest of an early, biscuity bouquet, a very refined pure Chardonnay character. Beautifully balanced Champagne in early maturity, medium-full, fresh to vital in acidity, with a fine, bone-dry, gently aromatic flavor. Long, fresh, and succulent; moderately complex. Its mousse is a pure Chardonnay delicacy and with an excellent length of aftertaste, too. Benchmark Vintage Blanc de Blancs in delectable early maturity; lovely now, and likely excellent until at least 2030 and beyond. An absolute joy. | 93
2007 Delamotte Blanc de Blancs
(Disgorged Q3 2014; dosage 8g/l)
At barely 10 years of age, this is pale in color, tight and youthful to smell; a touch of nutty autolysis, and a touch of honey emerging as it sits in the glass. Rich by comparison with the 2004 but with all the purity, linearity, and fineness of mousse that is Chardonnay alone. In flavor, this is richly ripe in fruit, freshly defined, and with fine length. Just starting to drink most attractively, a real bouquet yet to come. To 2027+. | 91
2004 Delamotte Blanc de Blancs
(Disgorged Q3 2014; dosage 7g/l)
Pale color; fresh, lightly yeasty nose. A medium-bodied wine, dry, fine-moussed, with a delectable Chardonnay delicacy, a toothsome defining freshness, and good length. Noticeably lighter than the 2007. The 2004 harvest was the largest, by some way, for a long time, and you taste this to some extent. But it's all there, and it will doubtless keep well. To 2026+. | 91
1999 Delamotte Blanc de Blancs Collection
(Disgorged Q1 2016; dosage <3g/l)
The Delamotte Collection wines are bottles of the finest vintages, kept long on their lees at the property, and disgorged for special occasions.
Pale lemon-yellow; clear, light, biscuity autolysis. Delicate, still fresh, fine, and lively in mousse, a moderate complexity and length, with a touch of acid piquancy on the finish, so a touch austere here, and with modest length. That said, a very nice 17-year-old. | 90
1985 Delamotte Blanc de Blancs Collection
(Disgorged Q1 2016; dosage zero)
Mid-gold; honeyed maturity. A gently "old Champagne" bouquet, very nutty, very toasty. An excellent balance, with a lovely freshness, and a gentle, still-vigorous and fine-textured mousse. Dry yet honeyed in flavor (zero dosage notwithstanding), perfectly reflecting the nose; modest in scope, and with excellent length, if very slightly drying on the finish. This is a lovely 30-year-old. Totally unlike a young Champagne. But if you take the time and trouble, and the implicit cost, of aging Champagne for many years, this is the reward you are looking for. Three decades of bottle age have conferred on this wine a very different character, with no loss of quality. The early spring frosts of 1985 were devastating for the year's yield (I was there at the time and can still see the buckled blocks of ice in the streams crossing the fields), but it was very positive for quality, making for wines of exceptional concentration. Many, like this, have aged remarkably well. Spirited, beautifully scented, rewarding "old" bubbly—a delight. | 93
2004 Salon
(Disgorged Q3 2015; dosage 5g/l)
At 12 years old, this remains very pale. Tight and youthful to smell, too, a very light yeastiness and a gentle floral background. Moderately rich and generous; fresh, and very fine-bubbled. Dry, even, long, and graceful to taste; Chardonnay-delicate in texture, very aromatic and scented to finish. Despite being a tightly closed bud aromatically, this tastes very well cushioned already. In Salon terms, it is a relatively easy expression for its tender years. 2004 is without the density of many vintages, but it is a fine, gentle beauty that will be particularly comely from around 2020. And of course, with no problems mellowing and blossoming across the early 2030s. | 94
2002 Salon
(Disgorged Q2 2015; dosage 6g/l)
A very pale 14-year-old; light, fresh, hawthorn-floral on the nose, still young-seeming. Rich yet contained on the palate, fresh and vibrantly minuscule-bubbled. Bone-dry, long, aromatic, and graceful; particularly fine in mousse, very prolonged across the palate, with a very long, fresh, Chardonnay-perfumed finish. Packed with ripe fruit—to taste and to finish—but that ripeness is perfectly poised and delineated by its acidity. So long, so graceful, so effortlessly complete and subtle, and with great length in all aspects, this is an immaculate expression of Salon. Excepting 2008, it's difficult to imagine better. A perfection of harmony, freshness, intensity, richness, and delicacy. Magnificent. Currently the absolute star in this lineup reaching back 50 years. Now to 2040+. | 98+
Four years later, at 20 years of age, with good friend Alan Horan, at his London flat in September 2022. His treat—and treat is the word!
Pale gold, with fine, continuously rising bubbles. A nose, at two decades, just bordering on a bouquet, youthful and mature at once, brioche-tinged, with a marine, iodine aspect and a white-peach fruit. To taste, this is full, rich, and elegant, luxuriously mature; almost fleshy and yet still so freshly defined and effortlessly light. The mousse texture with the beautiful, superfine bead of pure Chardonnay is a constant, gently energetic presence behind the succulently dry-yet-ripe flavor. And then there is this extraordinary aftertaste of exceptional volume and length, a mirror to all the fruit fragrance on the initial bouquet. Every bit as magnificent as it was on its release in 2014—a Champagne to make you wonder. Splendor already, decades to go. Just approaching its plateau of perfection.
1999 Salon
(Disgorged Q2 2015; dosage 4.5g/l)
With 17 years in bottle, this is pale lemon in color; a fine, subtle, fruit-ripe, nutty bouquet, which is most seductive. Moderately rich, generous, still very fresh. Dry, delicate in flavor, soft and broad in mousse; long and palate-flattering to taste, ample in its nuanced, limestone-tinged aromas, very long in aftertaste. This is a graceful, gratifying, warm-vintage wine. A lovely, soft ripeness, both fresh and sumptuous—in as much as pure Chardonnay can ever be such. And with great length. Immense charm and immediate appeal, without any loss of class. Is the pure Chardonnay mitigating the high-yielding, very ripe, low-acidity profile of many 1999s? Lovely now; doubtless a decade and more to go, if perhaps not a really long-term Salon. To 2030+? | 95
1997 Salon
(Disgorged Q3 2010; dosage <3g/l)
Very pale gold. At 19 years old, this has a soft, creamy, gently biscuit-and-honey bouquet. Full, surprisingly firm, very fine in mousse. Bone-dry, with the flavor still marked by its acidity, which gives it a somewhat austere profile. And that slight lemony edge defines the overall impression, lingering as part of the farewell on the finish, too. A sort of youth and maturity combined. The characteristic fineness of mousse is there, of course, but were the grapes in some way less than absolutely, ideally ripe? In any case, I'd wait until 2022, its 25th birthday, though I'm not sure how much it will ever really harmonize. I suspect its bones will always show—just a tad. Ripeness touched by angularity? 2022–40+. | 93+
1996 Salon
(Disgorged Q1 2016; dosage <3g/l)
At 20 years old, this is a surprisingly young, pale lemon-yellow. Concentrated, fine-moussed, still vigorous in acidity—but it's an acidity that is perfectly integrated, a harmonious part of the wine's considerable concentration. Dry, refined, and graceful to taste, delicate yet intense; very long across the palate, with the year's trademark bite, but also a profound balancing abundance of mineral-tinged flavor behind it. A wine of great intensity, positively fizzing with energy and tenacity. At two decades, there remains an almost painful tautness to this, but its quality potential is assured by its exceptional length across the palate and its markedly aromatic and persistent finish. Tall, statuesque, muscular, and still remarkably youthful. A wine still needing 10 years more to be really harmonious. An outstanding Salon in the making, to broach, ideally, well in its fourth decade. 2026–46+. | 97+
1995 Salon
(Disgorged 2002; dosage 6g/l)
[At lunch with
Howard Ripley
—his treat; London, May 2014] Pale yellow-gold; a bouquet that is still full of primary fruit, with a light brioche autolysis. Remarkably youthful at 19 years; an elegant, medium-depth wine, taut, bone-dry, with very fine bubbles, long across the palate and with excellent, delicately fruity persistence. A slightly lean personality, perhaps, but particularly refined and still with decades to go. Now to 2040+.
| 95
1990 Salon
(Disgorged Q1 2016; dosage zero)
Less than lustrous mid-gold, its marked maturity clear to behold. A very mature bouquet of honey, lemon zest, and gentle oxidation. Medium-full, with a surprisingly vivid acidity given the evident maturity, but that's both the Chardonnay signature pushing through in a ripe vintage, and also the flesh retreating from, and revealing, the bones. Ripe yet dry, honeyed yet slightly austere, with the acidity now beginning to obtrude rather than invigorate, and with a touch of mature astringency, too, slightly pinching the finish. On the basis of this bottle, and given the highest of expectations, this is past its best, unless you like very old, somewhat crumpled Champagne. Drying out might be the technical description. Like many 1990 Champagnes, so richly seductive in youth, this is not making old bones. Sweetness and delicacy are there, but the glory days are gone, the smile is now wan, the posture stooped. Decline. Time to say thanks for the memories, and farewell. | NS
1988 Salon
(Disgorged Q1 2016; dosage zero)
Pale lemon-gold. A fine, mature-Champagne bouquet of honey, roasted nuts, and citrus zest. Rich and ripe and concentrated, a richness and ripeness perhaps a bit at odds with one's perception of the year (which is to say, austerity). Fine-moussed, vivid without being taut, long and fine in flavor, both ripe and lemony, but with a touch of astringency now detracting a bit from its overall class and harmony. Good, but perhaps a less perfect '88 than one might have imagined from this very fine year. Pure Chardonnay struggling in a less than absolutely ripe vintage? Great aromatic length, supported by the acidity. And yet, and yet… there's just a touch of sweet-and-sour. Edgy. It's very good, but it's not outstanding. Its acidity allied to richness will allow it to keep, but I'm not sure it will actually improve to taste. If you have it, I'd get on with it! | 93
1971 Salon
(Disgorged Q1 2016; dosage zero)
Mature orange-gold. A quite splendid bouquet; a gentle, honeyed maturity, with a hint of caramel and toast—just lovely! A fine, still-taut, harmonious balance. Bone-dry, its bubbles now sparse but present, still full of ripe fruit at its heart. Pure, linear, intense, long in flavor, the supporting acidity still fresh and beautifully integrated, and very persistent in aftertaste, too. A ripe-Chardonnay profile of great delineation, definition, purity, with the merest hint of raisiny dryness on the finish. Immaculate old Champagne. At 45 years old, this is a wonderful expression of an exceptional terroir in an outstanding vintage, brimming with scent and subtlety in a very healthy old age. | 96+
1966 Salon
(Disgorged Q1 2016; dosage zero)
(First bottle corked.) Mature orange-gold, slightly darker than the 1971; a honeyed, almost "meaty" maturity to smell, without the sheer class of the '71. Concentrated and vigorous, dry yet still deliciously ripe-cored in flavor, with a now very delicate mousse, and fine, gently honeyed length. Not the overall harmony of the '71, if a touch fruit-sweeter to taste. This, too, is a lovely old Champagne, at a very similar quality level to the 1971. I can't choose between them and prefer each at different moments. | 95
A 50-year span, with wines of impeccable provenance. A great treat, a real privilege. Even better to have spent more time communing with just one or two of the individual personalities in the glass.