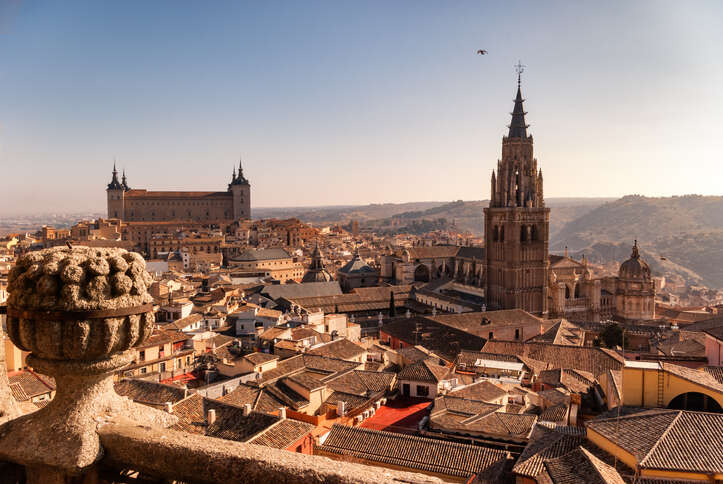 The combination of chocolate and partridge, perdiz con chocolate, is a classic Spanish dish with many regional variations that works best with some very contemporary Rioja red wines, says Joanna Simon.
That partridge cooked with bitter chocolate is a Spanish recipe is not in doubt but, as so often, a question hangs over whether one region alone can lay claim to it and, if so, which. I first had perdiz con chocolate on one of my early trips to Jerez in the mid 1980s. It was served with a dry Oloroso that had also been used in the cooking. The dish wasn't presented as having originated in Jerez but as a traditional Spanish recipe tweaked locally with Sherry, producing a richer, fuller result than versions elsewhere. I don't remember any particular place or province being cited. What I do remember is how striking the dish was and how surprising the combination of chocolate with game birds seemed, even though I had come across bitter chocolate with venison and in Mexican mole.
Toledo-style
Subsequently, I encountered partridge with chocolate as perdiz a la toledana. In the "Toledo-style," the partridge is braised in dry white wine rather than Sherry, giving a slightly lighter result but still one in which chocolate darkens and deepens the tastes and texture. Wine vinegar (usually red) is also a key component, often in a ratio of 1 tablespoon of vinegar to two to three teaspoons of grated chocolate and around 250 ml of wine and the same amount of chicken stock for two to four birds. Some recipes also include a splash of brandy. Onion is indispensable and almost all recipes include garlic, bay leaves, and cloves. Sometimes 70 percent cocoa solids is specified, but surprisingly often a recipe simply says dark or bitter chocolate. I think a high quality chocolate of a minimum 70 percent is essential.
Regarding the origin, I don't need to remind readers of The World of Fine Wine that Toledo, on the Tagus river in Castilla-La Mancha about 70km (43 miles) south of Madrid, is not a renowned wine region. It has no DO, although it does boast Spain's first Vinos de Pago estate, the historic Dominio de Valdepusa (owned by the family of Carlos Falcó, Marques de Griñon, since 1292). But another region in which I've had partridge with chocolate could not be more celebrated for its wines, La Rioja, and in The Food of Spain, Claudia Roden gives a recipe for partridges with white grapes and chocolate (perdiz con uvas y chocolate), attributing it to Aragon, Navarre, and La Rioja. She also gives a recipe for perdiz a la toledana (tagging it, as one would expect, Castilla-La Mancha). In it, the partridges are braised in white wine, but there's no mention of chocolate.
Enchanted with chocolate
If the region of origin isn't unequivocal, the date of the dish is even less certain. Chocolate is known to have reached Spain by 1544 when it was among the food products brought by a party of Kekchi Maya from Guatemala to the future Philip II. It was popular at the Spanish court throughout the seventeenth century as a drink with its own ritual, but it's not clear when the country's chefs started to use it in cooking. In France, the first chocolate shop opened in 1659 with a royal monopoly to sell chocolate in any form, not just liquid, Sarah Jane Evans MW writes in Chocolate Unwrapped, and by 1774, Italian chefs were "enchanted with chocolate". She cites "liver dipped in chocolate and flour and fried" in a contemporary cookery book. (I don't know why this sounds so unappetising: I am very happy to eat chocolate in wild boar and hare dishes in Tuscany.)
Perdiz con chocolate is easy to prepare and has few ingredients, but pairing it with wine is less straightforward, not because it's overtly chocolaty—the chocolate should hardly be detectable as such—but because the white wine, vinegar, onion, clove, and bitter chocolate together give a complexity of flavor with an element of sweet-sour (agrodolce). The cloves are significant, with recipes varying from two to six for four partridges. Using six, as Claudia Roden does in her partridge with grapes and chocolate, gives quite a marked flavour.
Beyond Burgundy
With a simple roast partridge, I would reach for a fine red Burgundy (a Domaine Michael Lafage Volnay Premier Cru would hit the spot), a top Spätburgunder, Alsace, or other mature Pinot Noir, or a Côte Rôtie or Barbaresco, but I would hesitate with this dish, especially over Burgundy, although I much enjoyed a six-year-old Seresin Estate Raupo Creek Sun and Moon Pinot Noir with it on one occasion when I used five cloves.
Despite white wine being used in the dish, it seems to bring out sharpness and/or minerality in accompanying whites, so I choose red wine. Rioja can work well—not traditional, soft-toned, oaky reds, but new-wave wines (often made from old vines) that pick up the clove-chocolate combination and run with it. I'm thinking of terroir-focused Riojas, particularly those with a marked Graciano component, such as Sierra de Toloño Raposo, and Garnacha-based wines from cool, high areas such as Alto Najerilla; for example, Vintae's new El Pacto Valdechuecas Viñedo Singular 2019. The companion El Pacto Riojanda Singular 2019, made from a tiny co-fermented parcel of centenarian vines (mainly Tempranillo) high up in La Sonsierra would also work (although both would repay cellaring). Another choice would be Roda Cirsion from a cooler vintage such as 2010 or 2018, the latter containing Graciano.