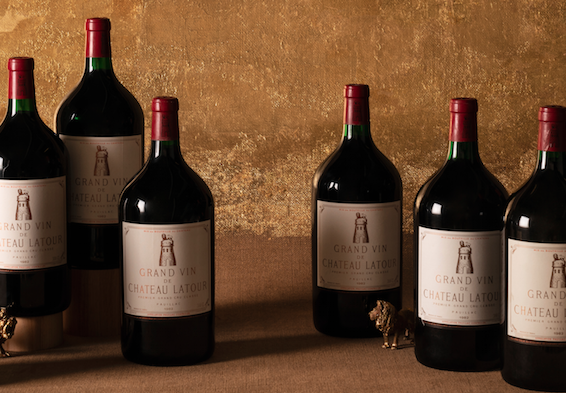 Chloe Ashton reviews the latest facts and figures from the fine-wine market, amid talk of online bidding looking to make a more permanent mark on proceedings in the wake of its success during the Covid-19 pandemic.
The fine-wine market is back in business, breaking records and bursting with energy. Following a slump through the latter half of 2019 and the pandemic-stricken start to 2020, fine-wine prices have continued their steady road to recovery throughout 2021, fueled by continuous demand from all major markets. Bordeaux Index's LiveTrade platform activity illustrates a high level of engagement from buyers in the market: Matthew O'Connell, CEO of LiveTrade tells me, "Executed transaction data shows a broad fine-wine performance increase of 15 percent over the past 12 months," adding that "activity in Asia has been strongest, followed by the US, then the UK and Europe."
All three Liv-ex indices also maintain their positive upward curves. The wider measure of the fine-wine market, Liv-ex 1000, ended September 2021 at another record peak (fig.1). Having broken its previous price ceiling of 2019 in March this year, it reached a new high for the eighth consecutive month at the end of 2021's third quarter, growing by 10 percent during the year overall. The Bordeaux first-growth staple, Liv-ex 50, nonetheless beat its more diverse comrade on growth marginally in the nine months to September 2021, rising by 11 percent, while the middle sibling—the Liv-ex 100—took the price performance crown, increasing by 13 percent over the same period and achieving its fastest nine-month price hike since 2016.
The fine-wine market: Time heals all wounds
It is possible that the fine-wine market is learning to self-heal from previous traumas. Following the financial crash of 2008, the subsequent wine boom of 2010 saw the Liv-ex 100 index soar back upward at a rate of nearly 3 percent per month. At the time, Bordeaux first growths and their popularity in China dominated the upward charge, leaving the wider market in free fall at its buying cycle's end, though thankfully this drastic phenomenon has not yet been repeated. The next upswing in 2016 produced a gentler climb, with the same Liv-ex measure increasing an average 1.87 percent per month throughout the year, and perhaps ultimately resulting in a less dramatic dip in 2019. Now 2021 is appearing stabler still, with the Liv-ex 100 index rising by 1.48 percent each month on average between January and September, and suggesting that a middle balance between traditional investment staples (Bordeaux and Burgundy) and the more exotic choices—from Champagne and Italy, for example—might be the best recipe for long-term stability.
Dizzying heights
Latest Liv-ex figures indicate that prices in the fine-wine market could find even higher altitude by the end of the year, across a broad range of wines charging onward and upward, collectively. As the diversification of consumer interest—accentuated by Covid-19 lockdown periods (in which collectors were more willing to explore beyond the classics)—proliferates after the worst months of the pandemic, all bets are off as to which regions are being bought and appreciated the most.
Liv-ex's regional indices are all showing positive growth, led by a clear resurgence of interest in Burgundy (its index rising by 15 percent in the first nine months of 2021; fig.2). A close contender for first place, the Liv-ex Champagne 50, rose 14 percent within the same period. O'Connell tells me that trades for Champagne have shown "particularly interesting dynamics" of late, not least in their position "leading the charge" of activity on the LiveTrade platform (increasing trade of sparkling by 26 percent over the past 12 months). He explains that much of this has been due to a surge of interest in Champagne from Asia, while performance is skewed toward heavy trading of "prestige cuvées and particularly those from Krug and Taittinger."
Liv-ex's Rest of the World 50 index earns the bronze medal, sporting a 12 percent hike in the first three quarters of 2021. The remaining four indices—Bordeaux Legends 50, Bordeaux 500, Rhône 100, and Italy 100—form a group of second-tier performers, growing at 7–9 percent over the same period.
Auction update
Live auction revenues in the first three quarters of 2021 reached $314 million, exceeding figures for the same period last year by 37 percent, though still falling $25 million short of 2018's three-quarter high (at $339 million; fig.3). Following a bumper second quarter for this corner of the fine-wine market, the third quarter of 2021 showed signs of a return to normality from pandemic-related restrictions, with a more modest schedule of live summer auctions than 2020 (17 compared to 28), as collectors reverted to a wider variety of estival pursuits. George Lacey, head of UK sales for Sotheby's wine, is nonetheless very positive about the performance of the auction market in 2021 thus far: "It has certainly been a more robust year than we might have been expecting after 2020." He comments that the number of participants in Sotheby's London sales has never been higher, boosted by the house's pivot to running live-streamed closes for all sales online. "This has meant it doesn't matter if someone is on the other side of the world, they can still participate," he notes.
Back to bases
Despite the continuation of political unrest, the fine-wine market in Hong Kong has maintained strong figures in 2021, representing the Asian auction market with $104 million in sales from January to September—an increase of 34 percent on its results for the same period last year (fig.4). The US maintained its dominance of the global gavel once again, achieving a collective $159 million in the first nine months of 2021 and accounting for 51 percent of all live auction revenues. Though an impressive result, this does mean that the juggernaut continent has ceded proportional ground to Europe when compared to its results last year, no doubt due simply to the revival of normality in the UK, France, and Switzerland.
America's sovereignty in the auction game remains unchanged: Acker Merrall & Condit achieved revenues of $99 million from live sales in the first nine months of 2021, representing a growth on figures for the same period last year of 50 percent and giving the auction giant an ever-wider lead on other players (fig.5). Chicago-based auction house Hart Davis Hart nonetheless maintains its position in second place. Two sales held in August and September 2021 (the latter reaching an impressive hammer total of $19 million) helped the house increase its own year-on-year nine-month revenues by 40 percent, to $63 million. Senior vice president of Hart Davis Hart, Marc Smoler, tells me that he and the team were greatly encouraged by the strong set of results: "Our 4,700-lot August sale really proves there is no bad time to sell wine in this market. Then September blew records out of the water, creating new benchmark hammers for the wines of Domaine de la Romanée-Conti, Jacques-Frédéric Mugnier, Domaine Leroy, Emmanuel Rouget, Armand Rousseau, and more."
The old guard renewed
The trio of US-based auction dominators who ruled the roost together in 2020 has well and truly broken up. Following a strong second quarter, international player Sotheby's counted a three-quarter sale total of $47 million, maintaining its 2021 position in third place, with a mere million-dollar lead on American house Zachys. The majority of Sotheby's summer success nonetheless occurred outside of the United States, back in Blighty. Indeed, London was Europe's auction capital for July through to September, thanks in large part to a pair of sales held by Sotheby's, featuring a mixture of lots from private cellars and direct from producers. Lacey reflects on the four sales sourced directly from producers in 2021 thus far (Primum Familiae Vini, Sassicaia, Eva Fricke, and most recently, châteaux Rauzan-Ségla and Canon in October): "It became evident during the pandemic that producers have become even more keen to connect with their end consumers. Ex-château stock allows us to introduce those who make the wine directly to those who consume it, with the secondary major benefit of perfect provenance."
Aside from Sotheby's strong performance, Bonhams also contributed to the UK capital's summer-auction hoard, earning $1.6 million for two sales held in July and September. And though purchases out of London continue to prove themselves large in number, Geneva remains Europe's overall auction capital in 2021, since no third-quarter results could outshine the exceptional performance of the live sales held by relative newcomer to the gavel game, Baghera, in April and June respectively.
Into a higher gear
The high engagement in auctions over the summer season is matched by a general growth in top lot prices. Smoler notes that "[Top lot] prices are rising across the board, with some regions realizing more than 50 percent growth, and this momentum shows no signs of slowing." He is not alone in his observation—and despite the return of real-life pursuits that might distract collectors from fine-wine purchases, demand levels still appear high enough to be pushing hammer prices up a gear. Zachys' head of auction sales Charles Antin comments, "On the heels of our July live sale, the typical late-summer slowdown was nonexistent. Zachys has seen its hammer prices steadily increase this year, with a massive jump between our live sales in July and September." He continues, "As evidenced by our latest live sale, the market's demand for blue-chip Burgundian and California wines is insatiable, as prices for such bottlings have skyrocketed, along with other price increases across the board. We only expect hammers to increase."
Indeed, top lot prices have never been higher. Of those disclosed, the average top lot price in the first nine months of 2021 reached $148,607—an increase of 22 percent on the previous reigning average in 2018 ($122,223; fig.6). Several top lots over the summer auction season broke previous auction records:A three-magnum lot of Romanée-Conti, 2006, sold by Hart Davis Hart in its September auction, went for $191,200 to a private American customer, while Bonhams' September auction culminated in a world-record hammer price of $140,300 for a Nebuchadnezzar of Mouton Rothschild 2000. Though Burgundy (and Domaine de la Romanée-Conti in particular) continues to dominate winning hammer prices, the whole market continues to shift upward off the back of the momentum created in crisis. Acker Merrall & Condit's chairman John Kapon observes, "We are in the midst of a momentum and a market I have not seen in 25 years of doing wine auctions. The Burgundy market is literally doubling right before our very eyes." Of Acker's September sale in Hong Kong, he says, "While Burgundy gets all the headlines, Bordeaux quietly achieved 35 percent of the day's totals, with results often 15–20 percent higher than before."
All-access pass
While the return of live auctions, and indeed the simple pleasure of enjoying wines in the same room as friends once again, has had only a positive impact on secondary-market prices for fine wine, the concept of digital access appears to be a lasting consequence of the global health crisis. Marc Fischer, CEO of Steinfels, speaks of the downside of the online wine-buying revolution, with reference to his September auction: "Our traditional in-person auction took place on Saturday, and our clients could bid in person, as well as live online. Sadly, fewer bidders are coming in person to our auction, since they can now bid live online." Lacey, too, remarks on the same phenomenon following the digitalization of Sotheby's sales: "More than 90 percent of bids on London sales [for Sotheby's] have been conducted through the online platform this year, as opposed to in-room or absentee bidding by telephone."
Traditionalists might mourn the days of full live-auction rooms, but overall it should be noted that online access to auctions has primarily served to open up bidding to an international audience, no matter where the physical sale is taking place. After so many months during which collectors had no choice but to buy online, this mode of access to the finest and most desirable bottles has become the norm. The year 2020 will go down in history as the linchpin in fine wine's digital revolution, with the numbers to prove it: The average price of top lots disclosed by major houses from online-only auctions last year was $31,650 (although this was skewed by an incredible anomaly achieved by Sotheby's digital summer sale, which saw ten bottles of Domaine Georges Roumier's Musigny 1997 sell for $866,426). Excepting this hammer record, the average online top-lot price for 2020 was $17,258, while the nine-month average figure in 2021 was 17 percent higher (at $20,272).
Heading down a primrose path?
With fine wine experiencing as yet unseen levels of demand, the outlook for sales in 2022 could see complications arise in the fine-wine market. New vintages set for release from Burgundy and Bordeaux promise good quality but reduced quantities, while many California properties made no 2020 vintage at all, due to the region's devastating wildfires. Anthony Vertadier Mabille, head of trade at Burgundy specialist Charles Taylor Wines, tells me, "Demand for Burgundy is increasing, but production levels are trending the other way. Volumes of 2020 overall will be slightly smaller than 2019, which in turn was reduced compared with 2018. Luckily, we have the safety net of larger stocks of back vintages, which will help us find balance against the lower availability of upcoming vintages (2020 and 2021). Otherwise, we will simply be looking for more producers to add to our portfolio to satisfy the ever-growing demand from our customers." On the auction market, Lacey's analysis of such high demand experienced this year (wherein Sotheby's London sales have seen the highest ever number of bidders per auction), is linked with last year's lockdown: "The thirst for wine among collectors is enormous, thanks in all likelihood to the amount of time they spent at home [in 2020] depleting their cellars," he remarks. One must stop to wonder, will there be sufficient fine wine to go around; and in the absence of availability through both physical and digital avenues, where will collectors turn to next, to sate their appetites?
Upcoming Auctions
Acker Merrall & Condit, Delaware, December 16–17
Sotheby's, London, December 17
Steinfels, Zurich, December 27
Besch, Cannes, December 28
Baghera, Online, January 11
Baghera, Online, February 8
Steinfels, Zurich, March 5
Baghera, Online, March 8