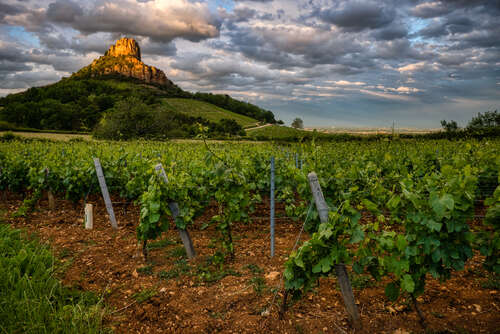 Sarah Marsh MW concludes her round-up of the 2021 Burgundy en primeur releases with tasting notes on the wines of the Côte Chalonnaise, Mâconnais, and Beaujolais.
More in this series
2021 Burgundy: When the gods stopped smiling
2021 Burgundy: A guide to the sub-regions and villages
2021 Burgundy: Chablis report and tasting notes
2021 Burgundy: Côte de Nuits tasting notes
2021 Burgundy: Côte de Beaune tasting notes
Côte Chalonnaise
Château de Chamirey
White
Lightly rounded, citrus palate. Quite generous on the mid-palate, well-balanced by crunchy freshness and a pinch of salt to finish. Attractive. 2023–25. 83–84
Red
Mercurey Premier Cru Clos du Roi
Softly fruity attack, fresh and juicy, with forest fruit, but there is plenty of grip to follow, too. Indeed, it becomes quite gutsy, a little robust in its tannin, but encased in succulence and good generosity of fruit. An honest wine. 2025–30. 87
Domaine Chardigny
The whites here are from the Mâconnais, the reds from Beaujolais. Nicely made.
White
St-Véran Au Bois de Fée
The more intense of these two St-Verans, with more energy, through a straight and sapid finish. 2024–28. 84
St-Véran Les Cornillaux
From a southwest-facing limestone slope. Peachy fruit, ripe and rounded. Quite full and creamy textured, with a lively cut of fresh-lime citrus under the palate. 2023–26. 83
Red
St-Amour Clos du Chapitre
Plenty of soft summer fruits on this lightly rounded Beaujolais. Light and fine-textured tannins, with a fresh crunch. Quite charming. 2023–26. 83
Domaine du Clos des Rocs
Pouilly-Loché En Chantone
Nicely plump and rounded, underscored with freshness. Finishes on a salty, nutty note. Appealing. 2023–25. 84
Domaine Les Héritiers du Comte Lafon
Pierre Lafon said the growing season was even worse in the Mâconnais than on the Côte d'Or, because there was more rain. They lost 70% to frost, the worst-affected parcels being in the north of the region. There was also some hail. There are nine cuvées, but some are blends this year. Aged in foudres (35hl to 55hl in size) and some demi-muids (600 liters). Bottled in July and August 2022. Pierre is rightly positive about the results: "Wines with more finesse and precision. A vintage with more tension. So different from the past few years."
Mâcon-Bussières
A blend of lieu-dit Le Monsard and another 2.5-acre (1ha) plot. Lime fruit. Vibrant. Sweetness balanced with sour lime, attractively bitter and pithy to finish. 2023–26. 85–86
Mâcon-Chardonnay
Clos de Crochette is in the blend this year. Silky, juicy, and bright. This is pleasing and has lively minerality on the finish. 2023–26. 84–85
Mâcon-Milly-Lamartine
Higher altitude vines. Much more tension. Keener and sharper. Candied citrus on the nose and an energetically citrus palate, with a bright bite of freshness. Flighty. I really like this one. 2023–26. 86
Mâcon-Milly-Lamartine Clos du Four
Compact, stony, and savory. Broader and actually quite earthy, with an assertive grip. Good. 2023–27. 86
Mâcon-Prissé
Soft and juicy. Open texture. Spicy fruit. Generous and easy-going. 2023–25. 82
Mâcon-Uchizy
Includes Les Maranches, with other parcels from the village. Softer wine. Pineapple fruit and purple aromatics. Quite soft. 2023–25. 82–83
Pouilly-Fuissé En Chantenay
I like the tension here. Savory and stony and edgy. It is well-contained and flows through well on a cool, mineral finish. 2024–27. 88
St-Véran
Tasted after the Mâcon-Milly-Lamartine Clos du Four, this seemed to go up a level in intensity, with a lively punch to finish. 2023–27. 86–87
Viré-Clessé
Fresh and citrus. Neatly edged. Vibrant, juicy finish. Bright and singing. 2023–27. 86–87
Domaine Gilles Morat
A domaine with 17 acres (7ha) in Vergisson.
Pouilly-Fuissé Haut de La Roche
Fine and floral, with elegant elderflower notes. This is bright and streamlined and has a juicy finish. 2024–27. 85–86
St-Véran Roche Mer
A straightforward, pure, light, and bright wine, with a touch of minerality and sapidity. I like it. 2023–25. 84
Domaine de la Soufrandière and Bret Brothers
This is the 30-acre (12ha) domaine that has been Demeter-certified organic since 2006, while Bret Brothers is the négociant side, drawing in fruit from a further 22 acres (9ha) across the Mâconnais and Beaujolais.
Bret Brothers Pouilly-Fuissé Terres de Vergisson
North-facing on red soil. Fresh and snappy. Juicy fruit backed up with plenty of sapidity. An attractively phenolic note to finish. 2024–27. 86
La Soufrandière Pouilly-Vinzelles Les Longeays
Taut, zesty, and lively, with a bright and saline finish. Quite piquant. 2024–27. 85–86
La Soufrandière St-Véran La Bonnode
From a 5-acre (2ha) east-facing square at the bottom of the rock, with white clay. Really quite spicy, with notes of ground coriander; earthy and quite broad, but with plenty of freshness and bite to finish. 2024–26. 84
Blain Soeur et Frère Brouilly
Marc-Antonin Blain remarked that although the yields were tiny, it was a very easy vintage to vinify. He used 100% whole-bunch in the first wine. "The fruit ripeness was not high, but the stems were ripe." He did pigeage by foot after a week of fermentation, to extract more juice and to maintain the temperature. He used stainless steel this year, for there were insufficient grapes to use the foudres.
Brouilly
Super fruity and expressive aroma. A splash of blue fruits, with floral notes on the attack. Very juicy. Lively finish, lifted with a light tannic crunch. So accessible and inviting. 2023–25. 84–85
Côte de Brouilly Cuvée Pierre Bleu
Granite soil. An extra level of intensity and depth. Very lively. Wild-forest fruit. Fresh, a slightly green, astringent bite, with a bitter-coffee note. No whole-bunch here. I like the sapid and stony, cold finish. Lightly bitter on the end. Quite a complex Brouilly. Give it time to come round, but it should mature well. 2026–32. 86
Domaine Lafarge-Vial
All of the fruit was destemmed in 2021. Small yields because of the frost and poor flowering.
Côte de Brouilly
From pink granite with blue stone. Dark, smoky, graphite, and muscular. More volume here. Relatively punchy and powerful. 2025–32. 85
Fleurie Bel Air
From pink-granite soil around the domaine on a slope facing southeast. Old vines, between 55 and 65 years old. Floral, with a ripe, warm, strawberry character. Soft and supple. A whiff of white pepper and a light pinch of salt. 2024–26. 84
Fleurie Clos Vernay
Red-cherry aroma. Lightly compact and tense, showing a hint of austerity. Cool snap and a firm, somewhat strict, structure. Cool, mineral, and savory. Some grip for Fleurie. 2024–30. 84–85
Fleurie La Joie du Palais
The vines here are plowed by horse because it is so steep. Perfume envelopes a taut, straight, and vibrant palate. There is charming sweetness, with stricter and sharper minerality to finish. 2024–30. 85
Château du Moulin-à-Vent
Age-worthy Beaujolais.
Moulin-à-Vent Clos des Londres
Grip, crunch, and vigor. Good depth and ripeness to the hedgerow fruit. This has layering and tension. Quite bullish, but it also shows mineral freshness. A tight, persistent, and sappy finish, on the more herbal side, but it pushes on and should age well. 2025–30+. 87
Moulin-à-Vent La Rochelle
Light strawberry juiciness combines with soft culinary herbs, marjoram and wild sage. An aromatic palate, lean and light and wafting, focuses nicely, becoming more refined and sharper, with nice tension to finish. 2024–30. 85