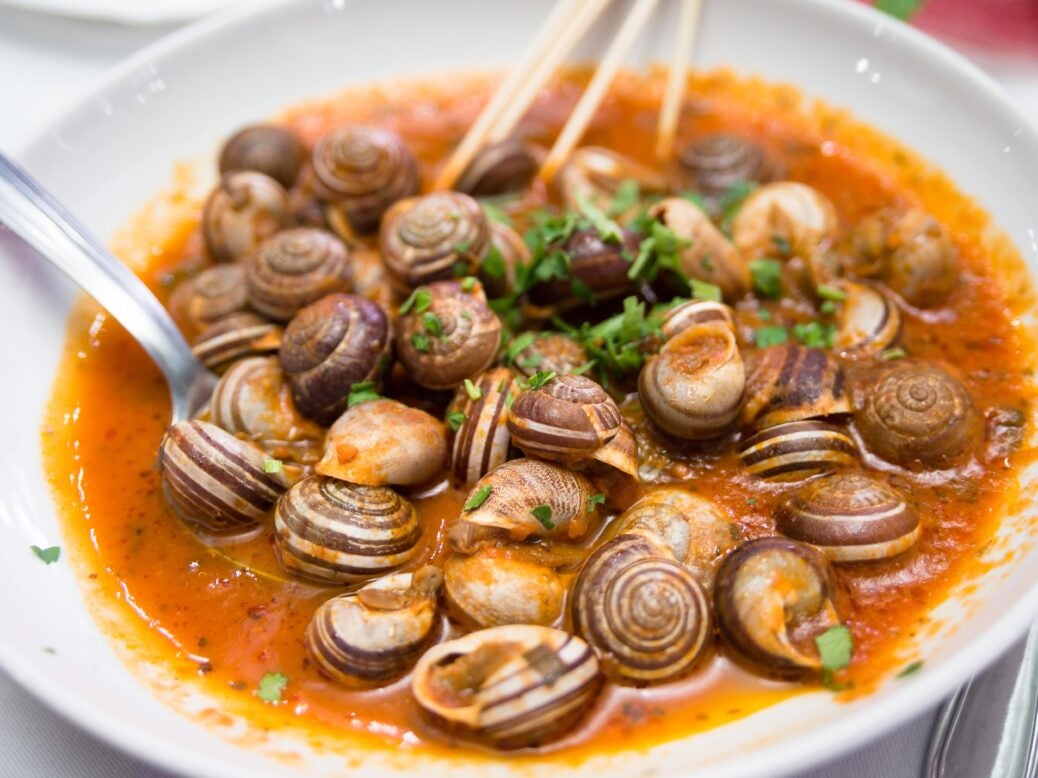 The latest in Joanna Simon's series on wine country cuisine focuses on a variety of traditional Catalan snail dishes, including snails a la catalana— snails tossed in an onion, garlic, and Mediterranean herb tomato sauce—a particularly good pairing with fresh, perfumed Garnacha.
With its combinations of meat and seafood, sweet and sour, savory and sweet, a wealth of Mediterranean vegetables and the mixing of fresh and dried fruit, nuts, spices, and chocolate in savory dishes, Catalonia's rich, varied cuisine is a fascinating one to match to wine. And all the more so with the developments in Spanish wines of recent years, especially the rediscovery of old abandoned vineyards and grape varieties, and the venturing into higher, more remote terrains, not least in Catalonia.
I could have chosen duck with pears or figs, or rabbit in red wine with herbs and chocolate, and I toyed with the idea of the classic Catalan stew that combines rabbit with snails (conill amb cargols, or, in Spanish, conejo con caracoles). But knowing that some people are squeamish about rabbit and others are about snails, I decided to focus on just one of these two much-used ingredients: snails.
Following the Spanish snail trail
Why snails? Because people outside Spain often don't realize how popular they are—and not just in Catalonia but in regions such as Andalucía, Aragón, and Castilla la Mancha. Snails have always been appreciated, but the vogue for using foraged ingredients in restaurants and domestic cooking has boosted their image. Murcia Today reported in 2018 that the number of snail farms in Spain had increased from 26 to 614 in the previous 20 years. There are conflicting statistics for consumption, but a recent report by IndexBox cited Spain as having by far the world's highest consumption of snails at 16.5 million kilos (36.4 million lbs) per year, putting it well ahead of both third-placed France (5.3 million kilos / 11.7 million lbs), which many people assume is the world's snail-eating capital, and second-placed Morocco (6 million kilos / 13.2 million lbs).
The annual (pandemic allowing) L'Aplec del Caragol shows how seriously Catalonia takes its snails. Other countries have snail festivals, but none is more celebrated than the city of Lleida's three-day celebration first held in 1980 (this year's is scheduled for 3–5 September). The 2020 event had to be cancelled, but the previous May saw 200,000 visitors get through 12 tons of snails served up in more than 5,300 different dishes.
One of the popular dishes at L'Aplec is cargols a la llauna—snails cooked in their shells in a shallow roasting tin over high heat and served with allioli, and sometimes romesco or vinaigrette as well, or with additions such as butifarra sausage, bacon, pork lard, and/or herbs. Other popular dishes include cargols amb samfaina (samfaina is similar to the French ratatouille, although sometimes without courgette) and snails served a la catalana in a thick tomato, onion, garlic, and pepper sauce, which may be piquant and/or may be thickened with an almond, garlic, and herb picada (a staple of Catalan cooking, like the onion, garlic, and tomato sofregit).
There is more than one variety of snail eaten in Catalonia and aficionados and chefs often use them in different dishes: In some cases the thickness of the shell dictates how they're cooked. One of the most appreciated is the summer season's, small, pale-shelled blanquillo, which is often very simply prepared. But, in general, Catalans are not afraid to flavor their snails robustly, even if only with garlic, parsley and allioli, and they're not averse to flambéing them in brandy either. In Catalan hands, the relatively mild taste of snail meat becomes a dish full of flavor.
A wine match of aromatic depth
I would be happy to match cargols a la llauna with allioli to a Garnacha Blanca-based white Priorat, with good acidity, flinty flavour and textural depth, or an En Rama Fino sherry, but for other Catalan snail dishes, such as snails a la catalana (whether piquant or not) and in samfaina, I prefer reds, in particular, Garnacha—not the full-bodied, often monumental Garnacha and Carigñan dominated blends of Priorat but the more ethereal Garnachas now being made mostly from old bush vines recovered in high, mountainous terrains. These wines have a lightness of touch that belies their intensity of perfumed, silky red fruit, rocky freshness, aromatic herbs, and white pepper spice that doesn't overwhelm the snail meat but can take on the likes of onion, garlic, tomato, and peppers in snails served a la catalana. Two favorite examples are Cuevas de Arom Calatayud Garnacha 2018 from Campo de Borja and the clay tinaja-aged Verum Ulterior Parcela No. 6 from Castilla-La Mancha. Another grape variety that can work with these Catalan snail dishes is Mencía when produced in a lighter, unoaked style by, for example, Raúl Pérez.