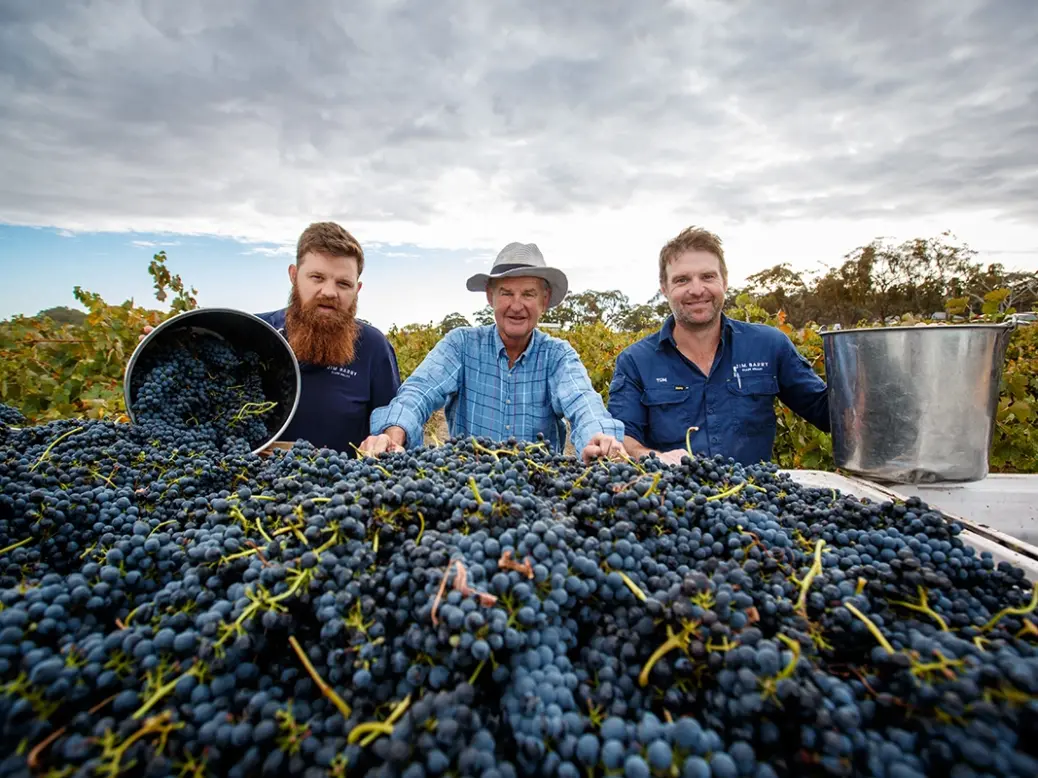 Initially inspired by Bordeaux, the Barry family eventually made their top wine, Jim Barry The Armagh Shiraz, from a plot of Shiraz in their Armagh vineyard in the Clare Valley. Sarah Ahmed enjoys a tasting marking the vineyard's 50th anniversary.
Who can blame anyone for taking inspiration from Bordeaux? Forget the Judgment of Paris. Vaulting ambition with (thank goodness) the talent to match, has led producers to craft iconic reds from dramatically different terroirs and grape varieties. Their number includes Max Schubert, who famously created Penfolds Grange hot on the heels of his visit to claret country in 1950 and, 35 years later, a young pretender with plans to leapfrog Grange and release Australia's most expensive wine.
Vaulting ambition
While working at Château Baudac in 1983, Peter Barry had sampled many Bordeaux greats, including Petrus. When he returned home to his family's business in Clare Valley the next year, the 24-year-old successfully lobbied his father (Jim Barry's eponymous founder) about making their own single-vineyard grand vin. After all, Jim's guiding philosophy was to grow your own grapes to make the best wine.
In 1964, Jim and his wife Nancy had acquired 70 acres (28ha) of grazing land by the hamlet of Armagh, paying their neighbor Duncan McCrae a handsome premium for this, their first vineyard-to-be. The Cabernet Sauvignon and Malbec vines planted by Jim that same year on alluvial soils might have been the obvious target of this ambition, but Peter saw little point going head-to-head with Bordeaux. Although South Australian Shiraz prices were at an all-time low because of a chronic oversupply, the audacious head of sales and marketing pinned his hopes on the higher northeasterly-facing section, which Jim had planted to 8 acres (3ha) of Shiraz in 1968.
Heritage roots
With rare deposits of ancient gravel, this was no ordinary plot. Jim sourced his cuttings from Wendouree, one of Clare Valley's oldest, finest vineyards (first planted in 1893). The Armagh comes from three contiguous blocks rising from 1,175ft to 1,204ft (358–367m) above sea level, whose soils range from gravelly at the top (Block 15, 3.3 acres [1.33ha]), to heavier clay at the bottom (Block 14, 3 acres [1.22ha] and Block 9, 6.6 acres [2.67ha]). The blocks' contoured rows are exposed to the sun at different times, and ripening at different times, fruit might be harvested weeks apart. It is a long window, said Peter's son Tom, the director of winemaking.
Unsurprisingly, given average yields of only 20hl/ha, The Armagh vineyard lends itself to an opulent powerhouse. Yet the vineyard's subtle variations of soil, exposure, and elevation produce complexity and impressive balance. Speaking at the vertical tasting reviewed here, Tom's brother Sam marveled at the physiological underpinning—small, early-ripening bunches of grapes with a high skin-to-juice ratio, which allow for high natural acidity and good phenolic maturity, said Jim Barry's sales and marketing director. Of course, it is no coincidence that Clare Valley is prime Riesling country, too. Irrespective of grape variety, the region's average annual rainfall of 23in (580mm) and pronounced diurnal temperature variation additionally make for wines with a good acid backbone.
Youthful exuberance
Following a difficult birth during a one-in-50-year drought (but for hand-watering, the precious cuttings would have died of thirst), this resilient parcel has consistently produced Jim Barry's best red grapes. And its finest red wine. Jim Barry The Armagh Shiraz launched with the 1985 vintage and, since 2014, has enjoyed top-tier "Exceptional" status in Langton's Classification of Australian Wine alongside Grange. Save for 1986, 2003, (very warm), and 2011 (notoriously wet), it has been made every year, but said Tom, "There has never been any pressure to make it." Which is not to say the entire vineyard makes the cut. "We look at The Armagh barrel by barrel," added Sam, who reckons production averages around half the vineyard's entire output, at 5,000 bottles.
Did it leapfrog Grange in price? Well, that is another story. Out of respect for Schubert (a friend) and Grange's three-decade track record, Jim baulked at pitching The Armagh above Grange's A$40 price tag. Nonetheless, father and son wanted to make a statement. The Armagh was released at A$35. Five dollars less than Grange, but five dollars more than Australia's highest-flying single-vineyard Shiraz, Henschke Hill of Grace, from Eden Valley. Pointing out that "everything else was below A$10," Sam could not help but admire a chutzpah born of "dad's youthful exuberance, having just been to Bordeaux." At around A$350 today, The Armagh's release price is less than half the price of Grange and Hill of Grace. But Peter's confidence was far from misplaced. And it rubbed off on his father, who had a famous retort: "[S]omeone once said they can't afford to drink The Armagh. I said they can't afford not to." Doubtless Jim (who died in 2004) would have been tickled pink that The Armagh (2016 vintage) became the first Australian Shiraz to be sold through the prestigious Place de Bordeaux in 2020. Ambition manifest.
The direction of travel
At our tasting, Tom and Sam spoke about the evolution of The Armagh during this eye-opening tasting of select vintages ranging from 1989 to 2018 (which marked the vineyard's 50th anniversary). As is so common in Australia, in around 1991/92, there was a shift away from the pronounced vanillin and sweeter notes of 100 percent new American oak toward subtler French oak. By 2014, it had begun to predominate; 2018 marked the complete demise of American oak in favor of 100 percent French oak.
Within that, the Barrys have moved away from the charry toast typical of Burgundy barrels in favor of Bordeaux barrels, toward bigger-format oak. In 2010, 300-liter hogsheads replaced barriques, and the family stopped using 100 percent new oak. Since 2018, The Armagh has been aged in a mix of hogsheads and 500-liter puncheons, dialing down the oak influence yet further.
This beneficial transition has gone hand in glove with The Armagh's changing fruit (and mature tannin) profile, which Tom characterized as "back more to delicate, finer red fruits." Much as he (quite rightly) observed, "the bigger, more structured" wines from the noughties had the powerful fruit to carry new oak (and, it should be said, a hefty 15.1 to 15.8% ABV), the third-generation winemaker is ad idem with Jim: "Grandpa loved freshness and balance and was picking at 13% or 13.5% potential alcohol."
Delineation and freshness
The retreat from ultra-lavish fruit, oak, and alcohol prompted a rethink in the vineyard, with mulching for moisture control and good water retention to keep the vines healthy. For Sam, the "much more turgid, firmer berries" picked in 2018 really capture the delineation and freshness that they now seek to highlight over and above the powerful fruit, oak, and alcohol of the fuller-bodied earlier vintages. Not to mention the alluring spice, garrigue, and floral accents that are such a hallmark of Shiraz from Clare Valley's elevated reaches.
In addition to dialing down the oak, the finer details of variety, site, and region are better articulated in younger vintages, thanks to gentler smaller batch ferments with an element of whole-berry fermentation ("for less macerated, more delineated fruit," explained Tom), as well as fewer rack and returns.
Returning to this very impressive and insightful tasting: Irrespective of style, each and every vintage of The Armagh shown underscored this phenomenon's aging prowess. A subsequent tasting of cork versus screwcap bottles from 2002 and 2006 only reinforced this very clear impression. Their undimmed, seemingly bottomless pit of fruit drew me back for days afterward. Under screwcap, the wines showed more restraint and savory dried-herb and cocoa-nib detail. Whichever way you look at it, The Armagh vineyard produces compelling wine.
Tasting
67 Pall Mall, London; September 13, 2022
1989 Jim Barry The Armagh Shiraz (14.5% ABV; 13 months in 100% new American oak 225-liter barriques)
Crimson in hue, with a narrow bricky rim. Notes of old mahogany (lavender furniture polish?), sweet vanillin, tar (attractive), panforte (dried) fruit, and a squeak of dried herbs mingle on the nose. In the mouth, surprisingly rich and flavorsome. The ripe-plum and plum-frangipane fruit is well baked with all manner of spices (licorice, anise, cardamom, and vanilla), smoky undertones, and mellow tannins. The flesh still covers the bones. Insinuating acidity serves to lift and lighten the whole. Yielding, still giving. An impressive start. | 93
1992 Jim Barry The Armagh Shiraz
(14.2% ABV; 19 months in 50% new American and 50% new French oak 225-liter barriques)
Although it is a shade lighter than the 1989 (garnet, not crimson), the 1992 is richer, fuller-bodied in the mouth, with pronounced sweet vanillin to the plum almond tart and darker, tarry black fruit. Notes of savory, polished leather, spicy licorice, anise, black cardamom, and the sweet vanillin linger through finish. Ample, but neither cloying nor heavy. | 94
1994 Jim Barry The Armagh Shiraz (13.7% ABV; 12 months in 80% new American and 20% new French oak 225-liter barriques)
With game, mulch, spice, iodine, and bloody cut-finger nuances to the fore, this complex vintage has a touch of the Rhône about. Perhaps because the palate is initially a tad austere, the savoriness and minerality enjoy more airtime. Opening up, it reveals spicy plum compote and mellower, baked-plum fruit. Rising on the finish, lightly textural tea-leaf tannins and mineral, cut-finger notes lend a savory, dry complexion to the finish. Autumn in a glass. | 95
1999 Jim Barry The Armagh Shiraz (15.1% ABV; 15 months in 50% new American and 50% new French oak 225-liter barriques)
A much deeper hue. Dark, concentrated, with a certain viscosity to the bold blackberry and plum fruit, with its bitumen and tar layers and lashings of clove, black cardamom, and licorice spice. Spearing acidity makes for a juicy mid-palate and drives the fruit on a long, spicy finish. Vigorous. A little cowing even, as it is the first of the blockbusters. | 94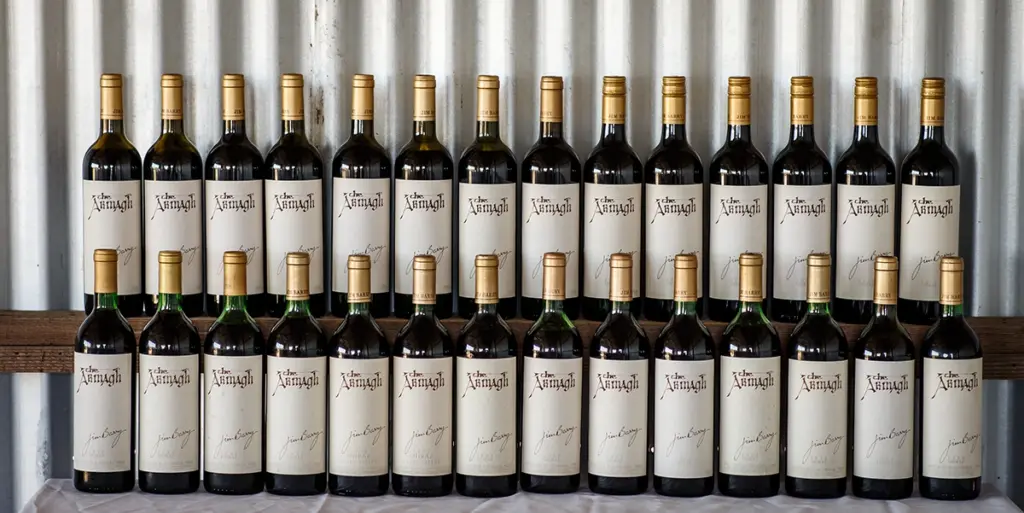 2002 Jim Barry The Armagh Shiraz
(15.8% ABV; 18 months in 50% new American and 50% new French oak 225-liter barriques)
"As big as Armagh gets in ripeness," said Sam, courtesy of the coldest year ever; 2002 was also the latest-ever vintage. But the elevated acidity and bold fruit balance out the alcohol with ease. Under cork, the palate is all enveloping velvety cassis, with layers of plum, redcurrant, warm stone, balsamic, licorice, and black-cardamom spice. Fleeting notes of blackcurrant bud, mint, and eucalyptus, too. Nip-and-tuck, sinewy tannins maintain focus and direction going through. Arresting, with super-intense fruit, it is lush yet fresh. High-energy. Under screwcap, the palate is relatively muted, seemingly more developed, with pronounced sage to the fleshy, fresh- and baked-plum fruit, savory tapenade, a hint of spearmint and gravelly undertones to the finish. Under cork, 96; under screwcap, 93
2006 Jim Barry The Armagh Shiraz
(15.5% ABV; 17 months in 55% new American and 45% new French oak 225-liter barriques)
Much as there was a deep seam of fresh black fruits to be mined, I found the palate to be impenetrable, with gritty, blocky tannins and creosote oak making for a foursquare, sulky palate, with firm acidity. Samples (under cork and under screwcap) tasted over a few days confirmed this impression. | NS
2008 Jim Barry The Armagh Shiraz (15% ABV; 14 months in 80% new French and 20% new American oak 225-liter barriques)
Although 2008 was a challenging year, with a 13-day heat spike, the fruit was picked beforehand. Nonetheless, this vintage has an overripe character to the palate, which is the most viscous of the vertical and a touch raisined. Dusty tannins lend grip to the more typically opulent core of blackcurrant and berry fruit. Acid drive brings vigor. A menthol note brings lift to the tail. | 92
2010 Jim Barry The Armagh Shiraz
(14.6% ABV; 14 months in 67% French and 33% American oak 300-liter hogsheads; 70% new oak and 30% one-year-old oak)
A wet winter broke an almost decade-long drought. And it shows in the balance and relative fluidity of this vintage. Think silk, not velvet. The fleshy, juicy blood-plum and red- and black-berry fruit is layered with anise, licorice, and graphite. Dynamic, powdery, wet-cement tannins and insinuating acidity tease out and extend the palate, leavening the whole. Full-bodied and intense, but with an elegant cast and purity to the fruit. It will be even better when the oak (which gives a bitumen note) fully integrates. | 95+
2012 Jim Barry The Armagh Shiraz
(13.4% ABV; 20 months in 60% new French and 40% new American oak 300-liter hogsheads; 70% new oak and 30% one-year-old oak)
Laced with garrigue, wattle, chicory, game, tapenade, and balsamic nuances and pronounced dried sage, the 2012 vintage is more savory in character. Lithe, dark-fruited, it is ripe and complex, with rolling, juicy, cleansing acidity, great line and length. | 96+
2014 Jim Barry The Armagh Shiraz
(14.1% ABV; 16 months in 70% French and 30% American oak 300-liter hogsheads; 86% new oak and 14% one-year-old oak)
There is a marked step change here. Beyond harmony, there is synergy to the fruit, tannin, and acidity, which play off each other beautifully. A lively vein of acidity—a current—buoys the al dente red- and blackcurrant fruit. Pithy, grainy tannins gently anchor it, bringing dynamism, a lovely energy, to the palate. Beautifully balanced, this vintage is quietly charismatic—quite the contrast with the demanding, out-to-impress 2002 vintage. While eminently accessible now, its persistent acidity and just developing tertiary tapenade and garrigue notes promise delicious complexity with time. Brilliant delineation, energy, and freshness. | 97
2016 Jim Barry The Armagh Shiraz
(14.4% ABV; 16 months in 69% French and 31% American oak 300-liter hogsheads; 66% new oak, 18% one-year-old oak and 16% two-year-old oak)
Thoroughly translucent, with great detail of spice, garrigue, and minerals to the juicy blood-plum and berry fruit. Unshowy, the oak is seamlessly integrated. Blotting-paper tannins gently absorb and support the saturating fruit, with its lacy licorice, sage, black-pepper, clove (iodine?), and cut-finger nuances. There are suggestions of white blossom, too. Though ripe and intense, the fruit has a lovely weightless quality. Sublime. | 97
2018 Jim Barry The Armagh Shiraz
(13.6% ABV; 18 months in 75% new and 25% one-year-old French oak 300-liter hogsheads and 500-liter puncheons)
Surprising delicacy to the nose, with lifted violets and white pepper to the silky blackberry and
blood-plum fruit. Ultra-refined millefeuille tannins "bleed" into the fruit. Ripe but almost grapefruity acidity brings drive, terrific persistence, to the finish, with its intriguing edge of cumin and incipient tapenade undertones. At this youthful stage, the fruit seems even more weightless, as if it has yet to land. Expect a graceful landing when it does. It is an accomplished, courageous celebration of the vineyard's 50th anniversary. | 97