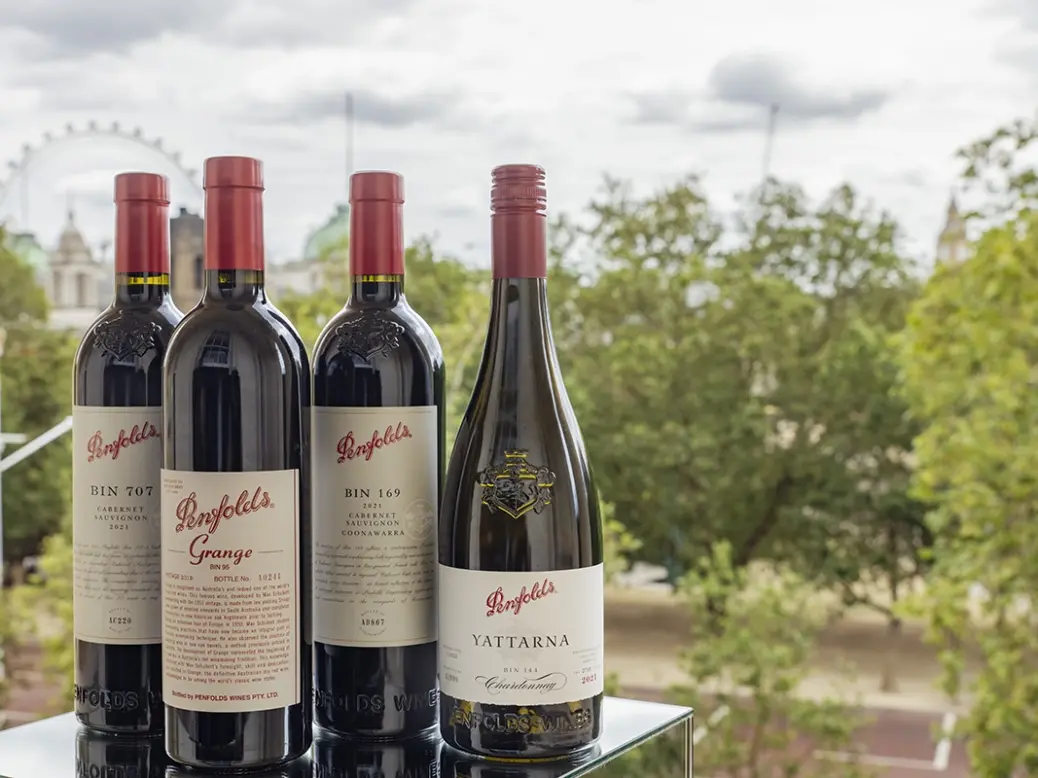 The quality of wines from Australia's most celebrated producer, including those from its projects in France and California, continues to improve, says Ken Gargett, as he reports from the latest release of the Penfolds Collection in Melbourne, and reflects on ten years of covering the event for WFW.
It was a mixed crowd that assembled in Melbourne for the annual release of this year's Penfolds Collection—half of us bleary-eyed and craving sleep, the others wondering what would possess seemingly sane humans to watch cricket till four in the morning. In fairness, this was the last day of the extraordinary first Ashes Test. Yet despite many of us being as keen for coffee as good wine, we soldiered on. It didn't take long for the wines to become the sole focus.
This was the tenth Penfolds Collection that I have covered for WFW. It would be easy to say that this was the best of all, but inevitably, with wines coming from an array of vintages every year, every release has its highlights. Did we really expect this year's wines to top superstars like 2018 Grange or 2010 St Henri? Overall, though, this year's Collection confirms that standards just keep rising. In fairness, a large number of the wines coming from the brilliant 2021 vintage meant that was never really in doubt. 
Normally we see wines from five different vintages but this year, the 2023 Bin 51 Eden Valley Riesling was not with us, as it had been bottled only the day before. Grange, as it always does these days, had four years in the cellar, St Henri three, most of the rest two, and a few hailed from the previous vintage. 
These days, it's not just the vintages that vary, or even the Australian regions. We have wines from France and the United States. In addition, Chief Winemaker, Peter Gago, opened the latest joint venture Champagne, Penfolds x Thiénot Blanc de Blancs 2013. A confession—he also opened the Blanc de Noirs 2013, but by that stage, I was rushing to the airport. Two of the wines from the USA are actually international blends including some Australian wine. Since the Melbourne tasting, we can now add wines from China to the list. Nothing from the Rhône, as yet, but I imagine that might well be their next big thing. Gago also had an array of older Granges to show us, and yes, there were recurring themes there. 
Looking back: A ten-year perspective
Given this was our tenth time, it seemed an ideal opportunity to review how the wines had done over that decade. That was not as easy as one might think, since not all the wines are released every year, and on some occasions, we simply cherry-picked the best. Looking back did, however, offer many insights.
The Chardonnays confirmed general impressions. Bin 311 was a wine I found slightly underwhelming until recent years, when it has finally started to impress. Reserve Bin A was a huge favorite some years ago, but seemed to fall into a holding pattern—a respectable wine but one that had lost a little of what made it thrilling—but again, the past couple of vintages have seen a return to form. Yattarna—that's always been always exceptional. What surprised me was that its score had never varied: for me, 97 every time. Nice to be consistent. 
Among the reds, Bin 23 Pinot Noir has bubbled about. I am not certain that the team have yet settled on exactly what they want from this wine. Bin 150 has seen a marked improvement in recent vintages, while the twins, Bins 28 and 128, have been reasonably consistent, with 128 particularly impressive recently. Bin 138 has always fared well but over the past four or five years has gone up a level. The price of this wine has increased substantially over that period, to the disappointment of many of its fans, but the scores suggest not only that the increase is merited, but that the wine remains one of the great bargains of the Collection. 
If we move to the mid-range reds, Bins 389 and 407, they have also been extremely consistent over the years. 389 almost always sits in the 95 to 96 range, while 407 struggles to crack my 90 barrier. 407 is never a bad wine, and I am aware that it is a much-loved one, but its purpose still eludes me.
Moving to the elite releases, Magill Estate is regularly around the 95 to 96 mark, with a few top vintages scoring higher. Bin 707 is almost always 98, while RWT usually sits a point or two below. Bin 169 does vary between 95 and 98, but no wine is as inconsistent as St Henri—or perhaps I should say more vintage-dependent. Scores have ranged between 92 and 99. A great St Henri is a thing of beauty, but in lesser years, it struggles to match its siblings. 
Grange inevitably tops the lot, usually 98 to 99 (one 97) with a couple of perfect scores in great years.
This year? While any attempt at general vintage conditions for Australian wines is largely irrelevant given the distances between regions and within regions, a broad thumbnail sketch does nevertheless reveal certain things. 2019 may well have fallen into the shadow of the great 2018, but it deserves better recognition in its own right, as it has also produced many excellent wines; 2020 was a firm, often chunky vintage, which should age for many years, but has not given us many wines of charm and grace; 2021 is one of the all-time greats, almost across the land, and gave us conditions that many of the wines might never enjoy again; while 2022 was another superb year that, for some regions, may even top its predecessor.
There are many wines here that deserve, and will reward, inclusion in your cellar, but my thoughts are that the 2021 vintage in Australia is definitely not to be overlooked.
Tasting the Penfolds Collection
CHAMPAGNE
Penfolds x Thiénot Blanc de Blancs 2013 (AUS$280)
This compelling Champagne is entirely sourced from Avize, from a vineyard that was planted throughout the 1950s and '60s. The wine saw no malolactic fermentation and has a dosage of just 5g/l. The wine was disgorged in December 2010 and so has also gained some extra complexity from its time under cork. 
Deep lemon in color, there are notes of crème brûlée and lemon curd on the nose. Grapefruit pith and a minerally backing, with an alluring note like lemon butter on toast. Even at this relatively early stage, the toast is to the fore. Fine acidity, excellent length. Clean, fresh, and balanced, with finesse and also intensity, this is a superb Champagne, with a decade or more ahead of it, during which time we can expect even more emphasis on the toasty notes. 96
WHITES
Bin 51 Eden Valley Riesling 2023 (AUS$40 / £31)
This is a really good Bin 51, indeed a really good Eden Valley Riesling. The palest straw in color, almost transparent. The nose is an intriguing mix of spices, limes, minerals, and cream. There is also a whiff of an underlying smoky, river-stones note. The wine is in perfect balance and gives every indication that it will remain so for many years. There is bright, almost crunchy acidity and fantastic length. Finesse, an ethereal delicacy, and yet steely power. A superb Riesling, which will easily see ten to 15 years, probably more, in a good cellar. This will sit alongside the very best releases of Bin 51 since it first saw the light of day with the 1999 vintage. 96
Bin 311 Chardonnay 2022 (AUS$50 / £32)
For the past half dozen years, this wine has been multi-regional, a blend of whichever districts stand up. This year, Tasmania, Tumbarumba, and the Adelaide Hills. The wine spent eight months in French oak barriques, 34% of which were new. The team like to refer to Bin 311 as the "baby Yattarna." As enjoyable as it might be, I think it has a way to go to be considered in that company.
Pale lemon hue, the nose has a fine, citrussy character, with a flinty line, the merest touch of oak, spices, white peaches, and grapefruit pith, and a minerally backing. Fine acidity runs the length, and while the wine is balanced and well-focused, it does expand across the palate. A mid-length finish, which lingers pleasantly. It should drink well over the next five to six years. 92
Reserve Bin A Chardonnay 2022 (AUS$125 / £80)
For many years, I loved the divergent styles between this wine and Yattarna. To me, Yattarna is the school prefect, never a hint of anything out of place, while Bin A was the wild child, sometimes getting it wrong but often bringing a level of excitement rarely seen in any local Chardonnays. Then it seemed that Bin A had taken a different route, becoming closer in style to Yattarna. So, for me, instead of the two wildly differing wines, we had the superb Yattarna and the Yattarna-lite. This release seems to be a return to the good old days. Long may that continue.
The wine is scoured entirely from the Adelaide Hills, whole-bunch pressed. The juice sees a mix of wild fermentation and inoculation in both new and seasoned French oak barriques. 100% Malo and maturation for eight months in French oak barriques, 75% of them new. The lengthy cool ripening period and ideal season made certain that 2022 will be a vintage long remembered.
Pale straw, there is a real step up in complexity and intensity here. The oak is certainly still evident at this early stage, but this is quality oak and integration is well underway. We have lemon/lime notes, minerals, florals, a walnut character. The texture is seamless and reminiscent of crème brûlée, really impressive length and that intensity never waivers. A Chardonnay with punch. Love it. Now and for a decade. That touch of the wild-child style is a most welcome return. 96

Yattarna Chardonnay 2021 (AUS$175 / £147)
I can't recall a better Yattarna than this one, going all the way back to the initial 1995. Sure, it has the advantage of hailing from a great vintage, but the team has not missed a beat here. Everything in its place. An immaculate Chardonnay, simply world-class. Penfolds has added "Bin 144" to the label, to reflect that when the original trials to make a great Australian white were underway, it was the 144th blend that got the nod. As with Bin 311, this is a blend of Tasmania, Tumbarumba, and the Adelaide Hills, but no prizes for guessing which wine obviously gets the very best fruit. Nine months in French oak barriques, 70% new.
A very pale lemon color, this is a beautifully elegant Chardonnay, wonderfully refined. Pristine, exquisitely structured, impeccable balance and finesse. There are notes of citrus—notably, fresh lemons, more Amalfi than Meyer. A hint of woodsmoke and wet stones with that fine minerally backing. Gentle nuts and toast. There are hints of oatmeal on the palate, and a whiff of honey. Such a gorgeous texture, so seductive. Juicy acidity and incredible length, with complexity already emerging. This is a brilliant wine, with a future of at least ten to 15 years. There is serious intensity on such a long finish. The inimitable Len Evans used to say that no variety had such a persistent finish as quality Chardonnay. This wine provides compelling evidence to support that. Anyone with well-cellared bottles in a decade will think this score miserly, but for now, 98
REDS
France
FWT Bin 585 2020 (AUS$120 / £75)
The second vintage of FWT (the imaginatively named Northern Hemisphere counterpoint to RWT—so French Winemaking Trial as opposed to Red Winemaking Trail. Who said marketing departments don't deserve the big bucks?) is a blend of 52% Cabernet Sauvignon, 41% Merlot, and 7% Petit Verdot, all from the Médoc. The initial release was 53/34/13% respectively. A year in new and one-year-old barriques, with 20% new French and 19% new American oak. The team were impressed with how the Merlot ripened, hence the increase in its contribution. Shauna Bastow has taken over the winemaking from Emma Wood.
Purple/magenta in color, there is oak evident at this early stage, even a touch splintery, but the wine is finely balanced, and there is fruit to match. In a year or two, this won't be an issue. Brambles, cranberries, spices, dry herbs, chocolate, root vegetables, and mulberries. Supple texture, matched with serious grip. Fine, grainy tannins, loads of them. A firm finish, with decent length. There is undoubtedly room to improve here with the passage of time. This will be a better wine in seven to ten years. 93
Penfolds II Cabernet Sauvignon Merlot MV (AUS$500 / £270)
A rare beast, indeed. Very few elite reds are made as multi-vintage wines, and even fewer are a blend of fruit from the Northern and Southern Hemisphere—Old World and New World. The blend is 52% Coonawarra Cabernet from the stellar 2021 vintage and 48% Merlot from Bordeaux, from 2020. Just where this might lead the team in the coming years boggles the minds. The wine was made in combination with their partners at Dourthe Bordeaux. The French component was made at their two wineries, while the Australian component was made at Nuriootpa in the Barossa Valley. The various parcels were then blended and bottled in South Australia (regulations would prevent this from happening in France). Maturation was in a mix of new and older French oak barriques and hogsheads. It is a very different incarnation from the previous II, which was a blend of Cabernet Sauvignon (59%) from near St-Julien, Shiraz from the Barossa Valley and McLaren Vale in Australia (29%), and Merlot, also from Bordeaux (12%).
A plummy purple hue, the wine is plush and chocolatey, with a delightfully exuberant nose, though everything kept in check. Notes of ripe plums, cassis, and aniseed. The palate exhibits ripe, appealing notes and the chocolate intensifies, with touches of graphite. Seamless, with silky tannins and a lingering finish. Enjoy this over the next decade and stay tuned for the next instalment. 94
California
Oakville Napa Valley Cabernet Sauvignon 2020 (AUS$450 / NA in UK/EU)
After more than two decades of exploration of the Napa Valley, the Penfolds winemaking team identified a vineyard, Block 13A in Oakville, providing exemplary fruit. The wine is 100% Cabernet Sauvignon and spent 16 months in French oak barriques, all new. Winemaker, Stephanie Dutton, describes Oakville fruit as "remarkedly plush, highly textural, sharing energetic blue fruits and varietal typicity." While one would be more likely to obtain classified nuclear secrets from an ex-President than be privy to some of the information that Penfolds keeps to itself, if I may be permitted some pure speculation. While Peter Gago is showing no signs of slowing down (he seems like the Benjamin Button of the wine industry) and would be greatly missed should he hang up the spittoon, one would think that Ms Dutton's name might be reasonably high on the list of possible replacements.
Purple-maroon, a wine of joy, exhibiting the region's plush notes. Ripe plums, chocolate, mulberries, and florals. Bursting with dark flavors, not least delicious black cherries. Seamless in style, with fine acidity carrying it the full journey. The tannins are revealed as fractionally firmer than anticipated, but none the worse for that. The finish is all about the power of the wine. The palate has coffee beans, chocolate, and blackberries. Real intensity and richness here. Delicious now, and for another ten to 12 years.
As an aside, it is always fascinating to read the Penfolds tasting notes after completing my own, as they sometimes wander into the slightly wild and whacky. I will confess that as much as I try—and this is no doubt my failing—I can find no evidence of anchovies in this wine (and nor do I want to). 94
Bin 600 Cabernet Shiraz 2020 (AUS$90 / £48)
Bin 600 is the classic Aussie red blend—Cabernet and Shiraz—but this time the fruit is all sourced from California: Napa Valley and Paso Robles. Maturation for 16 months in American oak barriques, 40% new. The wine has a strong Australian link, as the vines came from cuttings from the famed Kalimna and Magill vineyards in South Australia. They were planted, in 1998, to what was known as the Creston "600" Ranch. Hence, Bin 600. The split is 68% Napa and 32% Paso Robles. It is also 68% Cabernet and 32% Shiraz.
A bruised plum color, the wine is tight, still swallowing the oak. Good concentration, with a mix of red and dark berries, aniseed, tobacco leaves, cold tea, and cherries. There is endless chocolate throughout. The tannins are very fine but abundant. A wine of medium length with attractive cherry notes emerging even more on the finish. A decade ahead. A wine that is impressive but would be even more so with a touch more length. 92
Bin 704 Cabernet Sauvignon 2020 (AUS$125 / £64)
The Californian 704 draws its inspiration from the Aussie 407 Cabernet, which would be more encouraging if one was a fan of 407. 100% Cabernet Sauvignon from the Napa Valley, the wine spent 16 months maturing in French oak barriques, 40% new.
The color is a pleasingly vibrant magenta. Aromas swirl around here, weaving in and out of cassis, Arabica coffee beans, choc/cherry notes with blackcurrants, vanillin oak, mulberries, bay leaves, and a hint of graphite. Densely flavored and a bit exciting. Still taut, poised, and youthful, and considerably tannic, fine, and ever-so-slightly firm, though those tannins might be. Really good length here, with the concentration and balance never wavering on that long and lingering finish. So much to like. This will sail through the next ten to 15 years, with the potential to improve further over that period. Leaves its Aussie counterpoint in the dust. 95
Bin 149 Cabernet Sauvignon 2020 (AUS$250 / £167)
The Bin 149 is a return to an international blend with Cabernet Sauvignon from both the Napa and South Australia. The name reflects the percentage of South Australian Cabernet (14.9%) that was incorporated in the initial release from 2018. This release sees a smaller contribution from South Australia, just 8%. The wine spent 16 months in French (80%, new) and American (20%, new) barriques.
A gleaming maroon hue, the nose is redolent of plums, chocolate, coffee beans, spices, cassis, delicatessen meats, and aniseed. A hint of cocoa powder. Wonderfully appealing aromas, which then reveal blueberry notes and a character very much reminiscent of choc/cherry ripple ice-cream. Seamless in structure, finely textured, seductive in every way. A very long finish, well-balanced for the full journey, and maintaining intensity. Fine but firm tannins. The palate has notes of cassis, violets, blackberries, and chocolate to the fore. It really does have impressive length. Delicious now, this will be a joy for the next ten to 20 years and surely grow ever more appealing over that time. Love it. 96
Quantum Cabernet Sauvignon Bin 98 2019 ($1,000 / £652)
This is the second release of this flagship wine, a blend of Napa Valley Cabernet Sauvignon and South Australian Shiraz. 16 months in American (80%, new) and French (20%, new) barriques. The contribution of South Aussie Shiraz is 8%. This "legally" does not have to be mentioned on the label, but it is certainly a significant factor in the quality of this wine.
A complex, stunning, young Cabernet-based wine. Deep red hue. Notes of chocolate, coffee beans, spices, florals, smoked meats, vanillin oak, and a lovely character like a freshly baked blueberry pie. Oak there may be, but it is so well-integrated that it seems transparent. We also see the emergence of tobacco leaves, bergamot, and cassis. A glorious, complete, and complex nose. A supple, seductive, and alluring texture, immaculate balance, and a wine of great length. We have finesse here, and yet the wine is incredibly persistent, with never a hint of anything out of place. A 20-year proposition. Stunning stuff. 98
Australia
Bin 23 Pinot Noir 2022 (AUS $50 / £38)
The Bin 23 Pinot Noir is never less than enjoyable, but it does seem to be a wine that plays a little fast and loose with style. Perhaps the team are still working on the final direction they wish to take, perhaps vintages have caused this variation, or perhaps the snakes and ladders they seem to play with vineyards is responible. This year, Tasmania, but it has been Adelaide Hills in the past. Even Penfolds' own notes refer to Bin 23 as "an evolving style." Maturation was in French oak barriques (35% of which were new). The 2022 vintage here was one of lower yields but exceptional quality.
Pale crimson in color, the nose is a mix of florals, spices, a hint of that alluring Pinot undergrowth character, and brambles. Strawberries edge to the fore. A supple and silky texture, this is a beautifully balanced Pinot, though still obviously very young. Satiny tannins, with a fine line of acidity. There would appear to be a hint of whole-berry character involved. Currently, fresh and delicious, with the potential to step up even further. Should provide pleasure for at least the next six to eight years. If this is to be the final direction for this wine, I doubt many will complain. 93
Bin 21 Grenache 2022 (AUS$60 / £38)
Penfolds has focused less on Grenache than some of its competitors, with it appearing in Bin 138 and the occasional Cellar Reserve release, but not much else. This is somewhat surprising, given how it has proved so successful in recent years that one would assume that they have access to quality fruit, and the Cellar Reserves they have made have been crackers. Now it is to be released as part of the Bin series, Bin 21, which will help rectify this oversight. This example is all Barossa Valley, and was matured in French oak, 6% new and 5% one-year-old. 
A vibrant if slightly lighter purple color, we have raspberries, bergamot, bay leaves, spices, cranberries, and florals. Young, poised, and beautifully balanced, with gentle persistence; enjoy this over the next eight years. Much to like here, and room to improve. Penfolds might not have created their own version of Rayas just yet, but at least they are now in the game. 93
Bin 138 Barossa Valley Grenache Shiraz Mataro 2021 (AUS$60 / £38)
If I have a perennial struggle with Bin 407, this wine sits at the other end of the spectrum. Year after year, it is a personal favorite. For me, this is the finest 138 they have made. Bin 138 reflects that Southern Rhône blend with Grenache (50%), Shiraz (44%), and Mataro (6%), making us all the keener to see what they might do from the region itself. But that is getting ahead of ourselves. Entirely sourced from the Barossa Valley, the wine spends a year maturing in a mix of French (10% of which is new) and American (2% of which is new) oak. This is the first in the series of 2021 reds that dominate this Collection. It seems unlikely that anyone could be left in any doubt as to the quality of this vintage after experiencing these wines.
A vibrant deep purple with an utterly gorgeous nose. There is depth here, and early complexity. Notes of blackcurrants, black cherries, warm earth, mocha, new leather, violets, and spices. Taut, balanced, seamless, and seductive. The palate reveals the emergence of Arabica coffee bean notes, along with a hint of a bitter-almond character on the finish. Exemplary structure, very fine tannins and great length. This is a brilliant wine, with 15 to 20 years ahead, over which time there is every chance for the score to go even higher. A great 138. 96

Bin 128 Coonawarra Shiraz 2021 (AUS$65 / £42)
A wine that has been providing pleasure since the inaugural release from the 1962 vintage. At that time, Coonawarra Shiraz enjoyed a reputation that had not yet been completely eclipsed by the region's Cabernet, and deservedly so. The move from maturation in American oak to French was made in the 1980s. The wine currently sees a year in French oak hogsheads, 21% new and 22% one-year-old. Bin 128 is inevitably compared with Bin 28, the latter wine more consistently excellent for me, but in recent years, it is 128 that has stood taller. It does so again.
Dark magenta, the nose offering coffee beans, tobacco leaves, dry herbs, axle grease, cassis, and dense black fruits. Fine tannins, excellent length, exemplary balance and poise, this is medium-bodied and without the overwhelming intensity of some, which does it no harm. A superb wine, which will drink beautifully over the next ten to 12 years. 94
Bin 28 Shiraz 2021 (AUS$50 / £34)
The first vintage of this wine dates back to 1959. It was originally named Kalimna Bin 28, with fruit sourced from that famous vineyard. These days, "Kalimna" has been dropped and the wine hails from a range of regions—this time, McLaren Vale, the Barossa Valley, Padthaway, Wrattonbully, and the Clare Valley. A year's maturation in American oak hogsheads, 7% of which were new.
An inky opaque maroon, the nose is immediately redolent of chocolate. A whiff of oak, but integration is such that it is barely apparent and will surely be fully melded within months. Notes of black fruits, mocha, boot polish, leather, dry herbs, and mulberries. A bright line of acidity, fine tannins, good balance, all in a wine of medium length. Early days here, but this will offer pleasure for at least the next eight to 12 years. 92
Bin 150 Marananga Shiraz 2021 (AUS$100 / £69)
This is a popular sub-regional red from Penfolds, with Marananga being the heart of the Barossa for many. It is a blend of Shiraz from different versions of oak—a year and a half in French (29% new) and American oak (also 29% new), a mix of hogsheads and large puncheons. For me, this is as good as any Bin 150 yet released
Dark purple/maroon. Wonderful nose—intense, concentrated, and yet immaculately balanced. Plums, dark chocolate of the highest quality, black fruits, blueberries, leather, cocoa powder, warm earth, tobacco leaves, and bergamot. Amazing early complexity here. Silky tannins and such length! A fine acid/tannin balance with intensity never wavering. This has 20 years, with ease, ahead of it, in good cellars. 96
Bin 407 Cabernet Sauvignon 2021 (AUS$120 / £75)
407 is never a bad wine, but it simply never does it for me. The original release from 1990 and the 1996 both stand out, but since then, all a bit blah. A decent Cabernet, but neither one thing nor the other. This vintage is a blend of Coonawarra, Wrattonbully, McLaren Vale, Padthaway, Barossa Valley, and the Adelaide Hills. Hard not to feel that it is all the leftovers combined. The wine sees a year in a mix of French (25% new) and American (12%) oak hogsheads, the rest being one-year-old examples of both. While certainly not a bad wine, why on earth you would not put your money toward Bin 389 or 138, or any number of other wines in the range, instead of this one, is beyond me.
Dark purple, there is some oak evident. Tight, still a little reticent. Hints of chocolate, blackberries, and earth—one feels there should be more? The palate offers notes of soy, cold tea, and tobacco leaf. The wine is of medium length, without any great intensity. Touch of bitter coffee on the very end. As for when you should drink it, I suspect it is apparent that I am not the person to ask. 89
Bin 389 Cabernet Shiraz 2021 (AUS$110 / £71)
Put simply, this is a truly great 389. The best ever? Time will tell, but it will be front and center of any conversation. First offered from the 1960 vintage, as usual, the Cabernet (53%) just shades the Shiraz (47%). A blend of McLaren Vale, Coonawarra, Barossa Valley, Wrattonbully, and Padthaway (and yes, I am aware that it must seem a touch hypocritical to condemn 407 as aimless, coming from a number of regions, and praise this for the same thing—but here, it just works). A year in American oak hogsheads, 37% new.
Dark maroon, the aromas swirl around plums, mulberries, mocha, leather, tobacco leaves, dry herbs, and hints of a freshly rolled cigar. There is a touch of blueberries. The wine has finesse yet intensity, focus and direction, and balance. There is a sense of lightness here, of a wine dancing across the palate, never off its feet. Great length and silky tannins. We have chocolate, licorice, and blueberries emerging more on the palate. A wine that lingers with intent. Twenty years plus. Wonderful, and with a score that has every chance of going even higher. A cracker! 97
St Henri Shiraz 2020 (AUS$135 / £96)
A great vintage of St Henri is a thing of exquisite beauty. While this is a very fine wine, it is not, for me, a great St Henri. 100% Shiraz from McLaren Vale, Barossa, and Clare Valley, it spent a year in large, seasoned oak vats. Don't look for oak in St H. You won't find it.
Dark, deep red. Florals, rose petals, raspberries, dry herbs, warm earth, and violets. Fine balance, decent length, a pleasing flick of acidity running the length. Hints of smoked delicatessen meats on the palate. Satiny tannins, which do nevertheless provide some serious grip. Ten to fifteen years. A very good, if not great, St Henri. 94
Magill Estate Shiraz 2021 (AUS $165 / £137)
The single-vineyard pride of Penfolds, and one of the world's great city vineyards (Adelaide having grown up around it), it was first offered from the 1983 vintage and simply never fails to earn comparison with the best wines of the year. It does so again. The fruit begins its journey in open fermenters, before basket pressing and transfer to barrels to finish fermentation. Maturation is then for 19 months in French oak, 90% new, and American, 10% new.
Dark magenta hue, this is concentrated with a structure perhaps a little more formal than some. Blackcurrants, new leather, florals, bay leaves, soy, and licorice. Early days indeed, this gives the impression of being the "youngest" of the wines in the Collection. A silky palate, but behind it, there is real force, real underlying power. Oak is sucking the fruit in, or perhaps vice versa; it matters not. Impressive balance and excellent length, with the intensity maintained for the full journey. A wonderful Magill, which really does need time. Enjoy over the next 15 to 30 years. 97
Bin 169 Coonawarra Cabernet Sauvignon 2021 (AUS$300 / £175)
While the legendary 707 Cabernet brings together various regions, 169 is all Coonawarra. 16 months in French oak hogsheads, 51% new, the remainder one-year-old.
Inky dark maroon here, with a stunning nose, alluring notes of licorice, soy, chocolate, spices, cocoa powder, cigar box, leather, and mint. Hints of graphite. There is oak but the fruit has sucked it up with ease, and all remains in balance. Supple texture and silky tannins, but a significant quantity of them. Great length here, but it is the flavors, with the balance and intensity, that are the highlights. A Cabernet for 20 years in the cellar, if you wish. Another truly superb example of how good so many of the 2021 wines are. 97
RWT Bin 798 Barossa Valley Shiraz 2021 ($200 / £141)
With this wine, Penfolds head down the single-region route with Shiraz. Unlike St Henri, the wine matures in hogsheads, French oak, for 14 months with 80% new and 20% one-year-old. Unlike Grange, this is French, rather than American oak. The wine might be taking advantage of the compelling 2021 vintage, but this is another of the portfolio that, for me, has never been bettered. Younger wine lovers should do everything they can to ensure they have a case or two in their cellar for the next ten to 20 years. The older wine lovers among us, just keep drinking it whenever we feel like a cracking red.
Dark, almost opaque, maroon. There is finesse here, with composure and complexity. Red fruits, notably raspberries, with florals, cold tea, milk chocolate, hints of cloves, and red-cherry notes. Wonderful aromas. There are saturated flavors here, but the wine has elegance, at least to the extent one could ever wish for from the Barossa. The texture is seductive and layered. This is more refined, more graceful, than most in the line-up. Bright acidity runs the length, which seems never-ending. Everything is in total harmony here. A superb RWT (yes, they still call it their Red Winemaking Trial, even though I think they have it worked out by now). 98
Bin 707 Cabernet Sauvignon 2021 (AUS$800 / £475)
The hits just keep coming. Another superb wine from the 2021 vintage, another brilliant iteration of 707. One of this country's most famous Cabs, the fruit for this release is from Coonawarra, Barossa, and Wrattonbully, and spent 16 months in new American oak hogsheads. A welcome return, as there was no 707 from the 2020 vintage.
An opaque maroon, we have hints of dusty red earth here. Chocolate and tobacco leaves, soy, dried herbs, florals, and aniseed. There are hints of animal skins, adding to the complexity. Serious intensity and focus, exemplary balance. With a little time in the glass, notes of both red and black fruits become ever more dominant. Blackcurrants and raspberries. A slippery texture and satiny tannins. Real persistence on a very long finish. Finesse and power. The nose is gorgeous, the palate even better. A 20-year proposition. 98
Grange 2019 (AUS$1,000 / £670)
The annual game is, does the Grange warrant the ton? This is a fascinating release, coming on the heels of one of the greatest of all time, the 2018, and it is perhaps a more classic Grange than was the '18. It certainly needs more time before one should be cracking bottles, but any wine following that gem was going to struggle a touch. All that said, it is a superb, world-class wine. 97% Shiraz and 3% Cabernet, the fruit is from the Barossa, McLaren Vale, Coonawarra, and Clare Valley. 19 months in 100% new American hogsheads. A traditional Grange, if ever there was one. 
What is especially interesting here is that 2019 falls into a curious subset of wines; I think of them as shadow wines. Wonderful wines, which follow incredible vintages and therefore fail to receive the attention they deserve. Don't let the fact that this is not another '18 put you off.
Quite a dark maroon. Chocolate, florals, violets, spices, black fruits, vanillin notes. Walnuts, graphite, bacon scrapings, and more. An alluring and rather beautiful nose. Balance at every stage, and there is already complexity evident. Ripe, open, and with immense length, but it does give the impression of a wine that will be more comfortable in three to four years, and then for the next 30 or 40. Knife-edge balance and such length. Cassis and soy notes emerge more on the palate. Fine tannins but serious grip. A return to the classic Grange style, but be in no rush. 98

With the theme of the 2019 Grange exhibiting that shadow-vintage issue, Gago calls them the "pseudo-sleepers," and he kindly brought out an array of Granges that have been seen through the same lens. Coincidently, or perhaps not, all of the vintages end in "9"—2009, 1999, and 1989. Another, not on show, which fell into the same category, was the 1991.There was so much hype about 1990, that the following year was unforgivably neglected… yet for me, it is a truly great Grange.
Grange 2009
A much-loved Grange, now exhibiting the requisite maturity. This is dark red in hue, with aromas weaving through dried herbs, graphite, leather, cigar box, hints of animal skins, and red fruits. Finely balanced, with an appealing freshness. Notes of red apple, cherry, and violets emerge with time in the glass. The tannins are near-invisible, but there are plenty of them, and they provide some serious grip. Superb length, which maintains the intensity throughout. Surely, still a good 20 years ahead of it. Cracking Grange. 97
Grange 1999
Very much like 1991, this came hot on the heels of a much-hyped, and deservedly so, vintage, which stole the headlines, but the 1999 has always shone. It did so again today. So much so that, for me, it was the wine of the entire day.
Deep maroon, with hints of red appearing on the edges. Dry herbs, animal hides, tobacco leaves, beef stock, hints of undergrowth, aniseed, and dark berries. Still some chocolate. Complex, balanced, and long, this is a great Grange, drinking superbly now. The structure is immaculate. The palate sees the emergence of a dusting of cocoa powder. Balance and intensity never waver. Delicious and glorious. This also surely has 20 years ahead of it in good cellars, but not sure it is ever going to drink better. 99
Grange 1989
Mature red, lightening at the rim. We have notes of brambles, red fruits, campfire notes, aniseed, dry herbs, and a flick of maraschino cherry to conclude. Mature now, though there is still a future ahead of it—ten years, at least. Perhaps not the length of the absolute superstar vintages, this is a wine of medium intensity, but with fine balance and good complexity. A lovely, mature red that is drinking beautifully today. 96