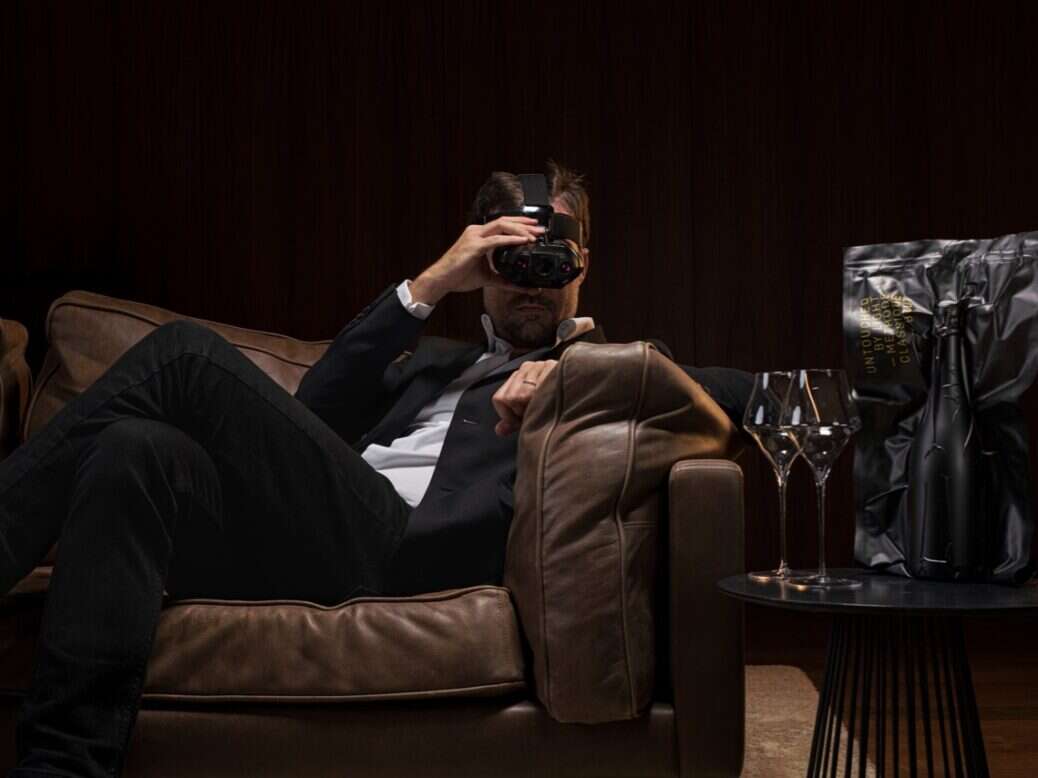 An experimental sparkling wine project by Slovenian producer Radgonske Gorice has thrown the spotlight on the effects of lightstrike and how to avoid them, says Anthony Rose.
At a Zoom tasting in October 2020, the Slovenian winery Radgonske Gorice launched its new fizz, Untouched by Light, a sparkling wine in a black light-proof bottle in a recyclable vacuum-sealed bag.
Night-vision goggles were used for the harvest and after fermentation and tirage, it remained lightproof for three years in the 200-year-old Gornja Radgona cellars, once used for ice storage from the river Mur, before disgorgement and labelling in darkness.
Calling it the Crafted by Darkness method, Radgonske Gorice added the tongue in cheek promotional slogan: "Best things happen in the dark."
Radgonske Gorice: 170 years of fizz
An article from 1853 records that Radgonske Gorice produced its first 1,000 bottles of sparkling wine in 1852.
Started by three brothers, the company was bought by the Swiss-French family of Bouvier in 1882, who owned it until the end of WW2, after which it was nationalized.
Denationalised in 1997, it has since been owned by the Slovenian company, Celjske mesnine.
With 480 hectares of its own vineyards, it produces some 4.5 million liters of wine annually, about half of which is sparkling blanc de blancs and rosé.
Grapes are bought in to supplement production, but only from the local wine growing region of Radgona.
Klavdija Topolovec Špur has been Radgonske Gorice's winemaker since 1999 after graduating from Slovenia's Maribor School of Biotechnology and Agriculture.
She and the team decided to look at the effect of lightstrike by carrying out an experiment in which they eliminated all light from the production process from vineyard to packaging.
Topolovec Špur admits that in producing its classic fizz, "you inevitably get some influence of light at remuage and the addition of the liqueur at the disgorgement stage, but we wanted to produce a Chardonnay that was totally clean and pure with no other influence on the base wine that could be reflected in the final product."
The result was the idea of producing a sparkling wine in total darkness.
How lightstrike works
Lightstrike occurs when a wine is exposed to sunlight or fluorescent light in the ultraviolet and blue end of the spectrum.
When photons of certain wavelengths make contact with wine, they affect a molecule called riboflavin, which reacts with sulfur-containing amino acids such as methionine.
The photochemical reaction is directly linked to methanethiol which is then oxidized according to the wine's redox potential to form dimethyl disulphide (DMDS), imparting sulfury off-aromas and flavors such as boiled cabbage, rotten vegetables, asparagus, wet dog, wet wool, and damp cardboard.
Lightstrike can also contribute to the accumulation of yellow and brown pigments when light at certain wavelengths reacts with tartaric acid in wine to form glyoxylic acid and hydrogen peroxide, which together deplete free SO2 from a wine.
Sunlight and light from fluorescent bulbs include all the wavelengths responsible, while some are also produced by LED and incandescent (traditional filament) lighting, resulting in a reduced but still potentially damaging effect.
Brown glass protects 99.9 percent from UV and 90.5 percent from all harmful light.
Amber glass blocks out 90 percent or more of harmful light, green glass up to 50 percent, clear glass just 10 percent.
Thinner glass bottles may be environmentally friendly but thinner glass reduces their capacity to block out the light.
Even a relatively short exposure to light, including the normal form of artificial light used by retailers, is sufficient to damage wine and the transformation can occur in as a little as 60 minutes of light exposure.
Light strike, sparkling wine, and the puzzle of clear glass
So why do so many sparkling wine producers insist on continuing to bottle their wines in clear glass?
For one thing, a producer can see what's going on in clear glass.
But the main reason is aesthetics.
Allowing all wavelengths of visible light to pass through transparent glass shows the true color of the wine in the bottle, and, once opened, bubbles are a thing of beauty.
So much so that it can be an integral part of the brand image.
Roederer's chef de cave, Jean-Baptiste Lécaillon is fully aware of the damage lightstrike can cause but as part of Cristal's identity since it was bottled in clear glass for Tsar Alexander II of Russia in 1876, he wraps the clear glass bottle in a 98% protective, UV-resistant orange cellophane.
Others, like Ca 'del Bosco, have followed suit with a similar wrapping for their prestige cuvées.
Ruinart's chef de cave Fréderic Panaïotis says "consumers are not ready for a switch from the iconic clear glass bottle we use for the Blanc de Blancs."
So, in 2019, he unveiled a lightweight "skin" made from sustainably produced recyclable carton.
English fizz producers are not as reliant on the clear bottle as part of the brand image.
Nyetimber's Brad Greatrix, points out that "there are plenty of delicious/amazing wines in clear glass, but their quality is resting on a house of cards."
So Nyetimber switched to dark amber bottles in 2008.
According to his partner in wine (and life) Cherie Spriggs, "dark amber bottles are more difficult to utilise because you can't just look in them and see what's happening, but this small detail matters because it's stopping light from transgressing into the wine and prevents the lightstrike phenomenon that creates off-flavous in the wine."
Untouched by Light: Dark material
Back to Slovenia, where the first 2000 bottles of Untouched by Light were made in 2016 from a sunny, south-facing Chardonnay plot planted in 1989.
The vines are grown in "eutric brown soil with limestone gravel admixture," which is basically sandy, fossil-rich soils with limestone and gravel from the Pannonian Sea.
The grapes were harvested at night using night-vision goggles, which Klavdija admits completes the picture of creating a whole story from harvest to final product in total darkness.
"Picking the grapes in the dark is not a lightstrike issue, but if you pick at night when the temperature is quite low, it does have a positive effect on the aromatic potential of the final product."
The wine does not undergo malolactic fermentation ("it is not necessary") and after three years maturing on the lees in the darkness of the Radgona cellars, the wine is bottled in 99.8 percent black glass and packed in a vacuum-sealed bag blocking any additional light or air contact.
After the inaugural 2016 vintage, 2,000 bottles were also produced in 2017 and the 2018 vintage will be released in October with plans to expand the 2021 vintage to 4,000 bottles.
While the story has raised the profile of the brand, Radgonske Gorice is not on a mission as such to see all clear glass eliminated.
They do feel though that by stimulating debate around the issue, their contribution will help in the long run to reduce or even eliminate the damage lightstrike can cause.
2017 Radgonske Gorice, Untouched by Light Methode Classique Brut, Stajerska, Slovenia
Pale lemon in color. A steady soda stream of tiny bubbles rises in the glass exploding on the surface to deliver an appealing citrusy aromatic freshness in the spectrum of orange and lemon, delivering a zesty tropical citrus fruit tanginess in the mouth, supported by a delicately crisp, textured mousse that expands before dissolving satisfyingly on the tongue.
While the flavors are in the fruity rather than savory and autolytic spectrum, it fades out to an appealing sherbet lemony dryness on the finish, seemingly accentuated by its unfettered malic acidity. 92 / 100
The wine can be bought online for €100.00 from its website www.untouchedbylight.com, along with an Experience Box.