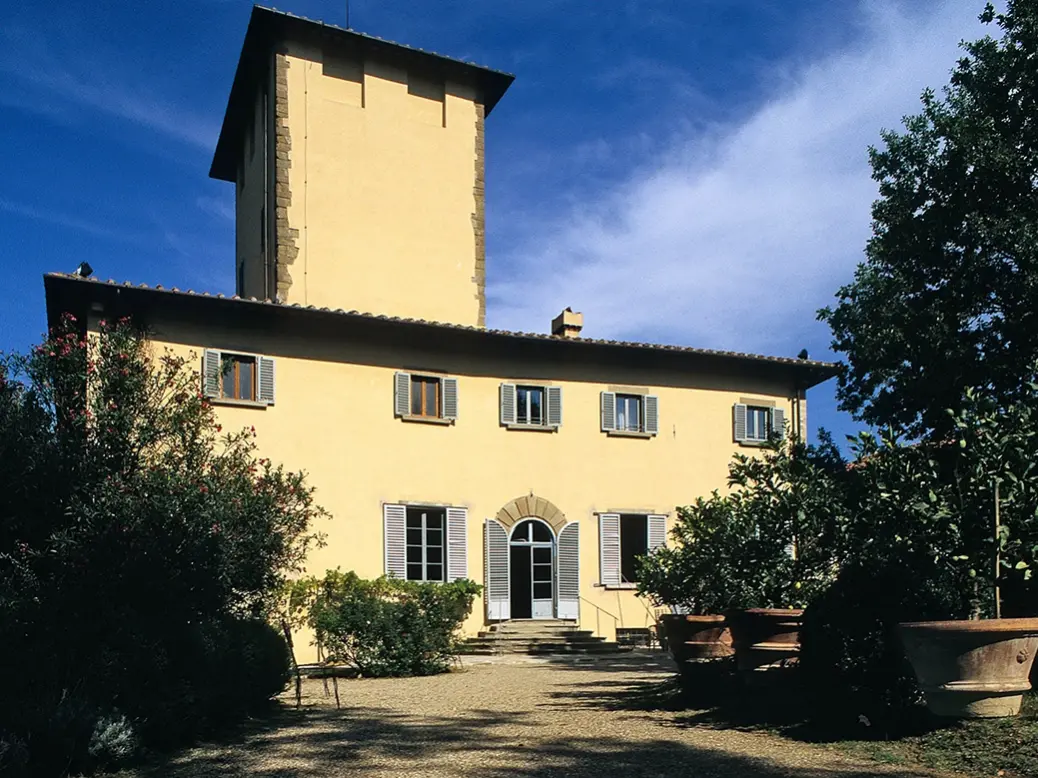 Anthony Rose joins owner-winemaker Federico Giuntini Massetti for a celebratory retrospective of Selvapiana Bucerchiale, the single-vineyard standard-bearer for Chianti Rufina's special charms.
In 1716, when the Tuscan vineyard area was defined by Cosimo III, the Grand Duke of Tuscany, Chianti was one of four areas (later becoming Chianti Classico) along with Carmignano, Val d'Arno, and Pomino. The latter was part of current-day Chianti Rufina, a small-but-good zone toward the east and north, lorded over then, as now, by the Frescobaldi family. In 1953, Dr Francesco Giuntini—described by Rosemary George MW in her 1990 book Chianti and the Wines of Tuscany as "a charming, enthusiastic, and mildly eccentric bachelor"—inherited the estate that has been in the Giuntini family since his ancestor Michele Giuntini used his banking wealth in the 19th century to buy a number of Tuscan estates, including Badia a Coltibuono, La Parrina, and, in 1827, Selvapiana itself.
Francesco Giuntini claims he didn't start making any money from Selvapiana until the late 1980s. Working in the 1950s with then vineyard manager Franco Masseti, he divided the estate into poderi cultivated in the mezzadria system, the traditional growing of mixed crops. In an attempt to work out what were the best vineyards on the estate, the 1958 Rufina Riserva was all from the Bucerchiale vineyard, but despite being a fabulous wine, it didn't have the name Bucerchiale on the label. They did not think the market was ready for that for another 21 years. Vinification was in old chestnut tini—with 15 days of fermentation and maceration—very little pumping-over, more follature, punching down the cap. The wines were then aged for seven years in old chestnut botti. A second fermentation was done with the help of the juice from governo all'uso toscano, the traditional addition of the must of between 5 and 10 percent of the grapes.
In the immediate aftermath of World War II, Chianti as a whole wasn't selling its wines in bottle but, rather, to the big boys of Ruffino, Antinori, and Melini. Until 1984, it was legal to include wine from southern Italy, but Selvapiana had a long tradition of bottling its own wines extending way back to the early years of the 20th century. Thanks to the family tradition of bottling their wines, they were sold in restaurants in Milan and Rome between the wars. During World War II, however, Selvapiana was occupied by soldiers of the German army who drank their fill of the cellar, so the winery was forced to start all over again with the 1947 vintage.
Sticking to Rufina guns
1977 had been the debut vintage of Montevertine's Le Pergole Torte, the first 100 percent Super-Tuscan made from pure Sangiovese. Others were now stepping outside the DOC regulations, and while the new Super-Tuscans were getting all the press—and better prices—Francesco Giuntini stuck to his Chianti Rufina guns. Meanwhile, furious about the new DOC laws of 1967 because of their legal acceptance of white grapes and wines from the south, the pioneering Italian wine author Luigi Veronelli pushed the likes of Antinori to make Tignanello, first produced in 1971 (which contained Malvasia but no Cabernet Sauvignon until 1975). He was a motivating force behind Sassicaia, and as a vocal supporter of producers making single-vineyard wine, he encouraged Selvapiana, too. Indeed, the idea of creating Bucerchiale as a single-vineyard wine was Veronelli's.
The talented winemaker Franco Bernabei—"an exuberant character who does what he can to ensure the estate can best express its own character," says Liberty Wines' David Gleave MW—started consulting at Selvapiana in 1978. Coinciding with the renaissance of Tuscan wines, 1979 was the first vintage of Vigneto Bucerchiale, then planted to Sangiovese. Between 1973 and 1985, vinification was carried out in cement for 15 days of fermentation and maceration, with little pumping-over and with temperature control. The wine was aged in 25hl chestnut casks between three and five years old, and yields doubled to between 4kg and 5kg per vine. By the mid-1980s, Selvapiana was starting to sell its wines outside Italy. Thanks to the ageability of Chianti Rufina, it had a good reputation for its older vintages. When Giuntini first released it, he wrote "Vigneto Bucerchiale" on the Chianti Rufina label, but it wasn't until 1985 that Bucerchiale was given its own designer label, with a view to launching the wine in the US.
Rufina is very much an area with its own distinct identity and dignity. Located close to the foothills of the Apennines, the estate's south-facing slopes enjoy a cool breeze blowing from the Sieve Valley, with nights that are quite cold, even in a warm summer. In the northernmost area of the Rufina subzone, the Bucerchiale vineyard, replanted in 1968 on mainly clay and limestone soils, is southwest-facing at an altitude of 800ft (250m) above sea level, so it's blessed with an abundance of sunshine at the end of the day. 
Current owner-winemaker Federico Giuntini Masseti (Franco Masseti's son, adopted by Francesco when Franco died) joined the enterprise in 1987. As he said in an interview with Carlo Macchi in 2021, "I started with 25ha [62 acres] when I was working with Francesco in the early 1990s. Now the estate includes 70ha [173 acres] under vines." There are two groups: the first at a density of 8 x 2.5ft (2.4 x 0.8m) with 5,400 plants per hectare, then a second generation at 6.5 x 2.5ft (2 x 0.8m). The scions come from a massal selection of the 12.5ha (31-acre) Bucerchiale vineyard, from clones of Professor Scienza and from clones of Guillame derived from the experimentation of the Chianti Classico 2000 project. Originally spur-pruned, Selvapiana changed to cane-pruning for the more recent vines and some of the old vines of the 1990s. Thanks to a higher density now of 5,500 vines, a good yield today is 7 tons to the hectare, compared with 4 tons from the older vineyards.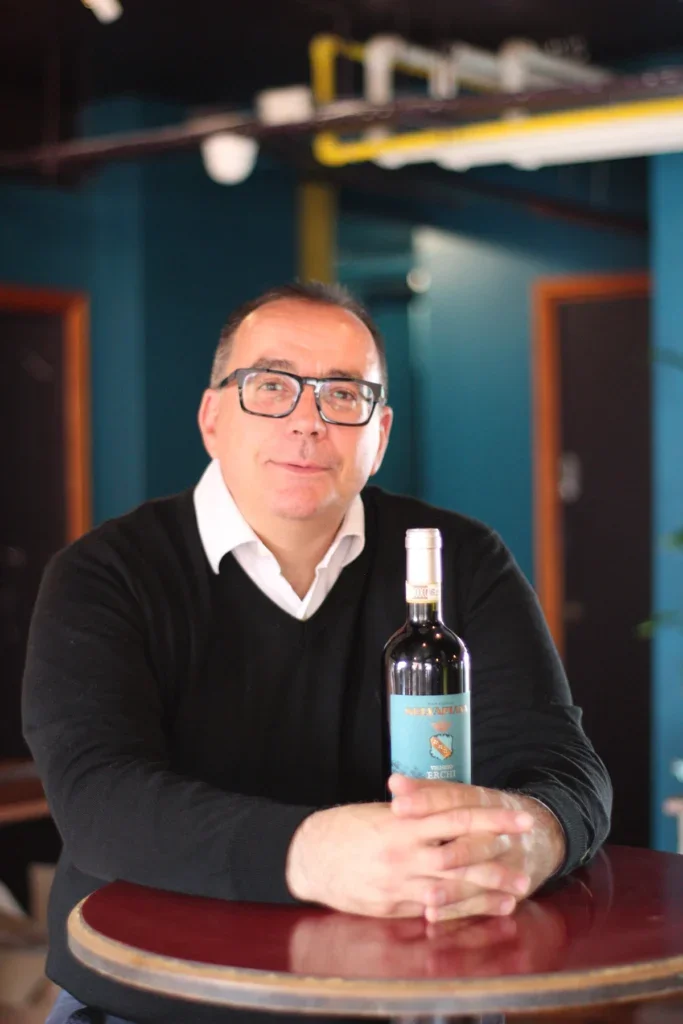 The estate has been organically cultivated since 1992. In the face of climate change, Federico now prunes longer and looks for looser bunches with grassing in summer, less fertilization and thinning, for lower yields to achieve greater elegance and balance. The manual harvest is vineyard by vineyard at the right point of ripeness, and grapes go to a sorting bench and then a new-generation destemmer that is almost an optical selector, choosing whole berries but not whole bunches with stalks.
Since 1990, vinification has been carried out in stainless steel for 25–30 days of fermentation at between 82°F and 90°F (28–32°C) with temperature control and maceration. Native yeasts are used, with three to four pump-overs per day. Between 60 and 70 percent of the wines are racked into large casks, the rest into small French oak, spending 18 months and one year in bottle before release, with a total production of around 300,000 bottles. Recently, Federico has been joined in the cellar by his own son Niccolò. Francesco is now in his 90s and frail—but with vigor, imagination, and an eye to tradition, the new broom at Selvapiana looks set to maintain (and maybe even improve on) the hard-won reputation for quality and longevity that now spans three centuries.
Tasting Selvapiana Bucerchiale
With Federico Giuntini Masseti at The River Café, London; September 26, 2022
2019 Chianti Rufina Riserva Vineyard Bucerchiale (14% ABV)
2019 was a very good vintage across Tuscany, with a slow and steady evolution and rain at the beginning of the season. The grapes were picked at the end of September and in early October, with a larger crop than other vintages. It's considered similar to 2016 but without quite the concentration and power—so a more classic, elegant vintage, with aromatic wines of good definition and refinement.
Bright, pale, cherry-ruby in color. Light cherry and raspberry fragrance, perfumed in youth, with a gentle hint of spice. Lovely intensity of cherry-sweet fruit, whose initial sweetness is soon tempered by a juicy, fresh acidity with classic Rufina spine, and framed by gentle, suave, even sinewy tannins, which bring an overall impression of silkiness. Very approachable, albeit classic, with plenty of aging potential. | 94
2013 Chianti Rufina Riserva Vineyard Bucerchiale (14.84% ABV)
A "classic, traditional vintage." The weather was cooler than in previous years. Winter and spring rains allowed a good reserve of water. Budbreak and flowering were later by some 10 days. July and August temperatures were good, helping the vines to recover. The grapes ripened gradually and slowly, with good day/night temperature swings preserving most of the aromatic compounds. Harvest started 10 days later than in 2012 and lasted until mid-October in dry weather.
Showing some of the garnet of evolution; fresh aromas, more than you might think, with red-fruit aromas and some earthiness, a touch of herb and root vegetable to the bouquet; the palate belies the garnet hue, with a sumptuous sweetness of cherry fruit, and the tannins—more substantial and rustic, from a warmer vintage, than the 2019—add a hint of refreshing astringency, helping to keep this wine elegantly fresh and dry, with good aging potential. | 93
2009 Chianti Rufina Riserva Vigneto Bucerchiale (14.97% ABV)
Winter was rainy and mild, with early budbreak and flowering. A drop in temperature in May caused some delay in the growth of the young shoots. Some welcome rains in July helped the vines to resist the summer heat and the dry period. September was warmer and sunny. Broad swings between night and day temperatures made the grapes close to perfect. Harvest started in the final week of September and lasted till the middle of October. The crop was higher than normal.
While the color is a maturing garnet, the attractively evolved bouquet combines red fruit, light oak spice, and an underlying earthiness, with a hint of leather. This is full, ripe, and intense in taste, with a nicely textured red-fruit richness tapering to a finish that combines slightly dry tannins with a lively, refreshing spine of acidity in a wine of serious finesse. | 93
2006 Chianti Rufina Riserva Vigneto Bucerchiale (14.5% ABV)
A normal winter, mild spring, early budbreak, and fast, vigorous growth of the vines. Late May and early June were cooler than normal and slowed down growth. Late June and July were warm and allowed the vines to recover. The rest of the season was mild, with some rains at the end of August and a sunny early September. Some rain in mid-September delayed harvest, requiring fruit selection. Harvest lasted till early October. The old part of the Bucerchiale vineyard, planted in 1968, had many dead vines, so yields there were very low, at around 4 tons per hectare.
Evolved garnet in color. Showing secondary characters of mushroom, coffee, and mint. Some initial fruit sweetness soon morphs into more savory characters, nicely underpinned by that classic, fresh acidity and tannins that, although initially chewy and tough, quite soon resolve themselves, especially when absorbed by food. | 92
1999 Chianti Rufina Riserva Vigneto Bucerchiale (14% ABV)
Winter was quite dry but very cold. February and March were rainy, followed by an excellent flowering and fruit-set. Summer was hot but with good, cool nights. In early September, welcome rains allowed the grapes to reach a nearly perfect level of richness and balance.
Deep, evolved garnet in color, with a youthful hint of ruby still. This has a fine, complex secondary fragrance, combining floral, chamomile, and herb-like scents with a light spiciness, in a really engaging bouquet that retains its youthful freshness. The initial fruit shows a beguiling richness and sweetness, framed by a substantial framework of tannins that soften in the glass— but above all it is cut by a lively spine of refreshing acidity. This heralds the beginning of a more modern style. | 95
1985 Chianti Rufina Riserva Vigneto Bucerchiale (13.27% ABV)
After the extremely cold winter, in which olive trees died and the River Arno in Florence froze over, spring was fine and warm, with some useful rain. Summer was warm and dry, with some late July/early August rain. A long dry period, from August 26 to October 21, helped the grapes to ripen perfectly and early, with harvest starting in mid-September. It was a small crop, around 25 percent lower than normal. Vinification was in cement and old chestnut casks of 25hl.
With its newly designed label by Armando de Ram, the 1985 is lightish garnet in color, showing notes of dark cherry, tar, and smokiness. Some lovely, sweet, secondary fruit characters, with hints of leather, coffee, and smoke. Still remarkably fresh, with tannins that are present but almost juicy, and good acidity brings life and texture to a wine that, although nearly 40 years old, shows the savory, almost umami quality of a remarkable vintage and the longevity of great Rufina. | 95
1982 Chianti Rufina Riserva Vigneto Bucerchiale (12.6% ABV)
"We remember this year, because Italy won the World Cup in Spain," says Federico. One of the "magic trio" of 1981, 82, and 83. Winter was not too cold or rainy, spring was quite dry and warm. Heavy rains later in July caused some stress to the growth, with 4in (106mm) recorded on the 25th. August was dry and hot and led the grapes to good ripeness. September was also dry, with a couple of showers that helped avoid heat stress. Harvest started after October 10.
A mature garnet in color. This shows nicely complex aromas, combining dark-berry fruit and truffle. The initial sweetness soon morphs into savory notes, as the chewy tannins and pretty high acidity take over, bringing a structure that has kept the wine very much alive and still fresh. | 91
1979 Chianti Rufina Riserva Vigneto Bucerchiale (12.56% ABV)
Spring was mild and budbreak earlier than usual. Cold weather in April delayed the growth of the young shoots and reduced the crop. A warm and sunny summer with some showers at the right time led the way to excellent ripeness at harvest, which took place in the middle of October.
A very pale garnet hue; a gorgeous, earthy bouquet, fresh and complex, truffley and leathery, very perfumed, with notes of tobacco and coffee. Lovely, delicate, sweet fruit, infused with the truffle and leathery characters of a traditional Chianti. Light, supple tannins, albeit on the dry side, and again the refreshing acidity is very much keeping this venerable wine more than alive and well. A nice Chianti. It should go well with liver and fava beans. | 95