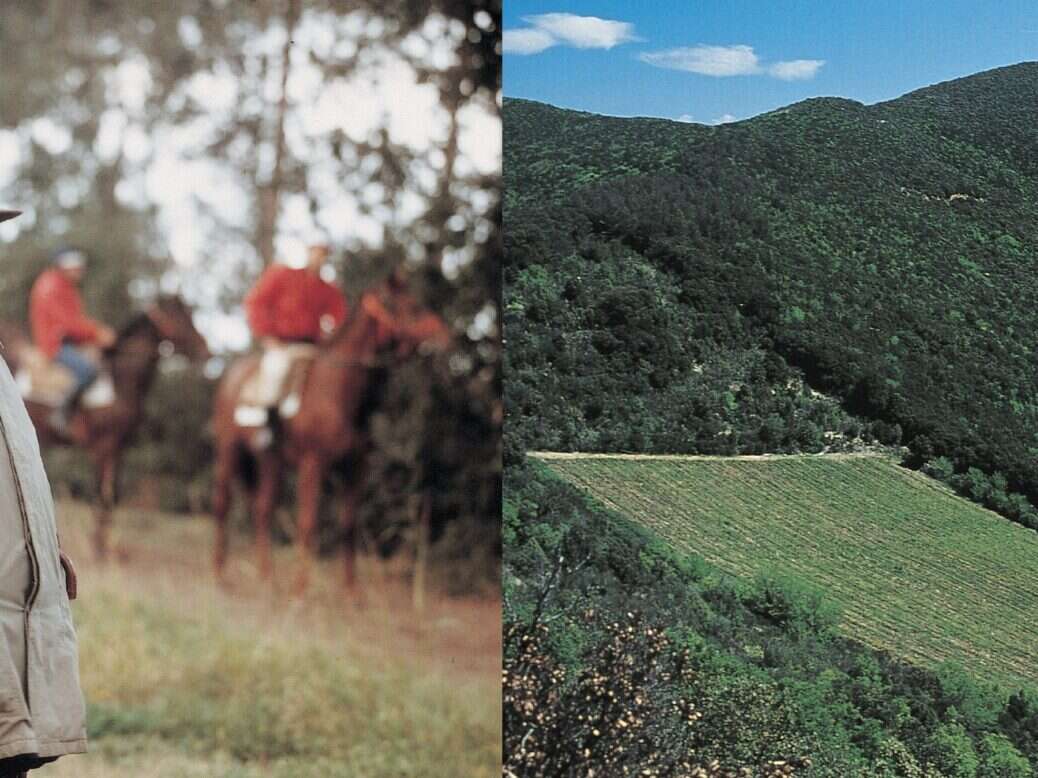 In the first of a series of classic pieces re-published in tribute to the hugely respected wine writer Nicolas Belfrage MW, who died in September, we go back to 2005 and a report first published in issue 6 of The World of Fine Wine in which Belfrage looks back on a very special tasting at Tenuta San Guido, the home of Sassicaia, in Bolgheri, Tuscany.
Sassicaia, the 100% Cabernet from Marchese Nicolò Incisa della Rocchetta's San Guido estate at Bolgheri on the Tuscan coast, was a groundbreaker when the 1968 vintage came on the market in the early 1970s. Since then, it has acquired a reputation—in most but not all cases justified—for having achieved a number of "firsts."
First among Italian wines. Perhaps, although there are those who maintain that an essential characteristic of a great "Italian" wine should be that it comes from Italian grapes.
The first Super-Tuscan. Half true: the 1968 was contemporaneous with Enzo Morganti's (then) all-Sangiovese Vigorello from San Felice. (Today, Vigorello contains a significant percentage of Cabernet. It was also then a vino da tavola, being incompatible with Chianti Classico's blending regulations.)
First great Italian wine of the modern era. Debatable: What about the Barolos of Giacomo Conterno and Bruno Giacosa that precede Sassicaia's 1968 debut, to name but two?
First barrique-aged wine of Italy. True.
First quality wine of the Tuscan coast. True.
First great Italian Cabernet (85% Sauvignon, 15% Franc). True. And it's still the greatest.
First Italian wine to be awarded 100 points by that maker and breaker of reputations, Robert Parker (for the 1985). True.
And it was to taste the historic recipient of Parker's 100 points that I made an appointment to meet the Marchese and his stepson, Sebastiano Rosa, at the Bolgheri estate one brilliantly sunny winter's day.
The original idea was to taste the 1968, but it transpired that only one bottle remains. So, the 1985 was offered instead, and gratefully accepted, along with a couple of more recent years of high reputation—1998 and 2001.
But there was also a surprise bottle, intriguingly labeled Vino Diverso della Sassicaia, Vendemmia 1977, Fuori Commercio ("Different Wine of Sassicaia, 1977 Vintage, Not for Sale"). And thereby, before we come to the tasting of the official bottles, hangs a tale…
The tale of Vino Diverso della Sassicaia
The originator of Sassicaia, Marchese Mario Incisa della Rocchetta, father of Nicolò, was a Piemontese vine grower who, in 1943, moved to the Tuscan estate his Gherardesca wife (the sister of Piero Antinori's mother) had inherited.
The story has often been related, so I'll keep it short. Mario, like many Italian aristocrats of the age, was a claret buff, and he was determined to demonstrate that Italy was capable of making high-quality wine.
He noted that the soils on his estate were similar in their gravelly mid-density composition to those of Bordeaux (sassicaia means "stony place") and that, as in Bordeaux, the proximity of the sea made for cooler summers and warmer winters than in inland areas, while providing greater differences between day and night temperatures—all factors conducive to elegance in wine.
At first, winemaking was just a hobby, additional to the real commercial activities of olive-oil and flower-bulb production. He sourced some Cabernet cuttings from a colleague of the noble Salviati family near Pisa, and he followed the traditional French production model, restricting yields to around 40–45hl/ha, fermenting in open-top wood tini for 20+ days and aging in small oak barrels for three years.
The wood for these barrels came, as most oak for wine-production purposes did in Italy in those days, from Slavonia in present-day Croatia, and the barrels were made in Conegliano according to French precepts.
In those days, the wine produced was not offered commercially but consumed by friends and family or sold privately—in barrel and, in certain years, in bottle—to acquaintances. But the reputation, especially of the aged wine, grew, and in 1970 Nicolò managed to persuade his father to call in the professionals in the form of the Antinori cousins.
When Sassicaia's famous and still-active winemaker Giacomo Tachis arrived on secondment from Antinori in 1971, he found the 1968 still in barrel. This may have been the moment at which Sassicaia took off, in production and commercial terms (curtailing of maceration time, move to stainless steel for fermentation, reduction of wood-aging period to two years and purchase of barrels in France, as well as regular planting of new vineyards—currently there are around 70ha [173 acres]), but the process was being driven by Nicolò, and Mario was not convinced.
He watched the changes happening for a while, then decided he was going to make a few barrels of wine the good old way. This is the Vino Diverso.
Mario died in 1983 and managed only a few vintages of his own wine, but the evidence still exists. It was fascinating comparing the rusticity of the 1977 Vino Diverso with the polished classic style of the 1985, 1998, and 2001.
Tasting Sassicaia
1985 Sassicaia
Described by Parker as unquestionably "one of the greatest wines I have ever tasted, from anywhere," this is still, 20 years on, remarkably youthful, in color and in substance. The classic blackcurrant aroma of Cabernet Sauvignon is there, together with the equally classic lead pencil of Cabernet aged in French oak, plus a wealth of herbs, spices, and leather.
There is a remarkable liveliness to the palate, quantities of rich sweet fruit, dense but smooth tannins. A wine of great elegance but even greater youthfulness, of which I noted, with some exaggeration, "seems made yesterday" and "freshness is incredible—you'd never get that (and it pains me to say so) with a 20-year Sangiovese." I was singing from the same hymn sheet as Mr P. 100
1977 Vino Diverso
This was, indeed, totally different. The color was oranging, tiring, and the nose was showing distinct signs of age, some volatility, little fruit, and certainly very little freshness.
The palate, however, was something else, much more evolved than the '85 but still with lots of delicious sweetness of a decadent sort, high acidity going perhaps towards volatility but stopping short of being defective. I noted, somewhat to my shame, that it was "more Italian in style," having a savory rather than a fruity character. More like a dish than a beverage.
1977 was not a great year, and I couldn't describe this as an "outstanding wine of great beauty and articulacy" (93–96 on our World of Fine Wine scale), but it was certainly a "very good wine, with some outstanding features." It is probably much nearer to the 1968 than the '85 would be. But you'll have to go to the estate, with a good story, to get some. 88
2001 Sassicaia
I thought this had a distinctly Bordeaux style to it, inclining more to elegance and less to power than other Maremma Cabernets. Soft lively fruit, good firm acidity, and quite smooth tannins. "Has the quality to age long and well," I noted. "Restraint yet full ripeness, nothing vegetal, well-managed oak." It will probably improve. 92
1998 Sassicaia
This wine was splendid, but I've run out of space. Suffice it to say that the bottle we tasted being slightly corked, I was given a bottle to take away for retasting. It was the star attraction at Christmas lunch a couple of weeks later, brilliant in a very civilized, Bordelais sort of way. A different wine indeed: 98
The 1998 and 2001 both proved impressive wines with a long way to go, making a mockery of early definitive judgments of these crus by the ever-increasing band of guides.
The World of Fine Wine was saddened by the passing of Nicolas Belfrage MW in September. Easily the most significant anglophone writer on Italian wine of his generation, Belfrage was one of WFW's longest serving and most respected contributors.
Over the next few days, as a tribute to his immense contribution to wine-writing and Italian wine, we are posting some of the best of Belfrage's pieces from the print issue of WFW on worldoffinewine.com for the first time.