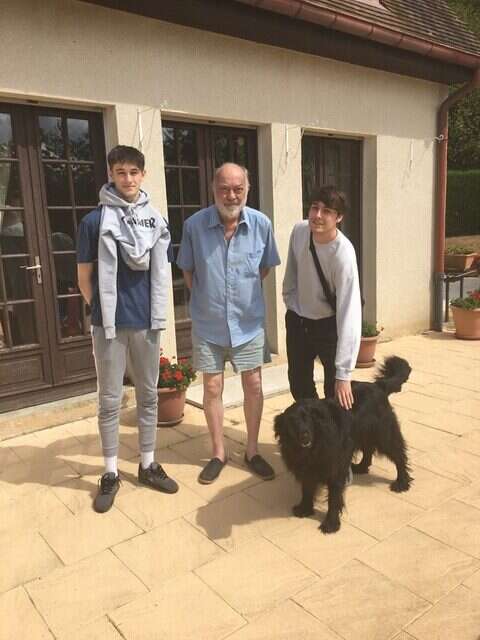 Jasper Morris MW pays tribute to Clive Coates MW, the talented wine buyer-turned-critic and writer who became one of the world's foremost authorities on Burgundy, but whose impressive body of work covers the whole of vinous France.
Clive Coates was born in 1941, the second son of John Coates (novelist) and his Dutch wife Sonja (née van Blaaderen). There was nothing specifically vinous in his background that indicated he would become one of the world's foremost wine critics and communicators.
The milieu, however, was intellectual, and Clive did sometimes indicate that he really would have liked to be an academic historian. This aptitude comes out clearly in his work.
Those who knew Clive in his later years when he had become very finicky about what he ate would not have seen the gourmet side of his character, most evident when he was in the company of his great friend, the late Bill Baker, a wine merchant of exceptional appetite.
Food was of interest to Clive early in life: His brother Paul notes that at one point, around the age of six, Clive developed a passion for custard and insisted he be known as Custardo Coates! Family holidays in France included regular visits to one-star Michelin restaurants, of the sort that specialized in excellent local cooking rather than more faddish cuisine.
Clive prepared a Coates Family Cook Book, dedicated to his mother: "In Memory of Sonja Coates (1914–95), Mother, Mother-in-Law and Grandmother. A Very Good Cook" (available as a pdf on clive-coates.com). Though meat does feature, including Clive's Famous Lasagne, which was a staple of his entertaining after wine tastings, Clive was much more vegetarian in his habits, though making exceptions for those honorary vegetables, bacon and foie gras. He states in the preface that "The Coates family lay no claim to being professional chefs, but we do enjoy eating and drinking."

From passion to profession
After graduating from hotel school at the top of his class, Clive decided that he did not want to become a professional chef or hotelier and turned his attention to wine instead. There is an excellent interview on his website about these early years in wine: "My Early Life—Clive Coates MW."
An interest became a passion and then a profession. In 1967, Clive joined The Wine Society, where he soon passed the Master of Wine examination, in 1971, before moving in 1975 to British Transport Hotels, where he founded the Malmaison Wine Club. Clive was a brilliant wine buyer in terms of the quality of his selections, though perhaps not quite so much in terms of the quantities purchased.
Many of us in the early 1980s benefited from BTH selling off cheaply thousands of cases of surplus wine, most notably a 1978 Chablis Premier Cru Fourchaumes from the Chablisienne cooperative (labeled as Fèvre Frères in this instance), which could be had for around £20 a dozen.
Liz Morcom MW, who worked with Clive at British Transport Hotels, is full of praise for his professionalism and generosity—of time, as well as wine. Glasses, which she had to identify blind, would appear at the end of the working day. She considers this training and Clive's encouragement to be major factors in passing the Master of Wine exam herself in 1982.
After BTH/Malmaison and a short stint at Les Amis du Vin, it was time for Clive to abandon the commercial wine world and turn full time to writing (articles had already been published), supplemented by tasting events such as the Fine Wine weekends at Studley Priory and elsewhere.
Clive's first love among the wines of France, at least chronologically, was Bordeaux. Claret immediately demonstrated the depth of Clive's historical research into the antecedents of each château (and, in subsequent works, Burgundian domaines).
Claret (1982)
Grands Vins: The Finest Châteaux of Bordeaux and Their Wines (1995)
The Wines of Bordeaux (2004)
Clive published three books on French wines in general; he was very proud of having visited every single AOC and VDQS in the country. This was reflected in his avant-garde wine-buying for British Transport Hotels, for example.
Wines of France (1990)
An Encyclopaedia of the Wines and Domaines of France (2000)
The Great Wines of France (2005)
As the years went by, however, his greatest love became Burgundy, about which he wrote his finest books. Côte d'Or: A Celebration of the Great Wines of Burgundy won all the prizes available for a wine book—among them the André Simon Award, The Veuve Clicquot Prize, and the James Beard Award—and richly deserved to do so. The Wines of Burgundy (2008) was an update and expansion, including Chablis and the Côte Chalonnaise.
Côte d'Or: A Celebration of the Great Wines of Burgundy (1997)
The Wines of Burgundy (2008)
My Favourite Burgundies (2013)
There can be no doubting Clive's rigorous intellectual qualities. When it was suggested to him that the body of his written work merited a doctorate, he responded that, while the idea appealed, he would rather embark on new research to earn it—though sadly he never followed up on this.
Parallel to these works, and overlapping in the sense that his tasting notes found their way into the books as well, was Clive's magazine, The Vine. This was a quarterly hard copy (it never went digital), typed up indefatigably by Clive's secretary Sonia from his handwritten notes. The Vine came to an end when Clive's health deteriorated under the strain of his tasting workload supplemented by plenty of Champagne before and after.
Clive's writing style is both clear and authoritative. Descriptive adjectives are rarely to be found, and certainly he abhorred the school of employing endless and repetitive flamboyant descriptors that do little to indicate whether the wine is any good or not.
Clive's style doubtless stems from the analytic approach of his Master of Wine training, which dissects the structure of a wine and what we can glean of its likely future development.
He did not much like to score wines (certainly not out of 100), though he would use the 20-point scale where necessary. His own version of this was to finish a note with a quick assessment such as good, good plus, fine, fine plus, very good indeed (plus), and so on, with each increment reflecting half a point on a numeric scale.
An enduring legacy
Clive had a very strong following in the USA, supported by annual tours to talk about and taste the finest wines with groups of friends in various parts of the country. These continued for a few years after The Vine had been put to bed, while Clive also reciprocated by guiding groups of wine lovers around Burgundy.
A number of regular events owe their origin to Clive. It was he who created the Southwold tastings, when a group of relevant importers and journalists blind-taste the three-year-old Bordeaux vintage.
Clive wanted to gather an exhaustive number of samples and felt it made sense to share the opportunity with friends and colleagues in the trade, with Simon Loftus kindly providing the venue at the Crown Hotel in Southwold. The forum continues to flourish today as Southwold-on-Thames.
Subsequently, a branch of this group developed a Burgundian version, which met sporadically at various venues in London for single-day events, then at Bill Baker's house near Bristol for a two-day event, and now for two separate weeks of the year in Burgundy.
Also in Burgundy, Clive inaugurated a revealing Ten Years On Tasting, at Becky Wasserman's house, where he used to stay during his marathon tasting trips before he bought his house in the Charolais.
Together, they invited a significant number of leading producers to submit wines from the vintage of ten or 20 years before, with everybody coming along to taste them on a Sunday afternoon in June, followed by a supper cooked by Becky's husband Russell Hone and accompanied by a large hunk of Mrs Montgomery's excellent Cheddar, brought by Clive. The first vintage tasted in this way was 1978, in 1988, and now the grandchildren of the original vignerons are producing their own bottles.
Outside wine, Clive maintained a sedentary lifestyle but remained an ardent follower of athletics, while keeping half an eye on Yorkshire CCC (his father was a Yorkshireman) on the cricket field. Poor eyesight prevented him achieving much on the sporting field himself, though he did break the school record for throwing the cricket ball, at age 12, and subsequently took up the javelin and shot put.
Music, specifically opera, was another great passion, leading in due course to his marriage to mezzo-soprano Juliet Trestini (née Burns, daughter of David Burns MW), to whom he was married from 1984 to 1992. From his first marriage (1964) to Rosalind Cohen, Clive is survived by his two children Emma (Gibbins), an urban designer and now charitable fundraiser, and historian Dr Ben Coates.
On the musical front, as with the athletics, Clive was more likely to be in the audience than participating—though he may be the only Master of Wine to have appeared on Top of the Pops, as part of the backing chorus for The Congregation's hit "Softly Whispering I Love You," which reached no.4 in the UK and no.1 in New Zealand and South Africa.
Clive was always an exceptionally self-contained person, focusing closely on what interested him and largely unresponsive to other stimuli. This could be interpreted by those who fell outside his areas of interest as disdain or even arrogance, while those who fell within the orbit of planet Coates would feel his warmth and generosity, as many online tributes to him have noted.
Part of Clive's philosophy of wine was to "persuade people to be adventurous, to drink wine more regularly, and to have the courage of their own convictions." So many people learned so much from Clive—in person or through The Vine and his books.
His works gained accolades, and so, too, did Clive himself, being elected a Chevalier de l'Ordre de Mérite Agricole in 1994. He had, correctly, a high opinion of the quality of his own work and did not need others to trumpet his name as proof of his skills. It was possible to tease him—and sometimes we did! We shall not see his like again. Very fine indeed, plus.
World of Fine Wine is hosting the World's Best Wine List Awards on September 12. Sign up for the event here