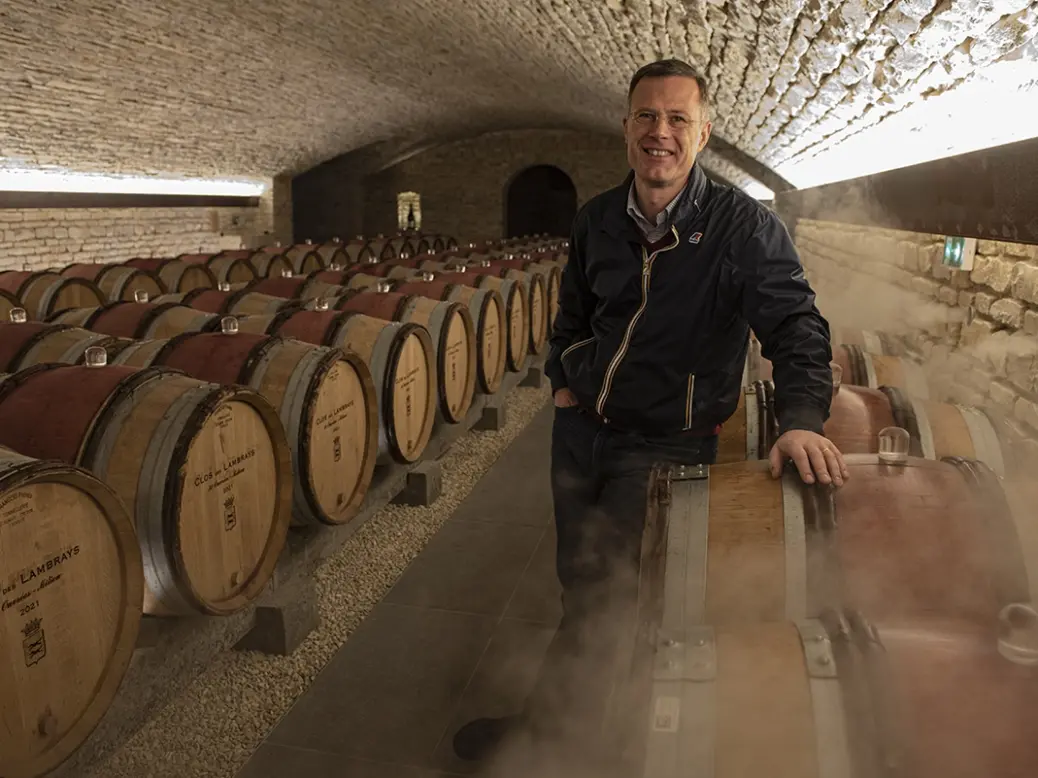 Has anyone ever met Jacques Devauges and found him without a broad grin and an enthusiastic desire to enlighten? How many have descended the original old stone steps into the Domaine des Lambrays cellar to find him wondering at their daunting steepness?
My most recent encounter with Jacques was my fourth, as I followed his progression from Domaine de l'Arlot in Prémeaux-Prissey, along the Côte de Nuits to Domaine de Clos de Tart in Morey-St-Denis, and then, after a fairly brief stay there, moving literally along the street to Domaine des Lambrays. Head-hunted? I could not say, but he arrived soon after Bernard Arnault joined François Pinault in acquiring Clos des Lambrays as his own slice of Morey-St-Denis grand cru. 
Burgundy Portrait: Domaine de la Folie
Although a previous long-serving winemaker at Clos des Lambrays, Thierry Brouin, had joked that the garden there could provide 300 bottles of premier cru, the splendid old cedar tree remains safe. Its roots, however, will have felt the creation of the new cuverie and cellar.
At first sight, in the last light of the day, the new cuverie's interior is reminiscent of Domaine Faiveley's development in Nuits-St-Georges, with its large window at one end. That the ambience here seems even more serene may be down to a lack of harvest activity, but its perfect proportions lend a certain Cistercian calm.
Jacques stands back quietly to allow me to soak up its austere grandeur. The silence is hard to break—and anyway, I don't have the words.
At the far end, a sensible staircase delivers us down into the new cellars. Here we are more about Star Wars than Cistercians, especially when the humidifier performs its cloud routine. Here begins the first lesson, as Jacques introduces me to his new invention—a wine lift that carries wine back upstairs without the use of pumps. I want a closer look, but the glass barrier is impenetrable. Along an immaculate line of barrels, the glass bungs sparkle like LEDs, adding to the feeling of 21st-century progress. But the eagle-eyed photographer takes smug pleasure, striding down the barrels, in nudging one bung ever so slightly, so that the line is brought back into its intended perfection.
Jacques, on our return up to the cuverie, playfully wants to curb my ego by asking me if I have noticed anything unusual. We view the new wooden vats from the raised metal walkway beside them, but I have no answer. He wins. It's been a long day, and I lazily concede defeat. His grin widens as he points out that the vats are all the same circumference at the top and bottom—the sides do not slope, as they do in the currently fashionable tapered vats (cuves tronconiques). It's another Devauges innovation, which will allow the floating lid to sit above the cap and the vat's contents at any height, inhibiting oxidation. So, seemingly small but innovative changes lie quietly, almost invisibly within the transfiguration at Domaine des Lambrays. 
Burgundy Portrait: Gilles de Larouzière at Bouchard Père et Filses de Larouzière
I glance at Jacques. His grin is one of pride and, I suspect, pleasure as he contemplates the years that lie before him at the painstakingly, very sensitively renovated Lambrays. And a small part of that may be relief that the centuries-old original steps down into the cellar are now happily retired from service.