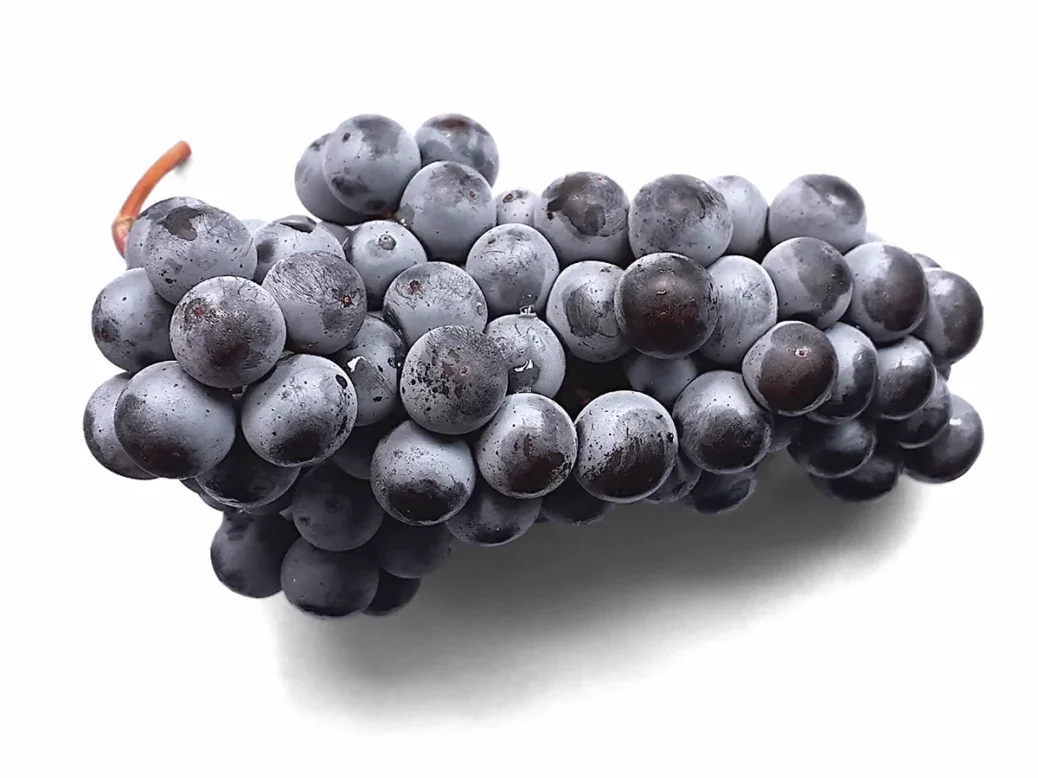 Simon J Woolf on the long history, recent revival, and stylistic variations of the once-endangered, intensely tannic Friulian red grape variety, Pignolo, which has found a new audience of passionately obsessive advocates both inside and outside the northeastern Italian region.
Is there anywhere on earth with the same extraordinary richness of vine biodiversity as Italy? If there is, I haven't found it. Estimates as to the number of native Vitis vinifera cultivars range from a conservative 377 (Robinson, Harding, and Vouillamoz, Wine Grapes, 2012), through the low 500s (Ian d'Agata, Native Wine Grapes of Italy, 2014), to somewhere in the 2,000s (anecdotal but certainly not impossible, if one includes non-commercialized varieties).
A good number of the country's ancestral cultivars have fallen by the wayside over the years. In many cases, abandonment was probably more than justified: In an age when a lot of countries produce a significant wine surplus, who needs high-yielding, neutral varieties? But the 20th-century obsession with quantity, mechanization, and efficiency may have led to the throwing out of some wheat with the chaff.
Pignolo is a case in point. This thick-skinned, small-berried, and low-yielding red native of northeasterly Friuli Venezia Giulia came perilously close to extinction. After a documented history of at least 700 years in the region, only a few rows of vines survived by the middle of the 20th century. By the 1970s, Pignolo could no longer be considered commercially viable. The story of how and why the variety recovered is as fascinating as its wines are superlative.
A few facts
Today, Friuli harbors roughly 80ha (200 acres) of Pignolo—a fourfold increase in plantings from two decades ago, according to Wine Grapes. Apart from a single number of vines in research vineyards in California and a small plot in southern Brazil, it does not exist anywhere else.
No conclusive DNA analysis has yet been undertaken, and the exact parentage of the variety is unknown. It is very likely, however, that it's related to other white or red natives of the region, including some such as Aghedene or Vulpea, which are no longer around to tell their tale. Through Vulpea, there may even be a link with Prosecco's Glera—even if this is an association that is hardly welcomed by Pignolo's band of producers and wine fans. Friuli's agency for rural development, ERSA, is currently engaged in DNA research, and conclusive evidence may soon be available. The grape's likely birthplace is around Buttrio (Colli Orientali), with the Rosazzo subregion seen as its "grand cru." Confusion persisted until the late 20th century between the true Pignolo and another historically co-planted variety now known to be Pignola Valtellinese. Producers such as Le Vigne di Zamò can point to historic vintages made from old vines where there is a clear influence from Pignola. Generally, this accidental field blend is avoided today.
Pignolo's vinous signature consists of high acidity and prodigious tannins, with high alcohol becoming increasingly the norm. When young, it can show taut and lively red-berry fruit, which tends to morph into a broader, more plummy character as it ages. Wild, gamey aromas are something of a stock in trade, too. Yields are low to very low. The vine itself is extremely vigorous, but it doesn't put its energy into producing grapes—one of many reasons why growers fell out of love with Pignolo, in an age when commercial reality increasingly trumped the quality imperative. A characteristic of the wine is that it is not only suitable for long aging but usually demands it. Many of its 70 or so exponents choose to mature their Pignolo for five to ten years before release. In this respect, Pignolo fits into a similar paradigm as varieties such as Nebbiolo, Sagrantino, Aglianico, or Nerello Mascalese. This is true not just of its enological characteristics but also of its quality. With age, Pignolo typically becomes thrillingly complex and majestic in structure, yet it always retains a burst of bright acids that mitigate its girth.
Rescued from extinction
Pignolo has followed a strange trajectory over the years. As documented in exhaustive detail by author Ben Little in his book Pignolo: Cultivating the Invisible (reviewed in WFW 75, pp.58–59), the variety appears to have been revered as long ago as the 14th century. There are various records over the centuries that show that Pignolo wine was typically sold for a higher price than most other wines from the region.
But opinion started to change by the second half of the 19th century. The Associazione Agraria Friulana, an institution that mounted exhibitions of Friuli's varied agricultural produce, included Pignolo in its exhibition catalog in 1863. Four years later, there were already voices of dissent, claiming that the variety displayed imbalances and implying that its commercial worth was open to question. It no longer featured in the 1867 catalog. An agronomist asked to prepare a list of recommended varieties for planting in Friuli in 1901 notably didn't include Pignolo either.
By the early 20th century, phylloxera and oidium had wreaked havoc in Friuli, as they did across virtually all European wine regions. Replanting programs began in earnest in 1921, but unsurprisingly Pignolo did not form any part of them. Worse was to come. In 1970, a new European Economic Community regulation (number 2005/70) formalized the permitted grape varieties across Friuli Venezia Giulia. And due to what Little describes as an administrative error, Pignolo was excluded. In other words, henceforth it was illegal even to plant it.
To make matters worse, one of the most important remaining Pignolo vineyards of the time came close to destruction. The vines at the Abbazia di Rosazzo—effectively Pignolo's spiritual home—had become so critically mismanaged by its custodian and priest "Don" Luigi Nadalutti that only two vines survived into the 1970s. Was Pignolo about to depart this planet? It certainly seemed so.
That the plant survived at all was in large part down to a trio of determined vignerons who had their interest piqued—and also due to the Abbazia's previous vineyard caretakers, the Casasola family, who had planted their own 100 Pignolo vines in 1929. Luigi Moschioni, grandfather of the current winemaker Michele Moschioni, received some cuttings as a gift from Domenico "Menut" Casasola in 1947 and set the family on a journey that would eventually result in them becoming one of Pignolo's most important exponents. Similarly, Girolamo Dorigo (now in his 80s and long since retired) took an interest in Pignolo in 1969 when he read about it in a book. As Ben Little puts it, "By the late 1960s, with its general absence in the field, Pignolo had taken on a more mythical character." Dorigo also received cuttings from Menut and developed a small vineyard of around 1,500 vines by 1973—an activity that was then completely illegal thanks to EEC regulation 2005/70.
The Abbazia's rundown vineyard was finally taken into care in 1979 by a young winemaker named Walter Filiputti. He would later become a pivotal figure in Friulian wine and is now also a well-known author. In just three years, Filiputti managed to clone cuttings from the remaining two vines to create a vineyard of 2,200 plants. The Zamò family came on-board in 1981, continuing the management of the abbey's vineyards together with Filiputti. The variety had been saved, although it would be a slow road toward stability. Michele Moschioni says that "after the initial flurry of excitement [in the 1970s], Pignolo fell into oblivion again as everyone got into Pinot Grigio and Sauvignon Blanc." It wasn't until the early 2000s that anything like a groundswell of interest emerged—and this is when most of the current vineyard surface was planted. Little draws attention to this, noting that the relatively young age of most of the vineyards is a quality factor. Several growers, notably Girolamo Dorigo, have remarked on the equilibrium that Pignolo vineyards seem to gain only from around 15 years of age.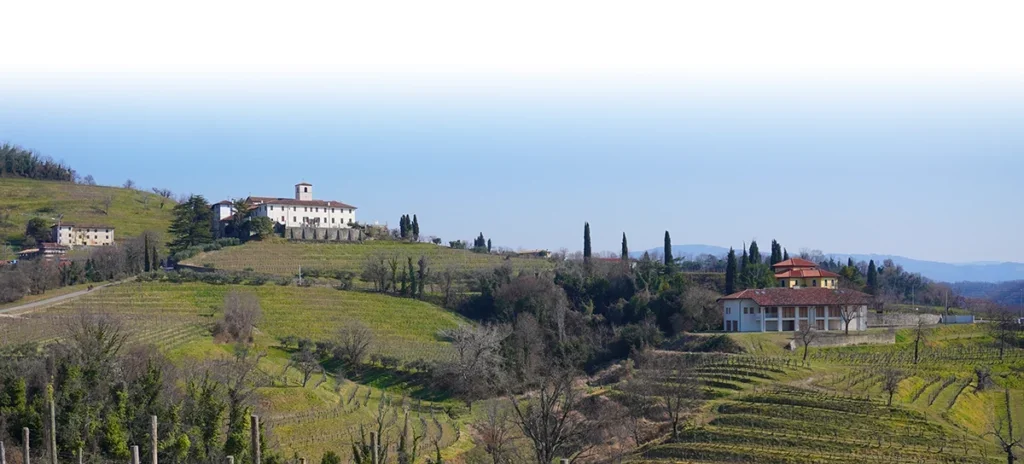 Surmaturation and vinification
A considerable challenge with Pignolo is picking the right moment to harvest. With tannins that could wake the dead, the skins and seeds need to attain a high degree of ripeness before most winemakers would dare to vinify. Michele Moschioni grappled with this issue in the early 1990s. On his way back from VinItaly in 1992, he visited the iconic Valpolicella and Amarone producer Giuseppe Quintarelli. His advice was to try maturing the grapes a little more by air-drying them in bunches after harvest, as a means to soften the tannins. Moschioni also gained experience working with Amarone producer Romano Dal Forno before putting the surmaturazione technique into practice with his Pignolo. This has effectively created two schools of thought in Friuli. There are those who embraced the surmaturazione technique and those who have always steered clear of it. Fans have historically included Paolo Rodaro, Castello Santanna, Tunella, and Collavini. The case against surmaturazione is that, bearing in mind that Pignolo can easily reach 15% potential alcohol when harvested, the use of dried grapes further increases concentration and alcohol to a level that may become oppressive. It can also impart a slight sweetness to the finish, via the extra grams of residual sugar that result from concentration.
Attitudes seem to be shifting, with even former surmaturazione stalwarts like Moschioni backing off it considerably in recent years. Perhaps this isn't a surprise given the run of ever warmer vintages over the last ten years. In many other respects, the idea of what Pignolo is supposed to be seems to have remained consistent across the past few decades and the majority of its producers. The grape lends itself to producing a hugely structured, concentrated wine built for long aging. Little remarks that Pignolo has "all of the requirements to make an outstanding, evolutionary red," adding, "Its evolutionary capacity is beyond anything [else] that exists in the vineyards of Friuli Venezia Giulia, or of any other red grape variety in Italy."
But is this the only possible path? Is there really no space for early-drinking Pignolo, perhaps vinified without oak or even using whole-bunch fermentation to tame the texture? It could be said that many modern-day Pignolo producers are stuck in the 1990s Parker groove, having eagerly migrated to barrique in place of botte grande when they saw more potential to soften and mature the grape's tough tannins. Moschioni experienced what he describes as a "game-changer" in 2004, when Robert Parker Jr awarded his 1999 Pignolo 95 points. He still has a copy of the original printed Wine Advocate newsletter, which he proudly shows to visitors. Perhaps it's not surprising that he and many of his colleagues have adhered to the style that brought them initial success in the US. The challenge is that barriques add their own tannic thumbprint, not to mention potential aroma or flavor components when new vessels are used. It can easily become overbearing.
A small number of growers have innovated in different ways. In the Collio, where Pignolo is still not approved as a grape for DOC wines, the Radikon and Gravner families both have almost a decade's experience vinifying the variety using radically different methodologies. Gravner produces a brooding, monolithic wine with stunning fruit by fermenting in Georgian qvevris, followed by additional aging in 5,000-liter (1,320 US gallon) barrels and in bottle. His aging regime now extends to 14 years after the vintage, with the 2007 currently on sale. Radikon uses only large-format barrels, and unlike Gravner, vinifies and bottles without any added sulfites. Its "Pignoli" (a misspelling designed to get around the variety's banned status in Collio) presents like a super-mature Barolo, with thrilling dried fruit, leather, and herb characters. It is also released very late, with 2010 the current vintage on the market.
For those who miss fruit focus in what are usually heavily matured and oaked wines, look no further than Oliviero Visintini. A passionate advocate of biodynamics based in Colli Orientali, Visintini is perhaps the only grower who has so far tried both fermenting and aging Pignolo solely in clay. Using modern terra-cotta amphorae made in Tuscany, he has spent the past few vintages playing with different lengths of skin contact. His 2017, which stayed eight months in the terra-cotta vessels, is stunning in its bright fruit-forward profile. It lacks nothing in terms of structure, and has playful acidity and endless nuances. Most interestingly, it is already accessible in a way that few of the more conventionally grown or vinified examples come close to achieving. And it shows that other treatments are possible with this quirky grape.
Still, most Pignolo is produced in what could be described as a more classical manner. For lovers of these big but beautiful wines, the go-to producers include the aforementioned Moschioni and Dorigo, Le Vigne di Zamò, and Adriano Gigante. Those looking for a less interventionist approach to the winemaking will be well served by Bressan, which makes a superbly expressive example from very old vines in Friuli Isonzo, or Borgo San Daniele, whose often muscular and always supremely focused Arbis Ròs has been made from 100 percent Pignolo since 2007. (Previously it was a blend with Cabernet Franc.) Although Ronchi di Cialla is better known for its elegant, terroir-driven Schioppettino from a cool valley in Friuli Colli Orientali, the Rapuzzi brothers have now released half a dozen vintages of Pignolo. Typically, their reading is understated and—relatively speaking—delicate.
Little puts forward an interesting concept about Pignolo aging in his book. His conceit is that the legally defined term riserva loses all meaning when it comes to a wine such as Pignolo. A red wine from one of Friuli's DOC or IGT classifications currently gains riserva status if it is released after two years. But this would be infanticide for most Pignolos. The vast majority of producers release after a minimum of five years. Little has also singled out a clutch of six producers that have release schedules of more than a decade after the vintage. They are Bressan, Conte d'Attimis Maniago, Gigante, Gravner, Le Vigne di Zamò, and Radikon. He categorizes this type of wine as il raro—effectively, the rarest of the rare. While obviously not a legal term, there are signs that it is being embraced by producers. Castello Santanna and Visintini reached this status when both released their 2011 vintages in November 2021. Several more wineries have releases planned that will put them in il raro territory, including Jermann and Moschioni. The concept is fascinating, in that it shows how inadequate Friuli's current wine-classification framework is when it comes to this single-minded grape variety.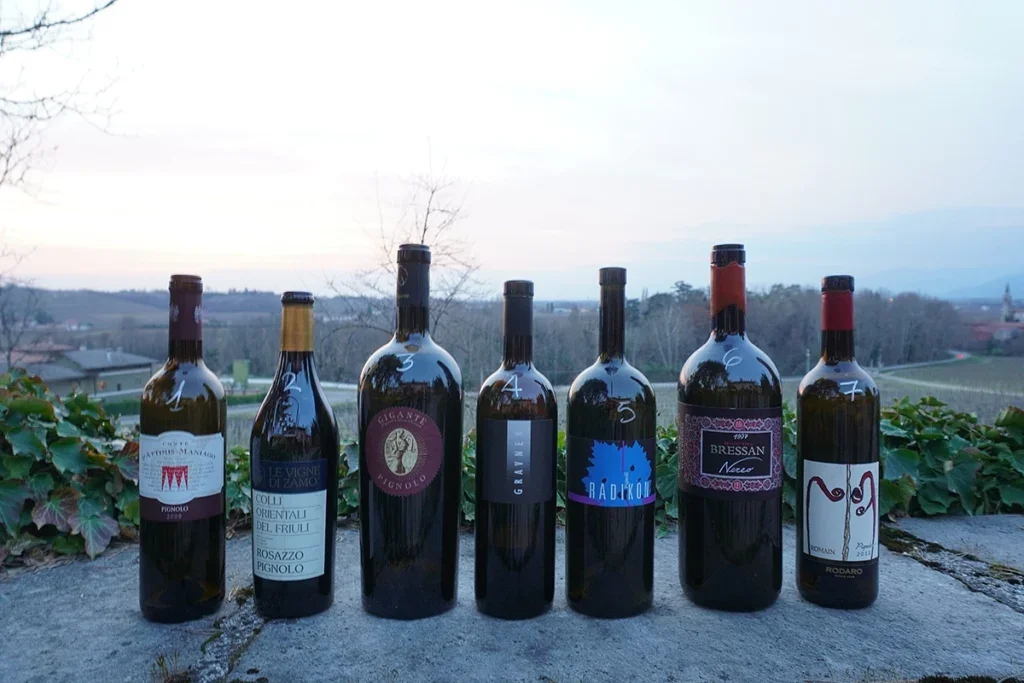 The future of Pignolo
Pignolo has a habit of luring in all who encounter it. Little—himself unsuspectingly launched into a five-year research project culminating in his book and a series of tastings and workshops—talks of it being "a fisher of souls." Certainly it has become an obsession for many winemakers who swallowed the lure. For just about all of the 70-odd producers of Pignolo, though, it is barely commercial. Few have more than a hectare or so of the variety, or make more than a couple of thousand bottles a year. Michele Moschioni is almost in a league of his own, with 3.5ha (8.5 acres) and production at between 6,000 and 7,000 bottles a year. Saša Radikon confirms that it's love or fascination that drives most, saying, "No one's making money from Pignolo right now. And once people do start making money from it, the quality will probably go down."
However, Little is optimistic about Pignolo's future over the coming decade, saying, "The quality of the wine is rising all the time because the vineyards are maturing." He points out that many top producers, including Gravner, Radikon, and Gigante, planted as recently as 1998 and notes that "their first vintages (2003, 2004) were produced from extremely young vines." In his book, he also lists a further half-dozen producers that have recently planted. Walter Filiputti has also returned to the stage, as consultant winemaker for Nero Magis, whose debut Pignolo Riserva 2015 was just released in 2021. While Pignolo is never likely to become a mass-produced crowd-pleaser, its renaissance still has scope to broaden. A realistic goal would certainly be that it becomes regarded as one of Italy's greatest red wines, if not the world's.
Interest has evolved beyond the winemaker community, too. In 2020, an entrepreneurial young wine lover named Alessandro Cossa opened a wine bar in Udine named Enoteca al Pignolo. His inspiration came from the kinship he, as a Friulian, felt with this native from the plant kingdom. "Pignolo reminds me of us," he says. "It has the same character: It's a bit hard and closed and needs time before it shows its best." Nonetheless, the enoteca is welcoming and lively, with Pignolo available by the glass. Little notes simply, "There is no banality with Pignolo; you'll either like it or you won't. Physically it will grab you—the tannins will leave their mark on you!" He's not wrong.
This article was first published in June 2022 in issue 76 of The World of Fine Wine.