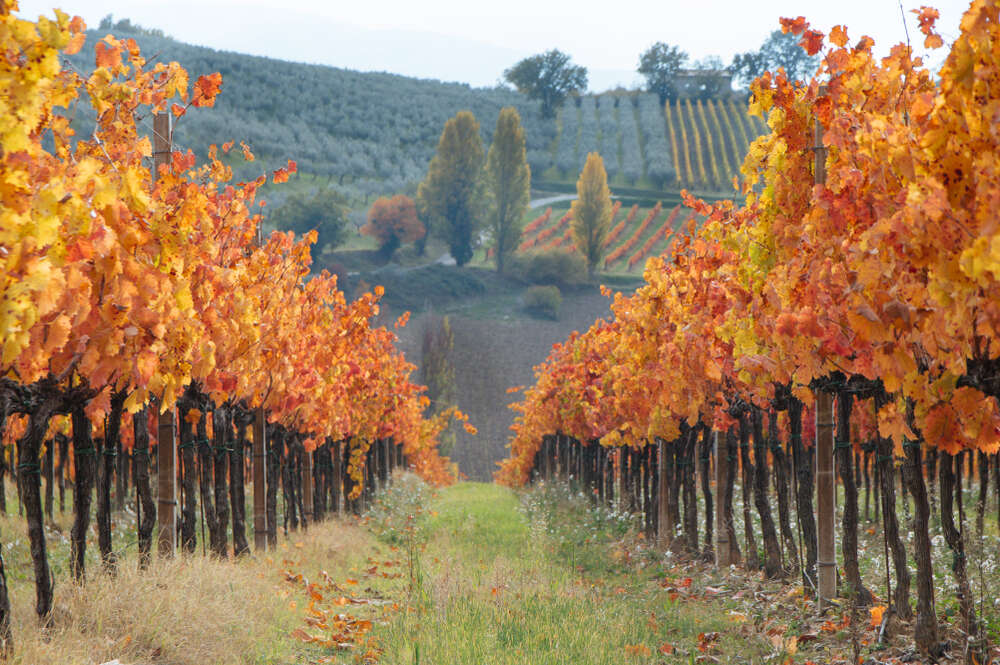 A grape variety dating back more than 2,000 years, and capable of producing wines of awesome power, Sagrantino was on the verge of extinction 30 years ago. Nicolas Belfrage MW explores the mysterious origin of the grape behind Sagrantino Montefalco DOCG, and explains why he welcomes its revival.
First published in issue 16 of the print edition of The World of Fine Wine in 2007, we are publishing this piece for the first time on worldoffinewine.com as part of our tribute to the hugely respected wine writer Nicolas Belfrage MW, who died last month.
The story of Italian viniculture in the 21st century (though il may be thought a bit early to be making such predictions) may well prove to be that of the return of the indigenous local grape variety, in some cases from the jaws of extinction. Gone—or if not gone, going—are the days when growers felt it absolutely necessary to "improve" their local varietals with a dollop of Cabernet, or Merlot, or Syrah.
Today the watchword among foresightful Italians is "autochthonous." Italians are coming to understand that the only, or at least principal feature that distinguishes their wines from those of the rest of the world is the exclusivity of their raw material. While the classic French varieties have been successfully reproduced in various parts of the world, no one outside the relevant Italian growing zones has yet managed convincing versions of Nebbiolo, Sangiovese, or Aglianico, to name but three.
No variety better epitomizes this rise from the dead than Sagrantino, the grape of the small central Umbrian growing zone that goes by the name of its central commune, Romancing the grape. Nor is it in the least presumptuous to link it with the illustrious threesome named above.
Montefalco Sagrantino DOCG may lag far behind them and others in terms of volume of wine produced, of research papers devoted to it, of time passed since it first appeared on the radar of quality-wine watchers of the world. But it is capable, albeit so far in rare cases, of wines of awesome—for once the word is used advisedly—quality.
Sacred Sagrantino?
The name Sagrantino does not go that far back in Italian wine history. The research team at Arnaldo Caprai (see below) claim that "as far as we were able to discover, the term Sagrantino is mentioned for the first time in a handwritten document dated 1598 and kept at the Archive of Assisi," but details of the document are not given, and there is no record of any further mention for several hundred years.
Other researchers seem to think the name (whose significance is the subject of guesswork: something to do with "sacred"? Altar wine? But it is too rich and tannic) is not much more than 100 years old, though they suggest that the grape, under the name Itriola, goes back perhaps at least 2,000 years, being mentioned by, among others, 1st-century Pliny the Elder in his Historia Naturalis.
If this is the case, then the alternative contention—that the grape was brought (from the Middle East, or perhaps from Spain) by some itinerant Franciscan on a pilgrimage to his order's holiest site is incorrect. Andrea Bacci, in his De Naturali Vinarum Historia, refers to Itriola in the post-Franciscan 16th century. It seems unlikely that the same name would have been used, even 1,500 years apart, for two completely different high- quality grapes from the same place.
DNA tests have suggested that the Sagrantino of today bears no relation to any other grape of central Italy, or indeed of anywhere else, so if Pliny's Itriola was not Sagrantino, it has vanished from the face of the earth. Therefore, it probably was—despite the contention of Dr Fronzi in 1915 to the effect that "nothing is known of the origin of Sagrantino, most growers [tending] to think [that] it is not a local variety but imported, perhaps by a follower of St Francis."
Close to extinction
However that may he, by the latter half of the 20th century, Sagrantino had come perilously close to extinction. Sabina Addamiano of the University of Perugia writes that "at the beginning of the 1970s [there remained of it] less than 10 hectares (25 acres)."
This was toward the end of a prolonged period in Italy, following the triple disasters of oidium, peronospora, and phylloxera, when the commerce of wine was based on principles of high volume low cost, in which context the low-yielding, highly temperamental Sagrantino was out of place. It was in 1977 that Sagrantino Passito (the traditional wine) was elevated to DOC status, followed by the newly invented Secco version in 1979 (both moving up to DOCG in 1992).
During the 1980s, at a time when Italian wine was rediscovering the concept of quality, there occurred a slow awakening, on the part of producers such as Caprai, Fratelli Adanti, and Fongoli, to the treasure that Montefalcans possessed in their vineyards (indeed on their very doorsteps, the vine tending traditionally to be planted in small plots such as front gardens and vinified for personal consumption). Plantings were increased, with monovarietal vineyards taking off for the first time.
Arnaldo Caprai: Researching Sagrantino
Today, the pre-eminent producer of Sagrantino di Montefalco is the house of Arnaldo Caprai, a textile manufacturer who first bought 3ha (7.5 acres) of vineyard in 1971; today they have more than 150ha (370 acres) of vineyard, including 30ha (75 acres) devoted to experimentation.
In 1987, the management of the estate passed to Arnaldo's son Marco, and this heralded the extraordinary work that has gone into researching the grapes, the wines, and the territory of Montefalco. In 1989 Marco recruited University of Milan academic Professor Leonardo Valenti—a partnership that has brought great benefit over the past 18 years, not only to Caprai but to Montefalco generally.
To delve in detail into Caprai's research on the mysteries of Sagrantino would take us far beyond the parameters of this article. Suffice it to say that enormous work has been done, and continues to be done, on clonal selection, planting densities, training and pruning methods, vineyard techniques, production limitations, and zoning all backed by microvinification.
The crowning moment came in 2003, when three of the clones developed by Caprai were approved and inscribed in the National Register of Varieties. One has to see this in the context of a vine that had never undergone any disciplined selection previously and was therefore in a completely anarchic state, with hundreds of biotypical variations on the major theme, despite the paucity of material.
Work continues—not only on the part of Caprai, but also of other major players, such as Saiagricola's Colpetrone (140+ ha [350 acres]), led by winemaker Lorenzo Landi—on other secrets of Sagrantino, in particular relating to its phenomenal structure.
The grape boasts (if that is the word) the highest level of poly phenols of any quality grape in the world—well ahead of Aglianico in second place, and a long way ahead of Cabernet Sauvignon in 20th position.
The positive side of this is that Sagrantino, being super-rich in antioxidants, is one of the most health-giving grapes in existence. The negative side is the massive astringency that can leave the mouth dry and puckered.
The goal, of course, is to emphasize the fruit and round out the tannins, using methods both in vineyard and winery vinification and maturation. Colpetrone and Caprai, among others, are doing a fine job in this respect.
A boom phase
Today Sagrantino di Montefalco is in a boom phase, production rising dramatically year by year, admittedly from a low base, as is the number of producers, an increasing band of whom are buying in from outside (for example, Antinori, Ferrari, and Livon, as well as Saiagricola).
Production of the two 100 percent Sagrantino wines mentioned above, plus their sidekick Montefalco Rosso, which blends a small amount of Sagrantino with a minimum 6o percent Sangiovese plus "other grapes" (meaning alas!—Merlot and Cabernet), is policed by the Consorzio Tutela Vini Montefalco.
It includes more than 70 percent of producers, and has brought off some important coups, such as the hiring of Professor Rocco di Stefano of the Institute for Enology in Asti to oversee its research program.
It is also particularly proud to have forbidden the use of the name Sagrantino in the title of any other Italian wine, so this intriguing and potentially thrilling variety will remain virtually synonymous with Montefalco.
SAGRANTINO CHARACTERISTICS
Bunch: medium to small size
Berry: medium-small, blue-black
Budding time: medium
Flowering: early (June 1-10)
Color turn: medium
Maturation: late (October 10-20)
Vigor: medium
Productivity: medium-low
Sugar level: high
Phenolic level: very high
Best recent years: 1985, 1990,1998, 2001, 2005
PRODUCTION REGULATIONS (SAGRANTINO)
Yield: 8,000kg/ha
Yield wine from grapes: 65%
Alcohol: 13% dry, 14.5% passito
Aging: 30 months (12 in oak)
BIBLIOGRAPHY
N Belfrage, Brunello to Zibibbo (Mitchell Beazley, London; 2001).
A Calo, A Scienza, and A Costacurta, Viligni d 'ltalia (Calderini, Bologna; 2001).
Dottoressa Simona Maria Fongoli, Universita di Piacenza, paper for Consorzio Tutela Vini Montefalco (2001).
M Fregoni, Viticoltura di Qualita (Edizioni l'Informatore Agrario, Verona; 1998).
L Fronzi, Il Sagrantino di Montefalco (Perugia; 1915).
Nick Belfrage MW
The World of Fine Wine was saddened by the passing of Nicolas Belfrage MW in September. Easily the most significant anglophone writer on Italian wine of his generation, Belfrage was one of WFW's longest serving and most respected contributors.
Over the next few days, as a tribute to his immense contribution to wine-writing and Italian wine, we are posting some of the best of Belfrage's pieces from the print issue of WFW on worldoffinewine.com for the first time.