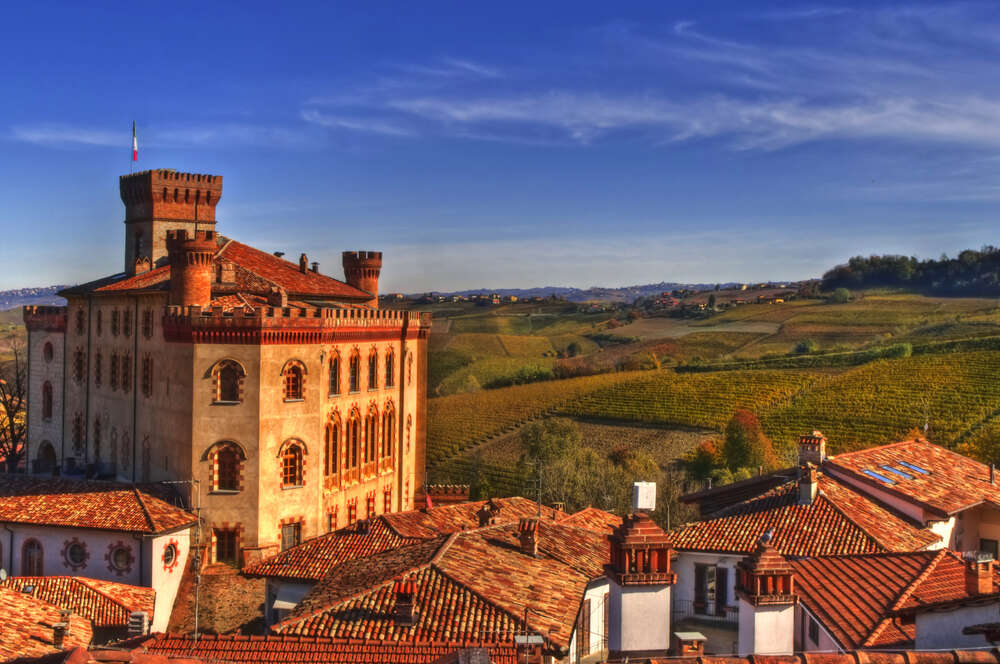 Over the past year, WFW writers have tasted numerous bottles of fine Italian wine. Here we pick out some of 2022's Italian wine highlights.
Frank Cornelissen: Master of natural Italian wine
In WFW77 Robin Lee enjoyed a masterclass from Frank Cornelissen as the Belgian-born winemaker launched his latest releases from his Etna estate in London. Long considered a leader of natural Italian wine, Lee was intrigued by some of the tweaks Cornelissen has made to his winemaking—tweaks that have led to even more expressive, individual wines.
Frank Cornelissen Munjebel Perpetuum P2, Etna, Sicily Italy NV
Robin Lee | This is a new cuvée, a fractional blending of vintages. This example, the second edition Cornelissen has made (P2), is with a 2019 base. The promise of longer aging in bottle is another outcome of Cornelissen's recent adjustments to his winemaking, and this wine makes the most of his change in direction in the cellar. Intense red berries on the palate, with translucent cherry, musk rose, and a complex, spicy back note of cinnamon, turmeric, and black pepper. This wine has a tightly wound structure with grippy tannins and needs plenty of time to unfold. The aromas of Etna are all here and imprint themselves on the memory. Promises to become a modern classic. 2022–30. | 98
Masseto: Finally falling in love with a fine Italian wine
Although she has always admired Masseto, the Merlot-based Super Tuscan had never been at the top of Margaret Rand's personal pantheon of fine Italian wine. That all changed after a vertical tasting going back to 1995 in Paris. "The thing is that the wines get to 20 years old, and they take flight. All that slightly heavy-footed Mediterranean weight disappears, and they dance." The 1998 vintage was on particularly fine form.
Masseto, IGT Toscana, Italy 1998
Margaret Rand | Like a bath of chocolate sauce, enveloping and silky, with bracing cherries to stop it being cloying. Savory herbs, rich, opulent, but bracing. Wonderfully aromatic. Concentrated and fresh: a sense of release from the travails of youth and an emergence into aromatic maturity. | 96
Rosso di Montalcino: A fine Italian wine gets its own share of the limelight
In June, Robin Lee traveled to Montalcino to attend the inaugural Red Montalcino, an event dedicated to the "other" fine Italian red wine of this part of Tuscany: Rosso di Montalcino. Lee mused on the differences between the two wines. "The strict aging rules for Brunello, which somewhat justify its high price, do not, however, always make for better wines. Brunello can be oxidized and have hard, unforgiving tannins. Rosso, paradoxically, is a more reliable wine, more approachable, and certainly much less expensive." Col d'Orcia Banditella 2019 was her favorite of a group of wines that are more than "baby Brunello."
Col d'Orcia Banditella Rosso di Montalcino, Italy 2019
Robin Lee | This estate makes another more everyday Rosso as well, intended for early drinking, but Banditella is a special selection from a vineyard planted in 1998 with the selection that Count Francesco Marone Cinzano has carried out to propagate this historic estate's own vine material. Aged one year in a mix of large tonneaux and barriques, this wine easily stands shoulder to shoulder with the very best wines of Montalcino and is well worth cellaring. In effect, it strikes a perfect balance between Brunello and Rosso, hitting the sweet spot. The complex fruit character is immediate and up front, with pomegranate, medlar fruit, blond tobacco, and Earl Grey tea. The fine, tightly knit powdery tannins give powerful structure, but with true elegance. The aromas are pure and clean, with a grassy, herbal note of fresh parsley and alfalfa. Hints of camphor and tea tree add further complexity. 2023–33. | 96 
Cantina Terlano: The finest co-operative in Italian wine?
In WFW78, Robin Lee tasted the wines of the highest-performing co-operative in Italian wine—and, many would argue, in the world: Alto-Adige / Sud-Tirol's Cantina Terlano. According to Lee, "The story of Terlano shows that community cohesion, a shared tradition, and a joint sense of purpose, if managed with foresight, can preserve traditions that would otherwise be vulnerable in a world governed by short-term market forces and fickle fashion."
Terlaner Primo Grande Cuvée 2012
Robin Lee | Slightly lower than usual yields after a difficult growing season, and with a high proportion of Pinot Bianco in the blend (90%), this is a wine with a complex, understatedly exotic aroma profile of green mango and early-season tangerine, with further green notes of spring parsley and tarragon. A brisk acidity elevates this wine, soldering the structure into a savory and complex framework of interconnected aromas and flavors. As the wine unwinds it reveals further half-secret whiffs of passion fruit and cinnamon, all the time restrained and balanced with its characteristic sedate composure. Tasting this wine is a remarkable experience that I strongly recommend to readers who are able to get hold of a bottle. | 96
Barolo 2017: Some fine Italian wines worthy of a place in the cellar
The World of Fine Wine tasting panel undertook two big tastings of Italian wine this year, with the same three tasters—Bruno Besa, Andrew Jefford, and Michael Palij MW assessing the 2017 vintages from Barolo and Brunello di Montalcino. The first tasting appeared in WFW75, with Palij stating in his introduction that, "In general, our scores for the 2017s are lower than they were for the 2016s. Nevertheless, the best wines still combine a showy opulence of fruit and fully ripe, integrated tannins, making them unquestionably worthy of a place in the cellar." Casa E di Mirafiore's Lazzarito cuvée from Serralunga d'Alba exemplifies the best of the vintage.
Casa E di Mirafiore Barolo Lazzarito Serralunga d'Alba 2017 (14% ABV) | 95
Bruno Besa | Garnet to tawny. Refined, complex, earthy, mineral, with red fruits, dried roses, tar, chalk, almonds, and hazelnuts on the nose. Full-bodied, rich, sweet black fruit, mineral and layered, with a long, herbal, chalk and blood-orange finish. | 95
Andrew Jefford | Clear, deep blood-red. Warm, expressive, open, welcoming and resourceful, though not hugely intricate. Open, autumnal, respiring, and happy. On the palate, very fine. The palate fills in everything (in terms of aromatic intricacy) that the nose isn't quite delivering at present, at any rate: that wealth, that richness, that intrigue. This is an almost perfectly balanced wine that will deliver huge drinking pleasure. Magnificently poised fruit of compelling aromatic, textural and flavor interest. The score is slightly anticipatory, but I think this wine will get there. | 94
Michael Palij MW | Discreet but seductive nose, with notes of white pepper, dark chocolate, rose petal, strawberry, raspberry, and plum. The palate shows wonderful restraint and balance, with fine tannins and carefully judged acidity allied to ripe fruit and resolved tannins. They have got this just right, with the fruit and structural elements all working in harmony. A delicious example of what can be done in this vintage. | 97
Brunello di Montalcino 2017: Italian wine's rewarding jumble
A very hot vintage was not without its challenges in Montalcino in 2017. And as Andrew Jefford said in WFW76, "You do need to pick your way, stork-like, with care, and any chance to taste for yourself before purchase should be seized." All the same, for all lovers of Italian wine, "there will be wines worth spearing somewhere in this confusing but finally rewarding jumble," with Caparzo's example very much among the prize catches.
Caparzo Brunello di Montalcino 2017 (14.5% ABV) | 94
BB | Garnet to pink. A slightly closed yet rather complex and lively small-red-fruits nose, with intense salty, oyster-shell undertones. Balanced and clean, sweet red fruit, with a compact, red-fruits sorbet palate and a long, mineral finish. A great effort for medium-term cellaring. | 95
AJ | Dark black-red, clear now. Rounded, gentle, and attractive, with anise, soy, and toasted sesame notes, all softly stated. A carefully crafted, complex nose. Admirable density here, and the fruits (deep plum and damson) have some freshening lift. Lively and long. True to the vintage but very well handled. | 90
MP | Delicate nose, with strawberry, raspberry, plum, cherry, and baking spices, including cinnamon and clove. The oak adds complexity to support the fruit rather than oppress it, and the palate is both richly fruity and textured with fine tannins (still grippy) and a lively streak of acidity. The finish lingers for almost a minute, with ripe fruit and spice but no hint of the "Brunello bake" seen on some of the wines. Long and beautifully balanced, with sufficient stuffing to develop for another decade. | 97