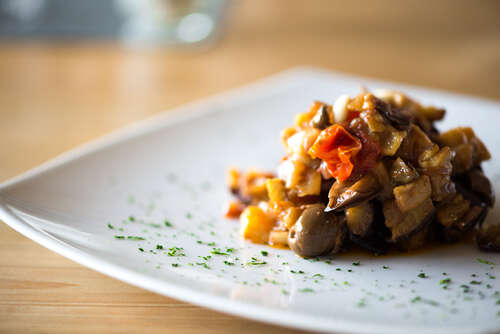 After I had spent a disproportionate, although enjoyable, time researching the famous Sicilian cold vegetable dish caponata, I was glad that one of the first sources I had turned to, before losing myself down many a rabbit hole, was British chef Jacob Kenedy's cookbook Bocca di Lupo. In it, he recounts asking the four Sicilian waiters at his then newly opened Bocca di Lupo restaurant what they thought of his caponata.
"They detested it," he says. More than that, they vehemently disagreed with each other about its ingredients and preparation. While "they came close to killing each other," he felt like crying, he writes. Finally, he put a stop to it by telling them, "This is how I make caponata. And everyone else is wrong…" (For the record, I have eaten and enjoyed Kenedy's caponata.)
Perhaps Sicilians are more extreme in their defense of their culinary traditions, but caponata is the story of most of Italy's regional recipes. Every city, town, village and household unbendingly upholds its version of a recipe as the authentic one, the one truly traditional rendition.
The reality is less rigid. As chef Giorgio Locatelli says of caponata in his book Made in Sicily, "The truth is it is made with whatever vegetables the people have, depending on the time of year." He goes on to give four of his favorite recipes, including an artichoke caponata and a Christmas one based on celery, but it's the aubergine-based, caponata d'estate, or caponata Palermitana, that has traveled the globe and which can be served as an appetiser (first course) or as a side dish, in Sicily usually alongside fish. Either way is is served at room temperature, never hot.
The origin of caponata
It may be well traveled, but where the recipe came from, and when, isn't clear. The name is first documented in an eighteenth century etymological text. Food historian and writer Clifford A Wright dates this text to 1709; elsewhere the date is given as 1759. Whichever it is, the description is not very illuminating: "a dish made up of various things."
Wright says that the earliest recipe he knows of for "a kind of caponata" is cappone di galera alla siciliana in Francesco Leonardi's Apicio moderno published in 1790. It's a dish of vegetables garnished with various fishes and seafood, capers and olives and a sauce that includes pistachios and vinegar. In typical cucina povera tradition, the dish lost its expensive fish element to cheaper vegetables along the way. Today, the only fish sometimes included is anchovy.
Other than aubergine, the ever-present vegetables are celery, onions and tomatoes, which may be fresh, canned, passata, or a combination. The other essentials are wine vinegar (usually red); sugar; capers, although not in Locatelli's recipe; green olives, although Locatelli specifies black and Kenedy, unusually, doesn't include olives at all; parsley, or occasionally basil or mint.
Locatelli also uses courgette (which the nonna who first explained the recipe to me in Sicily was adamant was wrong – a French perversion), as well as fennel, pine nuts and either sultanas or raisins. The sweet dried fruit, a typically Sicilian ingredient in savory dishes since Arab occupation, together with sugar and vinegar give the dish its classic Sicilian agrodolce (sweet and sour) signature.
Ana Del Conte, in The Concise Gastronomy of Italy, includes bittersweet (minimum 70%) chocolate and a garnish of sieved hard-boiled egg. Other ingredients occasionally seen are dried chili or harissa, and garlic.
How to make caponata
As far as preparation is concerned, there is relative harmony, except over whether the aubergine, which is always fried separately from the onion and celery, should be pre-salted, whether you can shallow-fry rather than deep-fry it (I don't advise it) and how long you cook caponata once all the ingredients have been added. Whether for 15 minutes or an hour, it should be left for at least two hours to allow the flavors to infuse.
Where there is a lack of unity—one that makes a critical difference to the accompanying wine—is over the amounts and relative proportions of vinegar and sugar. Some recipes use three times as much as others. Some list equal quantities of vinegar and sugar; others use nearly seven times as much vinegar as sugar.
The individual vinegar also has a big impact. I like Forvm (aka Forum) Cabernet Sauvignon, an aged vinegar and grape juice blend. And I taste as I go, usually ending up with 50ml of vinegar and one tablespoon of sugar for 500g aubergine, one medium onion, two to three sticks of celery 250–270g tomatoes, and 35–40g each of olives, capers, and sultanas.
Best wines to pair with caponata
It gives an agrodolce balance that works with the dark fruit and cherry intensity, herb, spice, black olive, black pepper, and vital acidity of Cerasuolo di Vittoria (Nero d'Avola/Frappato blend). Conveniently, if you are serving caponata alongside fish, it's often one of the best reds to have with fish. It's also good with salumi. The Santa Tresa estate is consistently good at achieving the desirable bright, precise fruit, soft tannins, and juicy acidity in its Cerasuolo di Vittoria.
Well made Nero d'Avola in a lighter, crunchier style can also work, as can Etna Nerello Mascalese, youngish Chianti, and some Primitivo di Manduria. But it's always a tightrope walk with caponata's sweetness and acidity lying in wait on either side.
The same applies to white and rosé—and whatever the color I would avoid wines that show their oak. I have had some success with Etna Rosato, but most are a bit too elegantly dry. The exuberance of Tavel has been more successful, including recently Arbousset Tavel 2021.
White wines need forthright acidity as well as fairly bright fruit to handle the sweetness. Sicily fields whites such as Carricante and Catarratto Lucido, varietals and blended, but, again, a note of caution: Etna Bianco, like Etna Rosato, can be overpowered. That said, Firriato's 2019 Le Sabbie Dell'Etna Bianco went very well this week. It had retained its acidity and minerality while acquiring a touch of honey. I am fairly sure that Forza della Natura Orange Catarratto would work, too, although I have yet to try this pairing.
A wild-card white is the vivid fruit and acidity of a good Marlborough Sauvignon Blanc. It walks alongside but in step with the caponata, both wine and dish retaining their integrity. Recommendations are probably superfluous, so I'll stick to one: Greywacke.
Returning to reds, but outside Italy, others that have made the grade include Saint-Chinian (Syrah/Grenache), Côtes du Rhônes from the ripe but fresh 2019 vintage, a Swartland Mourvèdre/Carignan/Grenache, and a Peumo Carmenère—ripe but with sweet, fresh green-leaf intensity.