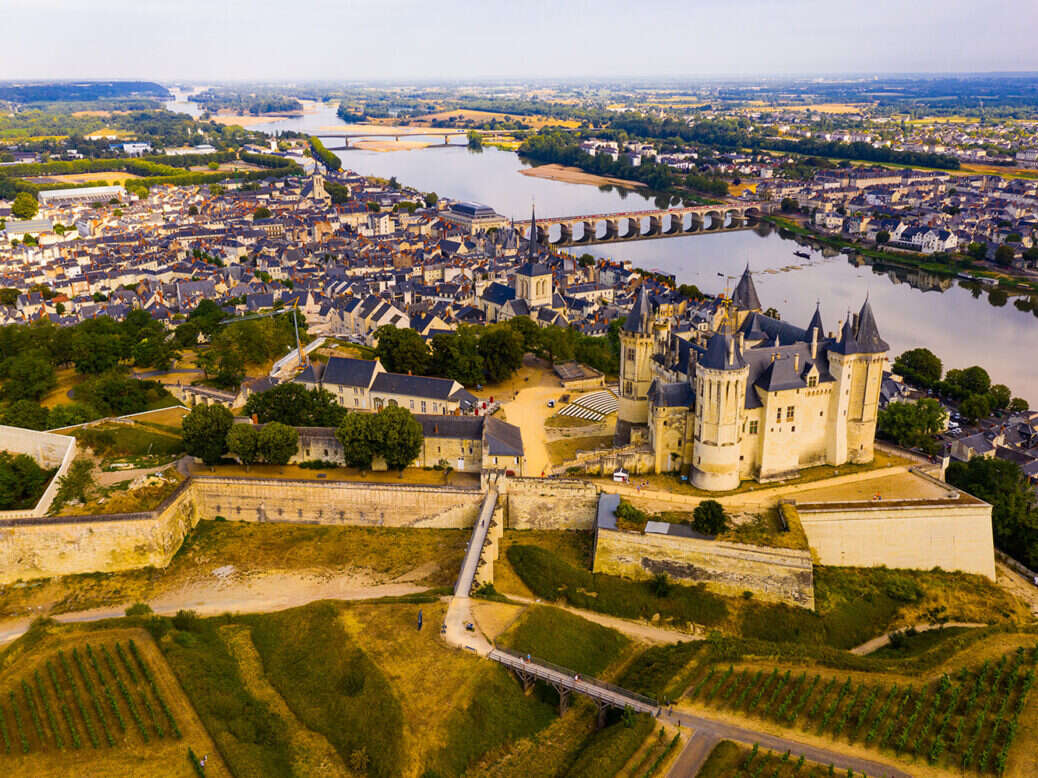 The dry Chenin Blancs of Saumur, Vouvray, and Montlouis are too often overlooked. But as Andrew Jefford says, after a tasting with Simon Field MW and Anthony Rose, each appellation has wines that are well worth seeking out.
This is an extract from an article first published in Issue 77 of The World of Fine Wine. For full tasting notes and scores for all 29 wines tasted by the panel, subscribe to The World of Fine Wine.
This was a complex but rewarding tasting. Our target? Some (but not all) of the central Loire Valley's finest dry white Chenin Blanc wines grown on limestone.
We didn't look at slender Jasnières and Coteaux du Loir, sited close to the little River Loir away to the north; nor did we look at the chewier dry Chenin Blanc grown on soils derived from schist and other metamorphic rocks—the Chenin grown in the warm "Black Anjou" appellations of Savennières and Anjou itself.
That left three appellations: Saumur, Vouvray, and Montlouis. These lie in the twin historic provinces of Celtic tribal origin that dominate the central Loire: Anjou to the west (with its capital at Angers) and Touraine to the east (with its capital at Tours).
Saumur forms part of Anjou Blanc, or "White Anjou," so called because of the pale colors of its limestone soils compared to the darker schists of Anjou Noir. There are 380ha (940 acres) of Chenin vines declared for still dry white wines here (most of the appellation's vines are red), just to the south of the River Loire, close to the military town of the same name.
Vouvray (2,250ha [5,560 acres] of Chenin vines planted for all styles) and Montlouis (450ha [1,110acres] of Chenin vines planted for all styles) both lie in Touraine, just east of Tours itself. The slightly hillier, cave-riddled Vouvray is on the north bank, with the gentler topography of Montlouis to the south.
All styles? Chenin Blanc grows, here, in a luminous, nourishing, gentle climate that makes a wide expressive range possible, from nervy sparkling wines via the fresh yet commanding dry whites that we were tasting, to the age-defying, exquisitely balanced sweet wines that have made the historical reputation of Vouvray and, to a lesser extent, Montlouis.
Even Saumur has a sweet-wine alternative in Coteaux de Saumur—though only 15ha (37 acres) or so are declared for sweet wine here each year. Anjou and Touraine revel in this climate of transition, between the maritime boisterousness of Muscadet and the Atlantic and the continental drama of Sancerre and the central Loire.
Three different characters
How did the wines match up? Headline first: Saumur particularly impressed, providing seven of the top nine wines (those scoring 92 points or above). Why might this be? The soils are propitious here, and if you have Chenin planted in Saumur's limestones, then dry white wine will, in almost all instances, be the vineyard's primary vocation.
This is in contrast to Vouvray and Montlouis, where sweet wines are (at least in propitious vintages) the overarching goal. The warmth and fullness that the changes in climate have made possible over the past two decades have probably helped what was once a rather austere set of Saumur wines. Talented growers here see and feel new possibilities within their grasp.
The tasting didn't, though, furnish the Saumurois whitewash that a quick glance at the top nine wines might suggest. Compounding every individual score for each appellation then dividing by the number of wines submitted made Montlouis the overall winner, with an aggregate score of 274.75 compared to Saumur's 273.23 and Vouvray's 270.66. Montlouis, it's true, submitted only four wines—a much smaller cohort than Vouvray's 12 and Saumur's 13, thus statistically doubtful. (Wines classified as Vin de France, note, were assigned for this purpose to the appellation within which their vineyards are found.)
More interesting than computing scores is an assessment of the different characters of each appellation. Both Anthony Rose and Simon Field MW alluded to these "nuances of style" in their conclusions, and their notes flesh out these differences.
For me, they were surprising, and must surely be related not simply to soil and topography but also to the climate zones of each appellation—and in particular the overall heat load, the airiness or protectedness of the slopes, and thus the propensity for sugars to creep up and for an element of botrytis to begin to affect the musts and the wines.
If you like sheer edges, lean lines, and absolute dryness, then Saumur is the appellation to provide these most comprehensively, even in its new, fuller ("globally warmed") guise. There is, of course, orchard fruit, too—the distinctive legacy of Chenin in the Loire—but that fruit is often pristine, sheer, and percussive in Saumur, sometimes with as much citrus as apple and pear.
The wines tend to be nervy and cool-bladed, braced and tense, with ample cut and incision. Where barrel-fermentation has been used, this character can take on an oat-flake charm that might remind some, momentarily, of St-Aubin or Chassagne. The wines seemed notably consistent.
Vouvray, by contrast, was much less predictable. In general, it was more aromatic than Saumur, and those aromas took the taster to a different world altogether: more floral, intricate, and garden-like, and more lusciously fruited, with nectarine, greengage, and peach, as well as apple and pear.
Sometimes the aromas were grassier as well. Complex and strange, too, particularly when the wines had acquired a little age: tarte tatin, chamomile, and verbena, wax and honey, malt loaf and gingerbread.
We all know Chenin in the Loire can make these extraordinary aromatic leaps and soubresauts, and if you want to sense a little of that in a dry wine, then go hunting in Vouvray. You should, though, be ready for a little succulent sweetness hidden away inside "dry" though round-contoured fruits; Vouvray is rarely taut and sheer.
You might guess that Montlouis lay stylistically somewhere between the two, and you wouldn't be wrong. It has more resource and texture than tight-muscled, tart-tongued Saumur, but it is less unpredictable and exotic than Vouvray, with a pretty, tender style that is hard to dislike in a successful dry wine.
Quality levels overall, we agreed, were remarkably high, with only five wines of the 29 scoring less than 90 on aggregate, and with all three tasters finding a flush of "outstanding wines of great beauty and articulacy" (93 points and above).
These distinctive, characterful, and provocative dry whites are too easily overlooked. Seek them out.
The Top 5: The best of dry Loire Chenin from

Saumur, Vouvray, and Montlouis
Thibaud et Michel Chevré Les Pentes Clos de l'Écotard Saumur Blanc 2018 (14% ABV) | 93
Simon Field MW: Straw-green, polished, and lustrous; a classic nose of orchard fruit, quince, and hobnuts; gentle autumnal evolution, but in no way diffuse or clumsy, despite the high level of alcohol. A broad structure, then, elegance and power in equal measure, just the slightest hint of tropical fruit underscoring the greener, more citric elements. The acidity is finely rendered, tying up the garnet with some rigor, but constituent elements are so intense that they serve to undermine it somewhat, the support thereby less intrusive. | 90
Andrew Jefford: Bright silver-gold. Fresh, warm, and earthy: ample aromatic depths here. Cool fruits, with peels and zests as well as the scented juices. Some citrus, as well as apple and pear. A complex and rewarding nose: certainly the best of its cohort. Fine breadth, depth, assurance, and finesse on the palate. We truly get beyond lean thrills and apple orchards here and into a world of layered fruit allusion, textured amplitude, and sensual, creamy allure. Fine, dense, close-textured wine that already has much to say for itself and is unlikely to fall quiet any time soon. Bravo. | 94
Anthony Rose: A pale gold in color, this shows a classic Chenin fragrance, not especially pronounced, but fresh and gratifyingly typical. And behind the faint fresh prickle on the tongue, the stone-fruit flavors expand in the mouth thanks to excellent fruit concentration buoyed by a lively, crisp acidity that's in no way green, but ripe, that honeyed opulence bringing an extra dimension to the purity of an expressive Chenin. If you don't like this crowd-pleaser, chances are you don't like Loire Chenin Blanc. | 94
Domaine Langlois-Château Vieilles Vignes Saumur 2018 (14% ABV) | 93
SF: Modest color cedes to a pronounced, self-assured nose. Hints of mango, plum, and even pineapple do not appear out of place next to the fruits of the orchard. Something creamy, expensive behind that, but not the cheese/yogurt descriptors that are often used, sometimes in a less flattering context. Petrified slate and forest floor, a panoply of phenolic indulgence, and a good weight of ripe fruit—all of this with the shard of acidity and saline finish that underwrite most of the best examples. Relatively "modern" (a word not that often employed in this part of the world in the upper echelons) but modern in the best possible sense—deferential to tradition in other words. | 92
AJ: Pale and bright, white gold. Lots of lime juice here, but also a linen freshness and a creamy richness—even some white mushroom. Plenty to please but very true to the appellation ideal, too. Barrel-fermented no doubt but with one or two new casks in the mix? A northern cousin of Pessac-Léognan… And that is the palate profile, too. Excellent fine-dining white, which I think will be better still with a bit more oak digestion, in a year or two. | 91
AR: Pale gold in color. This is highly aromatic with plenty of ripe apple and honey characters and a light dusting of supporting oak. The fruit behind it is concentrated, rich, and intense in flavor, still youthful, though evolving nicely thanks to a firm underlying mineral streak that brings length and complexity to a beautifully made dry white. As as result of its structure, this has the capacity to age for a good five years or longer. And with a light grip on the finish, it's made for food. | 95
Domaine de la Taille aux Loups Les Hauts de Husseau Montlouis 2019 (13% ABV) | 93
SF: Pewter going on soft gold, depending on angle of the light. A characteristic nose: creamy, yogurt even, pine nuts, and a hint of almond essence; behind that, something a little buttery (lactic?) that presents an inevitable challenge in a wine where the acidity refuses to offer much by way of compromise. The palate is exactly as one would expect, therefore; one is almost tempted to recall Brie cheese. An earthy subtext, rigorous, demanding respect and attention. A delight for aficionados, then, but it is maybe a touch more challenging for the rest of us. | 92
AJ: Bright pale gold. Subtle, delicate, understated, and classy. Ample refined intrigue here, though it's not an aromatic profile that marches out and engages. An orchard in pastels. Complex, close-grained, pure, long, with very refined, tight-packed orchard fruits. A super wine that will certainly grow in articulacy over the next half-decade. A kind of compost of apple, pear, quince, tangerine, orange peel, lime and lemon, but softly done and unobvious: I almost feel guilty for calling the names. Montlouis, you realize here, is the kind of middle way between the tart drive of Saumur and the softer, sugar-dusty purr of (good) dry Vouvray. And it's gathered. Lovely pithy end to this. Some oak influence, too, but it's a complexing factor. | 94
AR: Pale gold in color, this shows notes of farm butter, presumably from oak, along with typical Chenin apple. After a faint prickle on the tongue, there's some lovely succulent appley fruit here, with good concentration and length all nicely rounded in texture, perhaps from oak (sub-threshold if it is), while that crisp, almost tart, appley bite and slight phenolic grip brings both freshness and length to a well-executed dry white. | 92
François Chidaine Les Choisilles Montlouis-sur-Loire 2019 (13.5% ABV) | 92
SF: Bright and vivacious to the eye. The nose calms us a little: apples that have been weighed down for a while in their basket. One is reminded of cream cheese and maybe chives and a little sage, too, to spruce things up; sourdough, quince, verbena, and a hint of sour honey. The wine has had nearly three years to collect its thoughts, and the result is positive; nothing has decided to take over, but nothing is subdued. An honest but more than workmanlike example, in other words, with much to recommend it. | 90
AJ: Bright silver-gold. Complex, layered, crafted, but pure and true, with the scent of damp, misty orchards on cool autumn mornings lifting from it. Leaves and grass, as well as heavy apples and shapely pears; even pollen and honey. Just the thing itself. Lovely Montlouis. Concentrated and full, expressive, ample: a white with much resource. There is more resource here than you find over at Saumur, for sure; more ripeness, more mellowness, more susurration. Choice, speckled: almost a dish of crystallized fruits, glinting in the candlelight. The acidity is much less lean and racehorse-like. It's more expansive too. This wine still needs time, but it has lots to say for itself. Grandly poised. | 94
AR: Pale gold in color; a fine fresh nose, typically Chenin. Beautiful fruit quality showcasing Chenin's classic flavors, with stone fruit and apple, tinged with honey, in a framework of concentrated, pure fruit that's buoyed by a lively energetic streak of fresh, almost saline acidity. All balanced and well rounded, but with some grip to it, too—and thanks to this balance, this expressive dry white has a good three to five years of life ahead of it. | 93
Domaine St Vincent Les Beaugrands Saumur Blanc 2020 (13% ABV) | 92
SF: Straw-gold, a darker shade than many, but still with almost a hint of Chablisien green. The aromatic is of poached pear, orchard fruit, and mace; almonds and even a touch of vanilla, which may betray the use of oak at some point. The palate is intense and profound: beeswax, quince, and a whisper of cumin. The acidity soars and controls, hawk-like, but is far from overwhelmed by the structure; grand-eloquent and resonant. | 94
AJ: Bright pale gold in color. Fresh, though a little raw and livid and lemon juicy on the nose. No beguiling ripeness, flowers, or plump and teasing fruits. Time in the glass, though, brings out some more aromatic wealth: lemon and apple, perhaps a hint of hawthorn blossom. Actually, surprisingly round on the palate, without the hard acid edge the early aromas suggested might be here. Very pure and elemental; perhaps too young for full articulacy, but lemon, apple, and hawthorn flower are all there. Uncompromising, almost "natural" in style, somehow. Still a little raw, but good, fault-free, ripe, and in all likelihood better and more expansive later. | 90
AR: An evolved mid-gold in color, this is quite pronounced in aroma, with distinctly sweet notes of ripe apple, vanilla, and honey. There's plenty of fruit richness in the mouth, with a lissome, rounded texture to it, perhaps thanks to some softening down in oak. But it's in no way cloying or oaky; rather, it is well balanced, finishing with a touch of honey and a light grip, as if from oak, but mainly a satisfyingly dry finish. Characterful. | 92