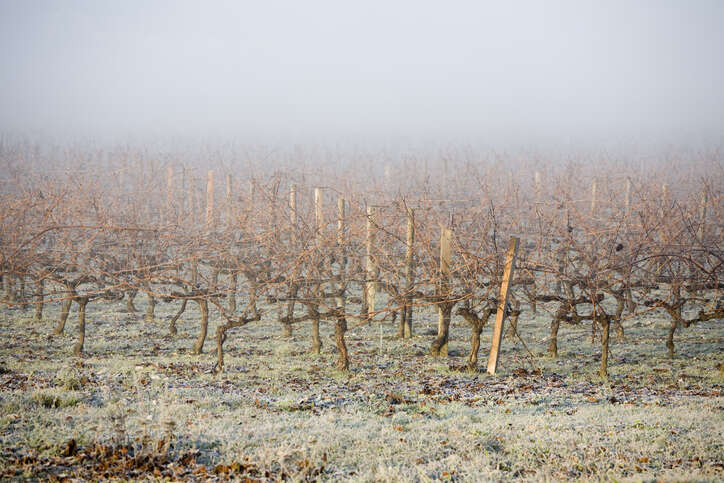 In his final blog from his Bordeaux 2021 en primeur expedition, Simon Field MW attempts to summarize the unsummarizable.
"The only thing we knew," says Nicolas Glumineau at Pichon Lalande, "is that we knew nothing at all about what nature had in store for us in 2021."
Very Socratic, and let's not forget that one of France's greatest Stoics, Michel de Montaigne, was once the mayor of Bordeaux.
Jean-Dominique Videau at Branaire-Ducru takes a similar line: "The only rule was that there were no rules."
What's this? Anarchy in Bordeaux, probably the most civilized and formal wine region in the world? Well, not quite. Rather it is a reflection of a year when no-one was ever quite sure what may happen next.
Indeed, if one lists all these problematic phenomena, it is a wonder that any wine was made at all!
Severe Spring frosts, coulure, millerandage, uneven flowering, unprecedented rainfall in May and June, mildew, a lack of warmth at the height of ripening, delayed veraison, insufficient water stress in the run up to harvest, threatened storms and yet more rain in the harvest period with on-going threats of botrytis and rot. A litany of … well, of what?
2021 Bordeaux: The vintage from Hell?
It sounds like the vintage from Hell. It was at the very least a tricky and, demonstrably, an incredibly unpredictable year.
At each stage the vignerons had to be pragmatic and proactive, which often meant spraying the vines all day and all night ( a hard lesson had been learnt in 2018).
It meant leaf plucking and canopy management to offer maximum sun exposure for the grapes. It meant rigorous sorting in the vineyard and in the winery. And it meant a much softer touch when it came to the extraction techniques employed and the length and temperature of the maceration, often, thereafter, with a little less new oak used in the elevage.
All sensible measures, and all firmly within the winemaking canon, even if one adds the somewhat more controversial need to chaptalize, something that had not been done for over a decade in Bordeaux. Hardy a mortal sin, however.
Entirely heterogeneous
The results? Well, entirely heterogeneous, as one can only expect with many variables clogging up the equation.
"I am very glad I don't have to write up this vintage," jokes Aymeric de Gironde at Château Troplong Mondot. But, hang on a minute, Aymeric's vines are located on the plateau of St-Emilion and suffered not at all from frost, merely one, as it turns out, of several examples where one of the most widely publicized weaknesses of the vintage, namely frost, turned out to be no issue at all.
The same can be said for D'Issan and Beychevelle on the other side of the estuary and many many others. And even if there was frost, its net effect was mainly influential on quantity rather than quality.
Scant consolation, one has to admit, for many who did suffer, Château Coutet in Barsac, for example, which lost 90 percent of its crop. It is hard to claw your way back to commercial viability and profitability from a statistic like that, however good the wine (and it is exceptionally good!).
The fundamental point does bear stressing, however. Most of the top properties were only affected to a limited extent by the rather apocalyptic list of my second paragraph.
Even the well-publicized rains in May and June were more keenly felt by some rather than others. And here we need to take account of soils, free draining or otherwise.
Even more significant, the well-advertised storms of September did not materialize at all and those who did wait to harvest were rewarded with several days of warm, sunny weather.
A tale of woe, in other words, makes good copy, but it does not begin to capture the complexity of the day-to-day weather patterns, or for that matter, the tenacity and ingenuity of those involved in addressing them.
A rebirth of cool
One thing is fairly clear, however. This was a cool vintage. Gonzague Lurton reminds us just how frequently, in recent history, the year has been described as solaire: 2005, 2009, 2010, 2015, 2016, 2018, 2019, and 2020, the sequence of the last three making the cooler conditions of 2021 even more unexpected.
"I loved the vintage," he adds, comparing it to the 1986. "In that year my Cabernet was pure, and it was complex … and it has aged wonderfully. I expect the same for 2021."
He sees an irony in the endless anxiety about climate change and warmer vintages, and yet when we actually have a cooler year everyone is miserable and feels that the wines must have dramatically underperformed.
Well, it ain't necessarily so. Caveat emptor for sure, but there are some lovely wines out there. Both the whites and the sweets (those happy few that were finally made) are outstanding, the cooler temperatures ideal for aromatic complexity and fine balanced acidity across the palate.
As for the reds, well, the veteran technical director at Beychevelle, Philippe Blanc, makes a good point when he says that there no point being nostalgic over 2021 by saying that it recaptures the classic spirit of the wines of 20 years ago.
The winemaking has moved on so significantly from then that the structure of today's wines are radically different, even with 2021's lower levels of alcohol.
"Tannins and acidity are key in a year like this," he says, these two attributes being the pillars upon which the success or otherwise of the wine will rest, regardless of the ABV. Those who acknowledged this and acted accordingly made some very fine wines.
Up to a point, yes, it is a "winemakers' vintage." But why on earth this much maligned phrase has to be seen as a euphemism for something inadequate or somehow unnatural, is a mystery to me. The majority of the wines made by the majority of producers are very good, and some are very good indeed.
Bordeaux 2021 coverage
Bordeaux 2021 en primeur: Romance and reality
Bordeaux 2021 Field Notes: Château Figeac
Bordeaux 2021 Field Notes: Vieux Château Certan
Bordeaux 2021 Field Notes: Château Pavie
Bordeaux 2021 Field Notes: Le Dôme
Bordeaux 2021 Field Notes: Domaine de Chevalier
Bordeaux 2021 Field Notes: Sauternes and Barsac
Bordeaux 2021 Field Notes: Pichon Lalande
Bordeaux 2021 Field Notes: Enquiring Minds
Bordeaux 2021 Field Notes: The Whites Have It