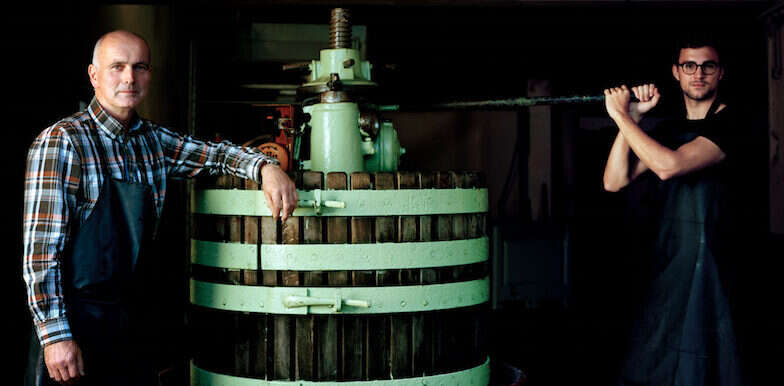 In the second part of his review of the latest Riesling releases from the Mosel producer Carl Loewen, Terry Theise goes "ga-ga with bliss".
And once again we rejoice in 12.5% alcohol. Maximum flavor with minimum alcohol is the recipe for the highest satisfaction.
Cards on the table: Apart from my professional appraisals and apart from my agreement with the consensus of the greatest Mosel vineyards, I have two great subjective favorites. Zeltinger Schlossberg (as rendered by Johannes Selbach) is one, and Thörnicher Ritsch is the other. So if I am ga-ga with bliss, well then that's just how it has to be.
As far as I can tell, this is the scenario by which this wine is consumed. 1) Gather a friend, or friends. 2) Open and pour the wine. 3) Start drinking the wine. 4) Babble poetically. If that fourth part stymies you ("What if I'm not poetic enough?") here, I'll show you how it's done.
Banish poesie! It will come back if it's needed, but you must never force flowery language. That's honestly just icky. What you must do, is just to release your mind to imagine, and that begins with feeling what you feel, and then making a little story about what you feel.
For me there are two veins within which this all might flow. One begins with astonishment. How-the-fuck can such a thing even be? (Apropos of poesie!) That vein steers you to the ethereal, which isn't for everyone. The other vein sends you an image, and sometimes this image is a cognate to the wine.
Here's an example. I had an image of a Christmas tree. We have balsam firs here in New England, and if you get a fresh one you can't believe the fragrance. But this was a rare tree, even for a balsam fir. Following my narrative vein, it was the tree you bring home at the end of a year when your biopsy came back negative, and after five years they tell you you're cancer-free. Your oldest child is engaged. Your team won the championship. You helped a protégé land a dream job. This is a year it was good to be you, and for some reason this is the sweetest Christmas tree you ever carried through the door.
That's how this wine is for me. You get to make up your own story.
Regardless, Ritsch is green to a point of near-absurdity. It's as though the world were napped with emeralds. Like everything was limes. Except for the couple things that were chocolate—there's that sponti thing again. In this wine, slate is a strong inference but nothing more. What marks this wine is its immensely consoling mid palate "sweetness," a kind of power to heal, to reassure. Some of that comes courtesy of a helpful breath of Fuder.
Day 2 it was a stiletto riot. So green it would clear your sinuses just to look at the glass. You really can't figure out a world that could give such a wine.
I have to tell you this. We have a crabapple tree out back, and I'd just taken a glass of this wine onto the deck to taste in the fresh air. Sitting there, I noticed an unusual shape on one of the interior branches. It couldn't be a bird because it wasn't moving. Birds are always moving, at least a little.
Except it was a bird. It was a dove, and it was precisely the same color as the branches, and she (I'm letting myself believe she is a "she") spent a good five minutes, barely moving. She is perched over a squirrel's nest I assumed was abandoned. She is fixedly immovable, except to swivel her small head every few seconds. But now her head is tucked in, the way birds do when they're sleeping. So I have a new neighbor, a little dove taking a mid-afternoon siesta overlooking a squirrel's nest. And while I am with her, I am tasting this eerie lichen being of a wine.
Ritsch is feline, but it's a cat that loves you like a dog does. It is spirit-kin, by the way, to Leo Alzinger's Steinertal Rieslings. And the wine aced the most difficult test of all—I couldn't help myself, and swallowed it.
In the years since this wine was first made, it has taken its place among the Mosel icon-wines. From part of a vineyard of 6,000 vines planted in 1896, ungrafted, the wine is made as it would have been made when planted. My catalogues will explain.
The production is tiny because it is incredibly labor intensive, and it's becoming a unicorn-wine. This is sad but necessary; Loewens can't make more if they want to manage logistically (and financially) and so what started as a little tribute has taken on a life of its own.
If you know Schloss Gobelsburg's Tradition wines—at least as they were until this year—you'll suss what's going on here. The question is, as I approach the wine breathlessly, what have we got this time?
This wine is usually a romantic slow-dance between "sweet" inferential and allusive tertiary notes and the mints and spices of the vineyard. Those tertiaries are partly from oxidation and partly from the palpable density of old vines, and when the dancers are in a state of sublimity there is a kind of gliding, that place in love when our separate skins dissolve.
What seems to be the case in 2020—and I have to affirm this in the coming days—is that the vintage has subdued those "sweet" tertiary notes, at least out of the gate. What is strikingly beautiful is the extra pittance of sweetness that teleports the wine into another context entirely. What's incipient is what I'd (fancifully) call the breath of the ancients, and even if you're dismayed by the phrase it's a stunning quality that can bring you to your knees. There are teasing glimpses of it here, but I am also peering for it.
Yet, to assume it isn't there or it's just my romantic yearning, I'd have to accept that the explicitness and precision of 2020 distorted this wine in a basic way. I'm not willing. Over a few days' tasting I found the wine stirring drowsily, bringing forth the old-vines "sweetness" but also an innate reserve, a quiet deacon.
Meanwhile, my little dove has stirred and is starting to groom herself and preen. I looked at her as I sipped this wine. It isn't often that a bird sits in a single place for so long. When I came back inside my laptop had put itself to sleep. I sat there outside with bird, with nest bird finds interesting, with tree that holds bird, with breeze that flutters through tree, with sweet late summer smells carried by breeze, with glass with wine and with sky and parading clouds and with a music that wasn't there except in my mind, and the wine absorbed all of it and all of it absorbed the wine, the wine belonged to the world, as I also tried to do. This pensive and dutiful bird; she has a life! My god…a life. All this aching divinity, and only us to name it.
A steady citizen of my cellar thanks to its perfect zippy balance and its ridiculous substance. The "Herrenberg" vineyard is just upslope from the Maximiner Herrenberg, the vines are also ungrafted, and over 100 years old. And the wine is "just" a Kabinett with 9.5% alc, and priced…I think it's fair to say…perhaps too attractively?
It's a microburst of flavors rushing brightly through the air like streamers and sparkler-light; you imagine if you held your ear to the glass you could hear it buzz and sizzle. It's a dead-serious Nobility-Of-Terroir tickled into a fit of giggles. It is serious, serious fun!
And even in contrast to the flight of dry wines that preceded it, the wine is not markedly sweet. (That's old vines at work…) The candy-cane outer skin melts away immediately and reveals a salty, spicy core, something like a grappa of Riesling yet lighter than air. Take a swallow and you'd think you'd have the helium voice. The '20 vintage exaggerates these qualities, perhaps, yet regardless of where this wine stands in one's sober-evaluations-of quality, I can tell you this: It has more uses than all the wines that preceded it.
It should be clear by now how much I love the great dry German Rieslings, and that I acknowledge the huge strides they have taken in the last 12-15 years—and in some cases, a lot longer. They join a marvelous community of dry Rieslings; indeed they are often nobility in this kingdom. But this needs to be said, and said and said, that a wine like this one STANDS ALONE IN THE WORLD, no-one else can make anything like it, and it is both galvanically beautiful and amazingly useful. Not long ago this entire genre of wine was imperiled, but recently its virtues seem to have been rediscovered by a lot of trend-setting estates. Climate warming has made it harder to produce these little snips of gossamer, but people are trying.
Now admittedly, not every Kabinett can be made from 100+ year-old vines in a grand cru. And yet Loewen's choice to continue producing this wine, when a "GG" they could make from the same fruit would fetch three to four times the price, is a testament to a singular gift of Riesling, and anyone who does it should receive a shiny red wagon or a box of chocolates.
If you're a Loewen follower you'll have noticed the Laurentiuslay Spätlese is absent. They didn't send it. Possibly it wasn't ready, possibly I asked them to focus more on the dry wines, and the case of six was full. Whatever the reason, I miss it, and I want you to know it was always an important Mosel Spätlese for me, year in and year out for at least two decades.
Superficially the aroma here is perturbed by SO2 and botrytis, but when a minute has passed we're left with something astonishingly refined and yummy. And curiously not very sweet, despite a good amount of residual sugar—I really don't like revealing the number because then that's the only thing you'll taste. Suffice to say that most modern Spätlesen from the Rhine and Nahe are sweeter than this, and when I was starting to say this was "near-perfect Auslese" I had to pause, because this, simply, is near-perfect Riesling.
I think it's botrytis that swallows its sweetness, and only really exceptional botrytis has that capability. The result is a delicate and buoyant Auslese, a parfait of green, every green flavor spun into lace, entering your palate as though it were shot through a syringe of leaves. I mean, seriously, if someone could make a floss that tasted like this I'd floss my damn teeth twelve times a day.