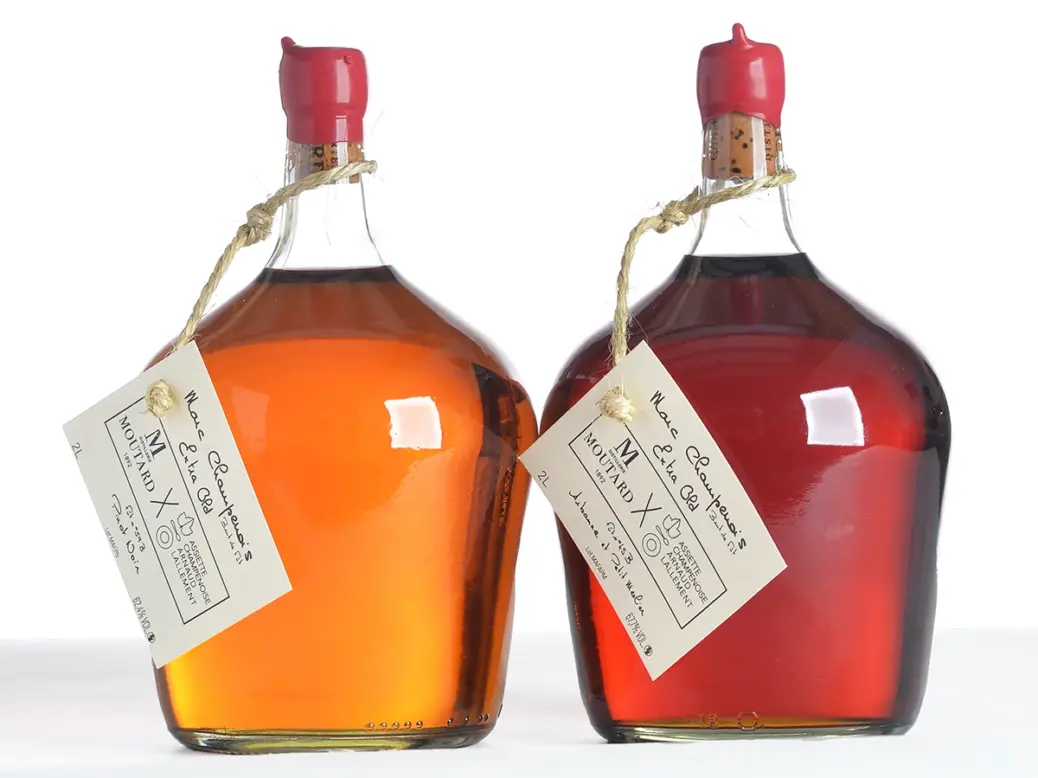 Margaret Rand provides insights from a dinner hosted at L'Assiette Champenoise, where a variety of dishes were paired with the sweet regional delicacy, ratafia de Champagne.
To be honest, it was the food that worried me. One wouldn't normally be concerned about the offerings at a three-Michelin-star establishment like Arnaud Lallement's L'Asssiette Champenoise; but in my room at Lallement's hotel over the restaurant was a half-size reproduction of Géricault's The Raft of the Medusa. A depiction of starvation and cannibalism seemed an odd choice. It made me wonder.
The occasion was a dinner to demonstrate the versatility of ratafia with food. To unpack that sentence: Ratafia de Champagne gained appellation status in 2015 and is unfermented grape juice plus local grape spirit—it's a mistelle, in other words. Think Pineau des Charentes. It's sweet and usually around 18% ABV; it's the sort of thing that you would normally consider an apéritif, or something to drink with dessert or cheese.
Tonight, however, it was going to try its hand at a great variety of dishes—from crab, to pigeon, via beetroot and brill. Half a dozen Champagne growers were putting their Champagnes into the ring along with their ratafias, because the other surprise—once you've got over the idea that ratafia might go with pigeon—is how many Champagne producers are already making ratafia commercially. Young producers are especially keen, it seems. Krug and Charles Heidsieck are mentioned as being among those likely to launch ratafias. In 2008, the producers say, ratafia was just a single line in EU regulations, and much of it was made for domestic consumption, by 30 to 40 producers, and not necessarily from Champagne juice. Now there are around a million bottles a year of PDO Ratafia de Champagne from nearly 400 producers.
A few facts. It comes from the same villages that make Champagne, from the same grapes, and the third and fourth pressings are used. The spirit, also from Champagne, might be bought from a local commercial distillery or from another grower; or growers might distill their own. And because the spirit is of a different vintage from the juice, ratafia is Non-Vintage. The minimum aging is ten months, which they want to raise to 15 months; it can be aged in steel, or oak of whatever kind. Gilles Dumangin of Champagne Dumangin ages the youngest part of the blend for six years in barrel and says, "The longer, the better." The strength of the spirit can vary, too: Claude Giraud likes 95% proof, to preserve the fruit. Others might prefer, say, 70%.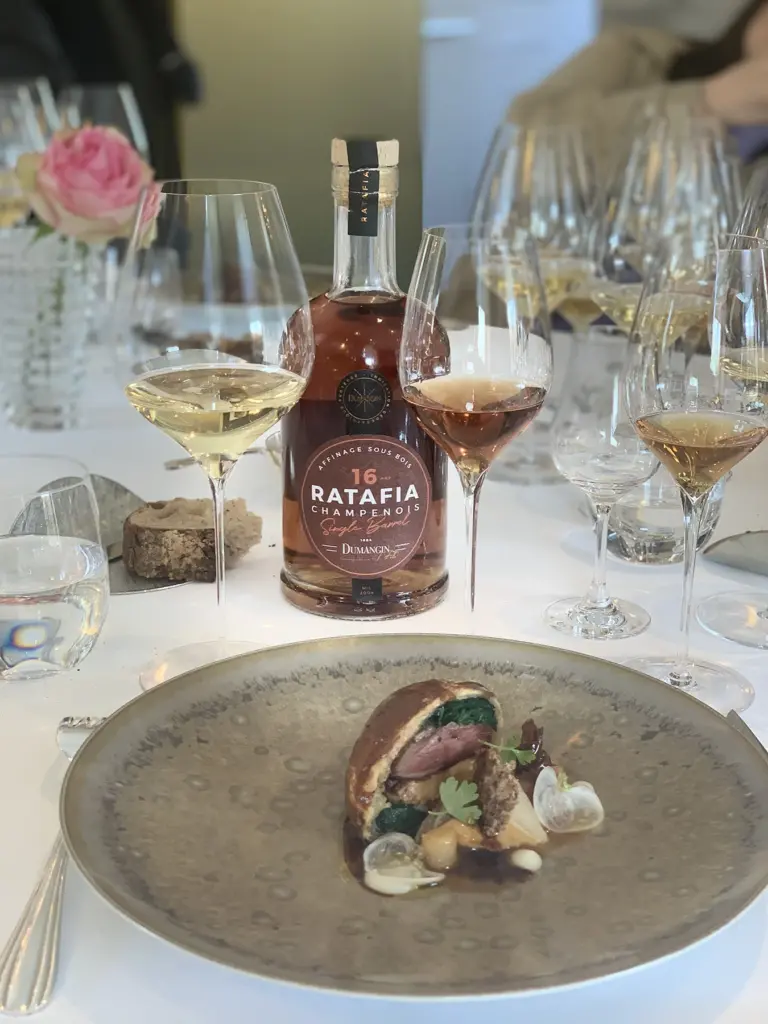 From savory to sweet, the best matches for ratafia de Champagne
It's time to go into dinner. But first a cocktail: What is in it? they asked. Not difficult; if something is Campari-colored, it may well be Campari, here with ratafia and some perfect rectangles of orange zest. It makes a very good cocktail; indeed, one French Champagne blogger confessed that she preferred cocktails to Champagne anyway. And then a waiter asked if I eat everything. I thought of The Raft of the Medusa. Nearly everything. 
Anyway, the first course, ruche de notre parc; this was beeswax mousse, with pollen and citrus and a thin crunchy biscuit—honeyed, savory, sharp, subtle—paired with a slightly spirity Ratafia Goyard: a promising start to the matchmaking.
Crab, though… Everyone knows that the perfect match for crab often comes in a bottle labeled Riesling. Here we had tourteau de casier de Roscoff/crème des têtes, a thin blanket of crab jelly, with seaweed and lemon, crab sauce, and olive oil. With it, we had Julien Chopin's Ratafia, and also his Champagne, Grande Année Chardonnay. This was the pattern for the rest of the dinner: Champagne and ratafia; ratafia and Champagne. They weren't in competition: Ratafia is an addition to Champagne. I asked Lallement which he had focused on in choosing the dishes. Both, he said, but mostly the ratafia.
It must have been a tricky balance and particularly tricky with this dish. It was delicate, citrus, nicely sharp, intensely crabby; the ratafia well integrated, sweetish, saline; the Champagne mineral, beautifully textured. For my palate, the one was a little too soft, the other a little too austere for the dish; but was I like the concert audience from hell, who hears their favorite recording unwinding in their head while a new interpretation is being offered in front of them? The minimum 110g/l of residual sugar in ratafia is a complication in food-matching, even with Champenois levels of acidity.
With betterave/livèche, we had Champagne Giraud Esprit Nature and Giraud's Ratafia Solera 90-13. Claude Giraud's wines have structure and steel; they are wines to take seriously. His Ratafia 90-13 is from a solera that started in 1990 and ended in 2013; it was bottled four to five years ago. Both Champagne and ratafia were harmonious, seamless; and the ratafia was a bullseye with the beetroot, the lovage adding a note of celery.
Curiously, says Giraud, blending eau-de-vie with grape juice gives you less alcohol by volume than you might expect. You end up with slightly less alcohol than you put in—perhaps 1 or 2 percent less overall. It's a fact of chemistry, he says, but is nevertheless difficult to explain to the tax authorities.
On to brill, in the form of barbue des Côtes Bretonnes/asperges vertes, a dash of Noilly Prat in the sauce. With this dish of firm and soft textures were Nicolas Feuillatte Blanc de Noir 2012 Grand Cru, and Feuillatte's Ratafia Champenois—the latter mature and with notes of orange peel, the former concentrated, tense. Which worked better? Tricky. For me, the Champagne. The ratafia seemed to echo some of the character of Tawny Port—delicious, but too apt to smother the fish.
Pigeonneau fermier/en tourte/épinard A Deloffre came with Edmond Ratafia Moussé and Champagne Moussé Vigne de Mon Village—both entirely Meunier, says Cédric Moussé. For his ratafia, he double-distills in an old wood-fired alembic up to 84% ABV, then blends it into the juice of the next harvest. He puts the blend into barrels, leaving about 40 liters of space in the barrel, and there it stays, outside the winery, for two years. These are ex-Meursault barrels, about five years old when he gets them, and the Meunier juice is super-ripe. The result is ratafia with the subtle toffee notes it seems to get with maturity; and it stood against, or with, a Champagne of great minerality and purity. Between them was a neat little pigeon pie, a house specialty, with foie gras and little turnips—a natural, you would think, for Meunier.
On Moussé's website, he recommends his lovely ratafia with Maroilles cheese, and it would be wonderful with that. With pigeon, perhaps not so much. Again, it's the sweetness. The Champagne was the better match, to my palate, but a Meunier rosé might have been better still.
Now we were on to dessert: agrumes M Baches/clémentine givrée, with Lamiable Ratafia and Lamiable's Champagne Meslaines 2013. Both are 100 percent Pinot Noir, and they came mixed with Mandarine Impériale in a cocktail. Perfection: bitter citrus, sweetness, acidity, all in balance with the food.
After that, Edmond Ratafia was put together with liqueur de café and cream in a glass instead of straight coffee, and very good it was, too. Sebastien the sommelier probably had some comments to make, but by now the noise level was more than even he could conquer.
Ratafia de Champagne: an artisanal product with a lot to offer
So, did the growers prove their point? They are insistent that ratafia is a complement to Champagne. There is no sweet wine from the area, they say. Not sweet Champagne? I might have misunderstood—it was pretty noisy—but these growers seemed to give sweet Champagne short shrift. Instead, they emphasized the terroir character of ratafia, the diversity of styles—and these are all in its favor. Of the other ratafias tasted that evening, Moutard Sans Soufre, Côte des Bar, was pale, citrus, honeyed, light, fruity, juicy, marked by marc; Apeiron, Xavier Leconte, was darker, nuttier—hazelnuts—chalky, flinty; Caillez Lemaire Solera was sweeter, darker, with a note of something like rancio; A Lamblot Rata du Réné had sweet, rich, dark-toffee flavors; Dumangin 16 Ans Single Barrel was toffeed and, again, had that rancio-like note, with high acidity and good complexity; Vranken Demoiselle was sweet, caramel and citrus, with lowish acidity.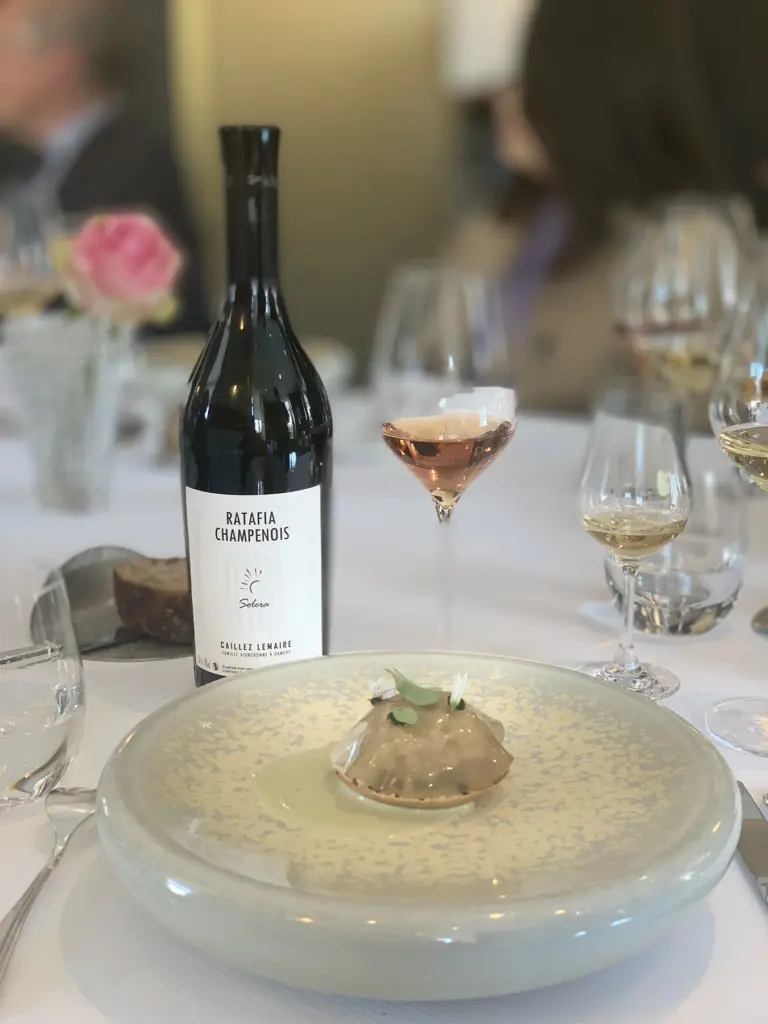 Taken seriously, and made seriously, ratafia has a lot to offer. It is an artisanal product in the best sense of the word. It has a lovely, historic name. It can piggyback on Champagne sales. It can be fairly complex, though not as complex, on this showing, as Sauternes or aged Tawny Port. It sells for high prices, and many people find high prices convincing. But it is sweet, and unless you have a very sweet tooth, it is going to be difficult with pigeon or brill. But perhaps such dinners are more about heightened awareness than anyone seriously opting to drink ratafia with brill. Did the growers agree? Probably not. Will their food-matching suggestions on their websites—currently foie gras, cheese, dessert—change to reflect that night's menu? We'll see.