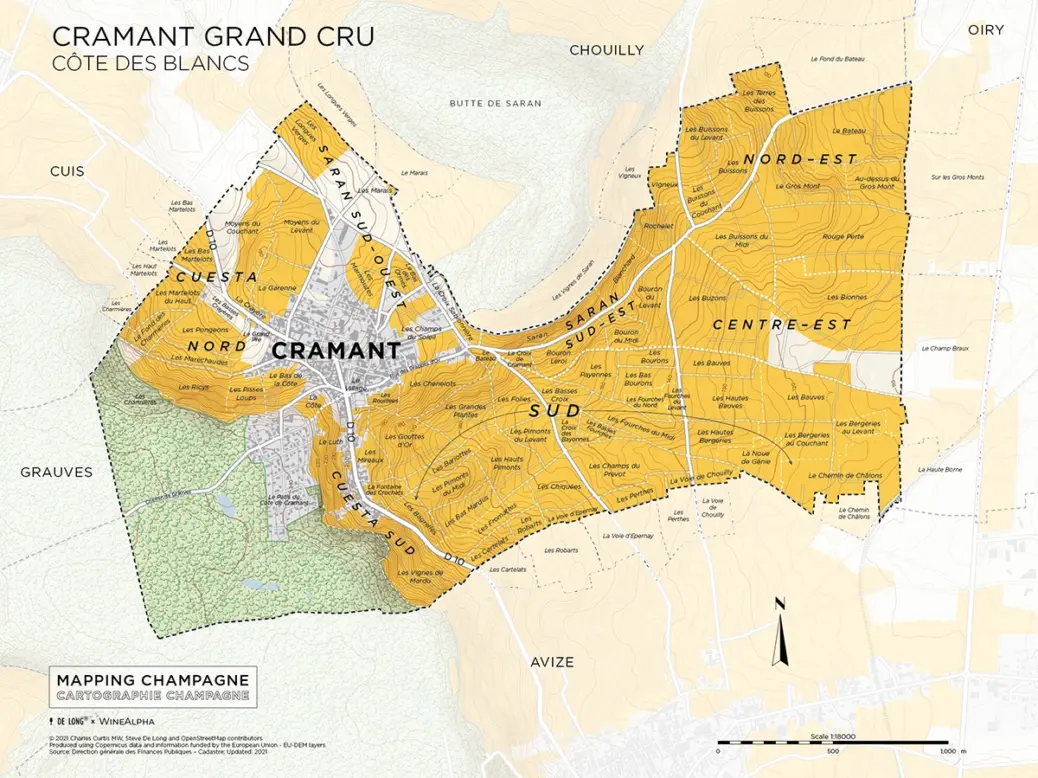 Every cloud has a silver lining, we can say of the pandemic. Renowned author, consultant, and Master of Wine Charles Curtis found that he suddenly had time on his hands. This prolific writer already had two large pieces of work under his belt—The Original Grand Crus of Burgundy (2014) and Vintage Champagne: 1899–2019 (2020)—and he was ready to put his mind to the next big job.
Any Champagne lover knows how frustrating it has been trying to learn about the region's complex terroirs practically without detailed and up-to-date maps. We have all relied on the original, pioneering maps of Louis Larmat from the 1940s. And so has Charles Curtis: "I remember having bought mine second-hand and loved them. But of course, the maps are terribly out of date by now."
Curtis had previously crossed paths with cartographer and wine lover Steve De Long, and in 2021 they decided to embark on a journey of mapping Champagne together. "I was shocked by how little work had been done on the subject," Steve De Long confesses. Many other French wine regions come properly mapped, but Champagne has lagged behind—no doubt due to the traditionally blended nature of the wine. Understanding of the terroirs and vineyard parcels has always been passed on by the chefs de caves, but the houses' communication has never embraced particularities of individual terroirs. With the increased interest in grower Champagnes and the rise of single-site Champagnes, this is all changing now. Champagne aficionados are thirsty for more detailed information.
With regrettably little help from the Comité Champagne, De Long used the French cadastre, a public land and property database, and overlaid it with satellite images of the vineyards. While Larmat's maps were hand-drawn, these maps are illustrated digitally and produced using advanced geographic information system software. But anyone who is familiar with the original Larmat maps can immediately see a resemblance between the two. To pay tribute to cartographer Louis Larmat, Curtis and De Long drew inspiration from the "elegance of colors and the restraint of design." 
To support the maps, Curtis has created bilingual French and English booklets to accompany them. They aim to explain the configuration of each terroir—topography, exposure, and grape varieties—describing the parcels and the cuvées they produce. For each cru, he has compiled an index of lieux-dits and the winemakers based in each village. "My fascination with Champagne terroirs started back in 2003, when I did a cask-by-cask tasting of Chardonnays with Jacques Diebolt of Diebolt-Vallois as I was preparing my Master of Wine dissertation," Curtis explains. Since then, he has tirelessly toured Champagne's growers and houses, now condensing his terroir understanding into the booklets' pages.
So far, the duo has published an overall map of Champagne's wine regions and a detailed map of the Côte des Blancs, for which the atlas will be available in October this year. Maps of Côte des Blancs grands and premiers crus may also be purchased individually, and they make excellent travel companions when touring the region. Villages below grand and premier cru status will not be dealt with in such detail, but Curtis and De Long are making proper illustrations of the poorly mapped, more recent areas of Champagne such as Montgueux and Coteaux du Petit Moran.
Currently the duo is working on the Montagne de Reims, and over the next few years the mapping will continue with the Vallée de la Marne, then the Côte des Bar. Then the enormous work will be compiled into an atlas of Champagne. Charles Curtis considers the Mapping Champagne project as an excellent chance to fulfill his career-long desire to define in detail the world-class terroirs of Champagne. For us wine lovers and professionals, Curtis's and De Long's work provides a fundamental and long-awaited tool for gaining a deeper understanding of the region. When the duo one day completes the task, I am sure we will have in our hands something as legendary and age-defying as the original Larmat maps. 
Mapping Champagne
Charles Curtis MW and Steve De Long
Published by De Long and WineAlpha